There are a few different variables to take into account that I have summed up in this table below. Both Wood and metal have strong and weak points so it is going to depend on your personal preference and use case, but after our analysis, wood comes out on top.
| | Metal | Wood | Winnner |
| --- | --- | --- | --- |
| Cost | $45 Per linear ft. | $23 Per linear ft. | Wood |
| Durability | 25 Years | 40 Years | Wood |
| Maintenance | Zero | Needs re-sealing | Metal |
| Easy of installation | Moderate | Easy | Wood |
| Eco choice | Non-sustainable resource | Literally grows on trees | Wood |
| Security | Excellent | Moderate | Metal |
| Design options | Limited | Wide variety | Wood |
| Adds value to a home | Yes | Yes | Even |
| Sound reduction | Limited | Moderate | Wood |
The winner is: Wood
Both wooden and metal fences offer different features and characteristics that make them better. Therefore, the best material for you to use will depend on what you're looking for in the fence.
For instance, if you're looking for a strong, more durable fence, a metal fence might be better. But if you want better aesthetics and a more natural look, a wood fence is better.
For homeowners considering immediate costs, wooden fences would be the cheaper alternative.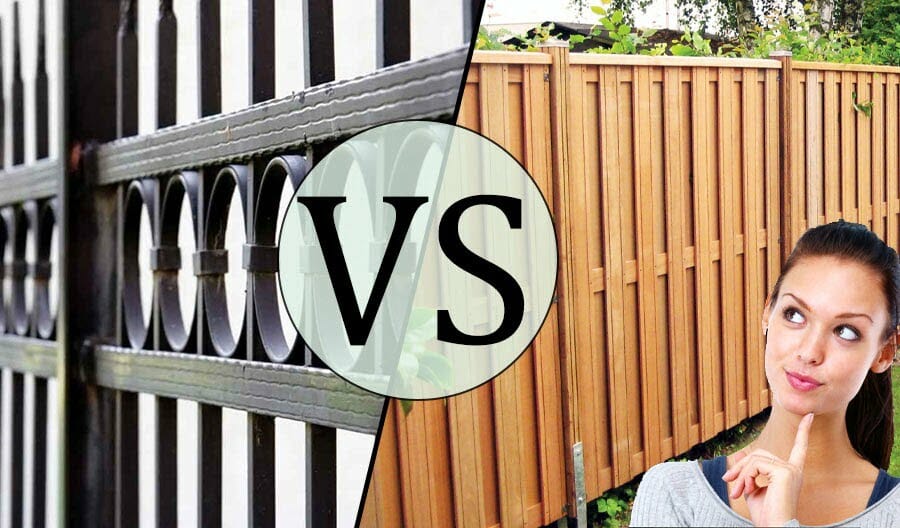 The average cost of installing metal and wooden fences greatly vary depending on the type of metal or wood used. However, metal fence installation ranges between $3,000 to $5,000 while that of wooden fences costs around $1,700 – $4,000.
Material
Low
Cost per linear ft.

High
Cost per linear ft.

Metal
$15
$75
Wood (average cost)
$12
$30
Cedar
$2
$3
Pine
$1
$5
Spruce
$4
$6
Redwood
$4
$7
Cypress
$2
$3
White Oak
$5
$10
Hardwood
$8
$15
Maintenance of metal and wooden fence
Fence maintenance is the secret to a durable and aesthetically pleasing fence, regardless of the material. However, the maintenance requirements for metal and wooden fences are different.
Generally, wooden fences require more maintenance than metal fences.
In most cases, any dirt, mold, mildew, debris, or chemical buildup on metal fences can be removed by soap and warm water. If there are any signs of rust, a simple primer and paint will address the issue.
However, wooden fences demand regular inspections to check for rotting, insect inspections, warping, and landscape damage. Depending on the extent of the damage, the fence may need:
Cleaning using warm water and a fence/wood cleaner plus a 2700 PSI-rated pressure washer
Repairs using glue and tape, reinforcement with concrete spurs, or replacing loose screws with stainless steel screws.
Staining the fence with a wood stain that comes with UV or moisture-resistant properties
Paint stripping then applying a primer and repainting the fence
The durability of metal and wooden fence
For years, metal fences have been known for their durability and longevity. The fence is corrosion-resistant and can withstand adverse weather conditions, including heavy hail, rain, and snow.
With proper maintenance, it can last anywhere from 25 years to a lifetime!
On the other hand, Wood fences are more susceptible to weather elements, insect damage, rotting and cracking. This makes them less durable compared to metal fences.
Nevertheless, modern wood preservatives and treatments allow them to last longer. For instance, while cedar lasts around 25 years, treated wood lasts up to 40 years.
Keep in mind: The durability of your wooden fence depends on the type of wood and your maintenance habits. Regular staining and painting every 1 – 2 years keep it from aging and fading.
Security of metal and wooden fence
When comparing fences for security, you want a fence that's hard to climb, tall enough, sturdy in construction, and corrosion-resistant. You could also want a see-through fence to see who's stalking around your property.
In this case, metal fences are better than wooden fences. Metals such as steel and wrought iron are pretty strong, making it harder for any intruder to break in through.
The railing spacings of a metal fence make it harder for anyone to climb while allowing you to see who's on the other side.
Wood fences are not the best for security since they're easy to climb and break through.
The pros and cons of metal fence
Pros
Very durable and long-lasting
Strong and sturdy fences for security
Creates beautiful fences
Requires little maintenance
Cons
Can be relatively expensive
It May be difficult to install due to the weight
Limited design choices
Offer little privacy
The pros and cons of wooden fence
Pros
Inexpensive with more design options
Creates beautiful and natural fences
Easy installations and repairs
Offers good privacy
Cons
Demand regular maintenance
Affected by outdoor weather and insects
Damage to one post can affect the entire fence
Which adds more value to a house?
According to most real estate agents, fences add value depending on the condition of the fence and the homeowner's needs.
For instance, homeowners with kids or pets will look for more privacy. As such, wooden fences will add more value to the home. Metal fences also add value to the home if they're well maintained and add curb appeal.
Which will give you more privacy?
Wooden fences. Thanks to the wood planks, a homeowner can install a closed fence that completely shuts your home from the outside world. Metal fences may be strong, but their open construction design makes them a poor choice for privacy.
Which is best for sound reduction?
Generally, the thicker the fence is, the better it servers as a noise barrier. Therefore, most wooden fences are better for sound reduction compared to open metal fences.
Installation of metal and wooden fence
Regardless of the material you've chosen for your fence, you can opt to hire a professional company for installation or take the DIY route.
If you choose to install it yourself, here are the key preparation steps you should take;
Find out the local fencing ordinances and homeowners association rules on fence heights, colors, and placement
Locate your property's boundary lines and notify your neighbor regarding your intentions
Determine which types of fences require a permit in your neighborhood
Contact 811 in your state before digging to receive the approximate locations of any buried utility lines on your land
Once you've confirmed this information, you can proceed to installation.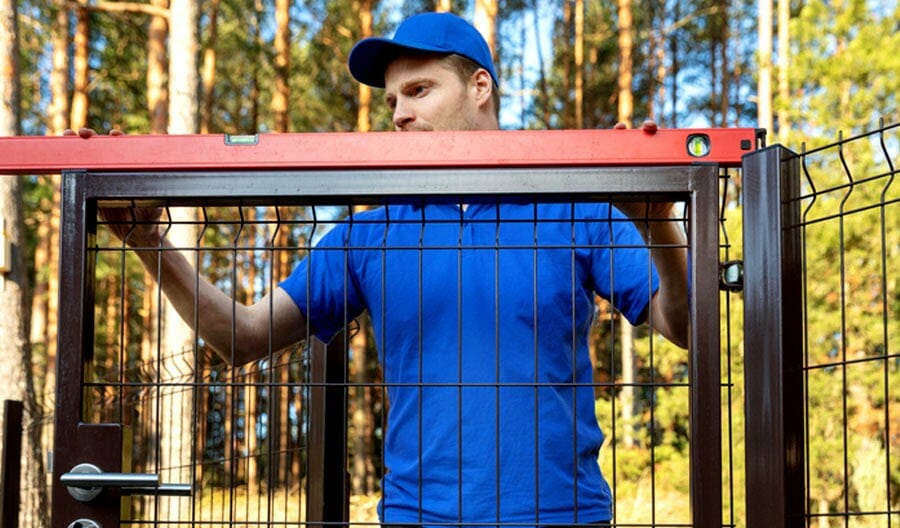 DIY metal fence installation
Step 1: Choose the type of fence you want. Your top options include wrought iron, steel, and aluminum fences.
Step 2: Assemble your metal fence kit. Find your fasteners, necessary screws, nuts, bolts, end line, corner posts, and pre-drilled gate posts.
Step 3: Mark the positions for your posts, including the corners and ends. Remember to leave a space for the gate.
Step 4: Dig the post holes and set the stakes for the corners, ends, and gate posts.
Step 5: Set your line posts and panels, then fill the holes with concrete each time you complete one side of the fence.
Step 6: Cut the panels to the desired size and length, then install them to fit in the shorter spaces.
Step 7: Finally, install your gate. Screw all hinges to the gate posts through the predrilled holes to have it swing freely. If you're working with heavy fencings like steel or wrought iron, it's always a good idea to hire a contractor to complete the job.
DIY wooden fence installation
Step 1: Determine how far apart you want to set each fence post. Ideally, this should be between 6 and 8 feet. Always start with corner posts.
Step 2: Dig the post holes. Each hole should be dug below the frost line, and around 1/3 of every post should be buried in the ground.
Important: Be sure to use a wood preservative for the wooden part of the posts that will be buried to prevent them from rotting.
Step 3: Set the posts. Fill the holes with dry concrete mix or gravel and then place the posts into position. Use the post level to confirm that the posts are plumb.
Step 4: Add concrete mix to the post holes according to the manufacturer's instructions. This applies to both regular-set and fast-set concrete mix.
Step 5: Install the fence rails. First, mark the positions of the rails on the posts, then use 'butt joints' to firmly fix the rail to the post. At the end of the fence, cut final rails to ensure they fit.
Step 6: Install the fence boards. Start at the fence corners, fix the board, and then use a plumb level to ascertain that it's vertical. Move to the next corner and nail another board to place. Place a string on the top of these boards, then place other boards against the first one. Repeat this until each fence board is in place.
Cedar. Generally, cedar lasts anywhere from 15 – 30 years. When treated, it can remain in good condition for up to 4 decades.
Wrought iron fence. This fence can last as long as 100 years with proper maintenance. Most other metal fences have an average lifespan of 50 years.
Pressure-treated pine is the most affordable fence option available in the market today. It goes for $10 – $25 per linear foot.