Gardens need a lot of attention and care to keep that curb appeal and more importantly, to make your neighbors jealous.
The cost to hire a gardener ranges between $35 – $75 per hour on average. Specialty tasks such as lawn aeration may carry a high price tag due to the hiring of specialist equipment or other material.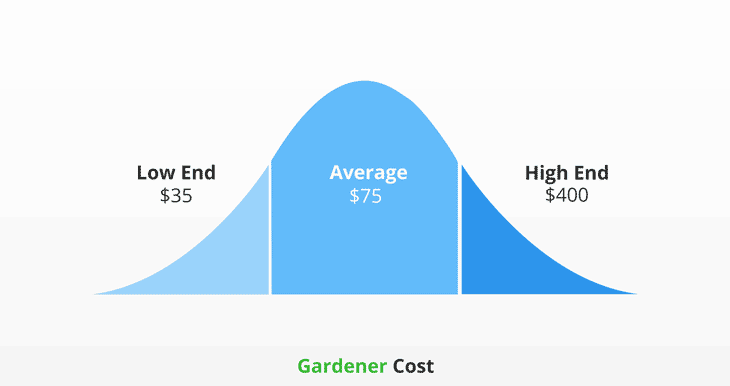 Expect to pay an hourly rate of $50 on the low end and $200 on the higher end on average for an externally sourced gardener in the United States. Professional gardening companies with trained landscapers could charge between $35 to $100 an hour depending on the work to be done. Rates vary depending on your location and specific factors such as the condition of your garden, work to be done, number of hours, etc.
You can get a lower rate by finding a semi-skilled or unskilled gardener to tend to your plants if there is not too much work to be done or special requirements that need skilled professional gardeners. It's also cheaper to have a permanently employed gardener(s) on a retainer as opposed to hiring one for a one off-job. However, there are instances where hiring one for a day would make more sense especially if the garden is small or has low-maintenance plants.
| Service | Quantity | Low | High |
| --- | --- | --- | --- |
| Lawn mowing | Sq. ft. | $1.20 | $2.27 |
| Lawn Aeration | Sq. ft. | $1.90 | $3.50 |
| Overseeding | Sq. ft. | $0.09 | $0.85 |
| Weeding | 1.4 acre lot | $150 | $650 |
| Fertilizing | Sq. ft. | $0.20 | $0.60 |
| Tree & Shrub Trimming | hr | $120 | $250 |
| Mulching gardens | Sq. ft. | $0.20 | $0.60 |
| Dethatching | 1000 Sq. ft. | $200 | $400 |
| Raking and debris clean up | Per hr + dumping fees | $220 | $420 |
| Laying sod | Sq. ft. | $2.20 | $4.50 |
Average Cost Per Visit for A Gardener
The amount you pay for a single visit mainly depends on the work to be done and how many hours the gardener will spend on your garden. However, the average cost in the United States ranges from $150 to $250. 
You may also pay more or less depending on the number of gardeners required per visit based on the size of your garden and the amount of work to be done. Typically, a single gardener is capable of doing simple gardening tasks such as mulching and weeding while two or more may be required for more complex jobs such as hydro mulching, pruning, lawn aeration, or dethatching as they may need to use heavy equipment to get the job done.
Seasonal visits generally tend to attract higher rates because of the amount of work to be done and demand for gardeners during peak growing season in the spring and early fall in the United States. However, you can still get discounted or normal rates by maintaining a long-term relationship with one gardener or landscaping company or hiring a permanent gardener on a retainer.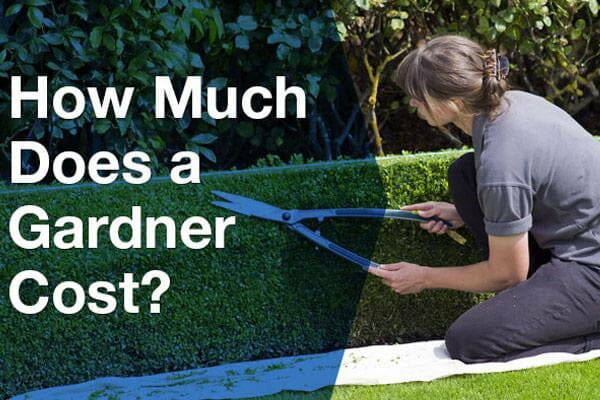 What Does Garden Maintenance Include?
Here is what you should expect your gardener to work on:
Lawn mowing
Lawn Aeration
Overseeding
Weeding
Fertilizing
Shrub Trimming
Mulching gardens
Laying turf
Why and When Should You Hire A Gardener to Mow Your Lawn?
Lawn mowing is usually backbreaking work that also takes some skill to do properly, you are better off hiring a gardener or landscaper to do it for you. Luckily- even non-skilled or semi-skilled gardeners can do a good job if they have access to a good lawn mower and rake and are taught how to use them.
Most self-employed gardeners will be happy to work on your lawn in addition to all the other duties you might assign them that are within their skillset. Better yet, employing a full-time gardener means that they can mow your lawn frequently and still charge the same pre-agreed retainer. For externally sourced gardeners or professional lawn care companies, you can negotiate a flat rate based on the size of your lawn or an hourly rate.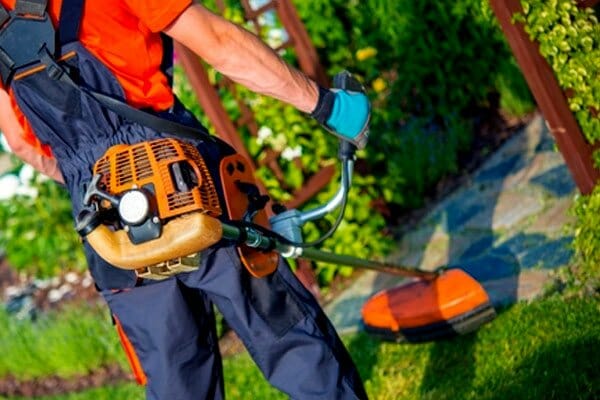 How Much Does It Cost to Hire A Gardener to Mow?
The average hourly rate for lawn mowing services in the USA ranges between $17 to $35 depending on your zip code and time of year. You can also pay the gardener based on the size of your lawn with rates starting from $45 for a ¼ of an acre which is roughly the standard residential lawn size in most states. A third of an acre (1/3) can be mowed for $55 to $60 while a full acre can be mowed for $80 to $100 depending on the conditions of the lawn and hours worked.
Gardeners often need more time to trim an overgrown lawn to a nicely defined shape with uniform hedges and desired grass length. Expect the charges to be slightly higher at this point and then lower later when the lawn is in good condition. Of course, you can bargain for a discount if you have been maintaining your lawn and only need the grass to be shortened.
How Often Should I Mow My Lawn?
The number of times you need to mow your lawn depends on several factors such as type of grass, season, location, and personal preferences. Ideally, you should have your lawn mowed every fortnight during the growing season so that the grass doesn't grow past an inch and a half and to prevent thatching.
Fast-growing grass such as Bermudagrass should be mowed at least once every ten days during the growing season. That said, the decision on when to mow your lawn comes down to your preference or as advised by your gardener if you have one looking after your property permanently.
What Services Should I Expect from A Lawn Mowing Service?
If you decide to hire a gardener to mow your lawn, you should expect them to do most, if not all, of the following while on your property:
Mowing- Cutting your lawn grass to the desired size.
Edging involves shaping and trimming your lawn's edges to the desired shape for aesthetic purposes. Professional gardeners may charge more to introduce more intricate but aesthetically appealing edges and shapes to your lawn's design.
Naturally, the gardener will also make sure that the cut grass and debris are cleared either manually with a simple garden rake or using a lawn vacuum if they have one. This should also involve cleaning the sidewalks and driveways, bagging the grass, and disposing of it.
The gardener will, as part of the lawn mowing service, get rid of all the weed growing on your lawn and any other unwanted plants. They can cut it using a lawnmower, uproot it or use a weed killer if required.
Lawn mowing services may also provide additional services such as seeding, aeration, dethatching, watering, hydro mulching or hydroseeding, applying fertilizer, etc.
Tree and Shrub Trimming Cost
A gardener is also responsible for trimming the trees and shrubs on your property as required. This is a task that can be completed by any gardener or yard worker as part of their services and usually charged by the hour. Expect to pay between $17 to $45 per hour for tree and shrub trimming services in the United States for both professional and unskilled gardeners. The flat rates range between $100 to $300 depending on the amount of work to be done, working conditions, and other factors.
Bushy shrubs need to be trimmed from time to time, especially during the growing season right after they bloom to maintain a good shape and size. Gardeners can use a wide range of tools such as pruning shears or loppers to prune the edges of the shrub to a desired shape and size.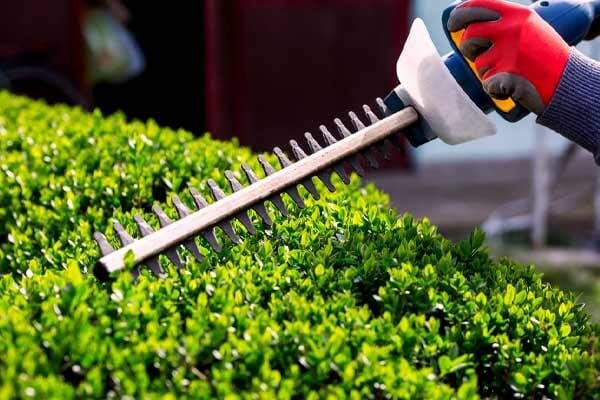 It might appear like a simple and even enjoyable task but shrub trimming is quite time-consuming and backbreaking. Hire a gardener to maintain your shrubs if you don't have the time or energy to spend the whole day working on them. While normal gardeners can do the job well, a trained arborist may be needed for more complicated jobs.
Tree trimming and pruning involves cutting off some of the branches and leaves from a mature tree for different reasons such as a cyclone or tropical storm preparation. Dead branches and leaves may be removed for safety or to maintain the tree's health while leaves may be trimmed for aesthetic purposes.
Professional gardeners with a good understanding of trees should be preferred over semi-skilled or unskilled gardeners. You may also need to find out if you need a permit before your gardener trims any trees growing inside or outside your property.
Weeding is one of the main services you should expect from any gardener regardless of their skill level or experience. It's a manual job that mainly involves getting rid of undesirable, unwanted, or invasive plants from your garden or lawn. Weeding can be done manually by physically cutting and uprooting unwanted plants. It can also involve spraying the plants with a weed killer. It's a job that a majority of homeowners in the United States prefer to have someone else do as it can be quite boring and time-consuming.
How Much Does It Cost to Hire A Gardener for Weeding?
While weeding is usually part of many other services offered by gardeners in the United States, you can still hire one to help deal with the weeds for a day or two while you or another person does other jobs.
The average cost to hire a gardener to weed ranges between $20 to $35 per hour in most locations in the country. It would take anything between an hour to half a day to remove weeds depending on the method used and the size of your garden so expect to pay between $150 to $200 in total for weeding services.
Which Is Best, Weed Killer or Manual Weeding?
It may be cheaper and more convenient to use a weed killer to remove weeds as compared to manual weeding. However, chemical weed killers may also affect other plants in your garden and the surrounding ecosystem. At the same time, you will have to spend between $50 to $150 to purchase a weed killer. With this in mind, only use a chemical weed killer when it's the only option available to get rid of your weed problem otherwise manual weeding is the safest and environmentally friendly method. Of course, you can also find organic weed killers that are effective and also safe to use.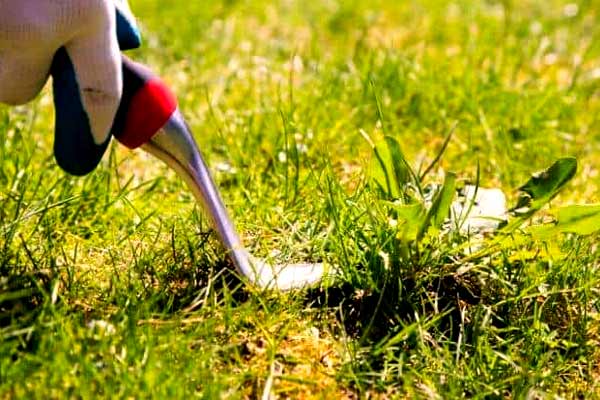 Should I Hire a Gardner Or Do DIY Weeding?
Weeding is a basic task that anyone with the time can do on their own. You can use basic gardening tools to get rid of most weeds although it will take time and a lot of energy to do it on your own. You can make it easier for yourself by getting some extra hands to help but having a professional gardener to do it for you would be the best option. It comes down to your preferences and how much yard work you are willing to do.
How Much Does It Cost to Hire A Gardener for Mulching?
Gardeners prefer to charge by the hour for mulching as opposed to the surface area or amount of work to be done. The average rate to hire a gardener exclusively for mulching ranges between $25 to 50 dollars depending on your zip code and other factors. On average, you should be ready to pay between $250 to $500 for mulching services. This excludes mulch costs that range between $15 to $65 per yard depending on the type and quality of mulch.
Garden Debris Cleanup Cost
You may need debris cleaned up from your yard or garden after some construction work, heavy rains, yard work, or other activities. This often involves either raking debris from your yard or carrying items from one place to the other. This is a manual task that does not require any skills and can be done by anyone available to work. This means you can get someone to remove debris for as low as $7.25 to the hour (minimum wage).
However, the rates may be higher if there is heavy debris to removed such as fallen trees, collapsed roofs, or destroyed buildings. For this, you will want to have the gardener or freelance handyman assess the site before they agree on a rate. Also, factor in any additional costs such as equipment costs when making the estimates. For instance, it's faster and more efficient to remove debris from your lawn using a lawn vacuum as opposed to raking it out but it will cost more to rent a lawn vacuum.
Lawn and Garden Fertilizing Cost
Gardeners are also responsible for applying fertilizer to your plants as part of everyday tasks. Applying fertilizer is a simple task that can be handled by any gardener regardless of their skill level or experience provided they have access to the right fertilizer and tools.
Expect to pay hourly rates of between $10 $25 to hire a gardener or unskilled freelance worker to exclusively deal with fertilization. Ensure that they are wearing the right personal protective equipment when doing the job and that they are using the right quantities of the fertilizer.
Lawn aeration is the process of removing thatch and reducing soil compaction on your lawn to allow water and fertilizer to seep through and improve growth and germination.
Gardeners using an aerator or special raking equipment can aerate your lawn whenever needed and normally charge between $35 to $100 to the hour depending on the amount of work to be done and skill level.
You should look for a trained gardener or landscaping professional If you want your lawn to be aerated. Semi-skilled or unskilled freelance handymen may not understand the process of aerating a lawn or how to operate the aerating machines.
You don't need a trained professional to lay new turf on your lawn as it's mostly a manual job that involves placing pieces of turf on already prepared soil. A handyman or gardener would charge anything between $7.50 (minimum wage) to $12 to the hour to lay the turf. Laying turf is usually part of other tasks handled by professional lawn care or landscaping crew in the United States.