If you are looking to establish a lawn on a large plot of land, hydroseeding would be the perfect option. It is quick, efficient and cost effective for large yards.
Ideally, professionals price large yards by the acre. The average cost to hydroseed a large plot of land is $3,500 per acre. The cost can range between $2,500 to $7,000 depending on the type of seed mix you choose, your location and yard condition.
This article takes you through the average hydroseeding cost per acre and the cost factors you should consider.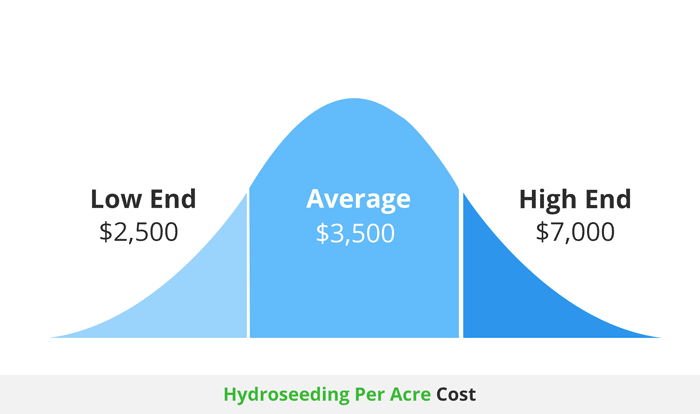 The table below provides you with the average cost to hydroseed massive areas of land.
| Yard size | Average cost |
| --- | --- |
| Average cost per acre | $3,500 |
| High-end cost per acre | $7,000 |
| Low-end cost per acre | $2,500 |
| Cost per square foot | $0.08 to $0.25 |
| ¼ acres | $750 - $2,000 |
| ½ acres | $1,500 - $4,000 |
| 5 acres | $4,500+ per acre |
| 10 acres | $4,000+ per acre |
| 20 acres | $3,700+ per acre |
| 50 acres | $3,200+ per acre |
| 100 acres | $2,800+ per acre |
Hydroseeding is cost-effective for larger lawns than smaller ones. This is because the machines used are costly, and if the area is sloppy, the cost will be higher.
However, the average per acre cost of hydroseeding tends to be lower as the lawn size increases.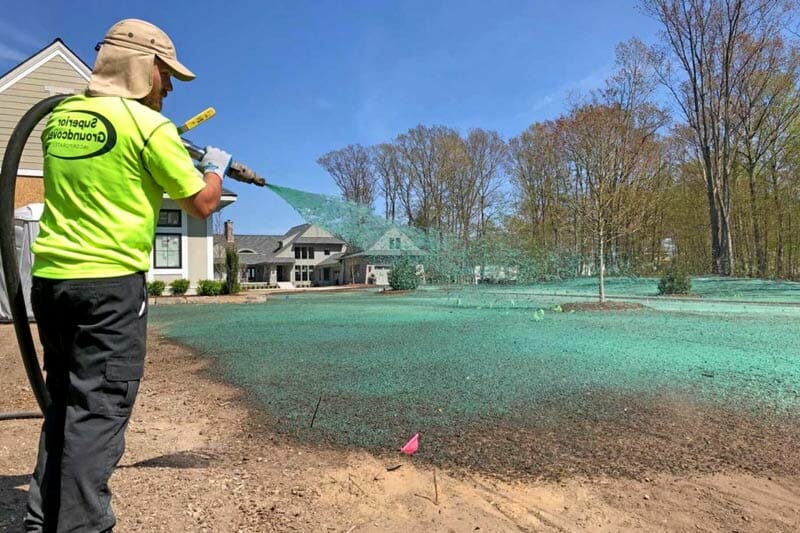 Hydroseeding cost per square foot
Professionals usually price smaller lawns per the square foot and larger ones by the acre.
The hydroseeding cost per square foot ranges between $0.08 to $0.25 per square foot.
Once you hire a professional to hydroseed your lawn, they will come to the site and take correct measurements of the lawn. They will then provide a cost estimate for the entire project.
The equipment used for hydroseeding is quite expensive. So, when professionals provide their estimates, they include the cost of the equipment.
Most professionals charge between $24 to $30 per hour to hydroseed a lawn. This cost is for smaller lawns.
Homeowners with larger lawns can pay up to $55 to $125 per hour for professional hydroseeding.
Hourly rates are best suited for smaller projects. For larger projects, hourly rates tend to be so costly and wouldn't make financial sense. This is because it can take more than one day to hydroseed a massive piece of land.
For this reason, professionals charge larger projects by the acre rather than by the square foot or by the hour.
Additional hydroseeding cost factors
Like most lawn care or establishment services, hydroseeding rates may also differ from one location to the other due to several factors. These include:
Grass type: Different climates support different grasses. So, your lawn may require a disease-resistant variety that comes at a higher cost. If your lawn requires a cheaper variety, you will pay less for the service.
Location: Your location also matters a lot when it comes to landscaping services. If you live in big metropolitan cities, the labor cost will be higher than people living in small towns.
Erosion threat: Areas with a higher erosion threat will tend to pay more for hydroseeding because more slurry will be required. This also applies to sloppy areas and those receiving high amounts of rainfall.
Lawn size: It is obvious that people with larger lawns will pay more hydroseeding costs. Smaller lawns are usually charged by the square foot while larger lawns are charged by the acre. So, the larger the area, the costlier it will be to hydroseed. However, the "per acre" cost for larger yards will be lower, so it becomes cost-effective to hydroseed massive areas all at once.
Lawn slope and condition: The conditions and slope of the yard alo affect the hydroseeding cost. If your yard is sloppy, more slurry will be needed. Also, if the area is uneven, you will be required to even it out at a higher cost.
Equipment used: The machines used for hydroseeding are expensive, which explains why this lawn establishment method is costly. Renting a machine costs between $300 to $500 per day while new equipment costs between $1,500 to $10,000 or more.
How can I save money on hydroseeding
According to professionals, hydroseeding is not a cost-effective lawn installation method for smaller lawns. This is because the machines used are costly and you may need to hydroseed multiple times if the grass seed fails to germinate.
Most landscaping professionals often offer discounts to homeowners with larger-than-average jobs.
For instance, hydroseeding a 5-acre lot could be costlier than one acre, but the "per acre" price could be a bit lower.
So, if you have a large yard, it is best to hydroseed it all at once rather than dividing it into sections because the overall "per acre" cost will be lower.
Besides creating a beautiful, lush lawn, hydroseeding has several other benefits. These include: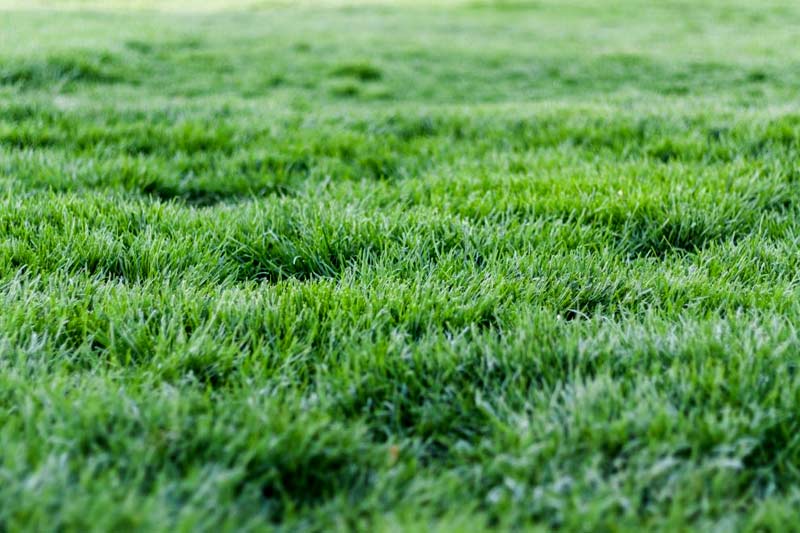 While hydroseeding is costlier than traditional hand seeding, it is way cheaper than laying sod. It is a faster, cheaper and convenient alternative to establishing a green lush lawn.
Hydroseeding is cost-effective especially when establishing a lawn on a large yard.
Hydroseeding provides a quality lawn compared to sodding and regular grass. The seed establishes deep roots into the soil. More so, the roots do not suffer the shock of being transported into new soils. The hydroseeding mixture also contains a variety of high-quality seeds best suited for the climate and soil type of the new area.
One of the most outstanding benefits of hydroseeding is coverage. Hydroseeding can cover extensive and hard-to-reach areas which would be impossible to cover with regular grass or sod.
More so, the seed germinates fast and forms a network of mat-like fibres that help maintain moisture, fertilizer and nutrients. This results in a beautiful, thick and uniform lawn.
While hydroseeding will not give you a beautiful instant lawn like sod, it has far much better benefits. Hydroseeding is easier and faster to install than sod, and it does not need extensive labor. Besides, it controls soil erosion and provides a healthy quality lawn after two to four weeks.
If you are having issues with erosion, hydroseeding your lawn is the perfect solution. The slurry contains quality seeds, mulch and a tackifier that protect against erosion from rain, wind, sun, pests.
Over the years, hydroseeding has gained popularity because of its versatility. It can be used for residential lawns, vegetation restoration, erosion control, hillside stabilization, road sides, national parks, city parks, landfills, wildfire repair and dust control among others.
DIY or hire a pro to hydroseed your lawn
Hydroseeding is usually not a DIY job, but if you have a small lawn, you can decide to do it on your own. However, DIYing hydroseeding wouldn't be a wise decision financially, whether it is a small or large lawn. This is because the equipment used is costly, whether rented or new.
Here is a breakdown of the DIY cost to help you make a wise decision.
Hydroseeding machine: $300 to $500 per day for a rental machine and about $1,500 to $3,000 for a 225-gallon hydroseeder.
Hydroseeding kits: $25 to $35 per 100 square feet.
Store-bought slurry: $0.20 to $0.50 per square foot.
Protective wear (gloves, non-fogging goggles, face mask, protective clothing and safety boots): between $7 to $20.
The actual hydroseeding cost will depend on your lawn size and several cost factors as discussed above. However, DIY costs tend to be costlier than when you hire a professional.
It is wise to hire a professional to hydroseed for you. There are several benefits of hiring a professional landscaper. These include:
Cost-effectiveness. Pros will charge you a cost that is inclusive of the machines they use. So, you will not have to rent or buy a machine.
Experience. Professionals are experienced and can hydroseed extensive areas of land within a few hours. More so, pros can manoeuvre through tough jobs like sloppy, bumpy, rocky and inaccessible areas.
Time. Since pros have enough experience, they can finish the job within a few hours depending on the size of the lawn.
Professional results. Once you hire an expert, be sure to get good results. Pros handle their job with professionalism and ensure you get the results you want.
If you are looking for a lawn care service in your area, this FREE service could be of great help.
HomeGardenGuides.com is a FREE service that quickly matches you with top voted local Lawn Care Services..
You can get 3 estimates fast by real certified experts in your area in just 2 minutes.
Scroll to the top of the page and enter your Zip code.
Answer questions about your landscaping or lawn care job
Your details are forwarded to three local experts. They will send you a price estimate for the job and some friendly advice.
IMPORTANT: There is no obligation to hire. This is a free tool and service to be used at your pleasure.