Hydroseeding is a cheaper and faster alternative to laying traditional sod. It is more expensive than regular seeding, but it involves much less work, making it a more convenient way to grow your lawn.
On average, homeowners spend about $0.10 per square foot to hydroseed a lawn. This cost ranges between $0.08 to $0.25 per square foot.
The exact cost depends on the slope of the yard, the quality of the slurry, and the lawn size. Each of these factors is discussed in detail below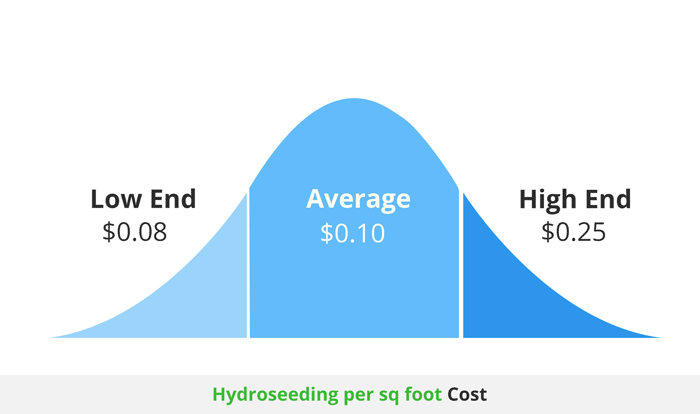 The table below provides you with the average cost of hydroseeding per square foot as well as other lawn sizes.
| Square footage | Minimum average cost | Maximum average cost |
| --- | --- | --- |
| 1 square foot | $0.08 | $0.25 |
| 250 square feet | $15 | $50 |
| 500 square feet | $30 | $100 |
| 1,000 square feet | $60 | $200 |
| 2,500 square feet | $250 | $600 |
| 5,000 square feet | $400 | $1,000 |
| 10,000 square feet | $750 | $2,000 |
| 21,000 square feet | $1,500 | $4,000 |
Average hydroseed prices by brand
The slurry used in hydroseeding is inexpensive. Most of the expenses associated with the procedure come from equipment used and labour costs.
Below are some of the popular hydroseed brands you can find in supply stores.
| Brand | Average price | Coverage |
| --- | --- | --- |
| Scott's | $13 | 300 square feet |
| Nature's seed | $19 | 500 square feet |
| Grass shot | $17 | 700 square feet |
Different manufacturers use different formulas to formulate their hydroseed material, which explains the difference in the cost of each brand.
Factors affecting the cost of hydroseeding
Hydroseeding cost varies depending on several factors as discussed below.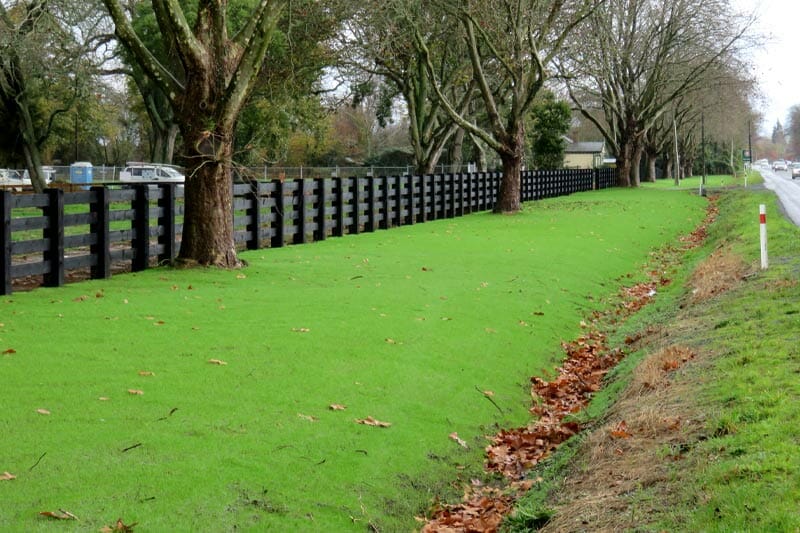 Typically, hydroseeding costs will vary depending on the location you live in. if the service is on demand in your area, the cost is likely to be higher.
Also, people living in booming metropolitan areas will pay more for lawn care services compared to people living in remote or rural areas.
If your lawn is sloppy, you will need more slurry because of drainage and surface runoff. For steeper slopes, you may end up paying double the cost of material per square foot.
Also, uneven or bumpy terrain tends to make landscaping and lawn care jobs difficult. This increases the labour cost for the project.
You could consider resloping your lawn to avoid the high lawn care costs. Lawn resloping costs between $100 to $1,500 depending on the current state of the yard.
The size of the lawn also determines how much money you will pay for your lawn.
Most landscaping professionals charge by the square foot for small to average-sized lawns. Larger yards are charged per acre. Some companies may even offer discounts for oversized yards.
The current hydroseeding cost is $0.08 to $0.25 per square foot or $3,500 per acre. Once the professionals measure your yard, they will determine how much they will charge you for the job.
Type of hydroseeding mixture
The quality of the slurry will determine the overall cost of the project. High-quality hydroseeding mixtures will cost more than medium or low-quality mixtures. This is because the ingredients and dyes used are of good quality.
Most products that claim to be top-quality and environmentally-friendly cost about $0.55 per square foot or $80 per gallon. On the other hand, cheaper alternatives cost as low as $0.20 per square foot.
The equipment used for hydroseeding is quite expensive, which is why the overall cost to hydroseed your lawn is high.
Most seeding companies have large machines (600 to 900 gallons), which can be rented for up to $500 per day.
If the landscaper you hire will use rental equipment, the hydroseeding cost will be higher. Still, if you DIY the job, you will need to rent the equipment, which will increase the overall cost of the project.
A new hydroseeding equipment (225-gallon) costs between $1,500 to $3,000 while an industrial equipment (2,500-gallon) costs up to $18,000.
Some lawn care services charge an initial consultation fee. The fee depends on the company you choose. It is paramount to find out whether you will pay for consultation, and if so, how much.
Water is extremely important in hydroseeding. If water is scarce in the area you live in, you will pay more for hydroseeding.
Also, you will need to water your lawn often once the grass germinates. If you have a large yard, you may need to install a sprinkler system at a cost of $2,500 to $4,700.
Labour cost to hydroseed a lawn
The reason why hydroseeding is so expensive is because professionals include the cost of using their equipment in the rates they offer.
The rates charged depend on the size of the project. For instance, smaller jobs of less that 500 square feet will cost about $24 to $30 per hour. For larger projects, the cost can range from $55 to $125 per hour.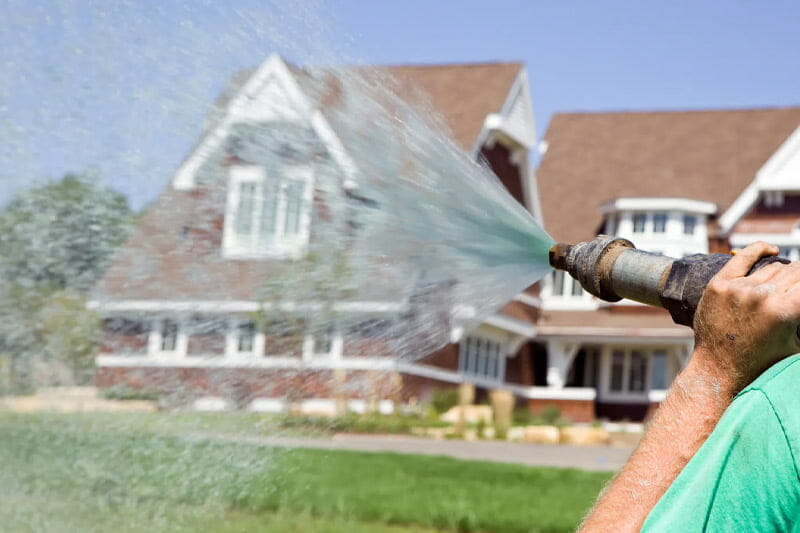 DIY VS hire a professional
The decision as to whether to DIY or hire a professional depends on several factors, including:
Your hands on skills
Your schedule
Budget
Availability of equipment
Lawn size
The hydroseed material is fairly cheap, but the overall cost to hydroseed a lawn is expensive because of the equipment used. So, if you plan to DIY the job, make sure you consider the cost of renting or buying the equipment.
If you are a lawn enthusiast,and would like to hydroseed your lawn, worry not because it is possible. The DIY process may, however, be costlier than you think because you will need to hire the necessary machines.
Also, you cannot bank on the initial process as the hydro seed can germinate or refuse to germinate. If the latter happens, you will be forced to repeat the entire process, which means a double cost.
Here is a breakdown of DIY hydroseeding costs.
Hydroseed rental machine: $300 to $500 per day. If you choose to buy a machine, you can spend between $1,500 to $10,000+ depending on the quality and size you want.
Store-bought hydroseed mixture: $0.20 to $0.50 per square foot.
Hydroseeding kits: $25 to $35 per 100 square feet
Also, factor in the transportation cost of the machine you buy or rent. All factors considered, you may end up spending more for your DIY project than when you hire a professional landscaper.
Benefits of hiring a professional
Let's go through some of the benefits of hiring a lawn care professional.
Although hiring a professional landscaper is expensive, it is not as expensive as a DIY project. If you decide to DIY the project, you will spend between $1,500 to $10,000 to buy a hydroseeding machine.
On the other hand, if you hire a professional, they will come with their own equipment and charge you an overall cost for the project. Besides, professionals can get discounts for materials, and extend the discounts to you, thus a lower project cost.
Professionals have been doing the job for many years, so they know how to navigate through challenges like sloppy terrains or faulty machines. More so, professionals will know the correct amount of slurry to use on different lawn sizes.
Professional landscapers will complete the project within the set timeline. They know how many hours the project will take depending on its size and complexity.
Looking for a professional landscaper near you?
If you are looking for a lawn care service in your area, this FREE service could be of great help.
HomeGardenGuides.com is a FREE service that quickly matches you with top voted local Lawn Care Services..
You can get 3 estimates fast by real certified experts in your area in just 2 minutes.
Scroll to the top of the page and enter your Zip code.
Answer questions about your landscaping or lawn care job
Your details are forwarded to three local experts. They will send you a price estimate for the job and some friendly advice.
IMPORTANT: There is no obligation to hire. This is a free tool and service to be used at your pleasure.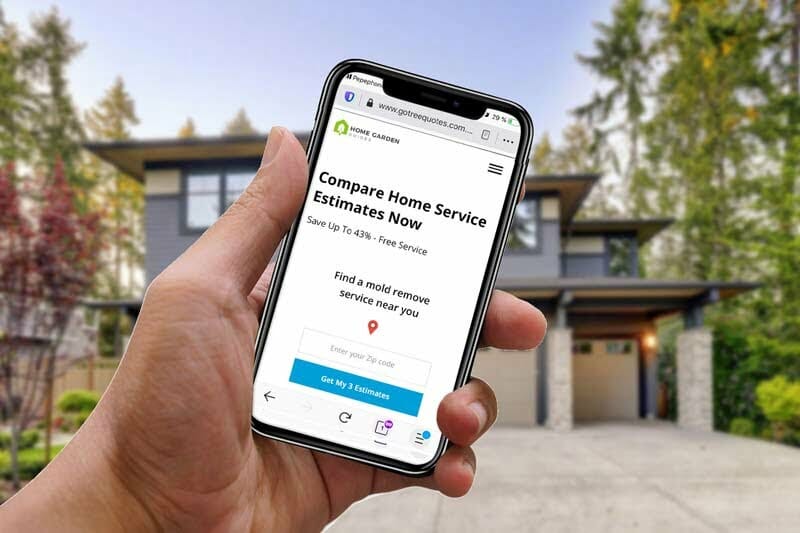 Pros and cons of hydroseeding
Just like any other lawn establishment or lawn care method, hydroseeding has its own pros and cons as highlighted below.
The grass grows faster than traditional seeding
The seed is in a slurry mixture, so it cannot be blown away easily
It is cost-effective compared to sod installation
Ideal for oversized yards
Ideal for sloped areas susceptible to soil erosion
It is time-effective
Less patching compared to traditional seeding
Allows for mixing of different types of seeds to create a mixture best suited for your lawn
The lawn requires more prep work before application of the hydroseed
Hydroseeding does not provide immediate results compared to sod
DIY hydroseeding is more costly and complicated than traditional seeding or sod application
The process requires a lot of water, which can be an issue if you live in areas where water is scarce
Hydroseeding requires more initial maintenance to keep the lawn healthy
You cannot step on the lawn immediately after application
Is hydroseeding worth the cost?
Yes, hydroseeding is worth the cost. The hydroseed material used is inexpensive, and if you hire a professional to do the job for you, you will not need to rent or buy any machines.
Hydroseeding is much cheaper than laying sod, and although it is more expensive than traditional seeding, it is more convenient, time-effective and cost-effective for larger lawns.