Taking care of your lawn has so many benefits. For instance, a beautiful lawn makes your home appealing. Also, it can significantly boost the resale value of your home. So, it is important to aerate, dethatch, mow and overseed your lawn as often as required.
Aerating your lawn yourself may save you a few dollars, but it is not quite worth it, especially if you have a busy schedule. Also, aerating needs skills, and if you lack them, you may end up harming your lawn. For this reason, it is essential to look for a good lawn care professional near you to take care of your lawn whenever the need arises.
With qualified lawn care professionals, your lawn will receive special care and grow healthier. More so, you will be at peace knowing the task is in good hands.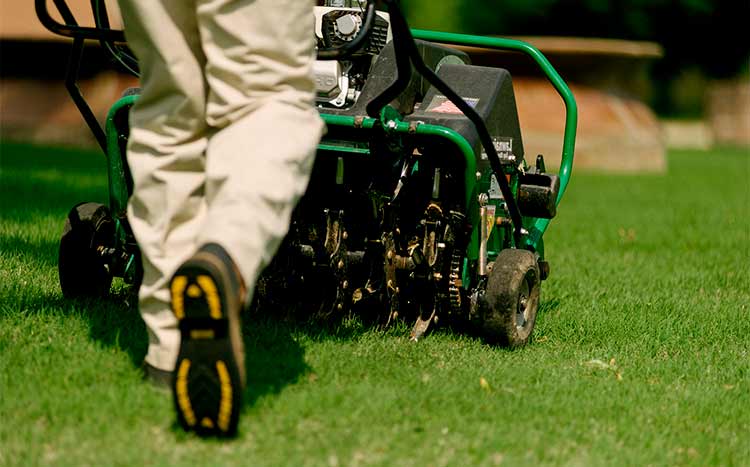 Core aeration is good for your lawn as long as it is done the right way. The national average cost for core aeration is about $127, with a range of $112 to $142. The cost per square foot is between $0.015 and $0.019. For 1000 square feet, expect to pay anything from $15 to $19. These costs vary depending on your lawn size, location, and the difficulty of the job.
The average cost to aerate one acre is $400 to $600. However, for large spaces, most will not price the job by square feet. So, if you have a large lawn, you may pay hourly rates for the job. Contractors charge between $35 and $65 per hour to aerate a lawn. If you have the time and skills, you can DIY the project to lower the cost. You will, however, need to rent aerating equipment that goes for $55 to $85 for 4 hours.
If you combine aeration and overseeding, you can pay less than double the aeration cost. Professionals may lower costs when the services needed are many. To aerate and overseed 10,000 square feet, expect to pay between $200 and $325. The cost to aerate and fertilize your lawn will be about $170 and $260.
The table below summarises the costs for you.
| Service | Quantity | Low | High |
| --- | --- | --- | --- |
| Lawn aeration cost | Per sq. ft. | $0.015 | $0.019 |
| Lawn aeration per 1000 sq. ft. | 1000 sq. ft. | $15 | $19 |
| DIY equipment hire | 4 hours | $55 | $85 |
| Lawn aeration labor cost | 1 hours | $35 | $65 |
| | | | |
| National average core aeration cost | 7,500 sq. ft. | $112 | $142 |
Choosing a good lawn aeration contractor near me
Finding good lawn aeration services will incredibly benefit your lawn. With the excellent exchange of water, nutrients, and air in the soil, the grassroots will grow stronger and healthier. So, your lawn will be thicker and healthier every day. The following tips will help you choose the right lawn care professional.
A licensed lawn care provider should be your top pick because the license is proof enough that their expertise and quality are top-notch. It also shows that the professional is properly trained and has the needed skills to handle your lawn job. The expert will have the knowledge to handle tools and will avoid bad practices that may harm your lawn.
For this reason, you should always check whether the lawn care expert you have eyes on has the right license. Determine whether the license is up to date and whether the expert has attended additional training that keeps them current on the industry's latest practices. If the professional cannot show you their license, simply move on to the next option to avoid regretting later.
Any qualified lawn care provider will have the experience required to aerate the lawn properly. The professional should be aware of the proper aeration techniques and should follow the industry standards. Core aeration is the optimal aeration choice for lawns, and a large number of US homeowners and contractors choose it over other methods.
Aeration breaks up and redistributes the soil, thus decreasing its density. It also removes any barriers that may prevent grassroots from getting enough nutrients, water, and air. The professional you choose should know the proper core depth, which is 2.5 to 3 inches. This depth is enough to reduce soil compaction and boost root growth.
Once you aerate your lawn, you will need to overseed to help the grass recover and grow healthier. Before choosing a particular lawn care expert, you should determine whether the overseeding option they choose will be right for your lawn. The provider should explain everything and help you understand why the method they choose is the best for your yard.
Overseeding will greatly enhance your lawn's appearance and help it withstand insects and diseases. Watering is also essential, and it should be done properly. Ensure the expert you choose will handle the job as required.
Insurance is as important as licensing, and every lawn care provider should have proper insurance. Whether the provider is working solo or has a crew, they should have proper insurance. Ensure the lawn care professional you choose is insured. Also, ask for proof of insurance and check whether the insurance company listed covers the professional.
Questions to ask lawn aeration companies
Before you hire a lawn care provider, it is essential to determine whether they are genuine or not. You cannot possibly know if the provider you choose is right for you until you ask them a few truth-revealing questions. Below are some of the questions you need to ask potential lawn care contractors before you hire them.
How long have you been operating?
Before you commit to a particular professional, ensure you know how long they have been in business. Do not be among the many homeowners who end up being duped by "professionals" that lack proper skills and experience.
Although newer companies may also offer exceptional services, most of them may not have the knowledge to handle critical projects. Also, some of them may not stick around for a long time.
It is good to work with professionals that have been around for more than four years. Companies that have been in business for a long time will know everything that entails lawn care and will have better customer care services.
You should not assume that all lawn care providers offer similar services. Different companies offer different services, so you must ensure you know exactly the services the company you are interested in provides.
Any company that offers almost all services should be avoided. This is because they might not have the proper skills to aerate your lawn.
Insurance is critical, and the company you intend to hire should be covered by a reputable insurance company. Ask your lawn care provider whether they are insured and determine if the insurance is up-to-date. Also, determine whether it is enough to cover for damages and medical bills in case the experts get injured in the line of duty.
When checking the insurance papers, determine whether the providers pay their premiums monthly. This is because some cunning professionals pay for the first few months to dupe you into hiring them.
Do you offer additional services?
It is good to ask potential lawn care experts whether they offer any other services apart from aeration. This is important if you need additional services like dethatching, overseeding, lawn treatment, and mowing.
It is usually cheaper to hire services as a package. So, if you need more than one service, look for professionals that provide what you need.
Ask the expert you are about to hire whether he/she works solo or has a team. Also, find out whether the employees, if any, have gone through proper training. Do not allow untrained professionals to work on your lawn as they may harm the grass. So, whether the professional has a team or not, determine whether they are rigorously trained.
How often will you aerate my lawn?
This question is also important because you need to find out how regularly your lawn is going to be aerated. A healthy lawn needs aeration once a year, while a lawn grown on heavier soil may need to be aerated twice a year. Find out how often your lawn needs aeration and determine if the professional you are about to hire will follow the right aeration protocols.
Hiring lawn aeration companies in my area
If you are looking to hire a new lawn care specialist, below is a list of the things you need to consider. Lawn care professionals are many, and you must be cautious not to fall into the hands of scammers.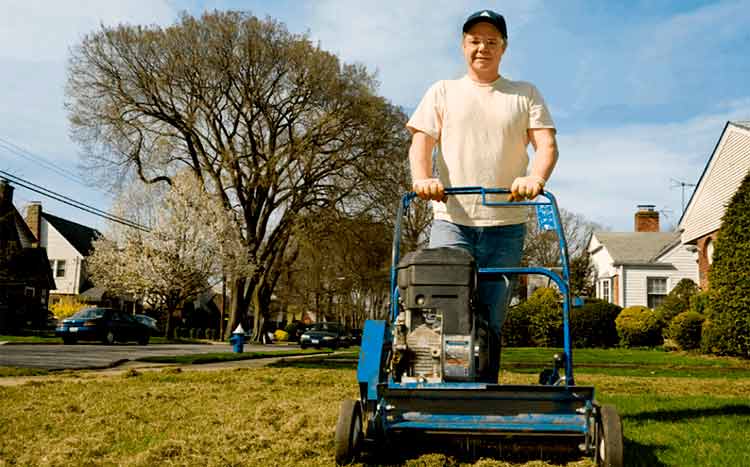 HomeGardenGuides.com is a free service that quickly matches you with the top-voted local lawn care Specialists. Instead of going through all the hassle of looking for a specialist, this FREE service makes your work easier.
You can get 3 estimates fast by real certified experts in your area in just 2 minutes.
Scroll to the top of the page and enter your Zip code.
Answer questions about your lawn job
Your lawn job details are forwarded to three local experts. They will send you a price estimate for the job and some friendly advice.
IMPORTANT: There is no obligation to hire. This is a free tool and service to be used at your pleasure.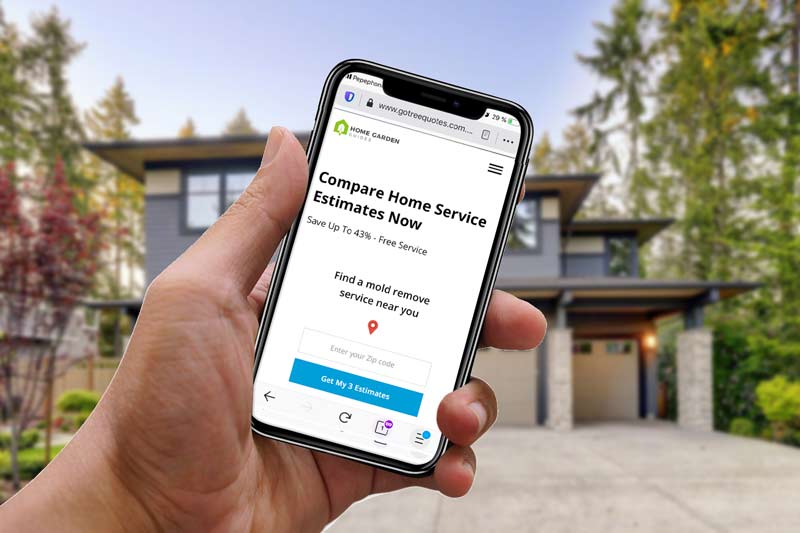 Do not hire any professionals that do not have proper insurance. Accidents may happen, and they may lead to damages or injuries. If the expert does not have the right insurance, you may be forced to foot all the bills that come up.
Once you call, text, or email a lawn care professional to know what they offer or get a quote, the company should call back as soon as possible. Avoid any company that responds after three working days because it shows they are not committed or have a lot going on. A good provider should respond within 24 working hours.
If the company you contacted response, ensure it follows up, answers all your questions, provides their schedule, and gives you a quote. Even if the company has many engagements, it should not take too long to follow up, and if it does, move on to the next potential hire.
The way a company presents itself matters a lot, no matter its size. The presentation includes their dressing code, communication skills, listening skills, and the state of their equipment. A company with proper uniforms and well-maintained tools will be a good hire as long as they pass all the other aspects.