Because most basements suffer from humidity issues, epoxy paint is needed for a good, long-lasting finish when painting a basement floor.
For a 1,000-square-foot basement, you can expect to spend between $720 and $1,650. This comes to around $0.76 per square foot on average. Most painters charge between $45 and $75 per hour.
You'll also have to spend between $140 – $270 on material costs if you want to go the DIY route. 
Basement floor painting per square foot
The total cost for painting your basement floor will depend on the type of paint and the number of coatings you intend to use. But on average, expect to spend between $0.54 – $1.65 per square foot for the complete project.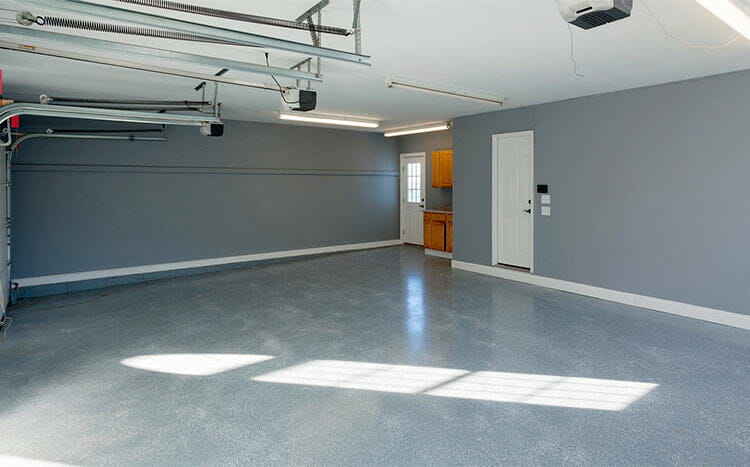 Basement floor repair and prep cost
If your basement floor needs some repairs or some prep work is done before painting, your costs will dramatically increase. The total amount you'll pay will depend on the type of repairs required.
Most homeowners spend $150 on average complete basement repairs to prep for painting.
In most cases, nothing will be needed for prep, just a quick clean. In the case the cement is cracking or major works are needed, you could spend up to $1,550.
Basement floor painting options
Should I use Epoxy Paint on a basement floor?
Yes! There are many reasons why epoxy paint is perfect for your basement floor. Compared to other painting materials, epoxy offers a strong, durable, and appealing finishing for your floors.
With epoxy, you get to choose from a variety of styles and decorative options. Whether you're looking for solid colors, terrazzo-looks, or some quartz sand, you'll find an epoxy coating for it.
It's also very easy to clean, thanks to the smooth surface that makes vacuuming quick.
Another reason why you should opt for epoxy is that it's waterproof. This means it offers the right protection for your basement against moisture, which often attracts mold and mildew.
It also assures you that your basement floor will be able to withstand any leaks or spills, preventing them from seeping into the home's foundation.
Should I remove the old paint first?
Not necessarily. Just like when painting your walls, you don't have to remove the old basement floor paint if it hasn't been compromised, i.e., it's not peeling or flaking.
However, several factors should drive you towards making this decision;
State of the old finish – If the old paint is cracked, peeling, or blistering, you'll first have to scrape off that paint before adding a new coat. You'll also need to use a primer to maintain a consistent base for the new paint.
Type of paints – If you're using the same type of paint (both are oil-based or water-based), and the old paint is in good condition, you can paint over the old paint. However, if you're using different types of paint, e.g., oil-based and water-based paints, you'll need to remove the old paint because these paints don't adhere to each other well.
Age of paint – The older your paint is, the lower its bonding and adhering ability. Most paints usually last for 4 – 5 years. If your paint is older than this, consider removing it first before painting.
Dampness, efflorescence, and other defects – if you've noticed any dampness, efflorescence, or defects like mold growth, the best action is to remove that paint, treat the floor, then repaint.
Should I use waterproof paint for basement floors?
Yes! Basements are prone to harboring moisture and are often a very damp environment. This makes it a favorite spot for mold infestation, which can be a health hazard and wastes some good space where you could store some appliances.
Epoxy paint is one of the best paints to waterproof your basement. It bonds easily with concrete basements and offers an array of colors to match the basement style.
Most experts recommend using water-based epoxy paints since they're easy to use as a DIY and don't need a lot of prep work during repainting.
You can also opt to use waterproof concrete sealing paints. Just ensure that you use a dye or stain to give your concrete some color and style before sealing it.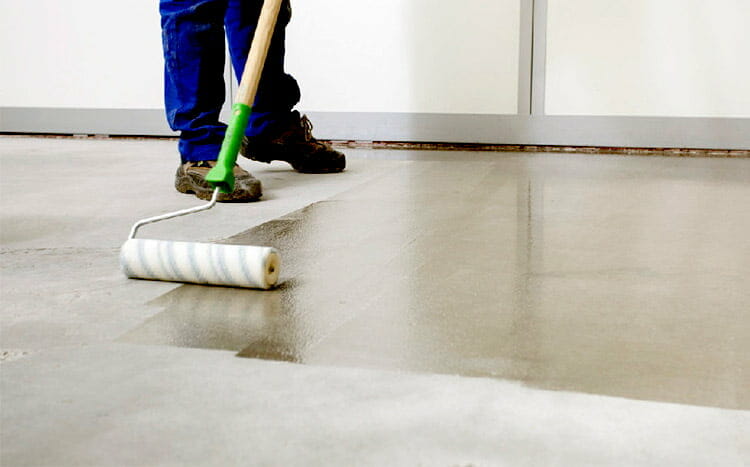 Other Cost Factors to consider
Before embarking on this painting project, you need to consider some factors affecting the project's overall cost. These include:
Appliances – Any appliance in your basement means that some floor areas will not be painted. Ensure that the painter doesn't charge you for that covered area.
Type of floor – Different floorings will demand different paints and prep works. So, your floor job cost for the same square footage won't necessarily be the same as that of your neighbor.
Repairs – Any cracks, leaks, or sagging repairs required before painting will add up to your overall costs.
Hiring an expert – The cost of hiring a professional painter will be quite high, but the results might be better. Carefully consider the quality you expect for the paint job and evaluate if your DIY skills can deliver it.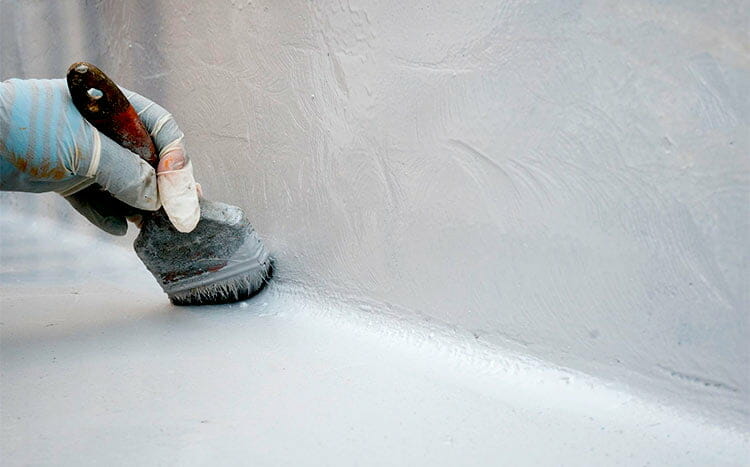 How to apply basement floor paint
The best thing about painting your basement floor is that it's easy to do. As long as you have the time and energy to move things out of the basements, you're good to go!
Here's a list of all the equipment you'll need for the job;
Epoxy paint or other concrete
paint (sealer)
Epoxy paint primer or
concrete primer
Paintbrush
Paint Scraper
Coarse sandpaper and power
sander, or grinder
Paint tray
Mop and Bucket
Painter's tape
Vacuum cleaner
Concrete patch kit
Paint roller frame
Paint roller cover
Steps to paint your basement floor
Once you've checked all supplies on your checklist, it's time for the main job. Here are the steps you should follow:
Step 1: Clear and Clean your basement
Before taking your paintbrush, declutter your basement. Remove all movable objects, patch any cracks, and sand down any floor bumps, then use a vacuum cleaner to clean the floor of dust and debris. Take time also to mop clean the surface to ensure it's dirt-free. A clean and smooth surface is likely to be more adhesive to paint.
Once the floor is clean, apply your epoxy primer using a paintbrush. You can also use a long-handle paint roller. The primer improves the adhesive properties of concrete, allowing it to bond well with the paint. When finished, give it 24 hours before moving on to painting.
Step 3: Apply the Epoxy paint
Now that your primer is dry, mix your epoxy paints according to the manufacturer's instructions, then paint it on your floors. Use a paintbrush to paint through the edges, then use a paint roller for the expansive area. Be sure to start from the edges farthest from your exits to ensure you don't step over painted areas.
Step 4: Let the paint dry, then recoat
Finally, let the paint dry for around 24 hours or more, depending on the weather conditions. Once it's dry, apply the second coat as you did in step 3.
Best paints for basement floors
Shopping for paints for your basement floors is always a daunting task. There are just too many paint brands in the market! Below, we've simplified the search for you. Here are our top paint picks for your basement floor.
Rust-Oleum's Epoxy Shield Basement Floor Coating Kit
This Rust-Oleum paint is one of the best paints for your basement floor. It's durable, comes in many colors, and is very easy to clean.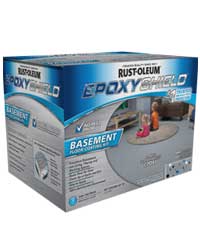 Pros
Doesn't have an odor
Easy to apply
Doesn't need a primer
Cleans with soap and water
KILZ Interior/Exterior Basement and Masonry Waterproofing
This paint is designed for both interior and exterior surfaces, including your basement floors. It uses nanotechnology to stop water infiltration in your floor by forming a barrier.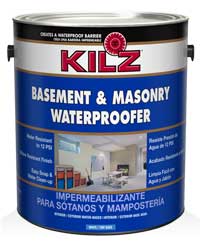 Pros
Long-lasting and durable
Low odor
Resistant to most impact factors.
Works on multiple surfaces
Easy to clean with soap and water.
BEHR PREMIUM® Interior/Exterior Concrete & Garage Self-Priming 1-Part Epoxy
For just under $50, this paint provides one of the most beautiful finishes for your basement floor. It offers protection against chemical damage and is resistant to peeling.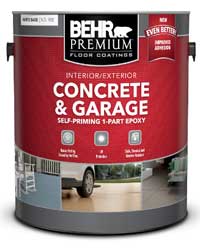 Pros
Easy to clean with soap and water.
Adheres quickly with different surfaces.
Available in custom colors.
Dries quickly.
Works perfectly on rough and smooth surfaces.
Finding basement floor painting companies near me
To get quality results when painting your basement floor, you need to hire an expert painter. You can do this by looking for them on Angie's List, Yelp, or through an easier way, our free service!
HomeGardenGuides.com is a FREE service that quickly matches you with the top-voted local basement floor painting specialists.
You can get 3 estimates fast by real certified experts in your area in just 2 minutes.
Scroll to the top of the page and enter your Zip code.
Answer questions about your painting job
Your basement floor painting details are forwarded to three local experts.
They will send you a price estimate for the job and some friendly advice.
IMPORTANT: There is no obligation to hire. This is a free tool and service to be used at your pleasure.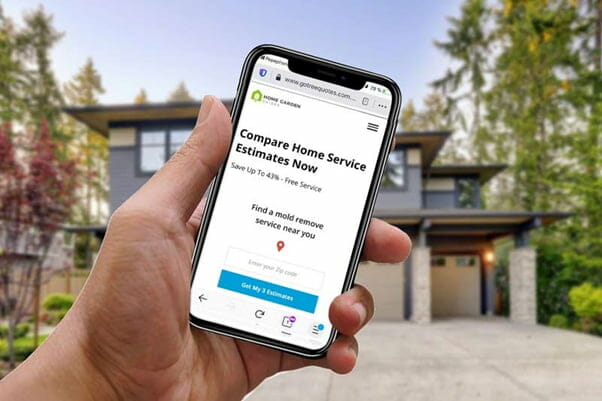 Mostly yes. Many professional painters recommend priming your basement floor before you start painting. However, it'll depend on the material of your floor and the condition it's in.
Primer makes it easier for the paint to bond with your floor and also protects it from staining. If you're painting your floor for the first time, then priming is absolutely necessary.
But if you're only renovating, priming will be necessary only if the floor is peeling, caulking or the paint is incompatible with the floor.
Even though Epoxy is durable and strong, some of its main disadvantages include:
It's temporary – the flooring is susceptible to wear and tear, and over time, you'll have to apply a new coating.
Requires long preparation and drying – A lot of work goes into preparing your epoxy floors, from cleaning concrete to filling cracks. It also takes several days, even weeks, to dry and cure.
Strong fumes – After application, epoxy floorings usually emit a strong ammonia smell, which can be toxic.
Very slippery – Epoxy floors are very slippery when wet, and this poses a hazard to children, pets, and the elderly.
Chips and cracks easily – Epoxy floors don't do well in high-impact areas, and this increases your expenses in repair costs.
Yes! When painting, you want to ensure that your floor is dry to achieve the best results. Some surfaces, such as concrete, might, however, absorb moisture and cause mold to grow underneath the paint. You need to seal it with a masonry sealant to keep out the moisture.