If you're looking to revive the life of your bedroom, adding a new coat of paint is an excellent way to do it.
The average cost of painting a bedroom ranges between $350 – $800, with most homeowners spending about $500 for a standard 10 X 12 bedroom. For a DIY, the costs come to around $200 – $300.
The average cost to paint a bedroom ranges between $2 – $4 per square foot. However, the actual cost range mainly depends on the size of the room and the number of areas to be painted, e.g., trims, baseboards, ceiling, e.tc.
| Services | Quantity | Low | High |
| --- | --- | --- | --- |
| Bedroom painting cost | 10 x 12 | $240 | $480 |
| Bedroom painting labor cost | 4 Hrs | $120 | $360 |
| Bedroom paint job supplies | Per room | $120 | $180 |
| | | | |
| Total per standard bedroom | | $480 | $1,000 |
Expect to pay between $20 – $50 per hour on labor costs for small and easy painting jobs and between $60 – $90 for the more complex tasks. The materials and supplies will also cost you between $0.75 – $1.50 per square foot.
The master bedroom is usually charged higher (between $500 – $900) since it contains more drywall area than other bedrooms in the house.
Cost to paint a 12 x 12 bedroom
The average cost of painting a 12 X 12-bedroom ranges between $400 – $850. This cost doesn't include ceiling, trims, baseboards, and other extra services like prep work and drywall repair.
Including trims in the painting will cost you an additional $80 -$200.
If you DIY, expect to spend between $200 – $400 for the project, depending on the number of colors you want to use.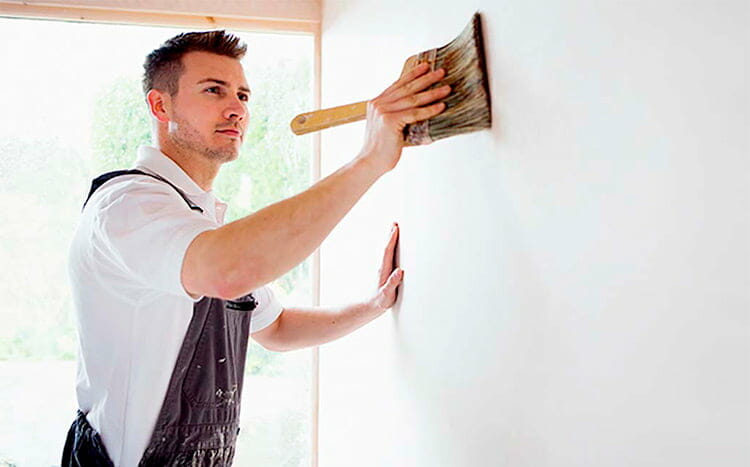 Bedroom painting DIY vs. Pro
If you're working on a tight budget, painting your bedroom as a DIY can help cut down your overall costs. However, if you don't have the right supplies, the cost of purchasing and hiring the tools could be just as high as hiring a pro.
Most pros charge between $30 to $90 per hour for the job or around $300 to $800 for the entire project.
Here's a breakdown of the material and supplies costs for a DIY project. Compare the total costs to see if it's worth it.
| Services | Quantity | Low | High |
| --- | --- | --- | --- |
| Drop cloths | 6 | $30 | $180 |
| Masking tape | 4 | $12 | $40 |
| Paintbrushes (broad and fine) | 2 | $6 | $40 |
| Paint roller & extension | 1 | $10 | $20 |
| Paint tray | 1 | $2 | $5 |
| Painters mask | 2 rolls | $20 | $60 |
| 1 Gallon of paint | 1 | $15 | $50 |
| 1 Gallon of primer | 1 | $10 | $20 |
| | | | |
| Total materials for DIY | > | $105 | $415 |
Do costs include the ceiling?
In most cases, no. Unless you're painting your bedroom for the first time, few homeowners will consider painting the ceiling. As a result, most contractors don't include it in their overall costs.
If the ceiling also requires repainting, you'll have to incur extra costs, usually about $1 – $2 per square foot.
Other features such as painting the bedroom doors are also not included in the costs, and it may cost you around $25 – $35 per door.
Additional cost considerations
There are several factors besides labor and supplies that will increase the total you'll pay to paint your bedroom. These include:
Drywall repair – Most painters charge between $120 – $400 or between $20 – $50 an hour to repair any drywall damages on your bedroom wall or ceiling.
Painting accent wall – Expect to spend anywhere from $80 to paint an accent wall in your bedroom. The exact cost will depend on the type and color of paint, and your location.
Removing wallpapers – The cost of removing old wallpapers and repainting the bedroom wall will add up your overall costs by around 40%.
The texture of the wall – you'll spend around $2 – $4 per sq. ft extra on highly textured walls since they demand special equipment.
Lead testing and removal – If your home was built in the '80s or earlier, you might have to test for lead paint since it was common in that era. Lead testing and removal cost anywhere from $60 – $200.
Should I paint the ceiling or walls first?
According to most experts, the ceiling should always come first, but this isn't a rule. The advantage of painting a ceiling first is that you won't have to worry about paint drips and splatter on your painted walls.
The ceiling also requires the least preparation, and in many cases, only requires a mono-color paint, like white, unlike the walls, which may require a blend of colors.
It's also generally much easier to work from the top-down rather than ascending from the trims to the ceiling.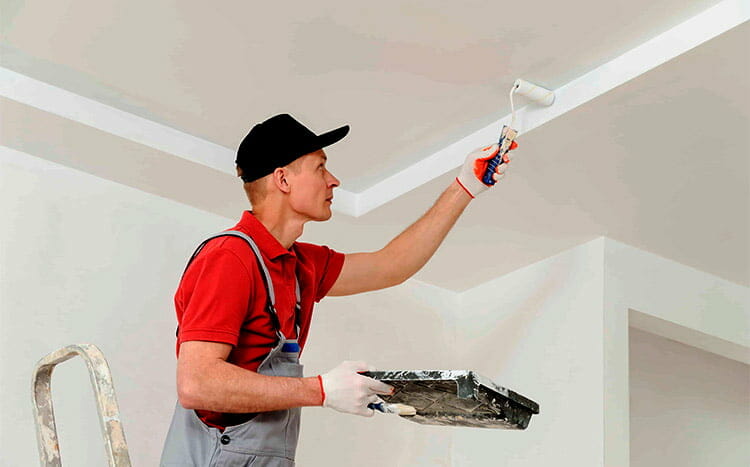 Should I paint baseboards or walls first?
The walls. The order of painting a room for most painters starts with painting the ceiling, then the walls, and then the baseboards or trim.
By starting with the walls, you'll be able to finish the painting job more quickly. You also avoid the risk of paint drips on your baseboard edges.
The only time you can start with the baseboards before the wall is if you're taping the trim, or when you're cutting in during painting. You can also start with the baseboards to save time during the home's construction.
How long does it take to paint a bedroom?
Around 5 hours, but the time could be longer depending on the size of the bedroom, the prep work needed, and the number of coats needed. Whether you choose to do it as a DIY or hire a pro will also influence the amount of time required.
Here's a breakdown of the factors that affect the painting time:
Room Preparation
Generally, you'll take more time prepping the bedroom for the painting. Tasks such as moving all the furniture, taping all the trim edges, and laying the drop cloths may take anywhere from 2 – 3 hours.
Repairs needed
Any wall or ceiling issues such as cracks, holes, or dents have to be addressed before you start painting. This repair process could take anywhere from 30 minutes to around 2 hours.
Size of the room
Bigger bedrooms will obviously take longer to paint than smaller ones. The average bedroom size in the US ranges between 400 – 450 sq. ft. Such a room may take one painter between 4 – 6 hours.
However, if you're only painting part of the room, e.g., not painting the ceiling, the time is considerably reduced.
Number of coats
More paint coats mean that the painter spends a lot more time applying multiple paint coats. The average painter can take around an hour to paint the first coat for your bedroom and an extra 45 minutes each to paint subsequent coating.
This time might be longer depending on the drying time of each coat. On cooler days, drying may take longer, increasing the painting time, while on hot days, each coat dries faster, reducing the painting time.
Pros or DIY?
Most painting contractors work in teams, and so, they may take less than an hour to complete the painting project. Even if it's just one painter, he/she will still take about an hour due to their skill and experience. When you DIY, it may take between 6 – 12 hours to complete the job.
How to find a good local painter
Whether you're painting your bedroom for the first time or you're just retouching the colors, you'll need an experienced painter.
The right painters not only do the work faster, their finishes are also top-quality, and their budget is very friendly. But with the number of untrained painters rising in the local market, you need to be careful with where you look for a painter.
Some of the best ways to find a painter include:
You'll never go wrong with a referral from a friend or neighbor. Ask around among your circle for anyone who's recently repainted their bedroom. For friends and family, you can go the extra mile and inspect the work (if they allow it) to see if that painter knows what they're doing.
There are numerous sites online that allow customers to rate different painters depending on the quality of their work. The most common sites include Yelp, Houzz, AngiesList, and Google.
Before hiring a painter from these sites, read their reviews and ratings and only hire painters with good reviews.
If you're looking for the easiest way to find a reliable painter in your area, then this is it! HomeGardenGuides.com is a free service that quickly matches you with the top-voted local house painters.
In just three easy steps, you can get 3 estimates fast by real certified painting experts in your area in under 2 minutes.
Scroll to the top of the page and enter your Zip code.
Answer questions about your bedroom painting job
Your bedroom painting details are forwarded to three local experts. They will send you a price estimate for the job and some friendly advice.
It's that fast, simple, and easy!
IMPORTANT: There is no obligation to hire. This is a free tool and service to be used at your pleasure.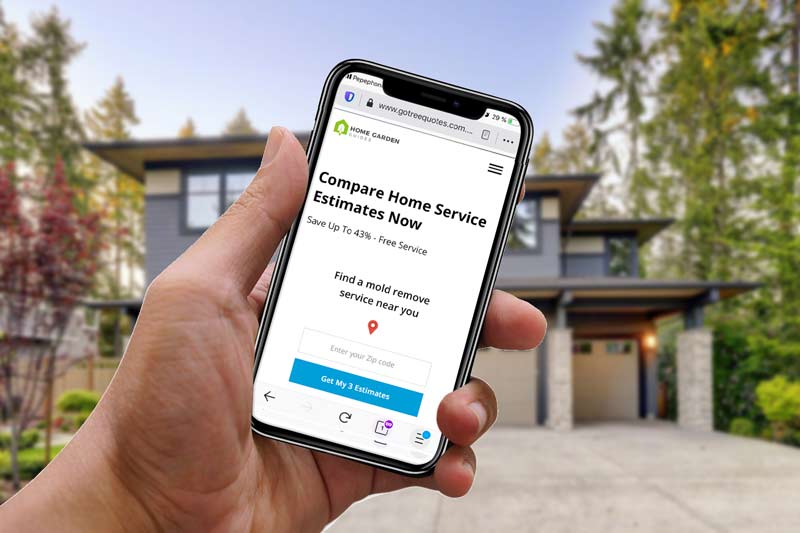 Tips to save money on your painting job
Working on a budget is always challenging for both you and your contractor. Here are some tips that can help you save an extra buck:
Let the contractor buy the supplies – Most contractors have forged good relationships with suppliers and manufacturers and so they can get high-quality paints and primers at a low price.
Do the prep work and clean up yourself – Paying your contractor to move your furniture or, clean up then rearrange things after painting is an unnecessary cost. Doing these tasks may be tedious and time-wasting, but your pockets will thank you later!
If your painter has done a great job and you'd like to express your gratitude, 15% – 20% of the total project cost is a good tip.
However, don't feel obliged to tip your painter. If you don't have the budget to add a tip, don't tip. You can express your gratitude in other ways like giving them meals or recommending their services to your friends.
Moreover, always check your contract to ensure you don't cause problems by tipping your painters.
It depends on the painter's experience, expertise, and the complexity of the painting job. But usually, most painters charge between $30 – $90 per hour. On average, most American homeowners spend about $60 per hour for the painter services and between $300 to $5,000 for the entire painting project.
In most states in the US, every painter needs to be licensed to operate. The few exceptions are states like Texas, where interior and exterior painters don't need a license to operate.
Having a license means that the painter is regulated, which makes sorting contract issues easier. A painter also needs to have liability insurance, worker's compensation insurance, and a bond contract.