Bathroom renovation is rife with opportunities for mistakes, don't let your choice of bathroom paint be one of them. That's why choosing the right bathroom ceiling paint really matters.
Many options are available for bathroom ceiling in regards to brand, hue, and finish, but the most important thing to follow when picking the paint is the finish. The most recommended are semi-gloss and satin finish because they are durable, easy to clean, and resistant to mold and mildew which makes them ideal for bathroom ceilings.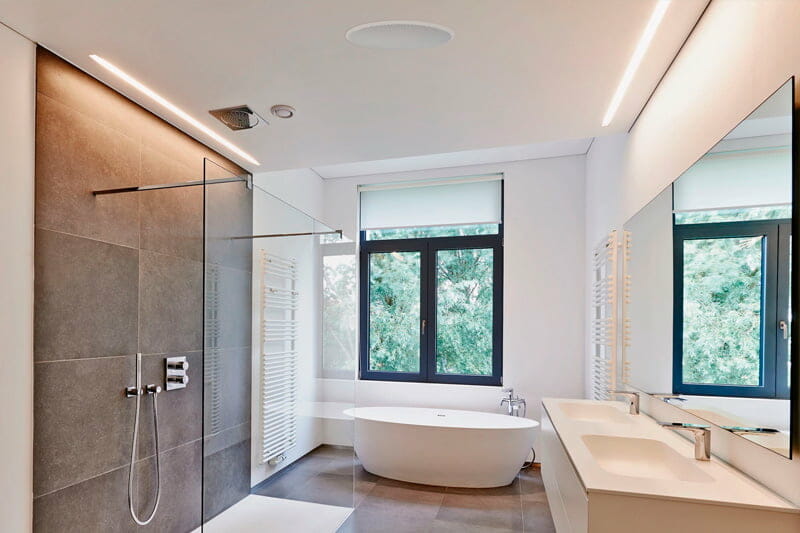 There are no dramatic differences between ceiling paint and "regular" paint, there are a few key differences in paint that is specifically formulated for painting ceilings in humid areas like bathrooms.
Since you are painting in a high humidity area with a lot of moisture, you will need paint that has the ability to block stains and has water resistance to be sure that it can resist moisture and steam.
Best Paint for Steamy Bathroom Ceiling
When you looking for paint for a bathroom ceiling, keep in mind that the paint should be able to prevent mold and mildew at the same time, and its aftereffects.
Today's market offers many choices of paints for high moisture bathroom ceilings and bathroom walls. Touching over the best finish you should use when painting bathroom ceilings is key.
No matter if you are dealing with a small, large, or average-sized bathroom, ceiling paint is just as important as the walls because you don't want to repaint every year.
Bathroom Ceiling Paint and Health
By choosing a good ceiling paint is also important and has a big impact on your health, especially with a small shower ceiling.
The active fungus can lead to mildew and mold formation, and these spores will drop down when active, and they can cause some unforeseen health issues eventually. You must admit that taking a long hot shower with mold and mildew within a foot or two above your head is not a pleasant feeling. The worst part is that the fungus will drop on you and you will not know, and you will have them in your hair all day long.
Choose mold-resistant paint to avoid this situation.
Bathroom ceiling paint needs to provide mold and mildew resistance. Also, protection of humidity is very important because that can lead to peeling paint, chipping, and staining. Whether you are painting bathroom walls, ceiling surfaces, or cabinets in your master bath, consider using semi-gloss paint. The semi-gloss finish is durable, washable, and mildew resistant. Because bathroom ceilings are not wiped down as often as more accessible areas in the bathroom, they are prone to mold and mildew issues.
Since they are plenty of paints available, sometimes you can get confused about what to choose and not get wrong. Choose high-quality paint for this important job, fast-drying water-based latex paint rather than oil-based paint. To be 100% sure that you are getting the best protection from your paint, look for the paint formulas that contain specifically developed ingredients such as mildewcide.
Before painting the ceiling there are some things you had to do to get the job done well. The entire ceiling must be clean, so start with cleaning the ceiling surface and repair any surface imperfections if available. Remove any existing paint, and existing mildew with a water and bleach solution or with some cleaning chemicals (proper ventilation is important during this process because you will deal with irritating chemicals). Kill existing mold with a mold-killing primer if necessary.
Best Paints for Bathroom Ceiling - Review
Quality paints with satin, high gloss, or semi-gloss paint finish will work very well in high moisture areas like bathrooms. Whether Sherwin-Williams™ Duration® or Emerald®, Benjamin Moore®'s Aura, BEHR® are some of the leading brands for bathroom ceiling paints.
I will present you with two options from this manufacturer that works well for bathroom ceilings: Duration Home Interior Acrylic Latex and Emerald Interior Acrylic Latex Paint.
Duration Home Interior Acrylic Latex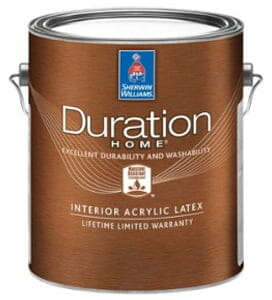 Duration Home Interior Acrylic Latex paint keeps high humidity places in your home protected. This paint primer provides outstanding coverage in multiple coats. Anti-microbial agents contribute to the inhibition of mold and mildew growth on the painted surface. 
Advanced stain-blocking technology helps hide old stains, yellowing or material damage, and provides easy cleaning with just water if new stains appear. It comes in a flat finish with a price of $55 per gallon not including taxes and other fees.
Emerald Interior Acrylic Latex Paint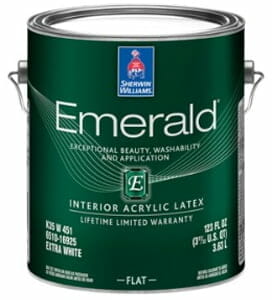 Emerald Interior Acrylic Latex Paint gives you enjoyment in stunning color for years to come. This premium flat paint offers great washability and coverage with a formula that hides dark colors, resists water streaking, and helps prevent stains from penetrating. Like Duration Home paint, this is also paint and primer in one and it contains the same Anti-microbial agents that inhibit mold and mildew growth. 
Benjamin Moore®'s Aura bath and spa paint is a matte finish product ideal for high humidity environments like bathrooms and spas. Provides extreme hide and coverage for multiple coats. This is mildew-resistant paint that gives a fresh look and comes with Proprietary Color Lock® technology for richer colors that stay true over time. Stands up very well to repeated washing with no peeling paint left behind. 
Another great thing about this product is that is a paint and primer option with zero VOC (volatile organic compounds) and low odor.
BEHR Marquee® Ceiling Paint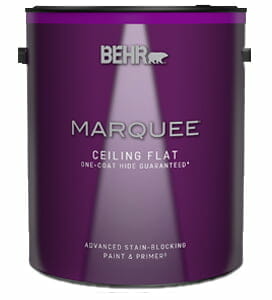 BEHR Marquee ceiling paint is a flat one-coat paint and primer that is 100% acrylic, antimicrobial, and mildew resistant finish which is ideal for steamy bathroom ceilings. Provides coverage of 400 sq. ft. per gallon.
You must be sure what type of finish is appropriate for your painting project. The paint finish determines how shiny and reflective your result will be.
When painting ceilings there are few standard paint finishes that are most usually used:
Matte Finish
Flat Finish
Eggshell Finish
Semi-gloss Finish
Satin Finish
Tips for Choosing a Primer
Choosing a proper primer when painting high moisture areas is also important as paint. Primer will help the paint to adhere to the ceiling properly. Focus on mildew and moisture resistant primer and moisture resistant paint that is specially designed for bathroom walls and bathroom ceilings.
By using a quality primer under your bathroom paint, the paint job is going to last much longer and look so much better. So quality moisture-resistant primer is not optional. You can also consider using a mold-killing primer to stop mold and mildew infestation. This will kill any existing mildew and prevent mildew growth in the future on the new topcoat of paint.
In the variegation of primers for bathroom ceilings, according to some researches are the best ones and will give you the best results.
Best Overall - KILZ Kitchen & Bath Interior Latex Primer/Sealer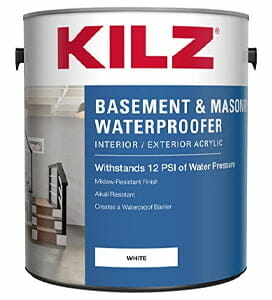 According to many users, this is definitely the best primer that is a low VOC (volatile organic compounds) and specifically made for use on bathroom ceilings and in bathrooms in general. This mildew-resistant primer is highly affordable with a price of around $30 per gallon, and also it will save you money on long distances by helping your paint adhere pretty well.
Pros
Stainblocking ability
Incredibly resistant finish
Very low VOC
Cons
Doesn't work well with semi-gloss or high-gloss finishes
Doesn't go as far on fresh drywall
Best Budget - Rust-Oleum Mold Killing Primer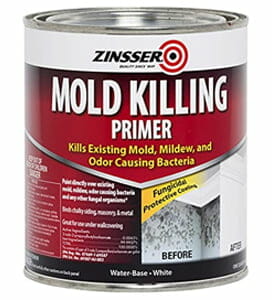 Top-notch primer for dump areas like bathroom ceiling because has the ability to kill any type of existing mold, mildew, fungi, or any other odor-causing bacteria. Whit this product your bathroom ceiling will stay moisture-resistant for many years. The price of around $34 per gallon is totally affordable, but the good thing is that you can buy smaller cans if you don't have a large area to paint.
Pros
Kills mold even if you can't see it
Highly adhesive
Inexpensive
Cons
More expensive in bigger sizes
As you can see in this category there is three option, let's take a look to all of them.
Zinsser Water Tite Waterproofing Primer
KILZ Interior/Exterior Basement and Masonry Waterproofing Paint
Rust-Oleum Mold and Mildew Proof Interior Paint And Primer
1. Zinsser Water Tite Waterproofing Primer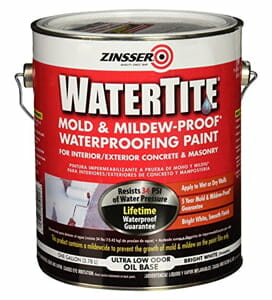 This primer not only comes with five years of mold and mildew proof guarantee, but it also got a lifetime waterproof guarantee. Prevents mold and mildew while helping the existing coat of paint to pop and stay beautiful. With the price of around $99 per gallon, this product is definitely on the pricey side.
Cons
On the pricey side and provides lower coverage than some other primers
Oil-based paint – harder to dispose of than water-based latex paint
2. KILZ Interior/Exterior Basement and Masonry Waterproofing Paint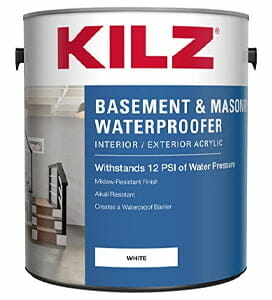 Work well for most surfaces and places, masonry, bathrooms, basement, kitchen, etc. Wherever there's a high-moisture area, this stuff will help you protect your walls and your paint job from mildew and mold in the long term. The price of this product is around $32 per gallon.
Pros
Easy cleanup
Creates a waterproof barrier
Water-resistant to 12 PSI
Cons
Only comes as a water-based latex paint option
3. Rust-Oleum Mold and Mildew Proof Interior Paint And Primer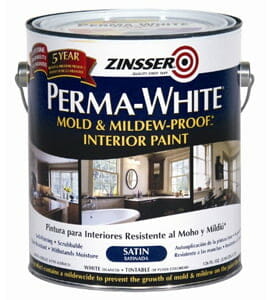 This primer can be used as a paint and primer combo, especially if you are DIY yourself this project, this way will be faster. It comes in a satin finish, but it has a few other finishes available which make it a highly versatile option. The price of this primer is around $58 per gallon.
Pros
5-year guarantee
Paint and primer in one
Comes in multiple finishes
Cons
A little bit on a pricey side
Really thick formula