Typically, buyers tend to remember the houses that appeal to them the most. So, the paint color of your home could either attract or repel potential buyers.
Generally, light, neutral paint colors are the best for your home's interior. Quiet neutral tones allow potential buyers to visualize themselves living in the space, which, in most cases, propels them to buy the house. White, gray, light blue, and beige are among the best paint colors to use. These colors make the space feel bigger, more open, and bright.
This article will look at the trending interior paint colors that can help you sell a house and get a good ROI.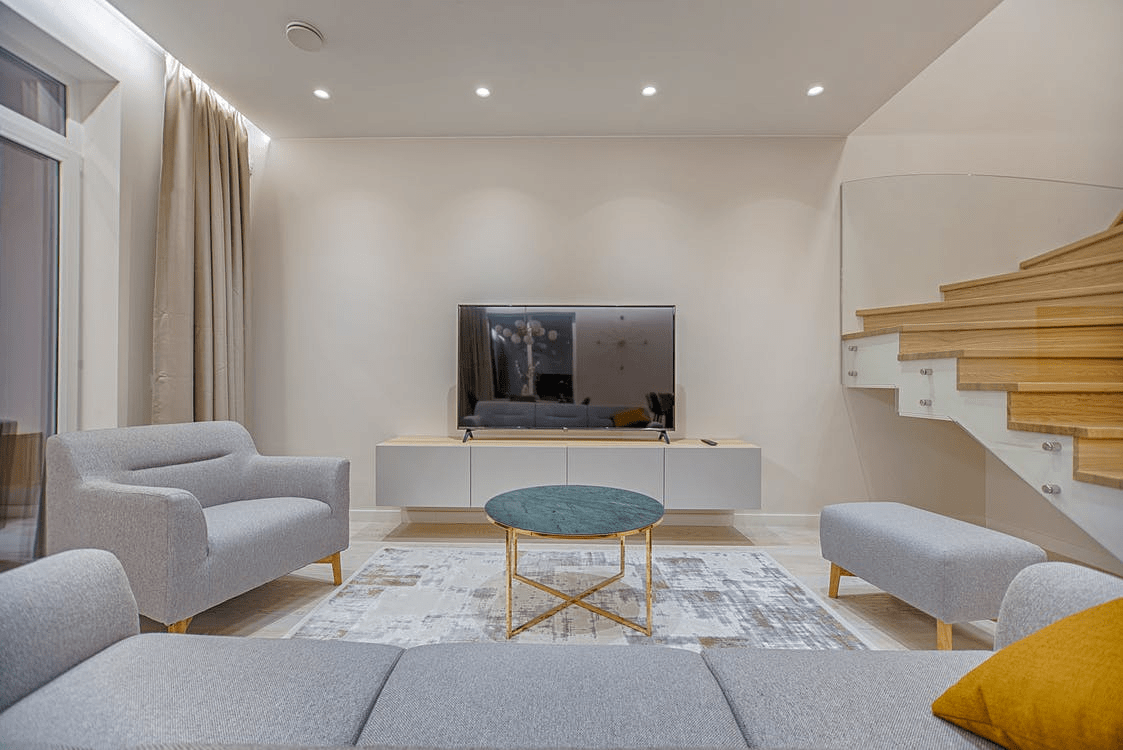 Neutral and light tones have always been the best choice for repainting homes before selling them. While these colors may seem boring, they appeal to a wide range of buyers. Light and neutral colors make the space look bigger and brighter, while dark and inconsistent color schemes make a home feel smaller and stuffier.
Some of the best interior paint colors for selling a home include:
Shades of gray are among the most popular and loved interior paint colors. Gray is a popular neutral color as it is neither white nor black. This color is highly versatile and can suit almost all interior styles and color palettes. Moreover, gray matches perfectly with other popular neutral tones like taupe, beige, white, or cream.
A few years back, gray tones were considered dull. With the current trends, gray is now one of the most revered colors as it adds character to any home design. When paired with textures such as leather, wood, and greenery, gray makes the space look sophisticated.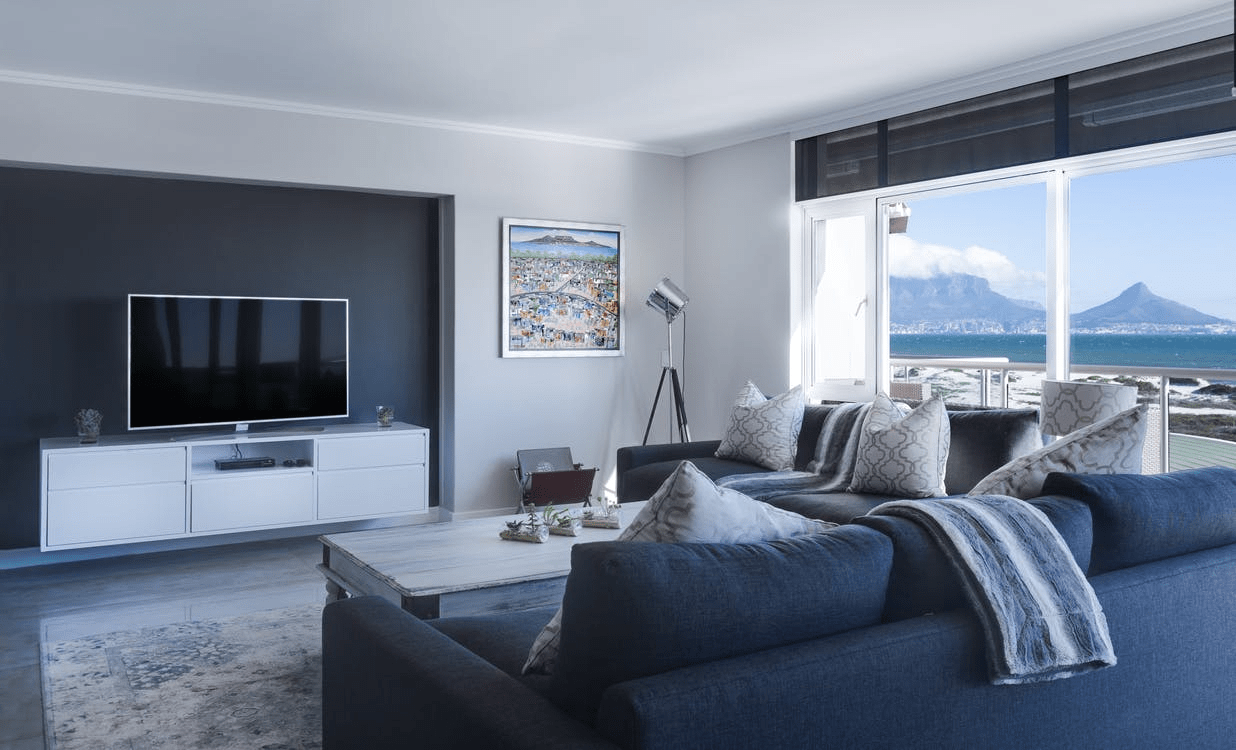 White comes in various shades and hues, making it a timeless classic. It gives home buyers a blank canvas to work with as it can work with any decor style. White also makes the space look fresh and bright.
White hues reflect light, making a room appear bigger and brighter.
While white is a classic hue, it may not be ideal for all rooms. For instance, it would be better to paint highly trafficked areas with darker tones to hide dirt, scurf, and scratch marks. Airy white is perfect for bedrooms and kitchens.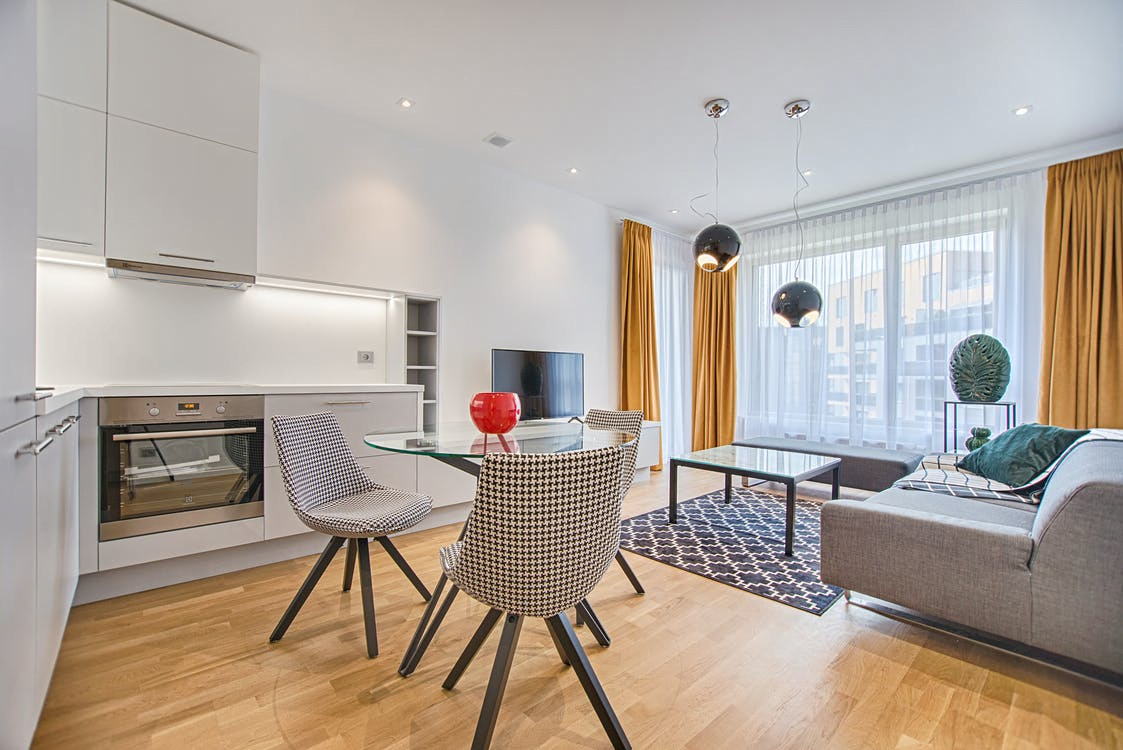 Taupe is another excellent choice for your home's interior. It is a neutral color that comes in several shades, each having different undertones.
With a hint of gray, lavender, or brown, your home will look classic and sophisticated.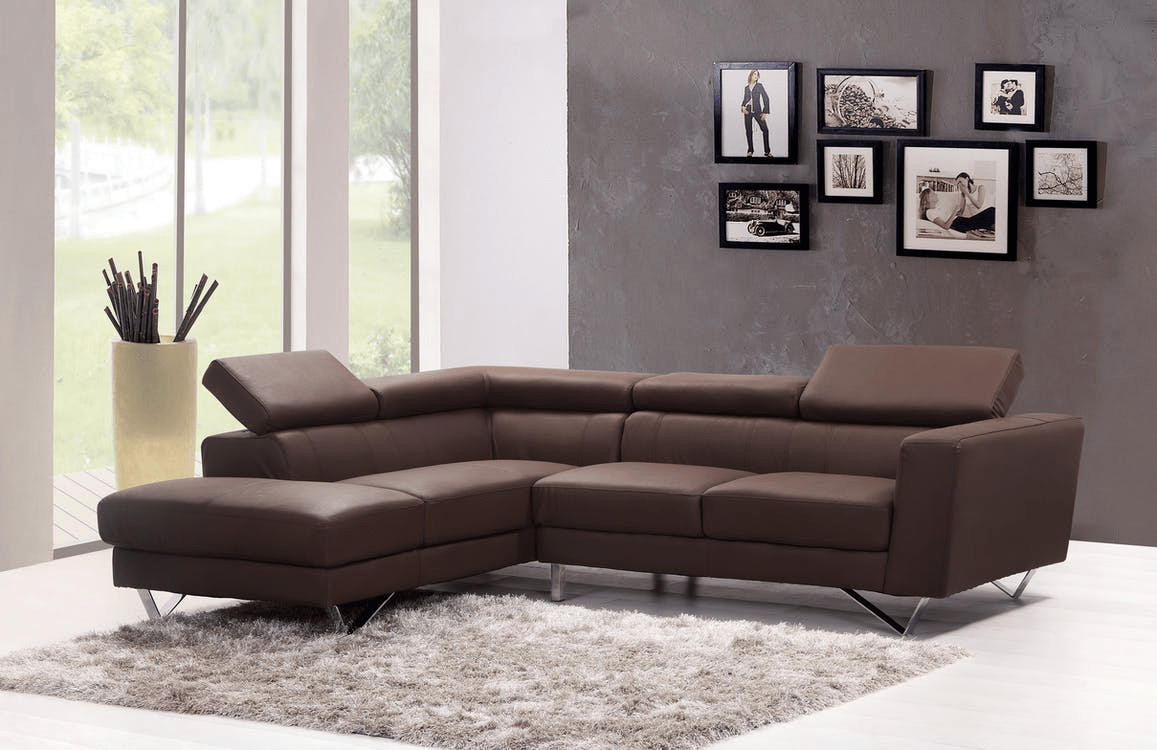 Pale blue is soft and soothing. It is not a true neutral, but it is subdued enough, making it a hit with potential homebuyers. Pale blue is ideal for bathrooms and other smaller spaces, and it nicely complements shiplap, bright white, and brick trim and molding.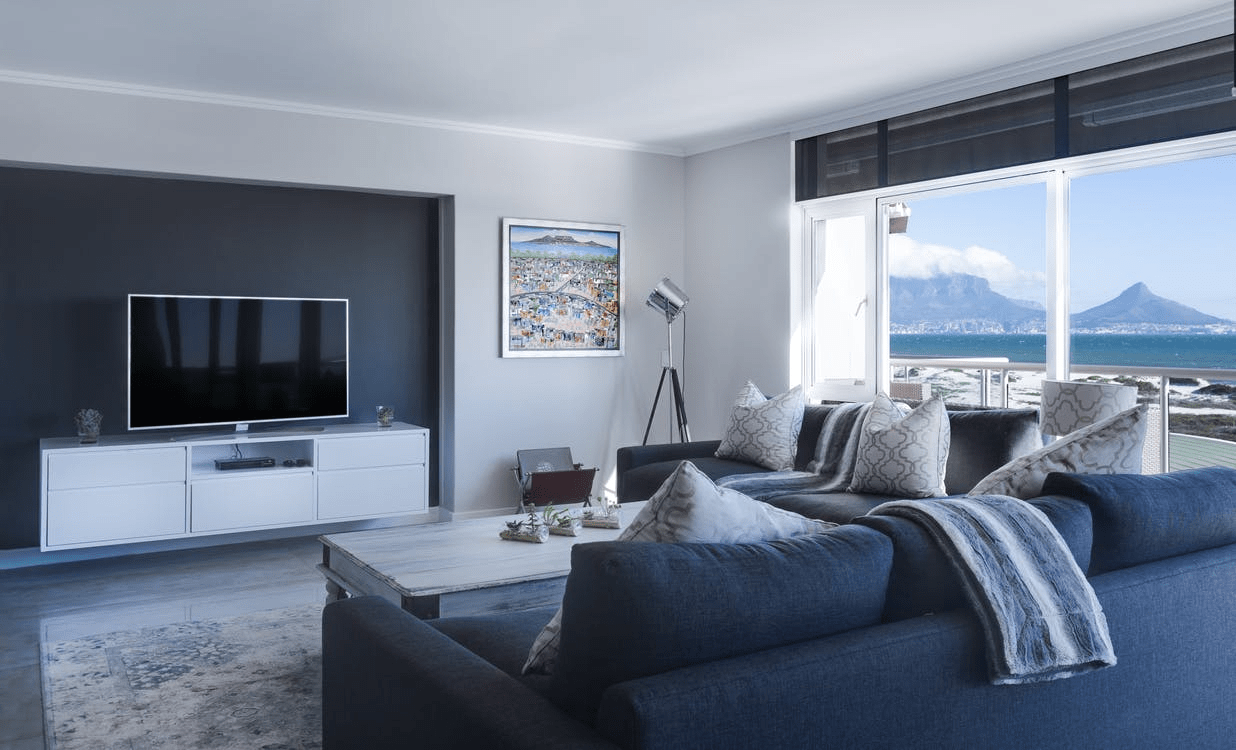 Consider the three-color scheme
The three-color scheme uses colors that are evenly spaced in the color wheel to create harmony. If you are looking to sell your home and cannot decide which color will be best, you can opt for the three-color scheme for walls, ceiling, and trim.
There are lots of ways you can decorate your home's interior, but as a seller, it is best to keep the interior simple yet classic at the same time.
The three-color scheme is simple, affordable, easy to pull off, and can suit any room.
| Walls | Light gray, off-while and flat beige |
| --- | --- |
| Ceilings | Flat white |
| Trim | Semi-gloss bright white |
Note: the above color scheme is just a suggestion. You should always consider your home's interior characteristics before choosing your color scheme.
Typically, walls occupy the largest surface area of a room. Light, neutral tones like white, gray, and beige can make the space feel open and airy.
For walls, choose flat or semi-gloss finishes as these are better at hiding imperfections than high-gloss finishes and are typically less expensive.
While high-gloss and eggshell finishes are more durable, they are quite costly. Since you are painting to sell, and the buyer might repaint the home once they move in, it is only wise to use a less expensive paint and finish.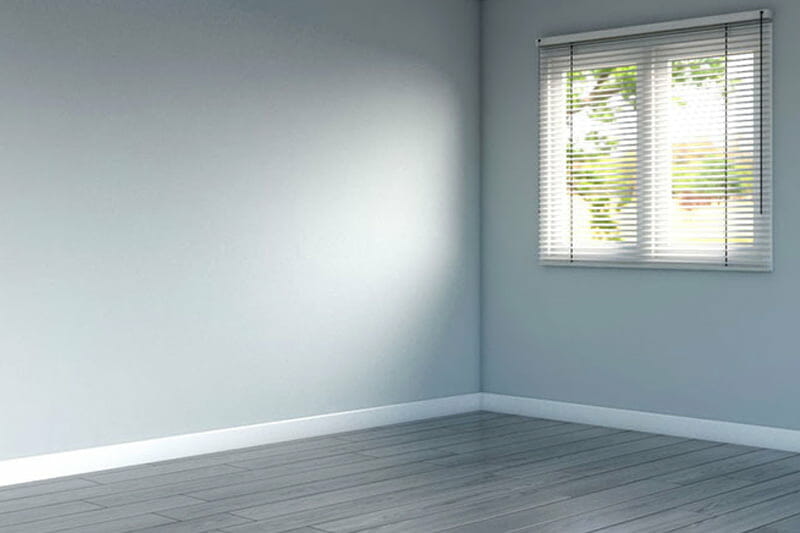 Flat-white is the best paint color for ceilings because it is cheap, hides imperfections, and makes the ceiling feel higher than it is.
Once you paint your walls, it would be ideal to repaint ceilings as well to create a uniform look.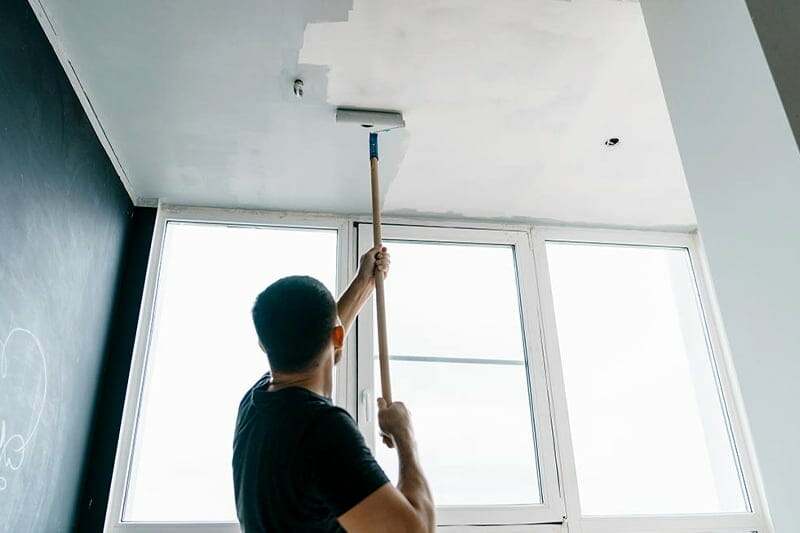 A semi-gloss white is perfect for interior trims and suits almost every situation. A semi-gloss sheen pops against the matte wall and adds interest to the room.
The trim paint color you choose will depend on the wall color and the trim's shape and size. If you are unsure of what trim color to use, seek advice from your painting contractor.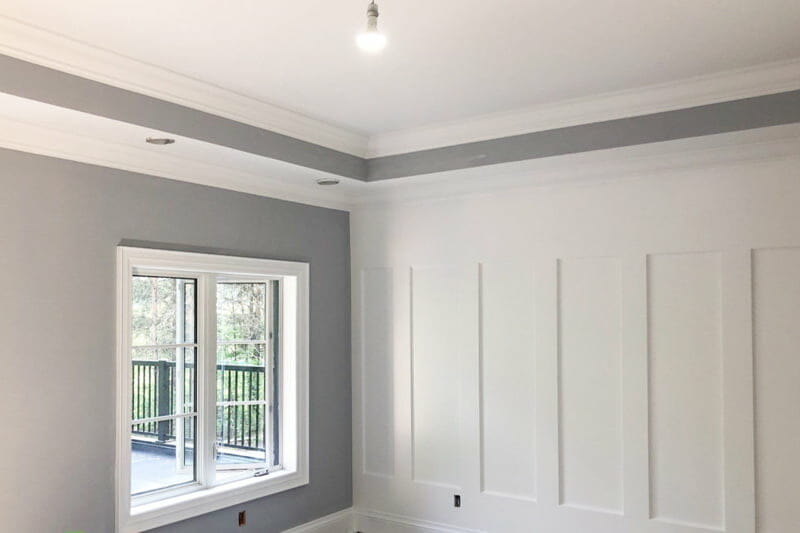 Best interior paint colors by room
Painting your home is one of the easiest and most cost-effective ways to increase the home's value and get a good ROI. Your house stands out and attracts more buyers once you apply a fresh coat of paint.
Most homeowners do not like their homes to be super bright every day, but if the room you are painting has little or no natural light, fill it with large lamps containing bright bulbs to increase the room's light. This will make the room look brighter and more appealing, thus attracting more potential buyers.
Here are the best interior paint colors by room.
Common areas such as your living room, dining room, and hallway will look best with gray, white, or beige shades. These shades will create uniformity in these common areas and appeal to many potential buyers.
Other good choices include light yellow and light green paint colors.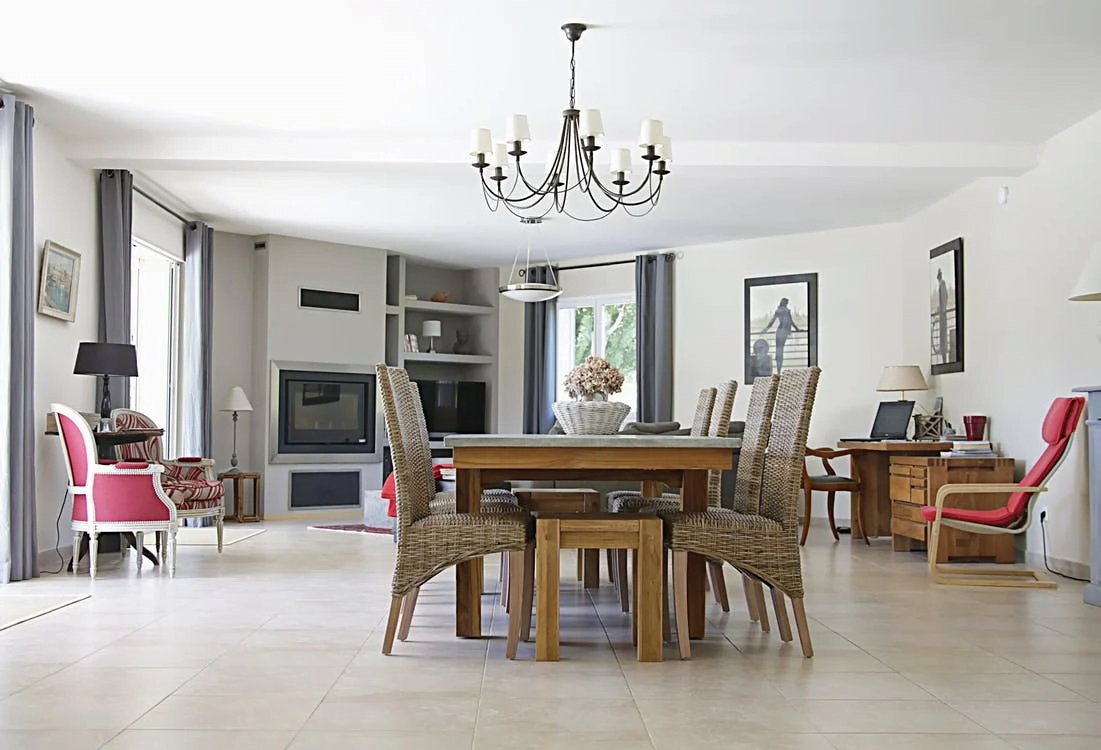 You can never go wrong with a white or off-white kitchen. White makes the space feel airy and brighter. An excellent idea is to paint your kitchen the same color as the common areas.
Select a different shade for your cabinets and island to make the kitchen pop. Giving your island an accent color makes your kitchen look trendy and classy.
Other good choices for the kitchen include light yellow, off-white, dark red, gray, and dark green.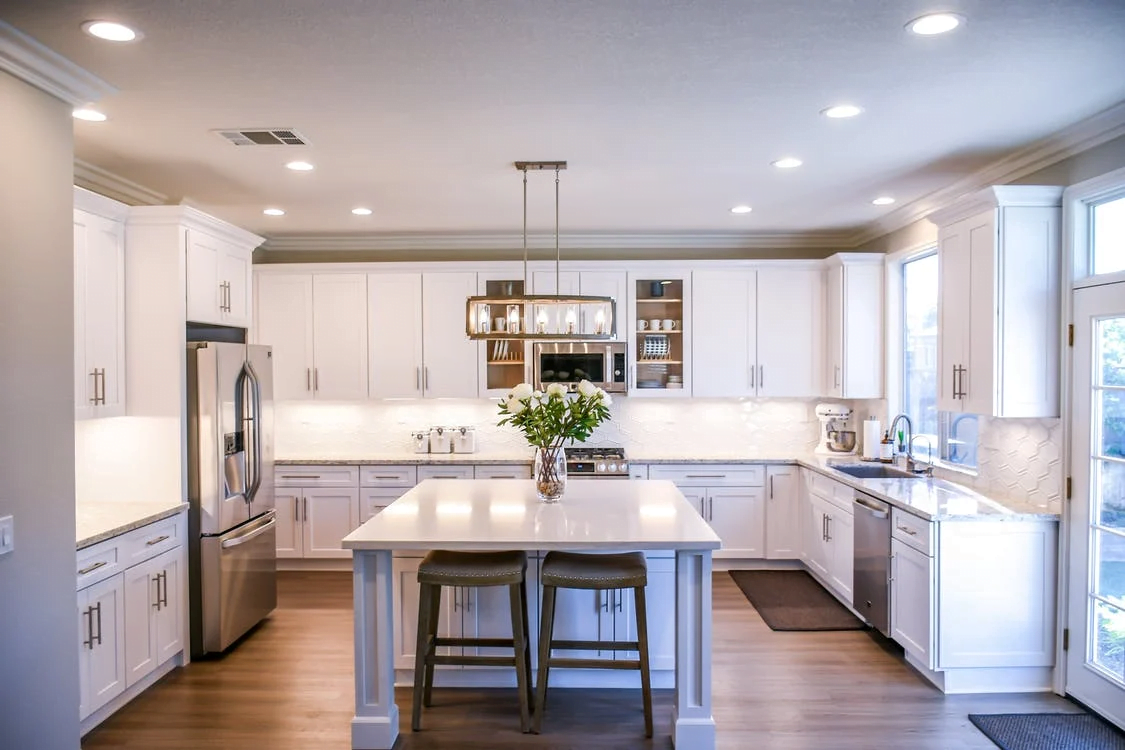 You have plenty of color options for your powder room, but you can use the same color as your common areas. Alternatively, you can paint your powder room a different color to make it pop.
Most experts believe that wallpapers are best for powder rooms as they are an excellent way to incorporate new colors. However, if you feel that wallpapers are too permanent, select warm neutrals such as shades of gray for your powder room.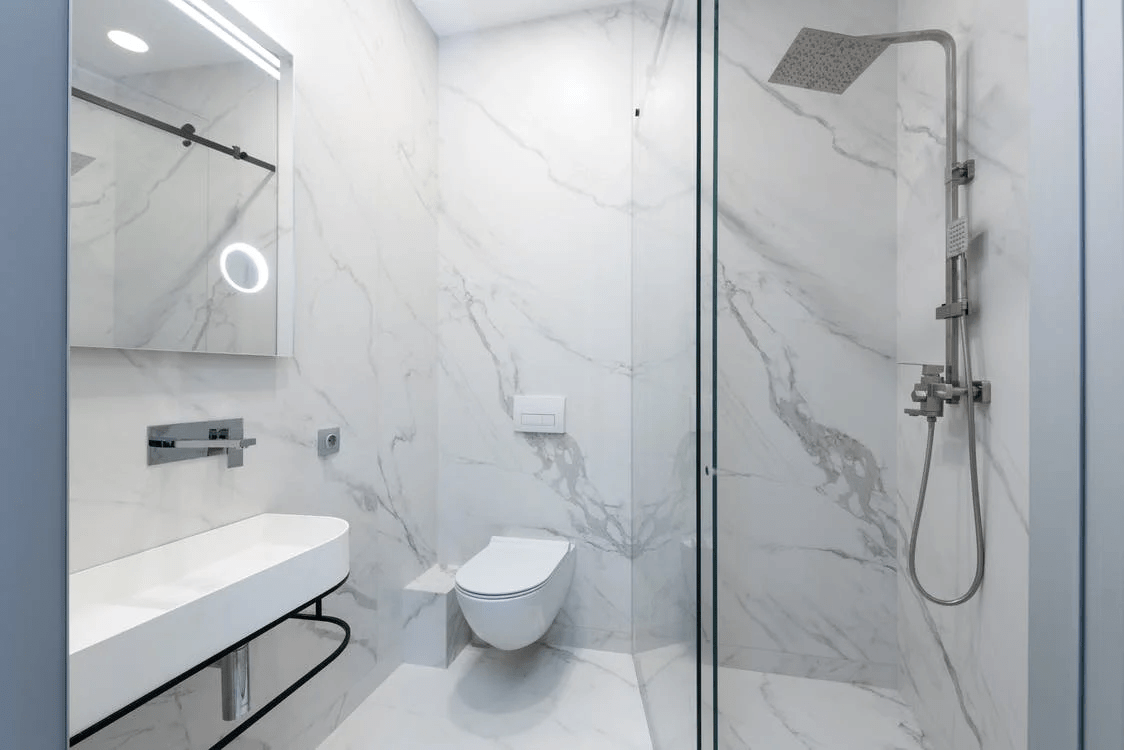 Experts recommend painting your bedrooms the same color as the common areas. Alternatively, you can select cool hues to make the room feel calming and relaxing, such as a deep shade of blue.
White is also an excellent color for bedrooms as it provides a blank sheet for buyers to personalize the space and make it their own.
Most buyers also prefer dark bedrooms as they bring a sleeping and restful mood and help people sleep for a longer time.
Before you make any significant decision, ask your real estate agent for advice.
Other excellent choices include bright blue, light gray, and light blue.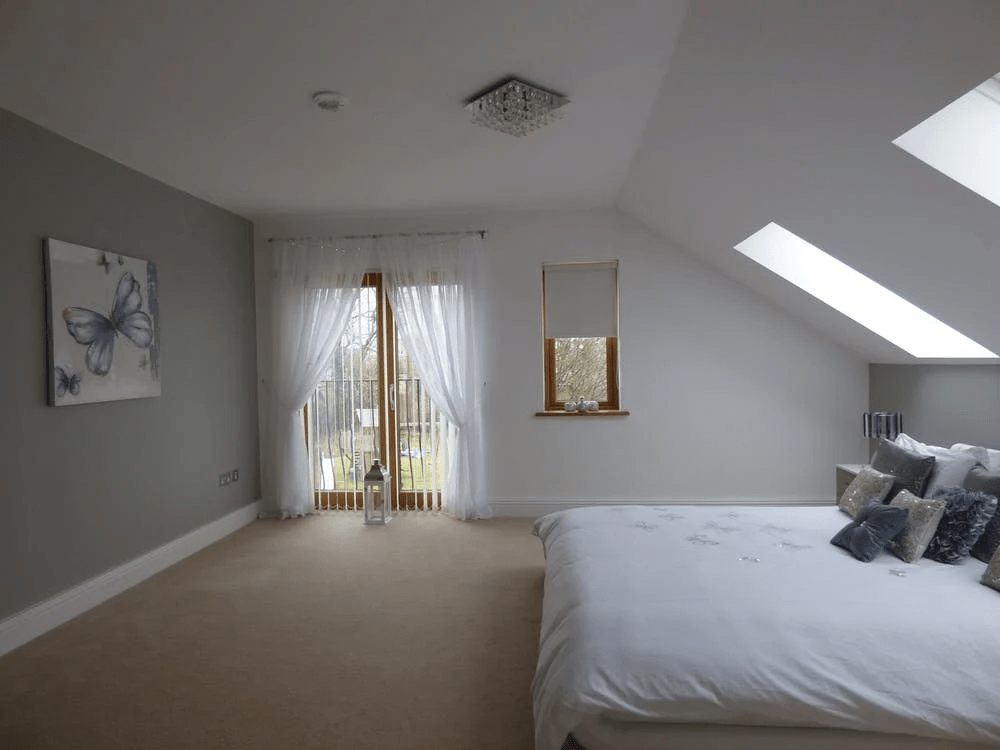 Research shows that about 59% of people work from home. This means that millions of people need offices in their homes, and these offices need to be work-friendly.
Most people prefer white paint for offices. White is a clean, light color that creates a happy atmosphere and motivates people to work.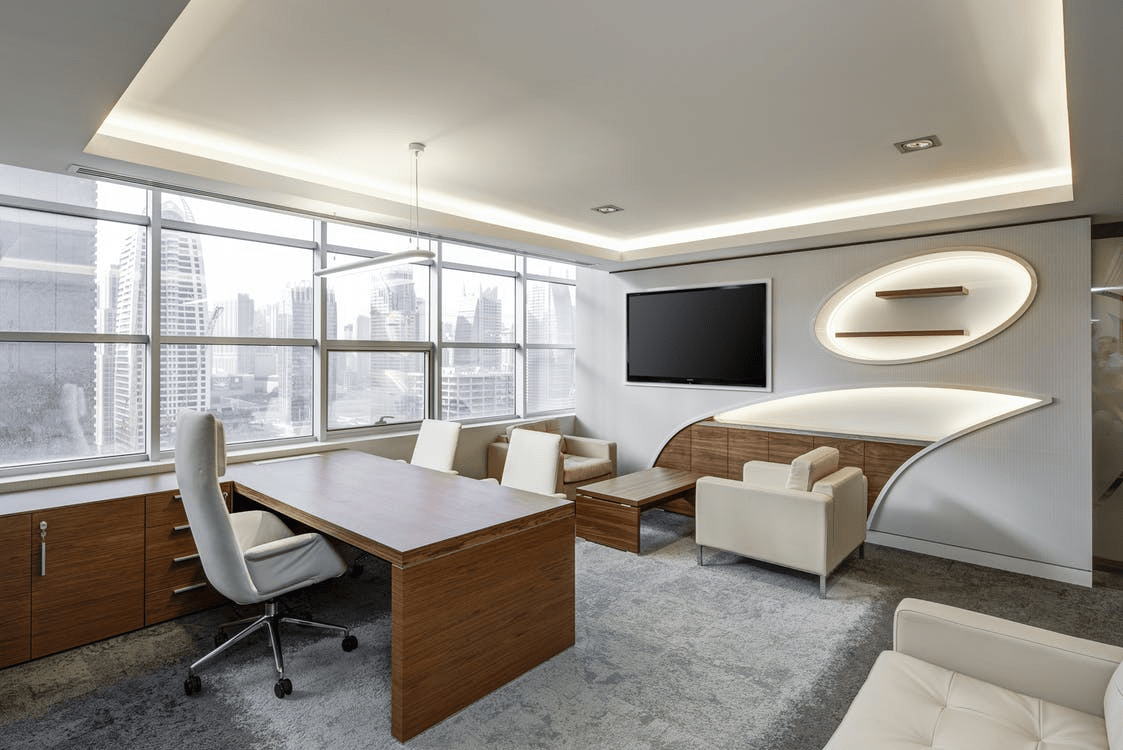 Select the right finish for your home
Once you have selected the right paint color for your home, the next critical step is to choose the right finish.
Most paints come in gloss, satin, and eggshell finishes. Semi-gloss and matte finishes are available as well. The finish you choose will highly depend on the area to be painted.
Glossy finish: A glossy finish is perfect for high-traffic areas such as the kitchen and bathrooms, which tend to get dirty easily. Glossy paints are easy to clean and maintain.
Satin finish: A satin finish is a slight gloss paint ideal for highly used areas like the living room.
Eggshell finish: An eggshell finish is almost matte and is suitable for low-traffic areas such as bedrooms and study rooms.
General rules to follow when choosing paint colors
Let's have a look at the general rules of thumb for choosing paint colors.
Always choose one neutral color
Selecting one neutral color brings about consistency throughout the house. Choose one neutral tone and stick with one throughout all your connecting living spaces and the entryway. This makes the room appear brighter, more spacious, and more open.
Neutral colors are versatile and tend to appeal to buyers the most. Besides, neutral colors suit various interior design styles and palettes.
White is especially popular as it gives buyers a clean, blank canvas to work with.
Select the right undertone
Ideally, each paint color has a subdued, muted, or underlying tone known as the undertone. Undertones can be cool, warm, or neutral.
Colors with warm undertones have a red, orange, or yellow base. Cream, tan and beige colors are flexible neutrals that are also categorized as warm undertones.
Warm tones are cheery, inviting, cozy, beautiful, and accentuate natural lighting. These colors make the room feel bigger.
Cool shades have a blue, purple, or green base that brings a cool, relaxed, and calming feeling to the room. These tones are popular in bathrooms and bedrooms because of their soothing vibe. They can make a room feel bigger than it actually is.
Neutral tones are a perfect balance of warm and cool shades. For instance, white and gray colors can either be cool or warm depending on their base or undertone.
Before you paint your house, it is paramount to consider the type of lighting in the area you are painting. Lighting influences the paint color you choose for your walls and ceilings.
For instance, if you are painting an area with minimal natural light, like a hallway, you will need to consider a color that works best in artificial lighting. On the other hand, if the room is filled with natural light, like a living room, select a paint color that reflects natural light.
Go with neighborhood trends
If you are unable to decide what interior paint color will be best for your home, you can look for inspiration from your neighbors. Neighborhood trends can help you choose the right color palette for your home's interior and exterior.
Factors affecting what interior paint color to choose
There are several factors that may affect the interior paint color you choose for your home. These include:
The current paint color: The color you choose will largely depend on the existing wall color. For instance, if your walls are dark, it would be quite challenging to switch to a brighter color. Such walls will require one or two coats of primer before using a lighter paint color to prevent the dark hue from bleeding through the new paint color.
Your budget: Repainting a house is a costly project, especially if there are repairs that need fixing. Your budget will dictate the type of paints and materials you buy and the contractors you hire.
Your timeline: If you need to sell your home as soon as possible, you will need to consider fast-drying paints, even if the results may not be as perfect as you would have wanted.
Your home's layout: The layout of your rooms will also determine your paint job. Connecting rooms may need to be uniformly painted to create continuity and make the space appear brighter and bigger.
Should I paint my house before selling it?
If you plan to sell your home, repainting it will make it look attractive and give you good returns on investment. A fresh coat of paint makes the house look newer, cleaner, and well maintained.
The condition of your walls affects the resale value of your home. While new paint may increase the resale value, the right color attracts more buyers, skyrocketing your home's value and increasing your chances of selling it.
Reasons to repaint your home's interior
There are several reasons why you need to consider repainting your home before selling it. These include:
Dark inconsistent color schemes and bold accent walls
Visible scuff marks, holes, stains, cracks, and writing on the walls
Noticeable smells from pets and cigarette smoke
Old home that needs remodeling and repainting
What paint colors should I avoid?
While repainting your home increases its resale value, some colors may negatively affect it. When selling your home, keep your creativity to yourself, as the market may not reward you. Instead, go with the current trends and select hues that appeal to potential buyers.
Here are the paint colors to avoid when selling a house.
Extreme or bright colors like sunset orange, fire engine red, bright yellow, and bright pink for bathrooms
Bright pink, bright purple, and bright green for primary rooms are also a turn-off for most potential buyers.
Mint green, a hot design trend for kitchens, and sunshine yellow paint color turn off potential buyers.
Blue, pink, bright yellow, and bright green colors for the living room do not appeal to potential buyers. In fact, many home buyers even refuse to tour homes with such tones on the walls.
Interior painting tips for home sellers
Here are a few painting tricks to help home sellers revamp homes before selling.
How to repaint dark rooms with lighter colors
Dark, inconsistent paint schemes tend to make your home feel dull, stuffy, and cramped. To cover a dark color with light colors, apply one or two coats of primers to make the surface even and prevent the dark hues from bleeding through the top coat.
How to make an old home look modern
Features such as wood grain cabinets and linoleum floors can make your home look old and outdated. To give the house a modern look, paint the outdated kitchen cabinets and walls with shades of gray or white.
How to eliminate unpleasant odors
Cigarette smoke can seep deep into your walls and make the house smell bad. Unpleasant odors may turn off potential buyers, which is why you need to eliminate them.
You can buy special primers that lock away the bad smells before painting the walls.
How to paint on a tight timeline
If you want to list your home as soon as possible and the house needs repainting, you can use all-in-one paint and primer for the walls. This paint dries quickly and can extremely minimize prep work.
How to fix stained, peeling, or cracked paint
A perfect paint job gets stained by spills and starts cracking or peeling with time. If the damage is minor, it can be repaired using spackling. However, if the damages are extensive, you will need a contractor or handyman to repair or replace the drywall before priming and repainting the walls.
What is the best time of the year to paint a house?
Most people assume that summer is the best time to paint your home. While this may be true, the right time to paint your house depends on the climate of your area.
Some areas have high humidity, which can affect your painting project. The excess water vapor in the atmosphere can reduce the ability of the paint to adhere to the surface, making the paint job uneven and unattractive.
Winter is also an excellent time to paint your house because the humidity is usually low. Paint adheres better to the surface and dries faster because of the low humidity levels.
When to get a cheap paint job
Since most homeowners consider summer the perfect time for painting projects, painting professionals are in high demand during this period. Therefore, you are likely to pay more for painting during the summer.
On the other hand, professionals are in low demand during winter, so most companies close due to reduced business. Therefore, you will likely get cheaper quotes from the available contractors as they compete to get jobs.
How much does interior painting cost?
Professionals charge between $2 to $6 per square foot for interior painting projects. For a 1,500 square feet home, you will pay between $2,500 to $9,000. The actual cost depends on your home size, location, job complexity, paint type, and the finish option you choose.