When looking to strip your wall, ceiling, or floor paints, the secret to getting the best results on any surfaces lies in the type of paint stripper you use.
There are numerous paint strippers in the market today, but not all of them can guarantee you a high-quality performance. To choose a good paint stripper, you have to look at its eco-friendliness, application versatility, and activation speed.
Here are our top picks for the best paint strippers for multiple surfaces. Read on to find out which paints match your needs.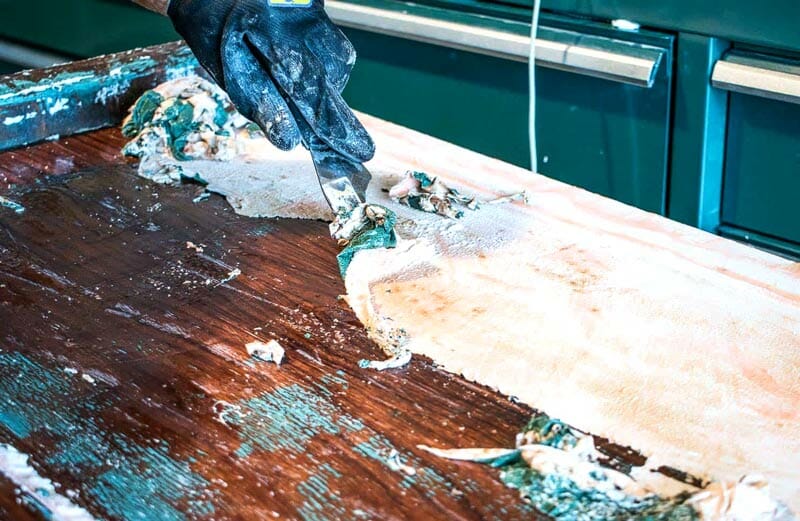 Citristrip QCSG801 Paint & Varnish Stripping Gel, 1 Quart, Red
Our top spot goes to this paint and varnish stripping gel from Citristrip. The stripper is widely popular worldwide, known to be environmentally friendly and having a non-offensive citrus scent.
Its robust formulation gives the paint excellent stain removal properties across different surfaces and allows it to stay wet and active for up to 24 hours.
With this gel, you can strip up to five layers of varnish, latex and oil-based paints, lacquer, and shellac from any surface with just one application!
Many homeowners start seeing results in just 30 – 60 minutes without compromising the painting surface. If you're looking for high-quality and value for your money, this is your paint stripper!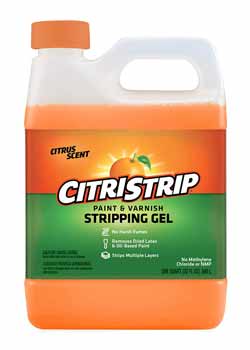 Features:
It's biodegradable and non-corrosive
Gel is easy to apply
Works on metal, wood, concrete, and other masonry surfaces
Has no harsh fumes
Removes multiple layers
No methylene chloride or NMP
Removes dried latex
Stays active for up to 24 hours – suitable for smoothing surfaces.
MAX Strip Paint & Varnish Stripper
Max Strip Paint and Varnish is among the most effective strippers for multiple surfaces in the market. It comes with a skin-safe combination, making it perfect for application as a DIY and professional use.
The paint stripper's formulation is free of Methylene chloride and NMP, which are harmful chemicals. It also doesn't emit any fumes during application, and so you can use it in rooms with poor ventilation!
You can use it on a variety of surfaces besides wood, including glass, metal, concrete, porcelain, brick, carpets, fiberglass, and laminate.
Many homeowners praise this stripper for its no-drip gel formula and how easily it cleans with water. It can strip paints, shellac, varnish, polyurethane, latex, etc., effortlessly.
However, the manufacturer warns against using it on plastic surfaces.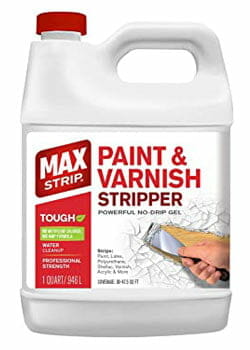 Features:
Has a skin-safe formula
Zero methylene chloride or NMP content
Works on many surfaces
Odorless and may come with a unique fragrance
Easy to clean with water
Budget-friendly solution
Dumond Chemicals, Inc. 3301 Smart Strip Advanced Paint Remover, 1 Gallon, White
The Dumond smart strip series is highly regarded as the most "environmentally responsible" in the market. It's 100% biodegradable, and unlike most paint strippers in the market today, it comes with zero methylene chloride and volatile organic compounds (VOCs).
This water-based paint is also odorless and doesn't emit any fumes when applied on different surfaces. It can remove multiple layers of paint, including varnish, lead-based paints, and urethane from metals, masonry surfaces, and wood. It works perfectly indoors and outdoors.
For best results, most experts recommend applying this stripper using a sprayer or roller for large areas.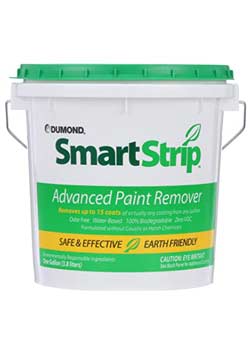 Features:
Non-carcinogenic and 100% biodegradable
Water-based and odorless formulation
Removes multiple paint layers
Works on a variety of surfaces
Works quickly
Remains wet for long periods
Best Paint Stripper for wood
Citri-Strip ECG73807 Paint Remover – Compact, Efficient, And Beginner-Friendly
Another Citristrip product that works flawlessly when removing paint and varnish from wooden surfaces is this Citri-Strip ECG73807 Paint Remover.
The paint is biodegradable and contains no harsh chemicals like NMP and Methylene chloride. It comes with a mild-citrus scent and never emits poisonous fumes on application.
This paint shares a lot of similar features with the Citri-strip paint and varnish gel mentioned earlier.
Its potent formulation allows it to remain active and wet for over 24 hours, and it can easily remove up to 5 layers of paint in just an hour.
Overall, this stripper is versatile and can be used to remove varnish, shellac, lacquer, dry latex and oil-based paints, polyurethane, etc. It also works well on multiple surfaces, including wood, concrete, and masonry surfaces.
The best thing about this stripper is that it's compact and very easy to apply. Therefore, if you're new to painting, this should be your first stop.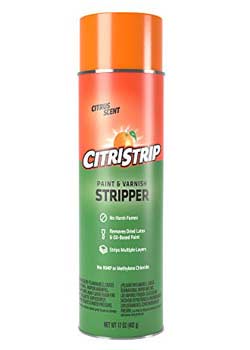 Features:
100% biodegradable
Doesn't emit toxic fumes on application
Works on multiple surfaces
Remains active and wet for 24 hours
Easy to apply hence beginner-friendly
Removes up to five layers of paint
Comes in a fresh citrus scent
Best Paint Stripper for Metal
Motsenbocker's Lift Off 41301 22-Ounce Latex PaintRemover Spray
The Motsenbocker latex paint remover spray is a cost-friendly paint stripper perfect for removing latex paints on your metal surfaces. The spray is popular in the country mainly because it's locally manufactured.
Motsenbocker is 100% biodegradable and uses a patented water-based Enviro Science formula to remove all latex and acrylic paints and enamels effectively.
The stripper is also NMP and methylene chloride free and comes with very little VOCs (less than 50% of the regulated content).
It also takes a relatively short time to be active. You can start scrubbing within 30 – 60 minutes.
The manufacturer, however, warns against using this stripper on painted surfaces as it can remove them.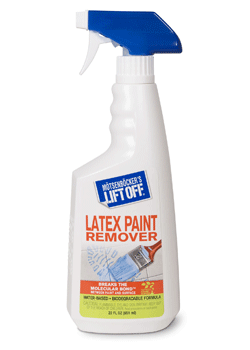 Features:
Works on multiple surfaces well
Water-based and biodegradable
Has zero NMP and methylene chloride
Low VOCs content
Easy and fast paint clean-up
Cost-friendly
Best Paint Stripper for Concrete
Paint Stripper (Gallon – 128oz) Super Remover New Generation
This new generation super remover is one of the strongest paint strippers you can use on any surface. It offers an all-in-one painting solution, removing all forms of paints, stains, urethane, and even shellac from your surfaces.
The paint's formulation doesn't include any toxic ingredients, NMP or methylene chloride, making it safe for domestic use. It's perfect for concrete, metal, and wood surfaces.
Super Remover New Generation also acts pretty quickly and will allow you to start working on the surface in just 15 minutes. However, you'll need to leave it on for some extra minutes for tougher jobs.
It's also viable for heavy-duty projects, and it can remove up to 5 layers of paint effortlessly.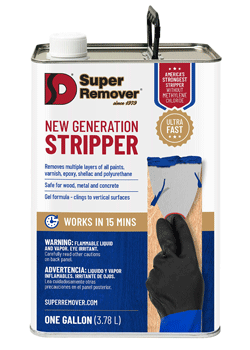 Features:
Safe and free of NMP or methylene chloride
Acts quickly (15 minutes for most projects)
Removes multiple layers of paint
Works on multiple surfaces
Effective on heavy-duty tasks
Sunnyside 65732A Multi-Strip ADVANCED Paint & Varnish Remover
Sunnyside Paint strip is the perfect paint strip option if you want to quickly remove multiple layers of paint. The stripper is designed in a heavy-duty coating allowing it to remove up to 15 coats of latex and oil-based paint, lacquer, stain, urethane, and varnish.
Owing to its fast-forming process, you can start working in as fast as thirty minutes after applying it.
Like all other modern-generation paints, this Sunnyside paint is biodegradable and non-flammable. It also doesn't contain any caustic substances, Methylene chloride, or NMP.
It, however, emits a small odor when applying it, so consider improving your ventilation before using it.
The paint is also very versatile as it adheres to vertical surfaces seamlessly. You can apply it on multiple surfaces, including wood, metal, bricks, marble, and masonry surfaces.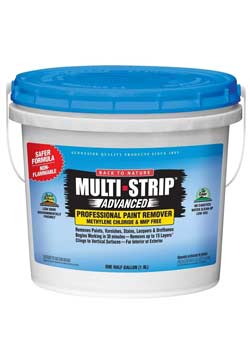 Features:
Formulation is free of N-methyl-2-pyrrolidone (NMP) and methylene chloride
Formula acts in just half an hour
Works on multiple surfaces
Removes up to 15 layers of paint, stain, varnish, etc.
Odor-free; Perfect for indoor and outdoor surfaces
100% biodegradable
Clings to horizontal and vertical surfaces well.
How to safely use paint stripper
When working with a paint stripper, your first safety step should be wearing protective clothing. Put on your safety goggles, wear a face mask and always use gloves to handle the paint strippers.
You should also ensure that you're working in a well-ventilated room. Some paint strippers emit harsh fumes that can affect your respiratory health.
Other essential safety rules include:
Always read the safety recommendations from the manufacturer
Don't eat or drink around the work site
Work outside as much as possible
Wash off any paint stripper on your skin or eyes immediately
Keep away any static or other items that spark away from the work area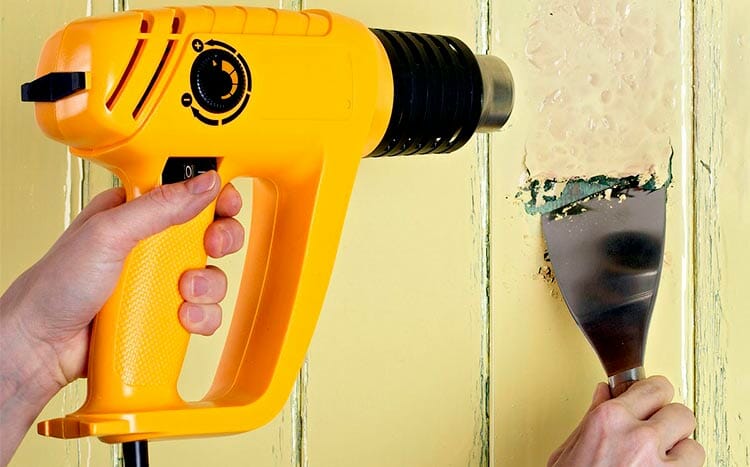 Pro tips for removing paint
When repainting your house, removing the old peeling paint before starting can help bring back that old brightness and style your home once had. For the best results, we recommend hiring an expert for the job.
But, if you're working on a tight budget, you can always save a couple of bucks doing it yourself. Here are some quick tips that can help you achieve high-quality results:
#1: Always put on your safety gear
Before touching anything, ensure that you're protected. Put on a face mask, wear gloves and protect your eyes. You don't want to inhale any poisonous paint fumes or get skin irritations from touching the paint.
#2: Use inexpensive paint brushes
When applying your paint stripper, you can save some money by using cheap paint brushes. This is because you don't have to apply the stripper smoothly or evenly. Moreover, you'll just throw away the brushes after use so, don't waste money on expensive ones!
#3: Always pour a portion of the stripper into a jar or painter's tray
To avoid contaminating your whole can of paint stripper during the job, always have a jar or painter's tray near you. Pour a portion of the stripper into the tray and use that to dip your brush for painting. If you need more stripper, simply pour more into your jar or tray and use that.
#4: Pour sawdust on wet paint stripper
Once you've applied the stripper on your stain-filled surfaces, you can make the removal process easier by sprinkling some sawdust on the wet surface. Sawdust makes it easier to scrape off the paint finish and simplifies the cleanup process.
#5: Start and finish the job on the same day
With paint stripping, you want to move quickly since the dried stripper may be harder to remove on drying.