Painting a brick wall is a great way to give a new and fresh look to any exterior or interior space. Brick wall painting is not a simple task, as painting drywall for example, but when it's done right it can make a brick wall blend into the surroundings or stand out in a whole new way.
Painting professionals are usually saying that the best way to paint the brick wall is a paint sprayer, but brushes and rollers which are specially designed for textured surfaces can be really helpful.
We'll give you a few tips you need to know before picking up a brush to paint brick.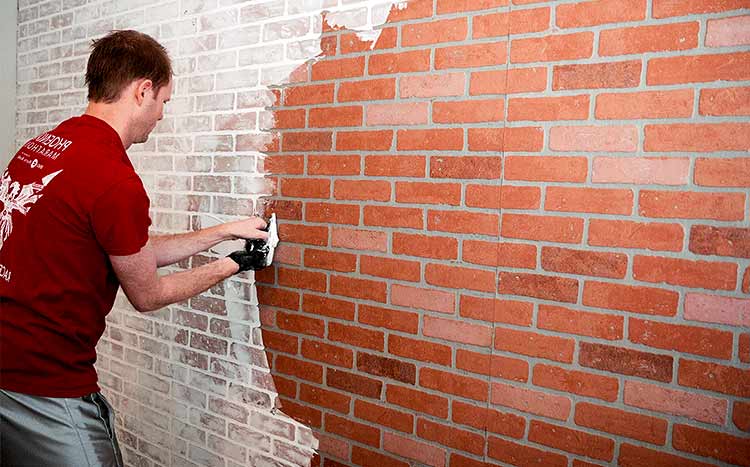 Before you start to paint your brick wall you will definitely need to do some preparation. Read the steps and what materials and tools you will need for the entire process.
Materials and tools:
Wire scrub brush
Soap
Water
Trisodium phosphate (if necessary)
Paintbrush, roller, or sprayer
Masonry or latex paint
Latex primer
Drop cloths
Painter's tape
Step 1: Clean and prepare the brick
It is very important to clean the surface thoroughly before painting to better adheres to your application of paint. Use a wire brush and a mix of soap and water to scrub the brick and remove dirt or any efflorescence (streaky white deposits). If you need something stronger, then, you have to use trisodium phosphate TSP. Mix a half cup of TSP with a gallon of water to do the trick. Be sure to wear safety goggles and gloves when using TSP.
If you face mildew or mold on your brick wall use a solution of one part bleach and three parts water. After applying this solution let it soak for 30 minutes then scrub it with a wire brush. Never use acid-based cleaning solutions because they might compromise your paint job.
For cleaning larger areas of brickwork maybe you will need a pressure washer.
After cleaning the wall wait at least 24 hours before painting because the brick must be completely dry.
Important note: If your brick wall is installed recently you will have to wait at least a year before painting because a new brick construction needs plenty of time to dry and acclimate. If the installation has been there for decades before painting check the mortar for signs of damage and cracking, and repair them.
Depending on the area of the surface you wish to paint, use a brush or roller, or paint sprayer to apply the primer. Use multiple coats of primer for sections that have been affected by efflorescence or mildew. No matter how many layers of primer you will apply, let them dry completely before starting to paint.
According to professionals, using a paint sprayer is the easiest way to paint the brick wall but brushes and rollers made for textured surfaces also work well. Be sure to push the paint into the tiny crack for an even look. Apply multiple layers if necessary.
If DIY and you don't have the experience to operate with the sprayer then is recommended to use a brush or roller. If you don't want to paint the mortar between the bricks, seal it off with painter's tape.
As the finishing option, you may consider staining the brick wall instead of painting it. Staining is much quicker and easier than painting and it points out the brick's unique texture.
Preparing the wall for staining is almost the same as painting the brick wall. If you decide to stain the brick, first test the stain on an inconspicuous part of the brick. You can change the tone of the color by adding pigment or water to get the wanted hue.
When staining after you apply the first coat you must wait at least 24 hours before applying the second coat. Spread the stain as thiny possible. Remember to wear goggles and gloves.
The pros and cons of painting the brick wall
Painting over the brick wall has far-reaching application and its pros and cons, but for sure can change the look of the interior and the exterior of your home in a beautiful way. Here are some of the ups and downs:
Pros
Appearance: When a brick wall becomes aesthetically unpleasant it is the right time to paint. Painting the exterior can improve the look and increase the market value of a whole property;
Protection: When the preparation and painting are done properly, the brick wall is provided with a durable coating, which gives good protection from moisture and mold growth, and will keep the walls in a good shape for a long time.
Easy maintenance: Like every other surface, brick walls are easier to maintain when painted. Painted and sealed brick is easier to clean than raw brick, which is very porous and holds in the dirt.
Cons
Long preparation work: Painting a brick wall is a challenging project that requires a huge amount of preparation work to remove all the dirt and to get the perfect painting surface. You will also need to find proper products for cleaning and coating and use them strictly to the manufacturer's instructions, otherwise, you can compromise the whole project.

Moisture issue: Choosing the most compatible product is very important for long-lasting results. Even some coating systems may seem appropriate, they take away the natural ability of bricks to expel moisture. If there are some hairline cracks in walls, moisture will enter the masonry with no way to go out, and that will make brick more irresistible to damp problems. Choose a quality product that allows moisture to go out but not in.

Maintenance: Again maintenance, but now in the opposite way. As with any other painted surfaces, painted brick walls require regular maintenance and cleaning to stay in good condition for a long time. Because the paint will fade as time goes by, you should apply a fresh coat of paint from time to time. You may need to do that in the areas with high temperatures and humidity every two or three years.
Permanence: Before you paint the brick wall, you must be aware that once you have painted, returning it to the original brick will be very hard and can require a significant effort.
Choosing the right type of paint for brick walls
There is a very simple answer to this question, acrylic. Acrylic latex paints are the best choice for painting brick walls. There are few reasons for that.
First of all, they are more flexible than oil-based paints but still durable. They don't put VOCs (Volatile organic compounds) so they are considered safer to use indoors and don't generally cause issues from off-gassing and don't smell as toxic. It can be cleaned with soapy water, you don't have to use paint thinner.
Because of all the crevices and nooks that bricks naturally have, acrylic latex paints are much better at filling those gaps and creating a smoother surface.
Acrylic latex paints are also a superior choice for exterior brick painting because they are designed to stand up against mildew and quickly evaporate any moisture that it absorbs. If you are painting the interior of a fireplace make sure you're using heat-proof paint.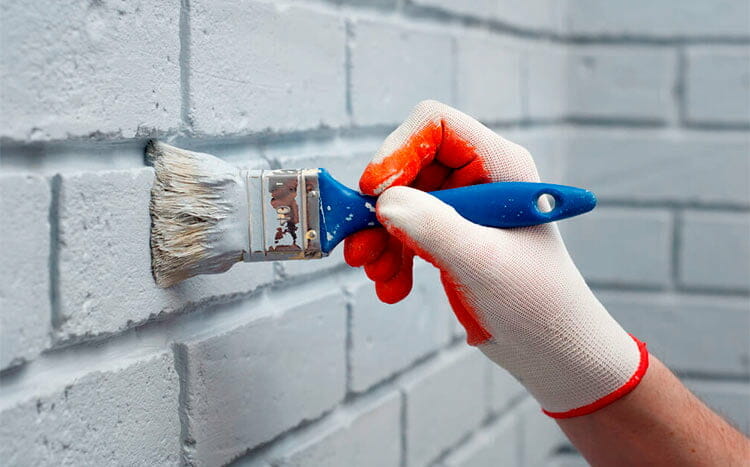 Top 5 best paints for brick for 2021
According to some researches, here are the top 5 brick paints for 2021 that you can find on the market and use for your project:
| Pros | Cons |
| --- | --- |
| Water-resistant to 12 PSI | Not self-priming |
| Mildew resistant | When not on sale can be expensive |
| Acrylic latex-based | |
| Pros | Cons |
| --- | --- |
| Alkali resistant | Limited color choices |
| Mildew resistant | Comes only in a flat finish |
| Inexpensive | |
| Pros | Cons |
| --- | --- |
| Fast-drying | On the pricey side |
| Paint/primer combo | Take 2 coats or more to really sink it |
| Multiple finishes and colors available | |
| Pros | Cons |
| --- | --- |
| Great for fireplaces | Comes in small cans (16 & 31 oz.) |
| Covers appx. 100 sq. ft. | It is a whitewash, not the same result as paint |
| Low VOC | |
| Pros | Cons |
| --- | --- |
| Paint & Primer in One | Expensive |
| Super Durable | Doesn't come in a matte finish |
| Excellent at hiding imperfections | |
Before the 1940's paintbrush was the only choice for applying the paint. Later, when the paint roller appeared the painting job had become a lot easier. Paint roller compared to brush spread the paint more evenly and make the whole painting process faster. But after few years another option had pop-up, a paint sprayer.
It is always a debate about what option to chose for painting. We will make it easier for you by giving you some information for both, roller and spray.
The fact that spraying requires more time to prepare, set up the equipment, put paint in the reservoir, connect hoses and cords, masking, etc., the roller is an absolute winner in this part.
All the time that you will save on preparation you will lose it in the application because definitely spraying is the faster way to apply the paint.
For painting interior brick walls roller is much more accurate than a sprayer because when you spray indoor, you must mask everything you don't want to be painted, like windows, ceiling, floor, etc.
Spreading the paint evenly
In this part, both sprayer and roller are winners because both of them spread the pain pretty even. But with both of them, there is a risk of overlapping unevenly too.
After finishing the job you must clean. It can take some time to clean the roller and the equipment, but it is nothing compared to cleaning the spray gun and reservoir bottle, and everything else that is connected to the gun.
The bottom line is that sprayer is the faster way to apply the paint, but the roller is more accurate. So because of the natural form of the brick with all the crevices and nook, the roller is a better option to chose for your next project of painting the brick wall.
HomeGardenGuides.com is a free service that quickly matches you with top-voted local Paint Specialists.
You can get 3 estimates fast by real certified experts in your area in just 2 minutes.
Scroll to the top of the page and enter your Zip code.
Answer questions about your paint job
Your painting details are forwarded to three local experts. They will send you a price estimate for the job and some friendly advice.
IMPORTANT: There is no obligation to hire. This is a free tool and service to be used at your pleasure.