Laminate cabinets are great for areas like kitchens because they are resistant to water, oils, and stains. Unfortunately, this characteristic becomes a liability once they become nicked or scratched. This is because their surface can easily repel paint, and so refreshing their look by painting becomes a challenge.
Yes, you can paint laminate cabinets, however, you will need to prepare them correctly by cleaning, sanding then priming before you paint. Be sure to use a high-quality primer and top coat with urethane reinforced acrylic paint.
Below are some more details on best paint brands for laminate and prepping procedures.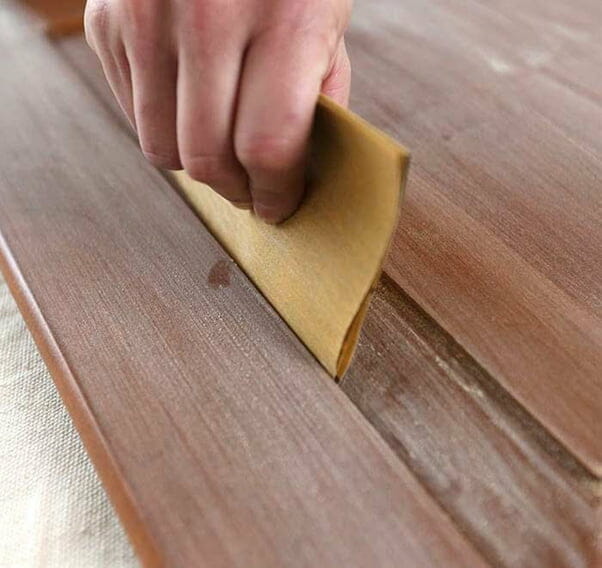 Yes, laminate cabinets need to be sanded first before they can be painted over. This is because the laminate surface is usually too slippery. This makes bonding between the paint and the surface harder. And as a result, failing to sand them will simply lead to poor paintwork that will peel off within a short period of time.
Sanding roughens up the surface. It eats into the glossy surface to a point where it exposes a matter surface that is more paint-friendly. Doing so allows for better bonds between the paint or primer and the surface and this leads to higher quality paintwork.
However, this does not mean that it is totally impossible to paint laminate cabinets without sanding them. Some homeowners have found success by first applying chalk paint directly on the cabinets. And since chalk paint sticks almost on any surface, in such a case, it works as a good primer. Applying the top coat thereafter gives the paint a better chance of sticking onto the surface.
What kind of paint do you use?
Latex paints are perfect for painting laminate cabinets. They dry faster than oil-based paints. They also contain lower levels of volatile organic compounds. They are generally the go-to paints when it comes to painting laminate cabinets, especially in the kitchen.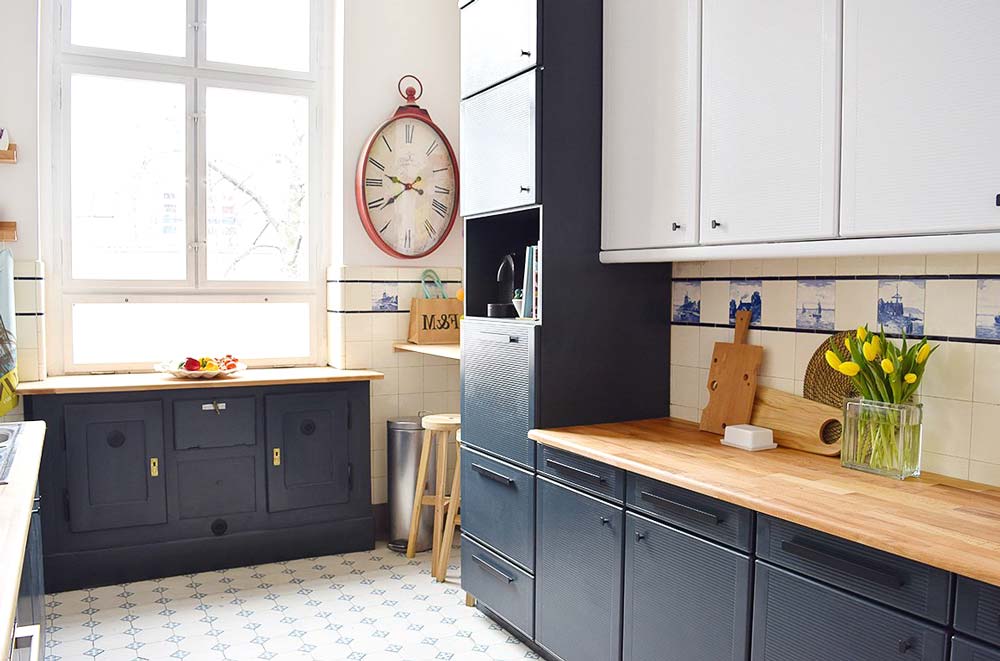 Do I need to prime first?
Yes, you need to prime first. This is because, without priming, you will end up with paintwork that unravels over a short period of time. You will also end up with ugly marks, bumps, and even premature paint peels.
Using a high-quality primer on a sanded surface enhances the bond between the final coat and the cabinets. It also smoothes over slight imperfections and thus improving the odds of ending up with a better finish. And in some cases, it also enhances the final look of the paintwork by enhancing its coloring.
Therefore, if you want to have a flawless finish, want to hide imperfections on the surface of the laminate cabinets, or simply want longer-lasting paintwork, priming is a must. In some cases, it can even do away with the need of having multiple coats of paint.
Tips to get paint to stick to laminate
Laminate has been designed to repel substances. This includes oils, water, foods, and even paint. Therefore, getting paint to stick to laminate can be a little bit tricky. The following tips will help to get the job done.
Sanding is the most effective way of getting paint to stick on laminate. It roughens up its glossy surface. This then creates a matte surface that is less paint-repellant. As a result, it makes it easier for the primer and the paint to stick to its surface.
Grease, oils, dust, dirt, and debris will typically come in between the paint and the laminate surface. This is a problem since they deny the paint the opportunity to stick onto the surface. Getting rid of any debris and dirt on the surface by washing it with soap and water will therefore help. Cleaning with mineral spirits is however even more effective and recommended.
If you choose to use soap and water to clean the laminate surface, then it is imperative that you let the surface dry before applying the paint or the primer. This is because applying paint on a wet laminate surface will introduce an additional barrier to the bonding process — a moisture layer. Allowing for drying will make it easier for the paint to have direct contact with the surface, something that will improve the odds of stronger bonds developing.
A high-quality primer will provide a more paint-friendly surface. The paint coat will therefore have an easier time bonding with the primer surface than with the laminate surface. As a result, the paint will stick more easily on the surface that is being painted when it is primed.
For people who don't want to deal with the inconvenience of having to first sand the surface, then chalk paint is something that they can use. Homeowners have found success painting directly on laminate surfaces without sanding if they first use chalk paint. The chalk paint will act as a primer, which will then make it easier for the top coat to stick to the item that is being painted.
High-quality paints and primers tend to have formulations that are better suited for sticking to laminate surfaces. While they may be more expensive than standard latex paints, their special formulations will make it easier for you to get them to stick to such surfaces.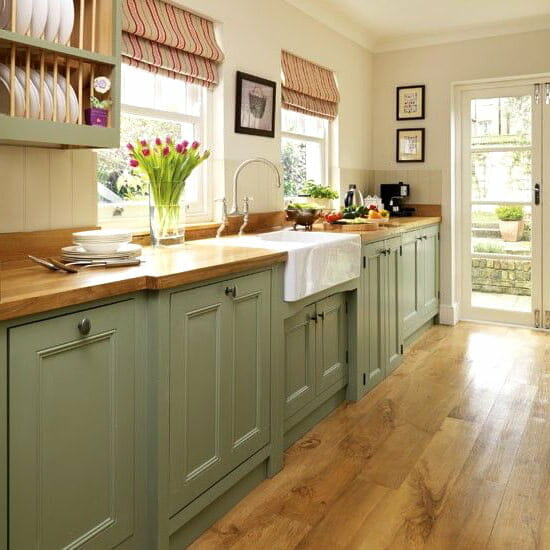 Steps to painting laminate cabinets
While laminate cabinets are designed to repel substances like paint, you can still refresh their look by painting them. To do this effectively, all you have to do is to follow the following steps.
Remove handles and hinges
Removing the handles and hinges from the cabinets will make it easier for you to paint. This is because you won't have to worry about masking these areas with tape as a way of shielding them from paint spills. You will also have more freedom painting, something that will make it easier for you to get the job done faster.
To remove the handles and hinges, what you will need is a screwdriver. Simply unfasten the screws, and then place them in a container. Labeling them thereafter may make your work easier later on when you have to re-attach them.
Sand down the cabinet surfaces
Start the process by first protecting your lungs. A good respirator or face mask will do.
With your respirator in place, take a 150-grit or 180-grit sandpaper, and then start sanding the laminate surface. Do so to gradually roughen the surface by grinding away the glossy surface. This will make it easier for both the primer and the paint to stick onto the cabinets.
When sanding, it is always a good idea to remember not to overdo it. Keep in mind that laminate does not have natural grain. You should only sand to eat away at the glossy surface and roughen it up. Going past this is inadvisable as it will expose the composite material, something that you don't want to do.
After sanding, it is now time to get rid of any sanding dust and traces of dirt that is on the surface. Wiping it with a good tack cloth is usually enough to clean it. Simply soak the tack cloth in mineral spirits, and then use it to wipe the surface clean.
While not ideal, you can also clean with soap, water, and a piece of clothing. If you choose to use this method, you will need to make sure that you give the surface enough time to dry out before going to the next step.
Once the surface is clean and dried up, it is now time to apply the primer. Use a high-density foam roller to apply it on flat surfaces. For edges and hard-to-reach places, use a brush to apply it. And after you are done, leave it to dry.
After the primer dries, it is now time to apply the first coat of your high-quality latex paint. Apply it with the paint roller, and then finish off by painting the edges with a brush. When doing so, keep in mind that thin coats always give the best results.
After finishing applying the first coat, give it time to dry. In most cases, this usually takes about 6 hours. Some paints dry faster, while others take longer to dry up. And so the best advice will be to follow the manufacturer's instructions. And after the coat dries, apply the subsequent coats and thereafter give the paint time to cure.
After about 24 hours, you can then reattach the doorknobs, hinges, and doors. However, don't close the doors, as doing so soon after can lead to them getting stuck. You can even use bumper pads to keep them from accidentally getting closed.
Best paints for laminate cabinets
In order to get lasting and great-looking paintwork, using high-quality paints is a must. Good quality paints are easier to use, dry faster, and require little to no prep work in order to get great results. They also tend to contain compounds that enhance their ability to stick on surfaces, something that makes them ideal for use on challenging surfaces like laminated cabinets.
Best overall: INSL-X Cabinet Coat Enamel Satin Sheen Paint
The INSL-X CC550109A-01 Cabinet Coat Enamel Paint is the best overall paint for use on laminated cabinets. It is a highly rated urethane acrylic paint that is not only popular but also has glowing reviews from homeowners who have used it.
It is a paint that is extremely easy to work with. And when using it, you don't have to use primers or multiple coats in order to get aesthetically pleasing results. And while it may be a little bit pricier than common cabinet paints, it is definitely a high-quality paint that is worth every penny.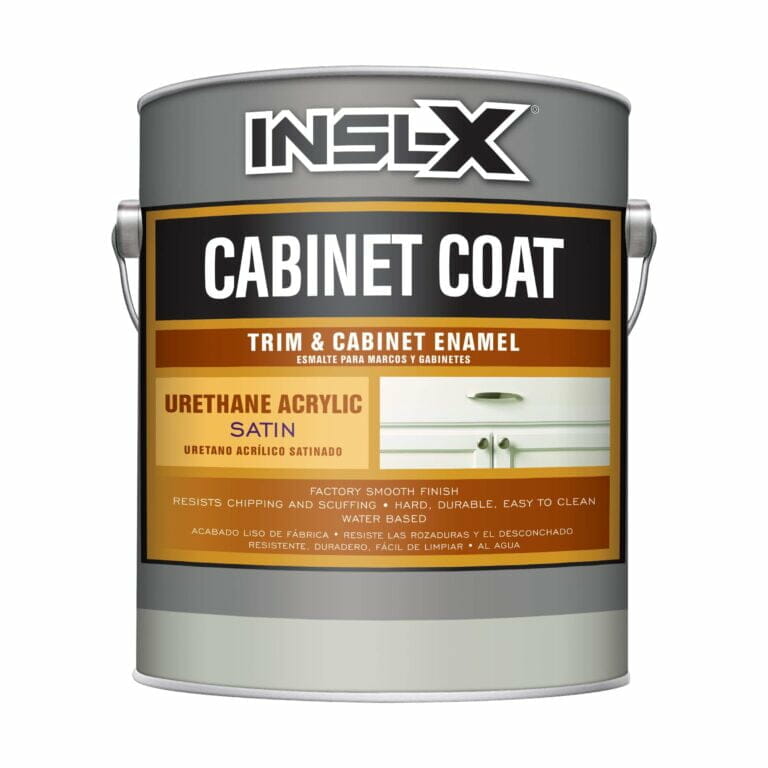 Features
It has an aesthetically appealing "factory-like" finish
Great at adhering to hard-to-coat cabinet surfaces
It gives a durable and ultra-smooth finish
The finish it provides is incredibly durable and resistant to grease, stains, scuffing, and water
Best runner-up: Nuvo Cabinet Paint (Titanium Infusion) Quart
Nuvo Cabinet Paint (Titanium Infusion) Quart Paint is a high-quality cabinet paint that is manufactured by a company that has a good and long reputation for manufacturing high-quality products. It is a popular paint, highly rated on Amazon, and it has glowing reviews from homeowners who have actually used it.
The fact that in order to cover 50 square feet, all that one will need is about a quart of this paint, makes it a favorite for those seeking to DIY their cabinet painting projects.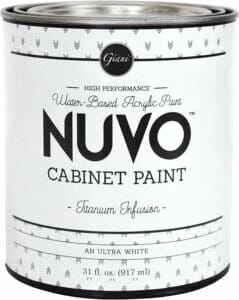 Features
It is infused with titanium for an ultra-white finish
It is extremely easy to work with
It sticks effectively on surfaces
It offers professional-looking painting results
Best budget: Majic Paints Interior/Exterior Satin Paint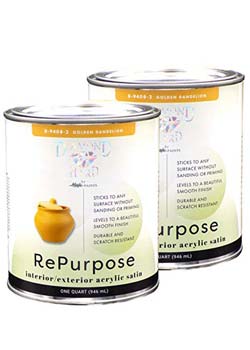 Features
It is a high-quality oil/acrylic paint
It is incredibly scratch-resistant
It doesn't require priming or sanding
It creates an aesthetically pleasing smooth finish
It is perfect for DIY projects
Using qualified contractors for your project
If you don't have the time to go through these steps, or are worried that you might mess up the process, you can easily get an experienced painter to help you. The easiest way to do so is to use HomeGardenGuides.com. It offers a free service that quickly matches you with the top-voted local expert cabinet painter.
Using the website, you can get 3 estimates fast by real certified experts in your area in just 2 minutes. Here is how it works.
You scroll to the top of the page and enter your Zip code.
Answer questions about your painting project
Your details will be forwarded to three local experts.
You will then receive a price estimate for the job and some friendly advice.
IMPORTANT: There is no obligation to hire. This is a free tool and service to be used at your pleasure.
Before starting your project, is always important to remember to ventilate the area that you are working in. Shielding other fixtures and items with drop cloths, and keeping sanding dust contained by using plastic sheeting, are things that you should also remember to do.