Peeling paint on deck is one of most homeowners' nightmares because it makes the deck look unappealing. This calls for repainting as soon as possible to avoid costly repairs in the future.
If the paint is still in good condition, you can paint over it, but a light sand is always recommended. The old paint acts as a good primer for a new fresh coat of paint and sanding helps with its adhesion.
However, if the paint shows any signs of failure, such as peeling, bubbling, cracking, or blistering, it is paramount to remove it first before repainting. You can either strip the old paint or give it heavy sand removing the failing paint gives the new paint a better and cleaner area to bond to.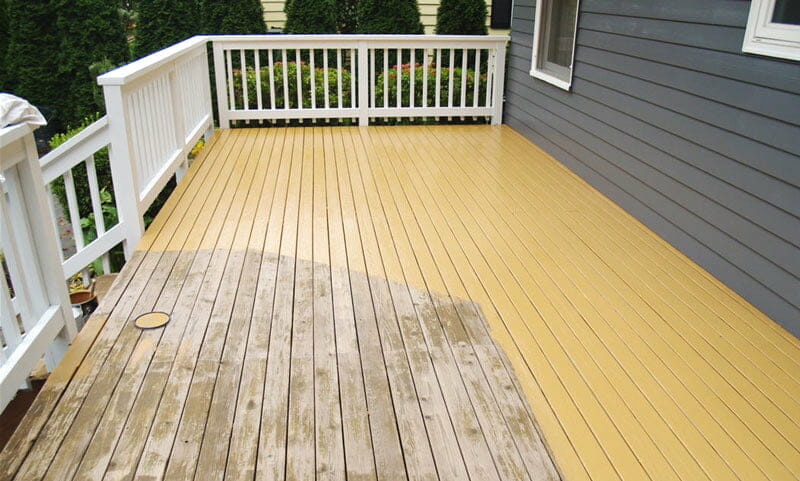 Stripping old paint before repainting or painting over the old paint depends on the condition of your deck.
As mentioned above, you do not need to remove old paint if it is in good condition. If you want to apply the same color and type of paint, you may not need to strip the old paint.
However, if the paint is cracking, peeling, or blistering, you must strip it before you repaint. Also, if you plan to apply different colors, and the deck is damaged, you may need to strip the old paint first to create an even finish.
The best practice is to scrape off destroyed paint and prepare the surface for repainting. If the old paint is oil-based and you intend to apply a water-based paint, stripping it off is essential to make sure the surface develops a good grip for the new paint.
How to paint over peeling paint on deck
Things that make paint peel include poor quality paint, poor application, dirt, and moisture. Repainting your deck will depend on the extent of the injury. Check whether the peeling is consistent or it occurs in certain areas. This will help you decide how you will repair your deck.
So, to paint over peeling paint on deck, you should:
Remove any loose paint from your deck with the use of a brush or a scraping tool.
Sand the wood lightly until it becomes soft
Clean the surface thoroughly and leave it to dry, then apply a primer
Apply the paint professionally to avoid developing blisters and air bubbles
Allow the paint to dry, and then apply a second coat if needed.
You should prepare your surface before you repaint to allow the new coat to adhere better. Also, a well-prepared surface makes the new paint look even and more appealing.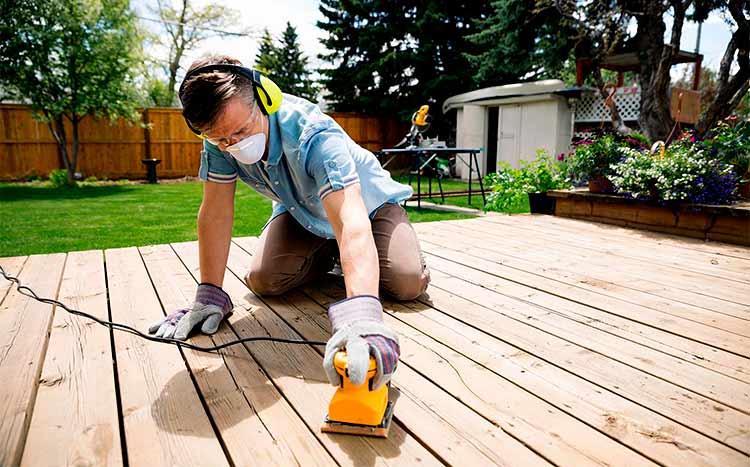 Can you paint over paint without sanding?
If the finish on the deck is not damaged, chipping, or shiny, and if the area is flat, you may go ahead with painting before sanding. This also applies if you are not using a significantly different color. Nevertheless, you must ensure the surface is clean before you proceed.
It is, however, essential to sand the deck if you feel the need to. Sanding is one of the most critical steps in the preparation process. It helps remove old paint, stains, and any residue from the deck. This exposes bare wood that will give the new coat of paint a better grip.
When sanding, ensure you remove all grooves and imperfections. Also, ensure you sand in the direction of the grain to create an even surface.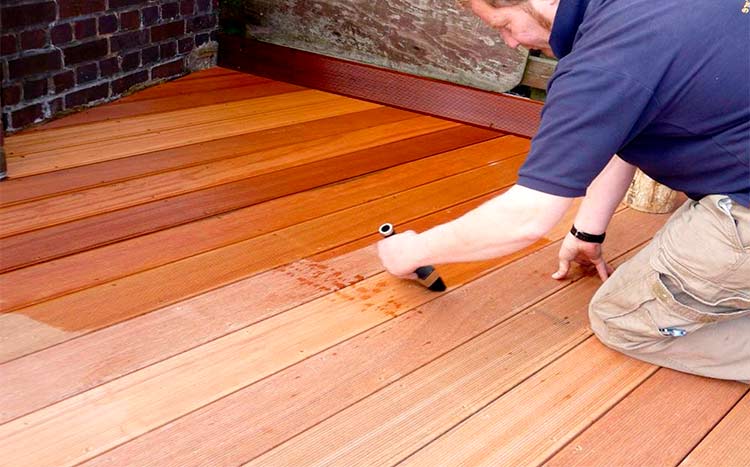 How to prepare a deck for repainting
Preparing all surfaces properly is key to attaining the best, smooth, and even paint finish. There are several processes you should follow when preparing the deck for repainting.
These include:
Cleaning the surface- this applies to both old and new decks. You should thoroughly clean the surface to remove all dirt and debris. Remove all furniture for easy cleaning.
Sanding- after cleaning the deck, you need to sand it properly; this will help remove old, chipped paint, stains, and debris.
Removing debris- remove all the dust, wood shavings, and debris. Sweep over the deck a second time and clean it well.
Priming- once the deck is completely dry, you can now prime it. Priming is vital to ensure the paint adheres better to the wood.
Painting- after sanding, cleaning, and priming, painting your deck is the last step. You can use a paint roller or brush to apply the deck paint of your choice.
Tips for repainting a deck
Same color good condition
If the deck's condition is good, and you are using the same color, you may not have much to do. Ideally, you can go on with the painting as long as you clean the surface first. Also, you have to check whether the new layer will properly adhere to the existing one.
You can sprinkle some drops of water on different sections of the deck. If the water is absorbed fast, you can start painting with confidence. However, if the water beads, you will have to sand the surface before you repaint.
If the deck is in bad condition, you must prep and clean the surface first, even if you are using the same paint. You will need to sand the surface to remove all the peeling paint, repair the damaged areas, and ensure the surface is flat. Then, you need to clean the surface properly, leave it to dry then prime it using a good deck primer.
Once you finish all the preparation steps, and the wood is dry, you can now repaint it confidently.
Lighter paint over darker base
The color preferences for decks vary from one person to another. If you have a darker base and prefer a lighter and brighter environment, you can do it successfully if you follow the right steps.
First, you must clean the surface properly. This is to ensure the paint adheres to the wood and not the dirt.
If the surface is not flat, sand it thoroughly to make sure it is even. Remove all debris and imperfections as well.
Then, prime the surface using the recommended primer. Let it dry completely before you proceed to paint.
By now, you have a lighter surface to work on. So, you can apply your new color and ensure the new paint is compatible with the primer you use.
The last step is to seal the floor surface if it receives foot traffic and heavy use. The sealer adds a protective coat to the paint to make it last longer.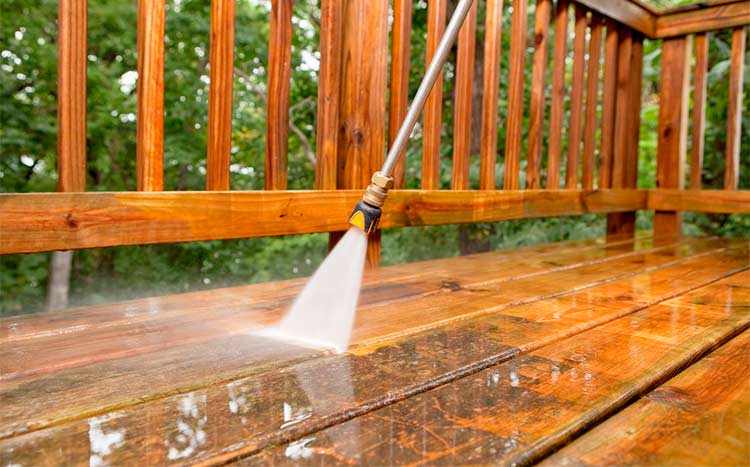 Fast way to strip old paint from deck
Using a stripper is the easiest and fastest way to remove old paint from the deck. A stripper works within 15 minutes. Leave the stripper as long as needed until the paint becomes softer and starts to lift. Then, use a brush or pressure washer to remove the paint.
You may need to sand the deck after it dries up to give it a smoother finish for repainting.
You can use a hand scraper to lift old and failed deck paint. A putty knife or a sharp flat blade may work perfectly as well. However, if the area is large, this may take some time, and you may end up very tired.
How many coats of paint for an outdoor deck?
You can apply up to three paint coats for an outdoor deck to make the paint durable and easier to maintain. Usually, a deck receives too much traffic. So, one coat of paint may not last long.
Two to three coats of paints are recommended for a deck for long-lasting results. You may also use a sealer to protect the paint further. The sealer provides an additional topcoat over the paint to protect it from failing fast.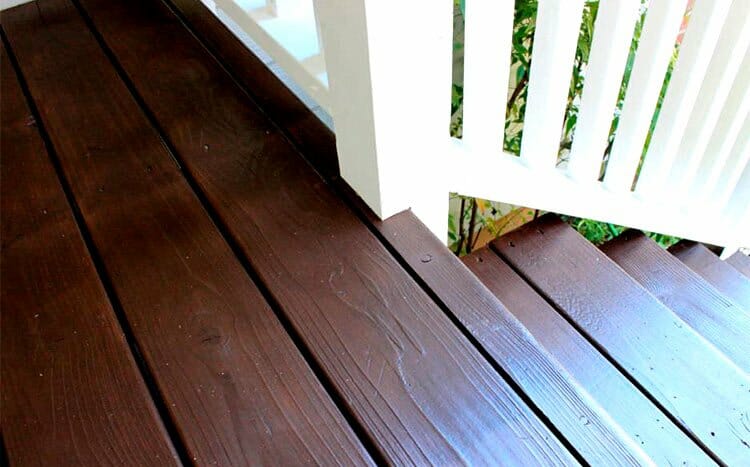 KILZ Over Armor Smooth Wood Paint
This paint offers an innovative solid color coating that refreshes an old weathered deck. It features a 100% acrylic resin formula that is highly durable and long-lasting. This paint conceals splinters and cracks to create a smooth, weather, and impact-resistant finish.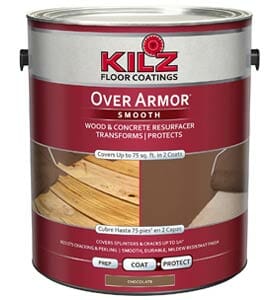 Key features
Contains 100% resin formula
Highly-durable
Effectively conceals cracks and splinters.
Effective on cracked/weathered deck
BEHR PREMIUM Porch and Patio Floor Paint
This paint gives your patio a new touch of class and beauty. It is perfect for high-traffic areas because it is long-lasting and durable. This paint features a 100% acrylic formula that is ideal for your deck. It comes in various colors to give you the freedom to choose the color you like.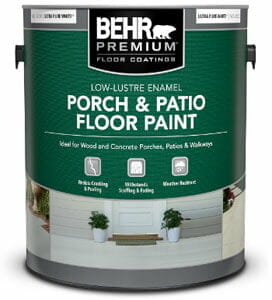 Key features
Mildew-resistant
Enhances and protects the deck
Low lustre paint ideal for indoors and outdoors
BEHR PREMIUM ADVANCED DECKOVER Paint
This deck paint resurfaces properly and gives your weathered wool a new look. It fills in the cracks, tames splinters, and covers up any imperfections. It also features a 100% acrylic formula that is suitable for decks. This paint has excellent adhesion, and it is very durable.
 Key features
Cracking resistant
Covers imperfections
100% acrylic formula
Waterproof and durable
Splinter resistant