As wallpaper goes in and out of vogue, an easy option is to paint right over it. But how well does it work?
Yes, you can paint over wallpaper as long as it is firmly attached to the wall and is in good shape. However, it is crucial to prepare the wallpaper by concealing visible seams and sticking down any loose corners. Also, using a primer/sealer will enable the new topcoat to adhere properly to the wallpaper.
Stripping wallpaper and the residual adhesives from your walls is difficult, time-consuming, and, let's admit-a messy chore that most homeowners would love to delegate or avoid. But painting over wallpaper isn't a piece of cake either. The steps and processes involved can make it a very challenging DIY project.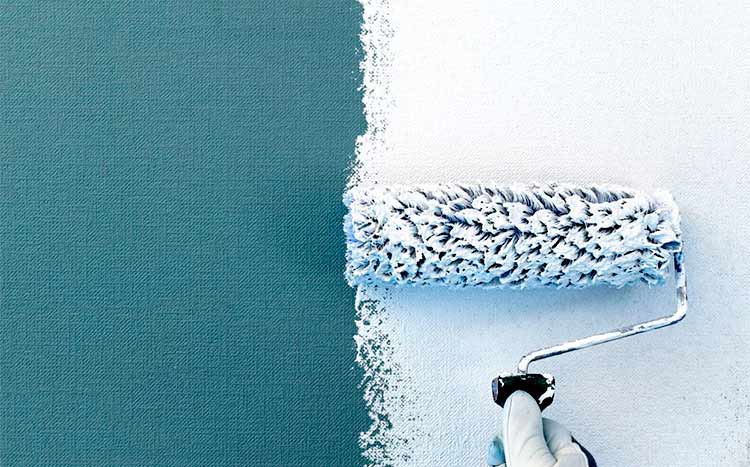 Painting over wallpaper in a decent shape is relatively more straightforward than painting torn or loose wallpaper. It is a good idea to fix damaged wallpaper before you paint because it adds to painting difficulty and peels after painting. Particular wallpaper types are designed to be painted over. This makes it easier to add a fresh coat of paint if the wallpaper design is dated or you want to refresh the look of your wall.
Because wallpaper removal is so challenging, it is crucial that you thoroughly understand the process. You must also be familiar with;
The wall type you're working on.
The wallpaper type that you're removing.
However, you can use several products designed to make the process of removing wallpaper easier. They include:
Chemical sprays.
Gel strippers.
Steamers.
Fabric softeners.
Vinegar.
Vinegar and fabric softeners are better options than chemical removers because they are effective, cheap, and non-toxic, which means they are safe to use around children and pets.
Here are some valuable tips that can make wallpaper removal easier.
You need no special or extra tools to remove peel-and-stick wallpaper.
You have to score pre-pasted wallpaper for faster and easier removal.
Apply vinegar or fabric softener solution on vinyl wallpaper to remove quickly in one piece.
Is painting over wallpaper a good idea?
Putting a fresh coat of paint over old and tacky wallpaper is an easy and inexpensive way to restore outdated wall decor and give your room a new look. Although most people would balk at covering up wallpaper with paint, you can pull it off successfully with the correct technique and tools. Moreover, painting over wallpaper isn't a rush job. And the only guarantee of achieving a high-quality paint finish is to prepare the wall properly. It's also a good idea to invite an expert who can evaluate the situation and recommend the best option.
There are several reasons why people paint over wallpaper. They include:
If you are in a rush to remodel your room and don't have the time to remove the old wallpaper.
If the existing wallpaper is installed over a plaster wall or unfinished drywall.
If the wall has several layers of wallpaper, which can be challenging to remove.
If you want an interim fix for a ghastly-looking wallpaper before remodeling your home.
If you think that removing the wallpaper may damage the wall.
If you wish to update the color of textured wallpaper but have no desire to conceal the texture.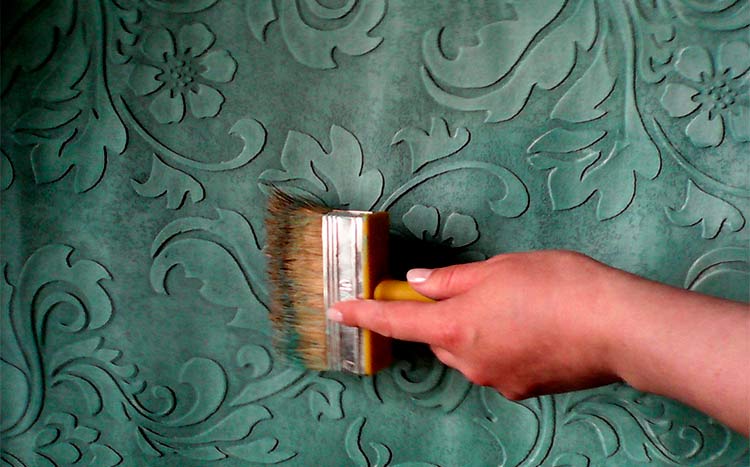 HomeGardenGuides.com is a free service that quickly matches you with top-voted local painting contractors.
You can get three estimates fast by real certified experts in your area in just 2 minutes.
Scroll to the top of the page and enter your Zip code.
Answer questions about your paint job
Your project details are forwarded to three local experts. They will send you a price estimate for the job and some friendly advice.
IMPORTANT: There is no obligation to hire. This is a free tool and service to be used at your pleasure.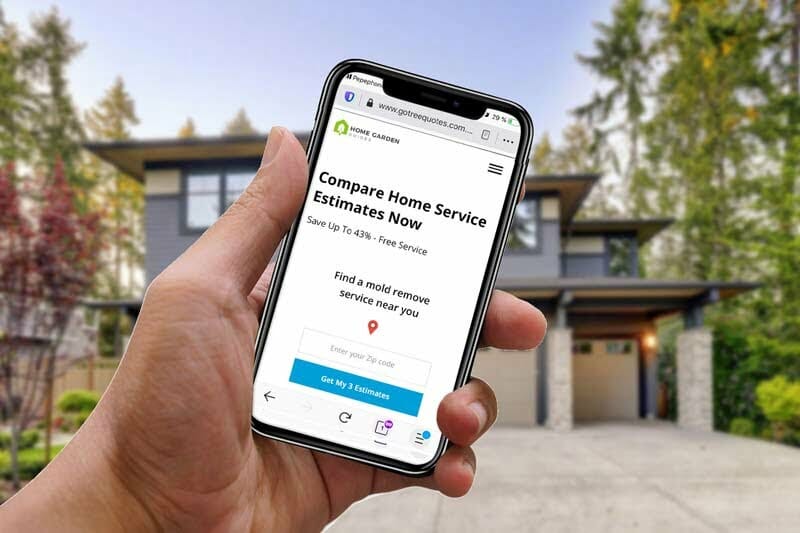 When not to paint over wallpaper
Although experts advise against painting over wallpaper, people do it regardless. But there are situations where it is a terrible idea to paint over wallpaper. They include:
When the existing wallpaper is severely damaged and peeling in multiple places.
Where the existing wallpaper is damp from wall moisture.
If you can easily peel away the wallpaper off the wall.
If long stretches of the wallpaper edge are unfurled and loose.
If the wallpaper is textured, painting over textured wallpaper only accentuates every feature, flaw, and crease.
Can you paint over the wallpaper border?
You can paint over the wallpaper border if the border is in good condition and it is still firmly attached to the wall. However, you would need to do a bit of prep work to conceal the border. To do this, you'll need the following:
Skim joint compound or
drywall mud.
Oil-based primer.
Sandpaper.
Paint.
Wallpaper border painting tips
Do not paint over wallpaper borders with latex-based primers because the moisture from the paint can penetrate the border and weaken the adhesive, causing the border to fail.
Apply an oil-based primer to seal the material in preparation for painting.
Conceal the hard ridge along the edge of the wallpaper border with joint compound or drywall mud and allow it to dry before sanding thoroughly.
Steps for painting over wallpaper
Below are the steps for painting over wallpaper.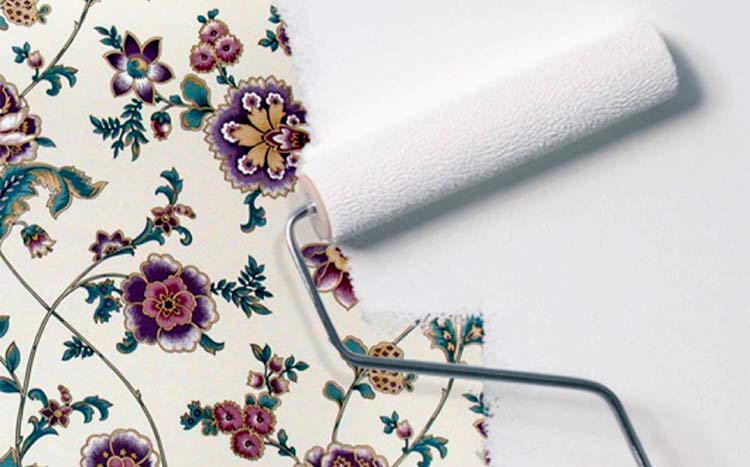 Assemble your tools, materials, safety equipment, and prepare the work area.
The tools you'll need include:
Putty knife.
Brush and paint roller.
Screwdriver.
Disposal can.
A bucket.
The materials you'll need include:
Painters tape.
Joint compound or drywall
mud.
Paint.
Oil-based primer.
TSP (trisodium phosphate)
Sandpaper (150- to 180-grit)
Plastic sheets.
Garbage liner.
Essential safety equipment includes:
Rubber gloves.
Goggles.
Nose mask.
A long-sleeved shirt.
Thick gloves.
Prepare the work area by doing the following:
Ventilate the work area by opening all the room windows.
Lay down a plastic sheet to protect the carpet and room items from water, stains, and debris.
Cover all electrical outlets.
Clean and prepare the wallpaper
Clean the wallpaper surface with trisodium phosphate (TSP) solution.
Pour half cup of TSP into 2 gallons of water.
Dip a soft cloth, sponge, or paintbrush into the solution and wipe down the wallpaper.
Allow the wallpaper to dry for at least 24 hours.
Pour clean water into a bucket, dip a clean rag into the water and squeeze the water out.
Wipe the wet rag on the wallpaper to remove all the TSP. Continue until all the TSP is cleaned off.
Look for 'problem spots,' areas with visible holes, peels, and bubbles on the wallpaper and fix them.
Cut away the 'problem spots' with a knife and apply joint compound or drywall mud to patch them up.
Apply drywall compound to cover visible seams.
Please wait for the patches to dry before sanding them.
Use sandpaper to smoothen rough repairs and to level the patches.
Remove all dust and wallpaper particles from the wallpaper.
Apply a paint primer
Prime or seal the wallpaper with a high-quality primer/sealer. A primer-sealer prevents the wallpaper surface from peeling and allows the paint to attach to the wallpaper.
Open a can of oil-based paint primer.
Using a paintbrush or roller, apply a coat of primer over the wallpaper's entire surface.
Allow the primer to dry.
Add a second coat if the seams are still visible beneath the primer.
Paint the wallpaper
Apply high-quality oil-based paint to the wallpaper.
Mark off baseboards and trims with painter's tape.
Open a can of paint and use a small paintbrush to cut in on the edges, corners and challenging to reach areas.
Using a paint roller, systematically apply the paint to achieve maximum coverage.
Allow the first coat to dry and check for any visible patterns from on the surface.
Apply a second coat if required.
DIY vs. Calling a Professional
Like every other household improvement project, you have the option of either DIY or hiring a professional to paint your wallpaper. We will examine both alternatives and look at the pros and cons of each.
Even though painting your wallpaper can be challenging for DIYers without any prior experience, it is a project that you can accomplish with the right tools, the proper guidance and resources (like this article), and lots of patience and determination. We take a look at the pros and cons of painting your wallpaper below.
Pros
You work at your own pace.
It is cheaper since you are not paying anyone.
It allows you to bond with friends and family whom you can request to help you out.
Cons
DIYers lack the required proficiency, which results in the job taking longer than usual to complete.
Most DIYers do not have the patience to execute the preparation and cleanup process properly.
Although you may save some costs by not paying professional fees, your lack of technique and skills may result in mistakes that can be expensive to correct.
You will have to move heavy pieces of furniture without assistance.
This option is for individuals who either don't have the time to paint their wallpaper or prefer to enjoy the experience of having a high-quality wallpaper paint job done by someone with the right skills. We take a look at the pros and cons of hiring a professional below.
Pros
Professionals have the experience and knowledge required to deliver a paint job of exceptional quality and durability than DIYers.
Professionals possess the proficiency to work faster to complete the job within the minimum possible time.
Professionals have the tools and equipment that enable them to fix flaws in the wallpaper before painting.
Professionals rarely make a mess or cause property damage, unlike DIYers.
Professionals cover all sensitive household fittings and leave fewer paint tracks on your property.
Professionals recommend higher quality, cost-effective paints, and primers that guarantee a flawless finish.
Cons
Hiring a professional can be expensive.
You may lose use of the room while the work is in progress.
Strangers will have access to your home and privacy, and some people don't like that.
Solvent (oil) based paints provide the best results when used to paint wallpaper. Oil-based or alkyd paints offer more benefits than water-based paints, including faster drying time.
Oil-based primers are an excellent choice for priming/sealing wallpapers in preparation for painting. In addition to offering superior paint adhering capability, oil-based primer/sealer also can prevent moisture in paint or the air from penetrating the wallpaper.
Yes, you can. Unlike the walls of your home, RV walls are made from thin wooden sheets with wallpaper-like vinyl coating. Stripping the layer will most likely damage the RV walls. Painting over the vinyl coating is an excellent option for updating the look of your RV interior. However, you'll need to use RV-specific primer and paint to achieve a perfect-looking finish.