Painting any concrete surfaces in your home, whether the floors, block walls, ceilings, or driveways, always requires early preparation and budgeting.
Paint and paint stains cover any flakes on your concrete and help extend its lifespan. Below is a cost guide on how much you can expect to spend on the entire painting project.
The national average to paint concrete is approximately $2.10 – $4.56 per sq ft. Most American homeowners spend between $1,200 – $2,450 on the job.
However, the actual cost to paint your concrete will depend on the size of your concrete surface, the condition of the concrete, the number of areas to be painted, the painting design, and the concrete grinding level.
| Service | Quantity | Low | High |
| --- | --- | --- | --- |
| Paint Concrete Floor | Sq ft. | $1.45 | $3.25 |
| Paint Concrete Driveway | Sq ft. | $2.45 | $5.89 |
| Paint Concrete Patio | Sq ft. | $2.10 | $4.50 |
| Paint Concrete Basement walls | Sq ft. | $3.50 | $7 |
| Seal concrete | Sq ft. | $3 | $5.56 |
| Stain Concrete | Sq ft. | $9 | $12 |
| Epoxy Concrete | Sq ft. | $4.10 | $6.89 |
| Average cost of services | Hour | $38 | $85 |
Average Estimate: $3.15 per sq ft.
Labor cost to paint concrete
The labor cost to hire a painter for your concrete painting project can be as low as $25 per hour and as high as $80 per hour. The actual cost will vary based on many factors. Some of these factors include the expertise of the painter you want to hire, the average labor cost in your area, and lots more.
An apprentice painter can give you an estimate of $25 to $30 per hour as the labor cost while highly skilled painters can go as high as $70 to $80 as their labor cost.
| Average Labor cost | $50 |
| --- | --- |
| Average Range | $40 – $60 |
| Low-end | $25 |
| High-end | $80 |
Painting concrete floor cost per square feet
The average cost of painting concrete per sq foot ranges between $2.45 to $3.89 per square foot. If you incorporate the epoxy flooring, you'll spend around $4.10 to $6.89 per square foot.
Remember that each price doesn't account for labor or material costs.
Cost to Paint Concrete Patios
For your patio, you can expect to spend between $3 to $20 per square foot. For instance, a 200 square feet patio would cost around $600 – $4,000, excluding the cost of materials and labor.
Some factors that might increase your concrete patio's cost include its size, shape, design complexity, and condition of the property.
Cost to Paint Basement Walls
The average cost to paint your basement walls ranges from $3.50 to $7 per square foot. Among the factors that influence the actual price, you'll pay for this include the square footage of your walls, condition of the basement walls, appliances on the way, types of paints used, and the contractor you choose.
Painting Concrete Driveway Cost
Most homeowners spend between $6 – $15 per square foot on painting concrete driveways, but these costs greatly vary.
Depending on the condition and design of your concrete driveway, you can spend between $4 – $7 for simple concrete driveways and $8 – $15 for stamped driveways.
The price of materials for the concrete driveway ranges between $3 – $4 and about $2 – $3 for labor costs.
Cost to paint the average 20 x 20 Driveway
For $4 – $7 per square foot, a 20 X 20 concrete driveway will cost you around $1,600 – $2,800. The materials may cost you about $1,200 – $1,600 while labor costs between $400 – $1,200.
Cost to paint concrete with no-slip floor coating
To paint your concrete flooring with anti-slip coating, you'll spend between $1 – $4 per square foot. To apply concrete floor coating means preventing dangerous falls. 
For concrete floors in poor condition, applying a primer is usually the best solution. The primer will cost you around $4 per square foot, and it will help the paint adhere better with the concrete flooring.
| Type of primer | Primer per gallon | Average labor cost per square foot |
| --- | --- | --- |
| Adhesive | $15 – $60 | $2 – $4 |
| Shellac | $30 – $60 | $2 – $6 |
| Oil | $25 – $50 | $1 – $5 |
| Latex | $20- $80 | $2 – $4 |
Material cost for painting concrete
Your painting project will demand numerous materials to bring it back to its lustrous look. Some of the materials you'll need include a sealer, paint, epoxy, primer, stain, and overlay paint.
The sealer will cost you anywhere from $1 – $4 per square foot. Paint costs anywhere from $2 – $4, but it could go up to $10, the primer costs around $4, and the epoxy costs between $10 – $15.
The overlay paint costs between $2 – $30.
There are many factors that affect the total price you'll pay for your painting project. Some of the most important factors to consider include:
Materials – Different quality paints cost different amounts. The above costs are for mid-range materials. You can opt for high-end materials, which will be more expensive. Other materials you might need include a primer, sealers, epoxy, stains, and overlays. All these increase your costs.
Preparing worksite – Your painting contractor will charge you extra costs for doing more worksite preparation tasks like moving furniture or removing topsoil for concrete garage floor etc.
Preparing surface – The condition of your surfaces also increases or decreases your costs. If your garage floor needs repair/replacement or your frames need modification, your painting contractor will charge you more.
Testing or remediation – Before moving to a new house, it's advisable for you to conduct mold testing/ remediation and use mold-killing paint, lead paint removal, and neutralizing to ensure that you move to a safer place. All these tests will increase your overall costs.
Permits or inspection fees – Most inspectors will charge you inspection fees to visit and assess the state of your concrete surfaces. You'll also have to pay for state permits for you to have the green light to continue with your painting project. These extra costs should always be on your mind before choosing your contractors.
Can you use regular paint on concrete?
No! Due to the extreme micro-porous nature of concrete, the regular acrylic paints won't work. Concrete floor coating with such paint can barely last a year before they start peeling out.
It also absorbs and retains a lot more moisture compared to other materials. This makes it harder for the surface coat resin, formed when the paint is drying out, to solidify. It also means that the paint takes too long to stick in place.
For a successful concrete re-touch project, you need paint that can endure the moisture, extra faults, micropores, and dents. Masonry paint is one such paint – it's thick and very durable.
Epoxy-based paints can also work well on concrete slubs, especially a patio or garage floor. For concrete slabs, using a primer before painting may also be really helpful.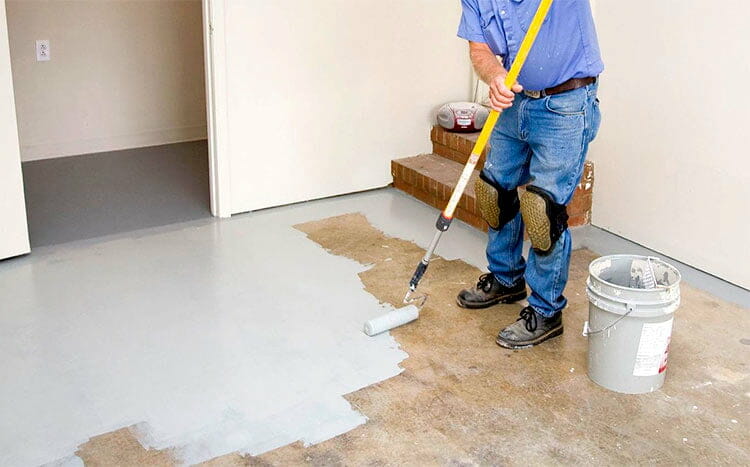 How dangerous is it to strip lead paint?
Lead, whether as paint or an element, is very dangerous as it can easily result to lead poisoning. Stripping lead paint is no different. It's particularly hazardous because it releases fine lead particles into the air, which mainly attacks the nervous system.
Most experts discourage DIY lead paint stripping because lead easily gets into our bodies. We can easily get poisoned by inhaling the lead fumes or directly ingesting the small lead strips.
This poses a great risk on babies and small children who put anything they find on the ground into their mouths. Pregnant women also expose their small fetuses to poisoning when they inhale any lead dust or fumes.
Other effects of lead poisoning include: Kidney damages, fertility issues, speech impairments, high blood pressure, digestive issues, etc.
Luckily, most lead paints are banned from the country, and most homes with lead paintings were likely built before 1970. In fact, the EPA requires all contractors working on such homes to be certified in lead-safe practices.
Best places to find a pro painter
Once you understand the costs and the best types of paints for your concrete, you have to choose the perfect professional painter for the job.
But there are tons of pro painting companies in the country, which makes it harder to choose. Worry not!
Here are a few places you can look into to help you find a pro painter near you.
Use HomeGardenGuides.com (this site) – Just enter your zip code and a few details at the top of the page, and three local painting pros will give you a free estimate. It's fast and will only take around two minutes!
Google search – On your browser, click on the search bar and google 'concrete painters near me.' You should see a list of painting companies, some who actually offer free estimates.
Yelp -Yelp is a platform that connects contractors and customers. Just search for yelp.com and search for 'painters near me' on the search bar.
Even though concrete slubs are quite difficult to work with compared to other building materials, it's still easy to paint them as a DIY. But should you do it?
Cost to DIY a concrete paint project
Most experts discourage DIY when it comes to a concrete paint project due to the expertise required. It requires the use of chemical agents that can be harmful when handled inappropriately.
However, you can DIY your concrete surface paintings if it's a small-scale project that does not require complex materials. This will cost about $110 – $150, equipment inclusive.
You can DIY your concrete surface paintings if you're only covering small square footage, and you have some experience with different paints. Doing it as a DIY can save tons of money, as it costs around $110, and hiring tools cost around $50.
However, all novice homeowners should avoid DIY, regardless of how appealing it seems to be.
Hiring a professional EPA certified painter for your concrete job is always the most recommended option for homeowners. Professionals have a good understanding of concrete and the paints that are suitable for it.
They've also already forged partnerships with many manufacturers to get you high-quality products at very affordable prices.
But the best thing about professionals is that they can complete the painting faster and do it more efficiently than you ever could. They're also able to complete the intricate designs you want for your concrete slubs.