The cost of painting the concrete driveway varies depending on the size of the driveway, its condition, and the materials used.
However, for painting a concrete driveway you will have to pay anywhere from $40 to $170 per square meter depending on the size and the quality of the driveway surface. Some painting specialists charge per hour, which will cost you from $30 to $60 per hour.
In this article, we will outline the general costs of concrete driveway painting.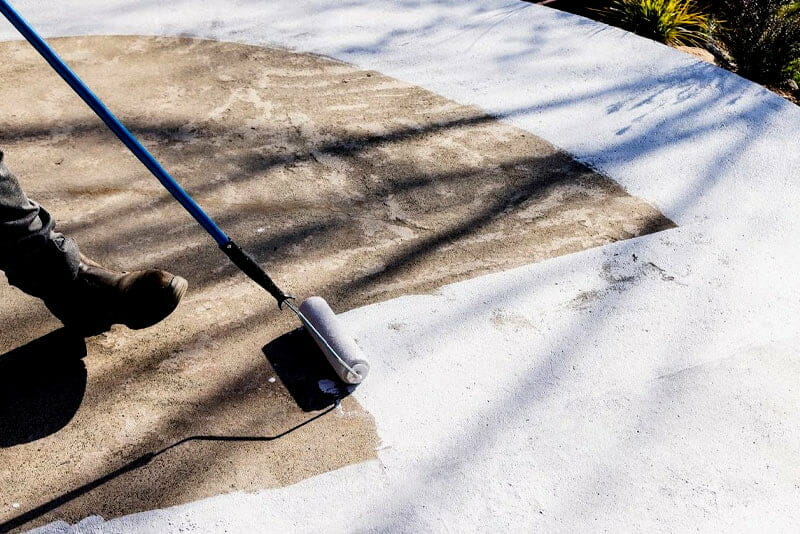 Several factors should be taken into consideration when it comes to concrete driveway painting or sealing. However, there are few universal guidelines to help you figure out the actual cost of the project.
It is recommended to re-paint the concrete driveway every couple of years to increase its lifespan and provide a good condition, and it will cost you from $40 to $170 per square meter, or $30 to $60 per hour depending on the quality and the size of the concrete.
The average cost of concrete driveway paint
Don't use everyday paint for painting concrete driveways because the paint used for this kind of surface must act as a sealer too because the concrete needs protection from weather damage and wear and tear.
| Sealer type | Quantity | Price |
| --- | --- | --- |
| Solvent-based acrylic paint | 5 gallons | $180 |
| Water-based acrylic paint | 5 gallons | $150 |
| Epoxy and Polyurethane paint | 5 gallons | $220 |
| Paving paint | 5 gallons | $425+ |
The covering range of the concrete paints above is approximately 80m2 to 100m2 per 5 gallons, and two coats will be enough for proper sealing. Also, you will need to buy an etching primer to ensure the paint adheres to the concrete and turpentine to thin the first layer of paint.
Use this FREE service to get the best quotes!!!
Because concrete driveway painting costs differ depending on where you live, our service will help you get the best from your area.
HomeGardenGuides.com is a free service that quickly matches you with top-voted local painting specialists.
You can get 3 estimates fast by real certified experts in your area in just 2 minutes.
Scroll to the top of the page and enter your Zip code.
Answer questions about your painting job
Your painting details are forwarded to three local experts. They will send you a price estimate for the job and some friendly advice.
IMPORTANT: There is no obligation to hire. This is a free tool and service to be used at your pleasure.
What are the benefits of painting a concrete driveway?
It's a good investment to paint your concrete driveway because you will improve the curb appeal of the entire property and ensure the great performance of your driveway. There are a number of benefits of a painted driveway:
Protecting your driveway from weather conditions and water exposure;
Protection against grease, oil, and chemicals;
Boosting the curb appeal of the entire property;
Easier cleaning;
Prevent stains.
Concrete driveway resurfacing cost
This procedure is recommended when your driveway needs a bigger facelift. Heavyweight cars, oil leaks, exposure to elements, cracking of the concrete, and erosion all contribute to the deterioration of the driveway.
Concrete resurfacing cost depends on several factors such as the size of your area, driveway materials, and the number of repairs needed. Anyway, if your existing concrete driveway is in good condition you will have to pay approximately as listed below:
| Surface type | Average cost |
| --- | --- |
| Standard concrete | $35 per sq. meter |
| Stencilled concrete | $50 per sq. meter |
| Multi-coloured stenciling | $85 per sq. meter |
| Coloured concrete | $70 - $90 per sq. meter |
| Exposed aggregate finish | $100 - $150 per sq. meter |