The cost of painting the concrete driveway varies depending on the size of the driveway, its condition, and the materials used. The average 2 car driveway is 16 x 40 feet, or a total of 640 square feet.
Painting a concrete driveway will cost anywhere from $1,568 to $3,769. A huge cost factor is the type of paint you use and the preparation needed before paint is applied.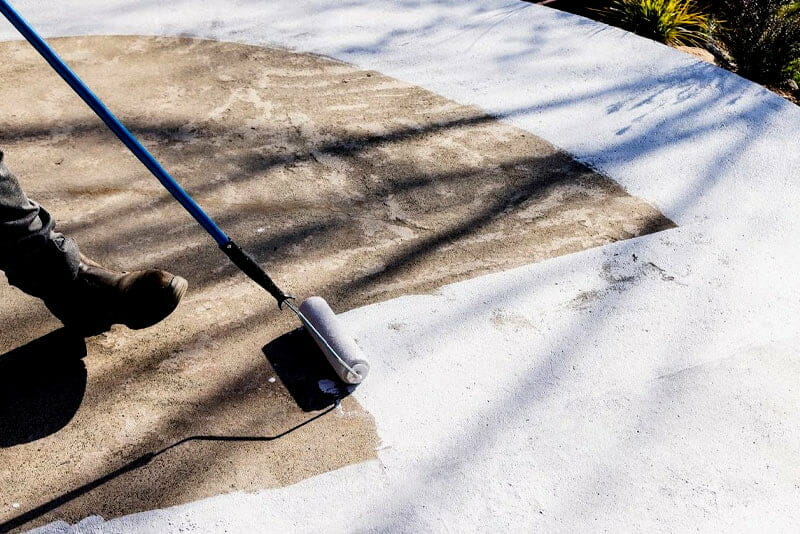 A driveway concrete paint project will cost about $2.45 at a minimum and can go as high as $5.89 per sq ft. This depends on the condition of the surface, the number of repairs/fixes needed and the complexity of the painting design you have chosen.
| National Average (per sq ft) | $3.42 |
| --- | --- |
| Low end | $2.45 |
| High end | $5.89 |
The cost of labor for concrete driveway painting will depend on the city you live. The national average is $58 per hour. 
The real range you can expect to pay is $45 – $80 per hour. When getting an estimate, ask for an itemized quote so you can see where your money is going to be spent.
Cost of polular driveway paint
Don't use everyday paint for painting concrete driveways because the paint used for this kind of surface must act as a sealer too because the concrete needs protection from weather damage and wear and tear.
| Sealer type | Quantity | Price |
| --- | --- | --- |
| Solvent-based acrylic paint | 5 gallons | $180 |
| Water-based acrylic paint | 5 gallons | $150 |
| Epoxy and Polyurethane paint | 5 gallons | $220 |
| Paving paint | 5 gallons | $425+ |
The covering range of the concrete paints above is approximately 80m2 to 100m2 per 5 gallons, and two coats will be enough for proper sealing. Also, you will need to buy an etching primer to ensure the paint adheres to the concrete and turpentine to thin the first layer of paint.
Driveway primer cost per sq ft
| Type of Primer | Primer per gallon | Average cost per sq |
| --- | --- | --- |
| Adhesive | $15 – $60 | $4 – $6 |
| Shellac | $30 – $60 | $6 – $12 |
| Oil | $25 – $50 | $2 – $4 |
| Latex | $20 – $80 | $4 – $8 |
Cost factors of driveway painting project
There are many factors that influence the cost of concrete paint projects. Some of them include;
Depending on the state of your driveway you may need a varying amounts of preparation work done, before your driveway is ready to paint.

Pressure clean – At a minimum a high pressure clean will be needed to remove dirt and oils for a more adhesive surface. 
Removing flaking paint – It becomes a little more complicated if there is flaking paint or clear coat from your coat. All loose paint needs to be removed if the new layer is going to stick properly.
Primer – Depending on the age and type of cement, a primer may need to be used before adding the top coat.
The epoxy or paint used to achieve the desired effect will vary in price. This is a very transparent selection process, and there are always compromises to achieve a similar look for a lower price.
Pro tip: I would not try to save too much money when selecting paint. As the saying goes, the poor man pays twice. Try to save $10 per gallon on the paint, and it might come back to bite you in 5 years time.
What are the benefits of painting a concrete driveway?
It's a good investment to paint your concrete driveway because you will improve the curb appeal of the entire property and ensure the great performance of your driveway. There are a number of benefits of a painted driveway:
Protecting your driveway from weather conditions and water exposure;
Protection against grease, oil, and chemicals;
Boosting the curb appeal of the entire property;
Easier cleaning;
Prevent stains.
Concrete driveway resurfacing cost
This procedure is recommended when your driveway needs a bigger facelift. Heavyweight cars, oil leaks, exposure to elements, cracking of the concrete, and erosion all contribute to the deterioration of the driveway.
Concrete resurfacing cost depends on several factors such as the size of your area, driveway materials, and the number of repairs needed. Anyway, if your existing concrete driveway is in good condition you will have to pay approximately as listed below:
| Surface type | Average cost |
| --- | --- |
| Standard concrete | $35 per sq. meter |
| Stencilled concrete | $50 per sq. meter |
| Multi-coloured stenciling | $85 per sq. meter |
| Coloured concrete | $70 - $90 per sq. meter |
| Exposed aggregate finish | $100 - $150 per sq. meter |