When considering a home improvement project, painting your bathroom should be one of the top things on your list. Despite being the smallest room in the house, bathrooms need to be well painted to avoid the growth of mold and mildew. It also wouldn't hurt to have a beautiful bathroom.
On average, homeowners spend between $100 and $400 for painting a standard 50 square foot bathroom. For a larger master bathroom, the cost is slightly higher, between $250 and $650.
You'll pay slightly higher or lower depending on the complexity of the project, labor and the cost of the materials.
The standard bathroom size in the US usually ranges between 20 and 146 feet.
Using a 146 sq ft bathroom, the total costs would be:
| Service | Quantity | Low | High |
| --- | --- | --- | --- |
| Bathroom painting cost | 146 Square feet | $73 | $109.50 |
| Bathroom painting labor cost | @$40/Hour | $80 | $320 |
| Bathroom paint job supplies | 146 Square feet | $116.80 | $175.20 |
| | | | |
| Total per square foot | | $189.80 | $284.70 |
| Total for project | | $269.80 | $604.70 |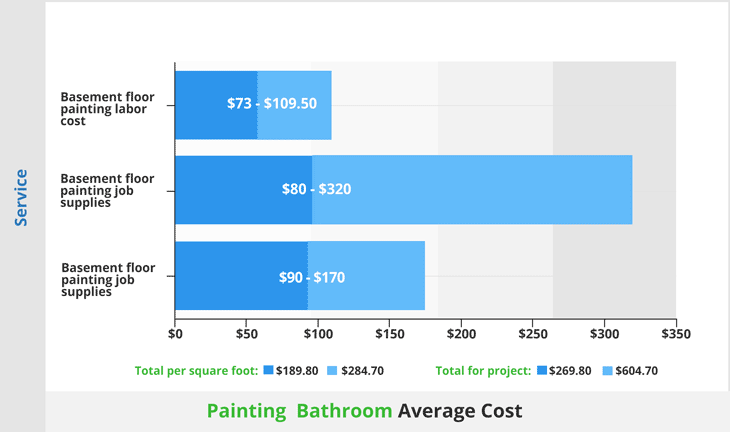 For master bathrooms, taking the average size to be 165 square feet, the average price for a painting job will be:
| Service | Quantity | Low | High |
| --- | --- | --- | --- |
| Bathroom painting cost | 165 Square feet | $82.50 | $123.75 |
| Bathroom painting labor cost | @$40/Hour | $80 | $320 |
| Bathroom paint job supplies | 165 Square feet | $132.00 | $198.00 |
| | | | |
| Total per square foot | | $214.50 | $321.75 |
| Total for project | | $294.50 | $641.75 |
Average Estimate: $468.15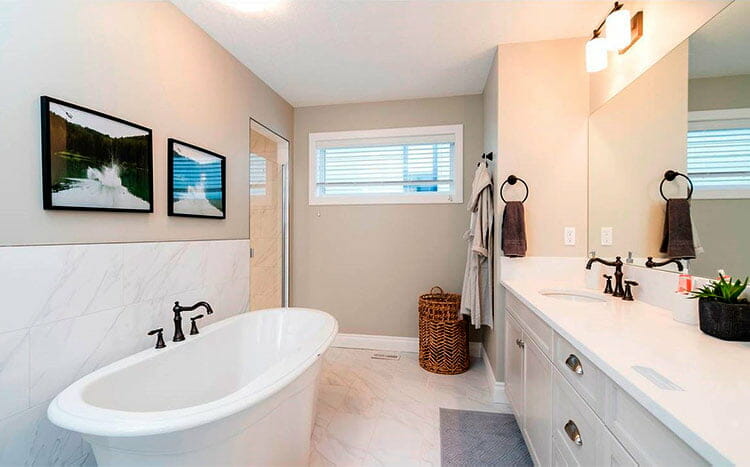 Cost of Bathroom painting per square foot
The average cost of painting bathroom walls ranges between $1.30 and $1.95 per square foot. An additional $0.80 – $1.20 is also charged for the paint job supplies. Material costs may take up about 30% of the total project cost.
Nonetheless, these prices are purely an estimate, and they may vary depending on the experts you consult with and where you buy the supplies.
Tip: Get several quotes from different bathroom painters and suppliers, then select the ones that best fit your budget.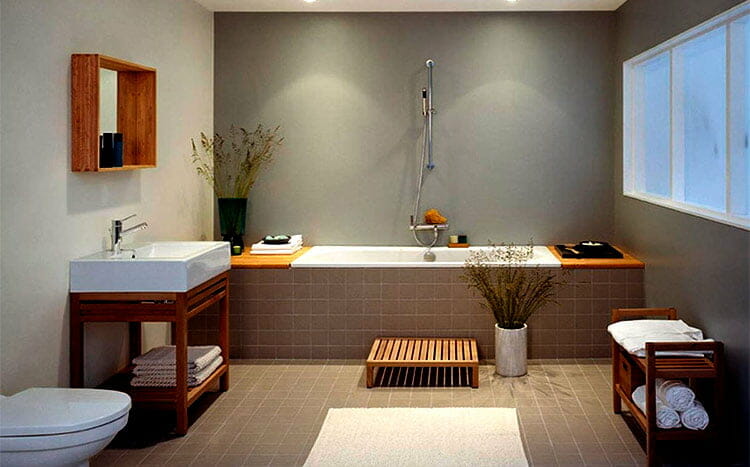 Does the price include the ceiling?
No! If the ceiling is included in the painting job, the price total drastically increases. For a typical 5' x 8' ceiling, most expert painters may charge you around $150 to $300.
Ceilings in larger bathrooms like the master bathroom may cost you almost double this price. If the ceiling first needs to be patched then painted, the price can extend to around $1,000.
PS; If the bathroom ceiling is part of the project, it should be painted first and allowed to dry before the walls and tiles.
Cost to Paint a small bathroom
The smallest bathrooms in the US are usually about 20 – 30 square feet. Most of these are half-bathrooms containing a toilet, sink, and shower. This cost assumes that the project takes between 2 – 8 hours and doesn't cover the ceiling costs.
| Service | Quantity | Low | High |
| --- | --- | --- | --- |
| Small Bathroom painting cost | 36 Square feet | $18 | $27 |
| Bathroom painting labor cost | @$40/Hours | $80 | $320 |
| Bathroom paint job supplies | 36 Square feet | $28.80 | $43.20 |
| | | | |
| Total per square foot | | $46.2 | $70.2 |
| Total for project | | $126.20 | $390.20 |
Average Estimate: $258.20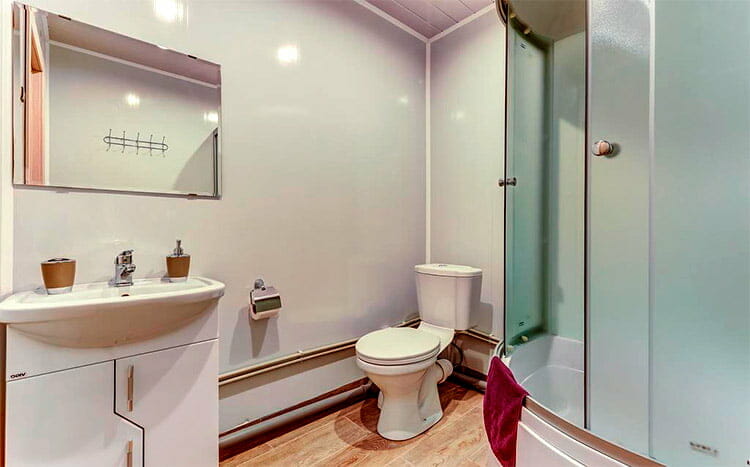 How many coats of paint for bathroom walls?
Two coats. When repainting your bathroom wall, using two paint coats is more likely to give it a better look. However, this isn't a rule that's cast in stone. Your choice of paint coats depends on the paint color you prefer, the wall surfaces, and your project.
For instance, if you're only revamping your old wall color, only one coat of paint is enough. However, if you're looking for a different, darker color, two paint coats are necessary.
In the event that you need to paint a light wall color over a darker paint shade, you'll need three or more coats. Just ensure that you give each coat time to dry before applying the next.
Cost to Paint a bathroom (Labor only)
While the average labor costs in the country range between $20 – $35, most professional painters may charge up to $70 for the entire project. If they work in pairs, the cost can be slightly higher.
For a simple painting job, the painter may take only two hours to complete and up to eight hours for more sophisticated projects.
The painters also charge around $1.50 and $3.50 per square foot to paint your bathroom. With the addition of the ceiling costs, this figure rises to around $3 – $4.
So, for a 72 square feet bathroom (without ceiling), the total labor costs may amount to:
Labor
Quantity
Low
High
Professional painter cost per hour
@40/hour
$80
$320
Painter cost per square foot
72 Square feet
$108
$252
Painter cost per day
$188
$572
Average per square foot
$180
$180
Average labor cost
$ 350
If you choose to go with a professional company for the job, their prices will be slightly higher than this average. Most of these companies will only take jobs worth more than $600.
Painting your bathroom walls will be useless if the drywalls develop holes that need repair. Your first step should be fixing these holes before proceeding with the painting.
If the holes are small, you can easily patch them with a drywall patch kit from your home improvement store. For larger holes, you may have to patch the affected area with new drywall.
Keep in mind the location of the holes to avoid damaging any electrical or plumbing units behind the drywall. If the extent of the hole is too big or complex for you, contact a professional to help you fix it.
Most drywall professionals charge between $60 and $90 per hour, which is around $50 – $75 per sq ft. If you go DIY, the cost of materials may amount to $45.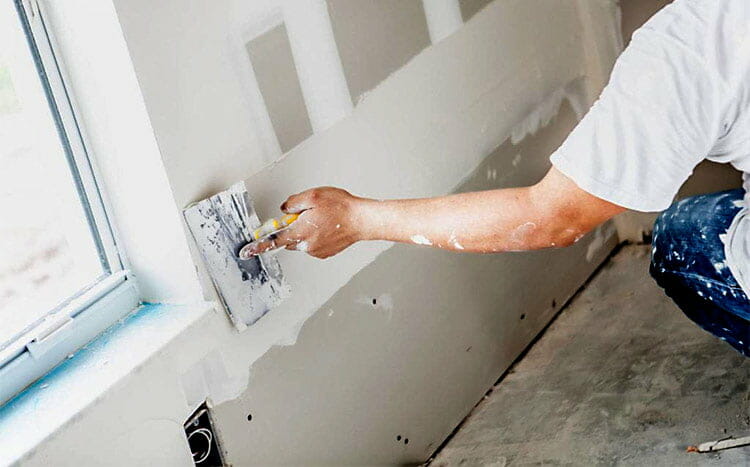 Yes! Painting over your bathroom tiles is possible, but it requires knowledge and special epoxy or tile paints to ensure that you don't ruin them. Painting works on most types of tiles, including ceramic, porcelain, and natural stone.
Keep in mind; tile paints work best in areas that aren't frequented with water and moisture. So, avoid painting tiles near bathtubs and showers.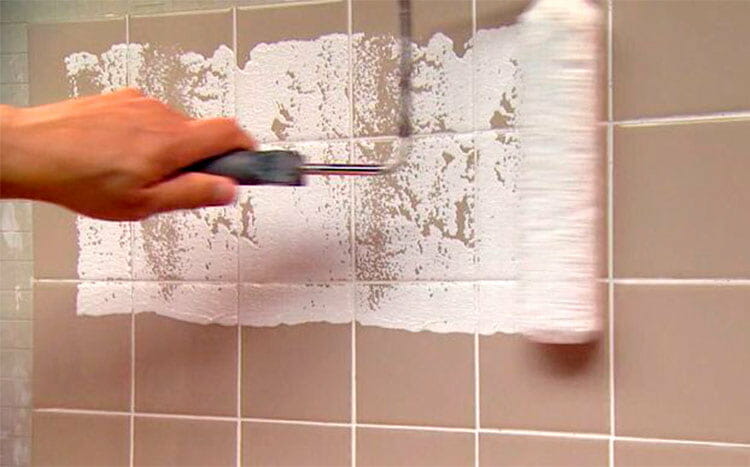 Bathroom paint vs. regular wall paint
Due to the high exposure to moisture, bathroom paints are designed differently from the regular interior wall paint. These paints incorporate a high-quality, mildew-resistant resin that forms an impenetrable paint film that ensures the paint can't absorb moisture.
You are, therefore, assured that no molds or mildew could grow in your bathroom with these paints. The paints are also mostly light coats to avoid creating a claustrophobic atmosphere in the small bathroom spaces.
As you might guess, the bathroom paints are a bit more expensive compared to regular paints. Homeowners pay between $50 – $60 per gallon of this paint and about $40 for bathroom paints of lighter colors.
Luckily, bathroom paints are more of an investment. They are usually high-quality and last way longer than regular paints.
Cost to Paint a 10 x 6 bathroom
The average cost of painting a bathroom wall is between $0.50 and $0.75 per square foot. Supplies costs can range from $0.80 – $1.20, while the labor costs can be anywhere from $30 to $50.
Below is the average cost such as a bathroom size, without the ceiling costs.
| Service | Quantity | Low | High |
| --- | --- | --- | --- |
| 10 x 6 Bathroom painting cost | 72 sq feet | $36 | $54 |
| Labor cost | @$40/hour | $80 | $320 |
| Supplies cost | 72 Square feet | $57.60 | $86.40 |
| | | | |
| Total per square foot | | $93.60 | $140.40 |
| Total for project | | $173.60 | $460.40 |
Paint 10 x 6 bathroom: $317.00
Should I use mold and mildew resistant paint?
Yes! Mold is a common problem for homeowners as they take advantage of the moist conditions to spread in your bathroom. If it's not handled early, you and your family may inhale their spores and develop several respiratory issues.
Mold and Mildew resistant paint prevents water absorption by forming an impenetrable paint film on your walls. It also contains the right fungicides that stop and prevent the mold spores from growing.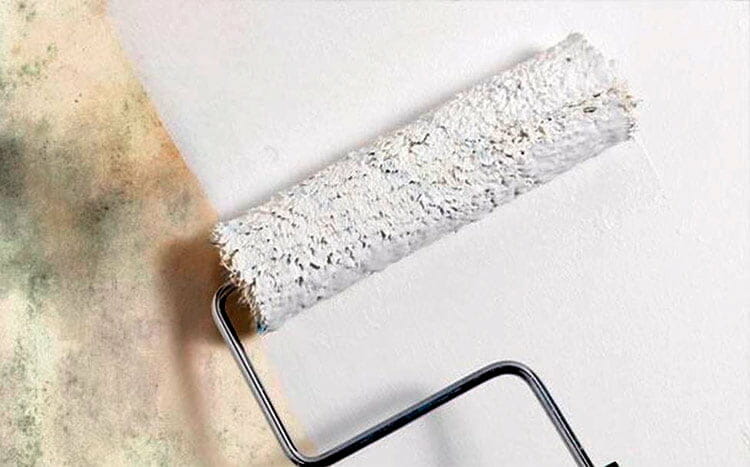 What should I do if there is already bathroom mold?
If mold has already found its way to your bathroom, your first step should be identifying the extent of its growth. Check your walls, ceilings, around the light fixtures, and on the shower doors.
If possible, take pictures of the molds to track their growth and for documentation if you decide to involve your landlord or an expert.
Next, prepare to clean the walls with a good bleach cleaner or distilled vinegar. Put on a face mask, open the windows, and get scrubbing. Leave the bleach cleaner on the moldy tiles for about 30 minutes, then scrub them with a stiff brush and rinse with warm water.
Instead of Chlorine bleaches, you can also use hydrogen peroxide or baking soda.
Tip: Avoid scrubbing the bleach cleaner on tiles with colored grout (it could discolor them). If the bleach odor is too much for you, try mixing vinegar with two-part water, then spray it on the mold tiles.
How should I prepare a bathroom wall for paint?
The secret to a successfully painted bathroom wall lies in its preparation. Before laying any brush on the wall, here are some things you need to ensure are complete.
Dust and clean the walls with a bath towel and cleaning detergent ensuring that all the soap scums are removed.
Scrap out all the cracked paints using a paint scraper and smoothen all the small plaster bumps with sandpaper.
Find and use a good quality primer and apply it to the walls to hide the small imperfections. For new drywall, use a water-based primer.
Remove all the obstructions from the bathroom. This could be towel racks, mirrors, wall plates, or exhaust vent grills.
Seal off any other areas that won't be painted with painter's tape. For the sinks, floors, and mirrors, use a drop cloth to prevent paint drips.
Choose a paint color that fits your bathroom and test it on tape to see if it works with your space and lighting.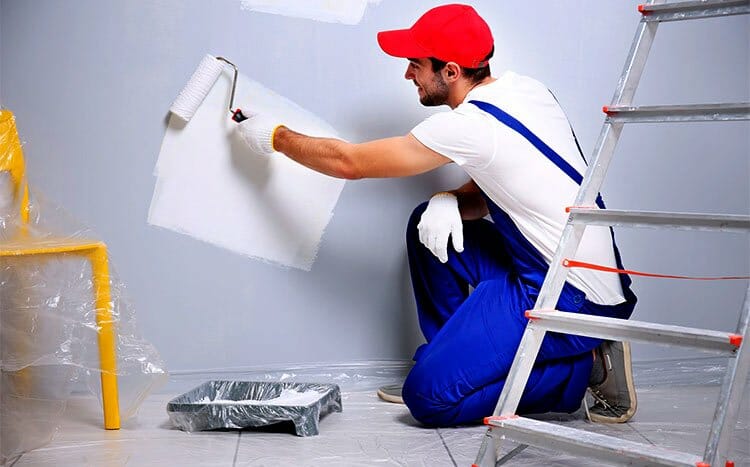 DIY vs. professional bathroom painting
When remodeling your bathroom, painting is about the only task you can do as a DIY. The task is easy enough for anyone to learn and do, and it can save you some cash.
However, some experts still recommend hiring a professional to complete the task. This leaves many homeowners in a dilemma, wondering how to proceed.
The main reason for opting for DIY bathroom painting is financial savings. If you're working on a budget, DIY is much cheaper than hiring a professional.
However, before deciding on this route, remember that the bathroom (in most homes) is a family room. You, therefore, can't afford any mistakes in the painting. Even the slightest errors can attract a lifetime of complaints and criticism.
If the job comes with an urgent timeline, you should ensure that you have the time to complete the project. You should also consider your painting experience. Without some history in this art, you may spend a fortune calling an expert to fix your mess.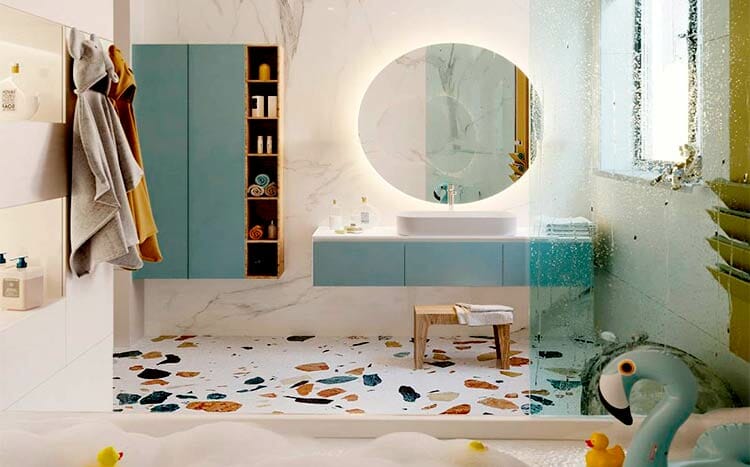 Involving a professional painter in your bathroom project may seem expensive, but it's a worthy investment. Professional painters have the experience and expertise to do a perfect job, regardless of the complexities involved.
They also have the right tools for the job and can complete the tasks faster if it's on a fast deadline.
Besides the labor costs involved in the project, there are several factors that also add up to the overall price you'll pay for the project. They include:
Materials – Different quality paints cost differently depending on the brand and the retailers. Other materials such as the primer, mineral spirit, roller, brushes, and protective gear add to the cost. The above prices are for mid-range materials.
Preparing worksite – You may have to scrap and clean the walls, move some items like towel racks, furniture, etc.
Preparing surface – Repair ceiling or modifying framing are but a few of the extra costs you might incur when preparing your bathroom walls.
Testing or remediation – You'll also incur some costs if you need to test for molds and mildew in your bathroom. If the test is positive, you'll also have to spend money on mold repelling paints and lead paint removal.
Permits or inspection fees – You don't hear this often, but you might actually spend some cash when remodeling your bathroom. If the remodel involves electrical, plumbing, and some structure changes, be sure to apply for a permit first. Check your state government residential permit rules regarding this.