Painting the doors of your home can drastically change the entire décor of your house. With a good door painting job, you increase your home's curb appeal and boost its value in the market.
The average cost to paint a door is $162 with the range being $70 to $200 Exterior doors cost a little more averaging $375.
Below is some more details on pro vs DIY costs.
The national average cost for painting a door and frame is around $135. The exact cost depends on the condition of the door, the number of coats needed, and the type of finish required.
Labor costs for this will range between $35 – $80 per hour if you hire a professional painter. The materials and supplies cost start from as low as $5 to about $7.
| Service | Quantity | Low | High |
| --- | --- | --- | --- |
| Door painting cost (1 door) | 1 | $70 | $200 |
| Door painting labor cost | 2 Hours | $70 | $160 |
| Door paint job supplies | total | $5 | $7 |
| | | | |
| Total door and frame painting cost | | $75 | $207 |
Door painting cost DIY vs. Pro
Painting a door isn't rocket science – anyone can do it. However, the final results won't be the same for everyone. If you have some experience with painting, you'll save some cash and also have good control over how the door is painted.
On average, you can spend anywhere from $60 – $220 for the DIY project. This cost will be higher if you're hiring and purchasing most of your equipment.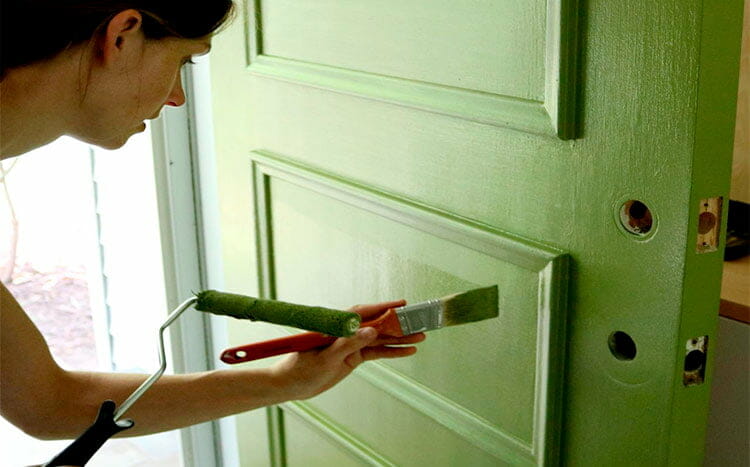 | Service | Quantity | Low | High |
| --- | --- | --- | --- |
| Drop cloths | 2 | $10 | $60 |
| Masking tape | 1 | $3 | $10 |
| Paintbrushes (broad and fine) | 2 | $6 | $40 |
| Paint tray | 1 | $2 | $5 |
| Painters mask | 2 rolls | $20 | $60 |
| 1/2 Gallon of paint | 1 | $12 | $30 |
| 1/2 Gallon of primer | 1 | $6 | $12 |
| | | | |
| Total materials for DIY | > | $60 | $217 |
Cost of hiring a pro painter
Most painting professionals charge anywhere from $35 to $80 per hour for their painting services. This includes the materials and supplies costs needed for the job.
With most door painting projects taking around 2 hours, you can expect to spend between $100 to $400 for the project. If you're painting multiple doors, the overall cost-per-door will be much lower.
Other factors that will increase your expenses include:
Prep work – If the contractor does more of the prep work for you, they're likely to charge you more. Tasks like moving your furniture or removing wallpapers will cost you up to $150.
Repairs – Any needed door repairs will increase your overall costs. Holes on your door will need to be filled before painting, and rotten wood should be replaced immediately.

Type of door – Different types of doors will affect how much you spend on the painting; for instance, painting the French door or glass insert door, is more expensive than the 6-panel and pocket doors.

High-gloss paint – If you're going for a high-gloss door finish, the costs will be high, starting from around $100.

Other areas to be painted – If you're also having your walls and ceilings painted, most contractors will give you generous discounts which will reduce the overall costs of painting your door.
It's no secret that going the DIY route is the most attractive solution. However, you need to be very careful when making it.
Remember, DIY projects are time-consuming and don't always guarantee quality work. If you don't have the right supplies, these costs can be as high as that of hiring a pro.
As such, we recommend hiring a pro for the job. A pro works on the door quickly and knows which errors to avoid in the process. Even though they might cost you more, they offer the best quality paint services for your doors.
Where to find a good local painter
Recommendations from Friends
To find a good local painter, among the best things you can do is to seek recommendations from friends and family. Anyone who's had their doors painted recently will give you an honest opinion of their experience with the painter.
Reputable online review sites
You can also try connecting with contractors with good reviews and ratings online. Use reputable sites like Yelp, Houzz, AngiesList, among others.
Google searches of painters near you could also work, but ensure you do a deep dive into any painter you find before working with them.
Your local paint store attendant might also know some good painters in your area. Since they interact with many painters, ask them for referrals to contractors who always focus on quality during their purchases.
Don't forget to inquire about the contractors who have partnered with them for a long time. The longer a painter has been in business, the better they can serve you.
The easiest way to find a reliable painter in your area is through our free service.
HomeGardenGuides.com is a service that quickly matches you with the top-voted local house painters.
In just three easy steps, you can get 3 estimates from real certified painting experts in your area in under 2 minutes.
Scroll to the top of the page and enter your Zip code.
Answer questions about your door painting job
Your door painting details are forwarded to three local experts. They will send you a price estimate for the job and offer some friendly advice.
It's that fast, simple, and easy!
IMPORTANT: There is no obligation to hire. This is a free tool and service to be used at your pleasure.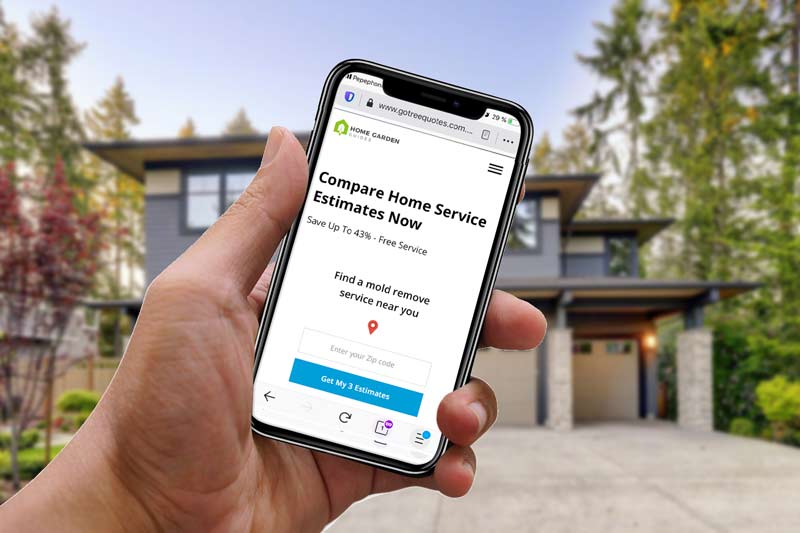 Whether you choose to work on your door as a DIY or hire a professional painter, you can always cut down your costs.
Here are some tips to help you do that:
Schedule painting for winter
Timing is everything when it comes to painting costs. During winter, the demand for painting supplies is usually low, and so, most stores run offers during this season.
Most painting contractors also lower their painting rates to attract customers. You'll also find more companies are willing to negotiate their payment plans. Therefore, if painting your door or house can wait until winter, you're likely to get better deals.
Buy the 'expensive' paint
High-quality paint never comes cheap. And although it seems like getting one will run your pockets dry, that can never be farther from the truth.
High-quality paints last longer than most regular paints and will still look good on your door and walls for the long run. It'll cost you more now, but in the future, you won't have to spend a dime on paint.
If you're hiring a pro, a large part of your total costs will come from the labor. So, work to reduce these costs by cleaning your door to be painted, spreading the drop cloth to protect your floors, and scraping the old peeling paint from your door.
If you're repainting a room, move the furniture and remove any pictures from the walls beforehand.
Best paint for exterior doors
When painting your exterior doors, the best paint to use is exterior paint with a semi-gloss or high-gloss finish. This is because, unlike interior doors, the exterior doors are exposed to many weather elements.
From snow and hail storms to heavy rains to the scorching sun, exterior paints are manufactured to withstand all these features. Their thick resins ensure that they're resistant to peeling, staining, and fading.
The semi-gloss finish also accentuates the door's aesthetics and is important for weather resistance.
Best paint for interior doors
With interior doors, extreme temperature and weather changes aren't an issue, so you can use most interior paints. The resins used in such paints make it very easy to clean and less prone to scratches.
For the finishing, semi-gloss finishes are the most popular and best for interior doors. They offer more durability, good resistance to wear and tear, and easy cleaning.
Note: Although exterior paints are heavier and more durable than interior paints, using them on your interior doors may result in heavy emissions of VOCs (Volatile Organic Chemicals), which could be harmful to your health. They are also more expensive and flammable than interior paints.