The garage is one of the most used rooms in a home. After years of use, it may look rundown. You can transform your garage affordably by painting the floor only.
It costs $2 to $4 per square foot to paint a garage floor. So the average single car garage will cost $470. For a double car garage, you will pay $720 on average
Several factors influence the final cost of painting a garage floor.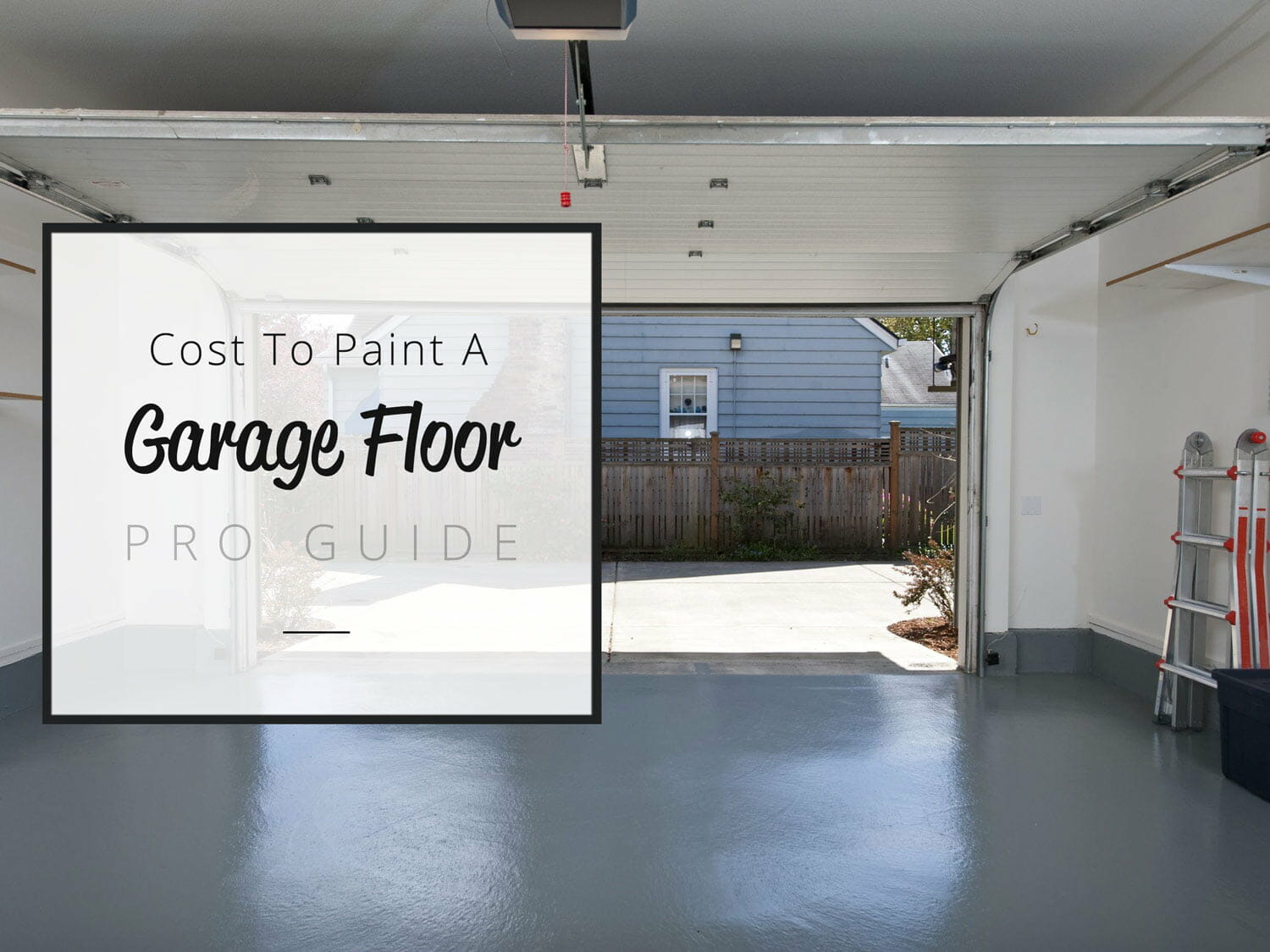 The larger the garage, the larger the floor. A large garage floor will require more paint and more time. Consequently, it will cost more to paint a 2-car garage floor than a 1-car garage floor.
It will cost you more to hire a contractor than if you DIY garage floor painting. DIY saves up to 69% of the cost of the project. If you choose to DIY, you must have or purchase the right tools for the job. It also takes up time that you would have spent doing something else.
The better quality of paint you use to paint your garage, the more it will cost you. You can purchase a low-cost paint with some epoxy additives or you can purchase a garage paint with more epoxy for extra dollars.
Water-based epoxy is cheaper than both solvent and solid epoxy. The type of epoxy you use determines the final cost of painting your garage floor.
Epoxy is added to concrete paint to ensure it sticks to the concrete. Using paint without Epoxy additives means that you may have to repaint your garage floor in a few months which increases the cost of the project.
State of your garage floor
It will cost you less money if all you need on your garage floor is painted. However, if the floor is cracked and in need of repair, it will cost you more. You will have to purchase additional materials to fix the cracks on the floor before they can be repainted.
The materials and the labor cost of repairing a garage floor will increase the cost of the project. Get actual estimates from a professional to have a correct budget for how much you will need to repair and repaint your garage floor.
For proper garage floor painting, the garage should be empty. Depending on how you use your garage, you may need more time to prepare it for floor painting. The more items stored in the garage, the longer prep work takes. If you leave the preparation to the contractors, you will pay more.
You can empty and prepare the garage before the contractors arrive. It will save you up to $100 that may be charged by the contractor. Remove everything from the garage including the shelves and store it elsewhere before the contractors arrive.
Why paint your garage floor
To make it more attractive
To change how your garage looks
To increase the value of your property.
To remove and prevent stains on the floor
To make it easy to clean.
Removes dust from the concrete floor.
Types of garage floor paint
Latex acrylic concrete paint
It is available in many colors and is easy to use. Latex acrylic concrete paint has been in use as garage floor paint for many years.
If you are on a tight budget, it is the most affordable garage paint at $20 a gallon. It is mold and mildew resistant, to keep your garage fresh at all times. It is also easy to clean.
Further, it may resist stains from automobile fluids if they are cleaned as soon as they pour onto the floor. The fluids are likely to stain the paint the longer they are left on the floor without wiping or cleaning.
It is durable and may need annual touch-ups based on how you use the garage.
1-part epoxy paint is a popular garage floor paint. It is more durable than latex acrylic paints and more expensive due to the epoxy additive. It costs from $30 a gallon.
It is mold and mildew-resistant. When properly applied it can last for up to three years without requiring a touch-up. To prevent automobile fluid stains on the floor, make sure to clean them up quickly after they spill.
Due to the epoxy additive, it sticks to the concrete better than latex acrylic paints. Therefore, it is resistant to chipping due to increased use of the garage.
It also comes with anti-slip additives to ensure that your garage floor does not get slippery. Anti-slip additives are essential in cold regions.
Benefits of hiring a pro for garage floor painting
They know the right paint to use for your garage.
They have the tools and materials for a proper garage floor paint job.
They will save you time.
You can negotiate the cost of the project.
You do not have to pay extra in case of mistakes. They will repeat the job or make repairs at their own cost.
How to hire a garage floor painting pro
Homegardenguides.com is a FREE tool that connects homeowners to a range of home-improvement professionals.
It is easy to use and connects you to a professional in a few easy steps.
Enter your zip code
Fill out the form on the tool.
Receive at least three quotes from professionals.
Hire a professional to complete the project.