A popcorn ceiling, also known as a stipple or acoustic ceiling, is a ceiling with a variety of spray-on or paint-on treatments. The bumpy surface is created by tiny particles of vermiculite or polystyrene, which gives the ceiling sound-deadening properties.
Popcorn ceiling paint would cost $1 to $3 per square foot plus $1 to $2 per square foot if you had to remove a popcorn ceiling. So total, for removing and painting, you will have to pay from $1 to $5 per square foot.
A few more factors will affect the total cost of the popcorn ceiling painting process, and we will discuss them in the following lines.
You can expect to pay between $1 to $3 per square foot. The popcorn ceiling has a textured look and feels similar to popped kernels. It was a very popular option throughout the 20th century. It is sprayed onto the surface, and it is a big challenge to paint it. You will pay more than a flat ceiling for painting the popcorn ceiling. That is because the texture of this type of ceiling requires more labor, and the process is complex. Special tools are needed.
Popcorn Ceiling Paints Cost
One gallon of paint typically covers 350 to 400 square feet of ceiling in one coat, and the average cost ranges between $20 to $70 per gallon. There are two main types of paint available in the market, ceiling paint and regular latex paint. They are both interior paints, but the differences include their viscosity, composition, and cost.
The cost of ceiling paint ranges between $20 and $60, depending on the type and brand. Ceiling paint has a higher viscosity than latex paint and is formulated especially for ceilings and helps to hide all imperfections, and is designed in a way that light doesn't reflect on its irregularities.
Ceiling paint has the flattest, most matte finish of any paint, making this type perfect for painting ceilings because paints with a glossy finish can reflect too much on the ceiling. And last but not least, ceiling paint can better cover the texture smoothly in one coat, while latex paint requires more effort.
Latex paint is an interior paint designed to be used on any interior surface and ranges in price between $20 to $70 per gallon, depending on the brand, color, texture, and type. Latex paint can be used on ceilings, but it is not always the best choice, which is why specific ceiling paint has been invented.
If latex paint is rolled on the ceiling, splatters and drips will be all over the room. Because it is thinner than the ceiling, paint it will require two or more coats to cover stains and discolorations. Compared to ceiling paint, it is more flexible and comes in various finishes, colors, and hues to create many different designs and patterns of all types. This paint is designed to be more durable and cleaned using soap and water without any damage.
Cost of Tools and Materials
| Tools and Materials | Price Range |
| --- | --- |
| Ladder | $150 - $250 |
| Plastic Sheeting | $35 - $50 |
| Dust Mask | $10 - $20 |
| Flathead Screwdriver | $9 - $13 |
| Vacuum | $50 - $250 |
| Angled Paintbrush | $7 - $15 |
| Roller Cover - ¾ inch nap | $9 - $20 |
| Painters Tape | $9 - $15 per tape |
| Drop Cloths | $13 - $20 |
| Protective Eyewear | $12 - $15 |
| Feather Duster | $15 - $30 |
| Paint | $20 - $70 per gallon |
| 5-gallon Bucket With Screen | $12 - $15 |
| Paint Roller + Extension Handle | $25 - $50 |
HomeGardenGuides.com is a free service that quickly matches you with top-voted local Painting Specialists.
You can get 3 estimates fast by real certified experts in your area in just 2 minutes.
Scroll to the top of the page and enter your Zip code.
Answer questions about your popcorn ceiling painting job
Your popcorn ceiling painting details are forwarded to three local experts. They will send you a price estimate for the job and some friendly advice.
IMPORTANT: There is no obligation to hire. This is a free tool and service to be used at your pleasure.
Factors That Affect the Cost
Several factors can affect the total cost of this task. Let's have a quick look at some of them:
Normally the price depends on how much popcorn ceiling there is. A contractor charges a minimum fee of $200 for small jobs like a small bedroom, while larger jobs are priced by the square foot.
Condition of a Popcorn Ceiling
If the existing paint of the ceiling makes it too hard to simply scrape and complete minor repairs, the entire thing will be sanded, recoated with drywall compound, and sanded again before painting. This will have a significant effect on the cost.
The DIY way will cost you only time, tools, supplies while hiring a pro is more expensive with additional costs.
Presence of Crown Molding
The total cost of the project will go in the high range if the molding must be removed and put back in place.
If there are ceiling fans or recessed lighting that need to be removed and put back in place, the contractor will charge that time. But there is no need to completely remove the fans, just simply tape up the fans and lower the cover where it connects to the ceiling.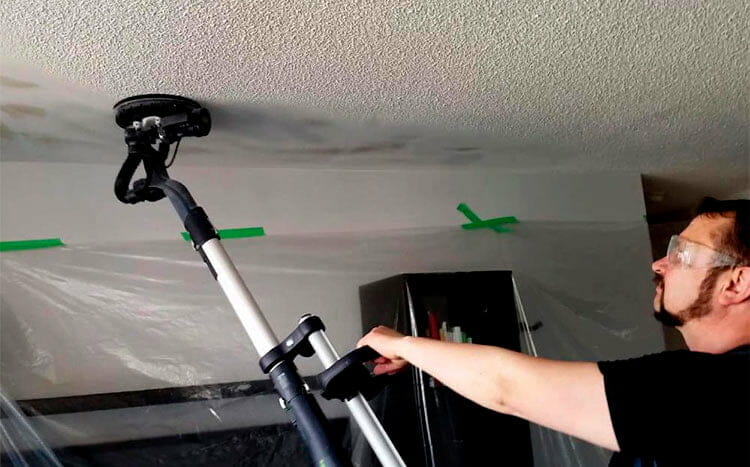 It is recommended to paint a popcorn ceiling because one coat of paint can refresh your ceiling and your room. Also, you will get rid of lead or asbestos if it is present in your ceiling.
Once removed, you will need to refinish the ceiling. Expect to pay between $2 – $3 per sq. ft. to remove (non-asbestos) popcorn, texture, and paint.