The cost to paint a 10 x 10 room does vary depending on a variety of factors including the room type, ceiling height, the condition of the walls and the quality of paint used.
Painting a 10 x 10 room costs between $220 to $750. The standard cost to paint a room ranges between $2.20 and $7.50 per square foot, with an average price of $3.95. Labor costs for painting your room can range from $1.80 to $4.90, especially when minor preps such as wall repairs, and fixings are added.
Painting is one of the cheaper ways to restyle a home and achieve a better space. The cost of achieving this will vary based on numerous factors, one of which is the average labor cost in the area you live.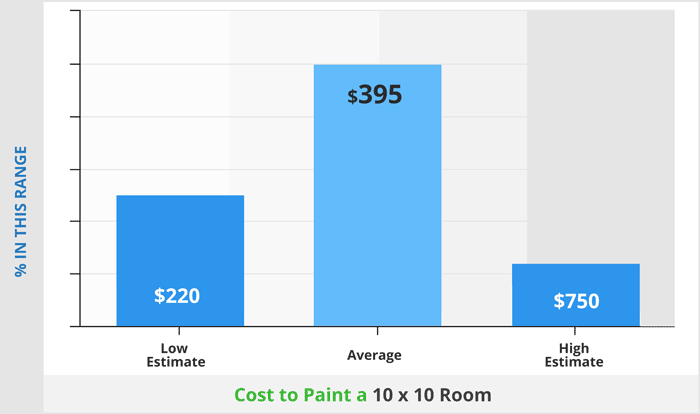 Cost to paint a 10 x 10 bedroom
A 10 x 10 bedroom paint project ranges from $220 – $720. Labor costs can go as low as $25 per hour, for a simple design and scale up to $50 per hour for complex decor.
| Type of Room | Low | High |
| --- | --- | --- |
| Bedroom | $220 | $720 |
Cost to paint a 10 x 10 Kitchen
The average cost of painting a 100 – square-foot kitchen is $190 – $520. Painting your kitchen is normally cheaper because there is usually less wall space to paint. Most is taken up by tiles or cabinets.

The amount of cutting in on the other hand can be more demanding.
| Type of Room | Low | High |
| --- | --- | --- |
| Kitchen | $190 | $520 |
Cost to paint a 10 x 10 Living room
The average cost to paint a 10 x 10 living room is many links painting a bedroom. Contractors can charge from $2.20 – $7.20 per square foot.
Due to the scale in price per square foot, the cost of painting a 100 – square foot living room would range between $220 – $720.
Many homeowners may prefer to use premium and high-quality paints for their living room paint projects, as it is the first center attraction in the home.
Labor costs range from $30 for a simple paint job to $50 per hour for complex designs.
| Type of Room | Low | High |
| --- | --- | --- |
| Living room | $220 | $720 |
Cost to paint a 10 x 10 Bathroom
The cost to paint a 10 x 10 bathroom will be a little more expensive due to the special pain required. Bathrooms need to be painted with a mold resistant paint which is a lot more expensive than regular paint. It will also need at least two coats.
Painting contractors tend to charge $3.10 to $9.00 per square foot.
| Type of Room | Low | High |
| --- | --- | --- |
| Bathroom | $310 | $900 |
Factors affecting the cost of painting a 10 x 10 room
Apart from factors like the size and type of room, other factors to consider include;
Geographic location: The average labor wage in your area is an important factor in determining your room painting cost. If you live within a city or the more expensive areas of your state, your estimate for a paint project will likely be on the higher end.
Painters across the country and even within the city, all have different rates.
Room complexity: If you have a room that is a weird shape or you have lots of fixed appliances and lights like air conditioning and lights, this is going to slow down the process and cost more.
Condition of the walls: Painters always want to leave a room perfectly painted and to do so they need to make sure the walls are smooth before they start. If not it will reflect poorly on their work.
Nicks and holes will need to filled and sanded before they start. This takes time and will cost you more.
Furniture: Moving your furniture in and out of your home will come at a fee. Most companies charge about $100 to $200 to move and properly secure your furniture during the painting project.
You can cut down costs by renting a storage space to store them for the duration of your project. If you wish to keep them on your property, buy dust sheets or latex covers to protect them from any paint droplets.
Season: If you're operating on a low budget and if your painting project is not urgent, you can try scheduling your painting project at a specific time of the year when there is less demand for painting professionals.
Clean up: The cleaning process is a very crucial phase in your paint project. You can have your painting company take care of the clean-up, which is mostly the case and they will include it in your quote. You can also do it yourself to cut down costs. The cost of post-painting clean-up is around $15 to $30 depending on the extent of the work.