Painting a room is one of the fastest and easiest ways to transform your space. The cost to paint a room will vary depending on whether you are planning to Do It Yourself or whether you want to hire a professional to do the job.
The standard cost to paint a room can range between $2 and $6 per square foot, with most homeowners paying an average price of $3.50. Based on this estimate, it will cost around $400 to $1,200 to paint a 12 x 16 room. The minimum labor cost per square foot of paint is around $1.50 and this can scale up to $4 per square foot especially when preps such as wall repairs, and finishes are added.
The actual cost of painting your room may differ depending on factors such as the average labor cost in your area, type of paint, number of coats, and the size of your room.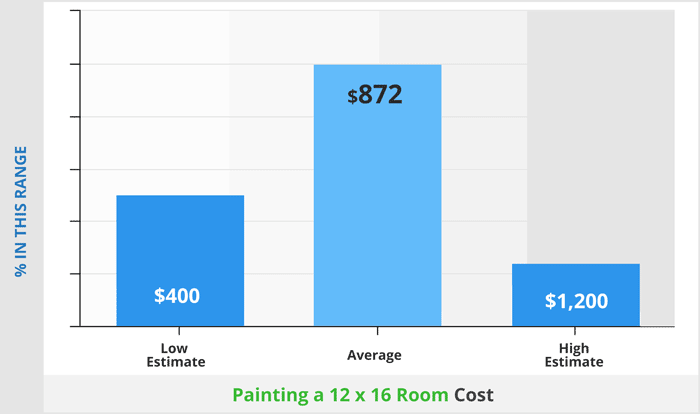 | 12 x 16 by Room Type | Low | High |
| --- | --- | --- |
| Bedroom | $600 | $1,200 |
| Kitchen | $400 | $800 |
| Living Room | $1,200 | $1,600 |
| Bathroom | $60 | $300 |
| Average | $400 | $1,200 |
The actual quote for different types of 12 x16 rooms will vary because of factors such as the layout of the room, type of design and quality of paint. Since a 12 x 16 room can be a bedroom, a bathroom, a kitchen, or a living room. The cost to paint a 192-square-foot room might range from $800 to about $1,200.
If you're painting either a bedroom or a bathroom, you might be getting a cheaper quote due to the simple painting design required. Painting a living room or dining room on the other hand will be on the high side because of its more exquisite and intricate designs.
Cost To Paint a 12 x16 Bedroom
A 12 x 16 bedroom paint project can cost between $600 to $1200. Labor costs can be as low as $15 per hour for a minimalist design and scale up to $20-$50 per hour for complex painting designs.
Cost To Paint a 12 x 16 Kitchen
The cost of painting a 100-square-foot kitchen can fall between $400 to $800. It is most expensive to paint your kitchen compared to your bedroom due to the complex structures that may require painting in your kitchen. In this case, labor fees will be higher as the space is delicate and requires more patience to achieve a perfect job. However, your cost is reduced to a smaller fee if you need to paint just the walls of your kitchen.
Cost To Paint a 12 x 16 Living Room
The cost to paint a 12 x 16 living room is higher than all other rooms. Contractors can charge from $4-$8 per square foot. Due to the scale in price per square foot, the cost of painting a 192-square foot living room would range between $1200-$1600.
Most homeowners prefer to use premium and high-quality paints for their living room paint projects, as it is the center of a home that gets the most attraction.
Labor costs of painting a living room can range from $30 for a simple paint job to $50 per hour for complex designs.
Cost To Paint a 12 x 16 Bathroom
The cost to paint a bathroom is cheaper than all other rooms with an average cost of $100-$300. This covers the cost of labor and materials.
Factors That Affect The Cost To Paint a Room
Apart from the obvious factors like the size and type of room, other factors that need to be considered in determining your actual quote are discussed below:
The average cost to paint a room is not only influenced by the size, but also by the shape, height and additional features of the room. For rooms that have a lot of built-in elements, one with a lot of trim to work around, or even rooms with high ceilings or tight spaces, their painting cost will be higher compared to the average room.
Other than the layout, the style of walls can also have a significant effect on the costs. If there is wood paneling or heavy texture, it may take more paint and more time to complete the job, which will be reflected in the price.
If you're buying your paint yourself, you'll realize that deciding on color isn't the only choice you have to make. There are different types and qualities of paints. The two main categories of paints are latex-based and oil-based paints.
Latex-based paints cost an average of $15 to $50 per gallon. They can hold up for a long period of time and perform well in bedrooms, living rooms, and hallways.
Oil-based paints are more expensive and cost an average of $20 to $60 per gallon. Although oil-based paints are more prone to chipping over time, they are a better choice for bathrooms or kitchens because due to their water resistance ability.
Each type of paint requires a unique finish and this also attracts a fee. When quality paint is used, the price of its finish may be increased.
Paint finishes such as Satin are more expensive, due to their durability and easy maintenance. While matte finishes are cheaper.
The initial and final colors for your interior painting are also a cost-determining factor in your room painting project. Usually, you can expect to pay more if you want to paint a light color over a dark color. Red and black can be especially hard to cover up, which calls for a heavy-duty primer and sometimes multiple coats of paint.
If you want to save money in this regard, you can consider sticking to one color for painting multiple rooms in a house. This will make it easy for your painter to buy larger quantities of paints at discounted prices.
Cost to Paint a Room by Type of Finish
| Types of finish | Low | High |
| --- | --- | --- |
| Flat finish | $10 | $70 |
| Eggshell | $11 | $60 |
| Satin | $12 | $60 |
| Semi-gloss | $12 | $70 |
| High-gloss | $17 | $80 |
DIY Cost to paint a 12 X 16 Room
For a standard room, the average cost to do a DIY paint project is $200 to $300. This may take up to nine hours depending on your expertise. If you want to do a precise calculation, you can start by measuring the square footage of the room.
On average, one gallon of paint can cover up to 400 square feet of space with one coat, you will likely do two or three coats of paint depending on the color and quality of paint.
You can plan to spend between $10 and $100 on additional painting supplies. These include brushes, tape, rollers, trays, and drop cloths. Also consider any prep and repairs that should be done to the walls, such as covering nail holes or spackling and texturing damage.