Painting your siding can have a massive impact on the appearance of your home. It gives it a nice modern feel and can improve its resale value by up to 5%.
Most homeowners spend between $1,500 to $8,000 on the siding painting project, depending on the size and material of the siding.
Here is a breakdown of the total costs you can expect to incur when painting your home's sidings.
Most contractors will charge you anywhere from $1 to $5 per square foot to paint your siding. The supplies and material costs range from $0.25 to $0.40 per square foot.
If your painter bills by the hour, your labor costs may range from $50 – $80 per hour. The labor costs will vary depending on your location and the complexity of the job.
| Service | Quantity | Low | High |
| --- | --- | --- | --- |
| Siding painting cost | Per Sq. ft | $1 | $5 |
| Siding painting labor cost | 1 Hour | $50 | $80 |
| Siding paint job supplies | Per Sq. ft | $0.25 | $0.40 |
| | | | |
| Total per 1,500 sq. ft house | | $1,500 | $5,000 |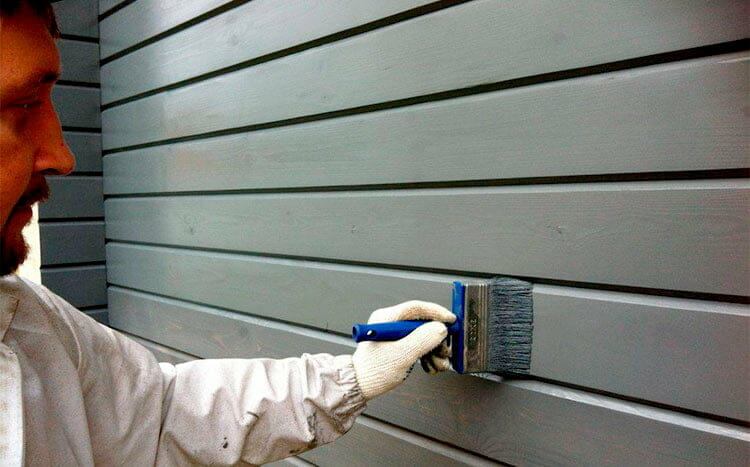 The national average cost for painting a door and frame is around $135. The exact cost depends on the condition of the door, the number of coats needed, and the type of finish required.
Labor costs for this will range between $35 – $80 per hour if you hire a professional painter. The materials and supplies cost start from as low as $5 to about $7.
Siding painting cost by home size
The size of your home will also determine the cost of your siding painting project. Bigger homes tend to have bigger sidings and so use more paint and take more time to complete.
The number of stories on the home also impacts the cost of painting. An extra story increases the complexity and labor demands of the job. Depending on the type of roof you have, these costs could almost double or triple.
Here's the average cost estimate you can expect to pay for your siding painting, depending on the size of the home and the number of stories.
| Service | Size | Siding Size | Low | High |
| --- | --- | --- | --- | --- |
| Small house | 1,000 sq. ft | 1,500 sq ft | $750 | $3,750 |
| Medium house | 1,500 sq. ft | 2,500 sq ft | $1,000 | $5,000 |
| Large house | 2,500 sq. ft | 3,500 sq ft | $1,750 | $8,750 |
| Extra Large House | 4,000 sq. ft | 5,000 sq ft | $2,500 | $12,500 |
| 1 story (small) | | 1,500 sq ft | $1,000 | $4,000 |
| 2 Stories (medium) | | 3000 sq ft | $3,000 | $5,000 |
| 3 Stories (large) | | 4,500 sq ft | $4,000 | $7,000 |
Note: These prices don't account for the price of different materials and the labor cost for painting different siding types.
Siding painting cost by material type
The material of the siding is a major factor that determines the overall costs for your painting. Painting different materials vary in cost depending on the time taken to paint them and the preparation needed.
The average cost of painting wooden siding stands at $1 – $3 per square foot. You'll, however, need to include the costs of a primer since wood requires at least two coats of primer to adhere well with wood. Primer costs $6 – $15 per gallon, with one gallon covering around 250 sq. ft. For a 2,000 sq. ft home, you'll, therefore, spend anywhere from $2,000 – $3,500.
Painting vinyl siding will cost you anywhere from $1.35 to $2.80 per sq. ft. Although this material is very easy to maintain, painting involves cleaning, using a primer, and at least two coats of acrylic paint. The overall labor and material costs are therefore much higher than that of other materials.
Painting fiber cement siding usually costs between $1.25 to $3.25 per square foot. It's popular because it's easy to paint compared to other materials and also takes a shorter time. You can choose to get a pre-primed fiber cement to complete the job quickly or get one that's already painted.
Painting aluminum or metal siding is one of the most cost-effective options, with prices ranging between $0.83 – $2.50 per sq. ft. It also uses less paint compared to wood siding, and it's much easier to paint. Nonetheless, you'll have to purchase specialized paints for these materials, which may increase your costs by around 20%.
The average cost of painting a brick siding lies between $2 – $4.20. This cost is high since brick sidings are porous and require small equipment for painting which takes longer. You'll also incur extra costs for power washing, priming, and purchasing exterior latex paint.
Most homeowners spend between $1 to $2 per sq. ft to paint their engineered wood siding. The material mostly comes pre-primed, making the painting cheaper and takes less time than other materials. It also uses less paint than the regular wood sidings.
Painting Stucco siding is on a higher price scale. Expect to spend anywhere from $3 to $6 for the job as it involves a specialized process. Any damaged areas will first have to be repaired, and the peeling parts re-stuccoed. Some sidings will also require pressure washing before painting since paint is prone to peeling when applied on dirty stucco. This increases the labor and supplies costs.
| Service | Quantity | Low | High |
| --- | --- | --- | --- |
| Wood | 1 sq ft | $1 | $3 |
| Vinyl | 1 sq ft | $.35 | $2.85 |
| Fiber Cement | 1 sq ft | $1.25 | $3.25 |
| Aluminum/ metal | 1 sq ft | $0.83 | $2.50 |
| Brick | 1 sq ft | $2 | $4.20 |
| Engineered wood | 1 sq ft | $1 | $3 |
| Stucco | 1 sq ft | $3 | $6 |
Besides looking at the size of the house and the siding materials, there are more factors that will influence the total amount you'll spend. These include:
If the paint on your surface has shown major imperfections like bumps or rough patches, you'll first have to smooth the surface before painting. If there are bushes, shrubs, or trees close to the house, you'll need to trim or clear them out.
Depending on the siding material, you might also have to clean the surfaces to remove any debris, dirt, and mold. Most contractors will charge you extra for these services.
Before the painting starts, you'll also have to fix any holes, dents, gaps, and other damages on your siding. Large damages may force you to first replace the siding before painting which will be very expensive. You can choose to DIY these repairs to cut down the costs, but you'll still incur materials and supplies costs.
Odd architectural designs
The design architecture of your home will also increase the cost of painting your siding. Unique features like a steep roofline, mismatching windows, or very edgy designs will significantly increase your preparation and labor costs.
In many cases, you won't need a permit to paint your home's siding. Most state governments only demand permits for home renovations that may cause structural changes to your home. So, if you need to replace your siding before painting, you might incur extra costs to get a permit. You will also need a permit if painting your siding goes against your community's bylaws.
For houses built pre-1978, there's a high chance that the paint used for the walls and doors contained a fair amount of Lead.
If you're repainting your siding, you'll first have to remove the lead paint first, and this will cost you anywhere from $8 to $15 per square foot. The costs will be higher depending on the size of your siding.
You might also be charged extra for the disposal of lead waste based on the EPA disposal recommendations.
Painting your home's siding is a relatively easy task that any homeowner with the right tools can try. However, this doesn't mean that you should do it instead of hiring a pro.
Knowing when to DIY and when to hire a professional painter will save you thousands of dollars.
DIY is always a great way to cut down the costs for your painting project. With labor costs taking up around 80% of the total costs, you should consider it when working on a tight budget.
You should also DIY if you have the right skills and supplies to paint your siding well. If you don't have all the supplies, the cost of buying and renting them could actually exceed that of hiring an expert.
Hiring a professional painter should be your go-to step if you need a high-quality paint job done on your siding. A good painter will exponentially increase your home's market value.
You should also hire a professional painter if you're not sure of your DIY painting skills or when your siding is badly damaged. An expert will do a thorough inspection of your home's siding to determine the best way to proceed with the painting.
Where to find reliable, professional painters
As earlier mentioned, hiring a good professional is the best guarantee you can have for a high-quality siding painting job. Some of the best places to find highly-rated pros include:
Online sites like Google, Yelp, AngiesList, etc.
Recommendations from friends and family who've recently had their sidings painted.
Your local painter store. They probably have forged partnerships with many experienced painters in your area.
Use this free service! HomeGardenGuides.com is arguably the easiest way to find a reliable painter in your area. This service quickly matches you with the top-voted local house painters in just three easy steps.
You can get 3 estimates from real certified painting experts in your area in under 2 minutes. All you have to do is:
Scroll to the top of the page and enter your Zip code.
Answer questions about your siding painting job
Your siding painting details are forwarded to three local experts. They will send you a price estimate for the job and offer some friendly advice.
It's that fast, simple, and easy!
IMPORTANT: There is no obligation to hire. This is a free tool and service to be used at your pleasure.