This depends on the terms negotiated with the painting company when you get an estimate or quote from them.
Generally, painting companies include paint when they are quoting for painting services. If they turn up at your doorstep without paint and ask you to pay for it, it's a red flag.
However, you can still opt to purchase the paint yourself if you think you'll save more. Just be clear about this with the painting service before they give you a price.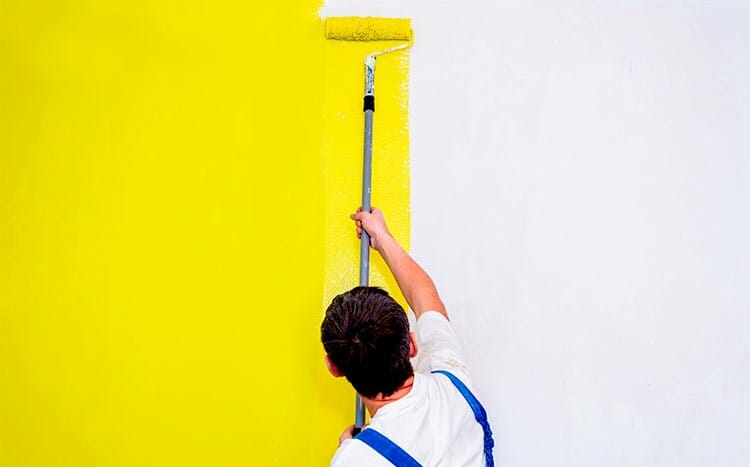 It depends. On first thought, purchasing your own paint seems like a good idea. It gives you the freedom to choose the exact colors and combinations for your walls while reducing the total costs you'd pay the painting contractor.
There's also the possibility of saving more on the cost of paint by taking advantage of any discounts and offers at the local store.
However, the disadvantages of purchasing your own paint quite often outweigh the benefits you may enjoy. For instance:
You're likely to choose a poor quality paint
Unless you've been in the painting industry for some time, you're more likely to choose sub-standard paints in the name of cutting down costs.
What's more, most of the paints you think are high-quality, don't match the standards of a pro painter. Therefore, they can't deliver the kind of finish you had in mind.
Your paint may not be the best fit for your project
Contrary to what most homeowners know, there's no one-for-all kind of paint. Every project requires a different type of paint, primer, and stain depending on several factors including: Temperature, humidity, condition of the surface, traffic, etc.
Therefore, unless you have an idea of what type of paint is required for the project, it's better to leave the task to the pros.
You may be disappointed with the color
If you've been around long enough, you should know by now that most products don't look as advertised. The same applies to paints.
Most paint colors you choose will not look the same on your walls as they did on the can. Only a professional can get you something close to what you expect.
You will spend more money
In your quest to save money on cheaper paints, you may end up spending more. This is because you'll have to use more coats of paint and primer to get your desired results.
Most painters will also purchase paints at better prices due to their relationship with paint manufacturers.
You waste time and effort
Choosing to conduct a ton of research and paint comparisons when you've hired a professional painter seems counterproductive. You'll waste a lot of time and effort when the painter has the expertise to choose the paints best-suited for your home in a shorter time.
Should I ask a painter to supply the paint?
Yes. Right off the bat, you stand to save time and energy since the contractor will do all the work. If you have a particular paint or color preference, the painter will handle the tiresome research and purchasing process.
Other reasons why leaving the task to the pros is better include:
Painters know the right paints and alternatives
Professional contractors have worked with different types of paints over the years. This means they now know which paints are better for different projects and can therefore purchase the best paints for the best results.
Even when working on a tight budget, the painters may know cheaper alternatives that won't significantly compromise on the overall quality.
Painters have access to cheaper prices
Believe it or not, your painter may have access to better paint prices than you would. Since they often buy bulk paints for their clients, many manufacturers tend to give them better discounts for the paint. Such savings then reflect on your overall quote.
Painters have a preferred paint brand
While a professional painter must be versatile, each contractor has a preferred paint brand. Having used the paint for a long time, they've completely mastered applying such paint and therefore can offer the best results when they use it.
Forcing them to use a new paint brand may make them work slower (as they learn its characteristics), which increases the project's completion time.
How much does paint cost?
The average cost of paint ranges between $30 – $40 per gallon for interior paints and between $35 – $100 for exterior paints. These prices may, however, vary from around $15 for lower-quality brands to about $100+ for designer paints.
Other factors that affect the cost range of paint include the brand, type of finish, and quality.
High-quality paints are generally more expensive than the lower quality ones because it requires fewer coats, comprises better ingredients and is bound to last longer.
Brands like Sherwin Williams, Behr, and Benjamin Moore are associated with such paints.
The type of finish you expect also determines how much a paint costs. For instance, a high-gloss finish gives the best finish and is thus more expensive than a flat finish.
Here's the average cost of paint per gallon depending on the finish.
| Type of paint | Average Cost per Gallon |
| --- | --- |
| Matt | $25 - $50 |
| Satin | $29 - $42 |
| Eggshell | $24 - $40 |
| Flat | $27 - $40 |
| Semi-Gloss | $33 - $56 |
| High-Gloss | $40 - $120 |
Do painters get a discount on paint?
Yes! Most painters enjoy a 'volumes discount' on all their paint purchases from manufacturers because of their bulk buying. When they buy their paints wholesale, the painter may receive between 15 – 30% discount for their purchase.
Some painters have even partnered with manufacturers allowing them to enjoy further deals and discounts on their new paints and other painting supplies.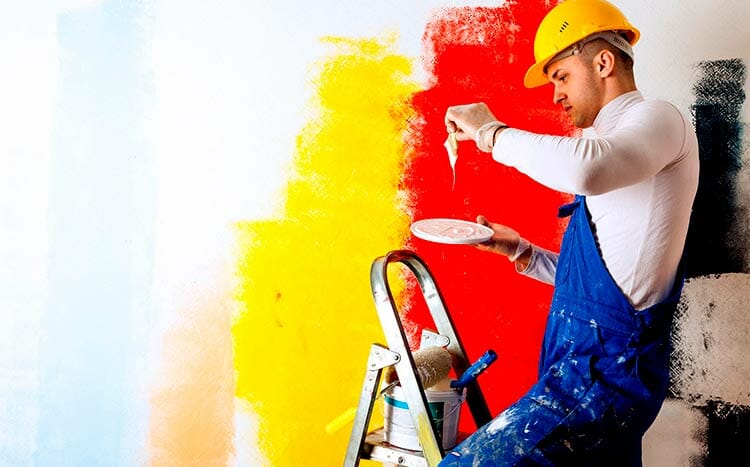 Do painters' quotes include paint?
In most cases yes. Many painters generally presume that they'll provide the paint for the job, therefore, they include the cost of paints under the painting materials and supplies costs.
A good quote should break down these paint costs depending on how large a gallon will cover and how many coats will be required.
Nonetheless, don't assume the paint costs are covered in every quote. Be sure to ask for it to be included when talking to the contractor.
Can you negotiate with painters?
Yes! With professional painters, nothing is cast on stone. However, you have to be realistic and avoid resorting to intimidation just to get a lower price.
Among the best ways to negotiate with a painter is by informing them that you've sought multiple estimates. Doing this reminds them that they're in a competition and so, they'll be more likely to give you their best bid.
You can also try sharing your budget with them and ask for their recommendations on areas where you can cut costs. Professionals often know cheaper paint alternatives that'll still deliver good results.
Lastly, you can help out if you know your way around the brush and roller. This could mean doing some prep work, demolitions, or light painting. Completing these tasks may slash a couple of hundred dollars off the final quote.
How to Save Money on Buying Paint
If you chose to buy the paint yourself, there are several tricks you can use to avoid blowing past your budget. These include:
Be open to using several paint colors and shades on your walls. It's easier to find discounts and offers on different colors rather than just one color.
Check your local recycling center for free paint. Some homeowners opt to recycle their leftover paint after a successful project.
Buy paint in bulk whenever possible. Most stores will give better discounts on a 5-gallon paint bucket than several small paint containers.
Buy your paints before a three-day weekend. During the week prior, many stores offer discounts and sales offers since most homeowners tend to complete their painting projects over these long weekends.