Exterior paints are cheap and waterproof paint options for homes making it a desirable paint option compared to the more expensive, specially formulated latex 'bathroom paints.'
Exterior paints are not considered safe for use in bathrooms because they contain high levels of fungicides and VOCs linked to certain cancers and can cause serious health issues when inhaled.
'Bathroom friendly' paint is more expensive than regular exterior paint, but it is specifically designed for damp and humid bathroom environments. Read on to learn why investing in one is worth the extra expense.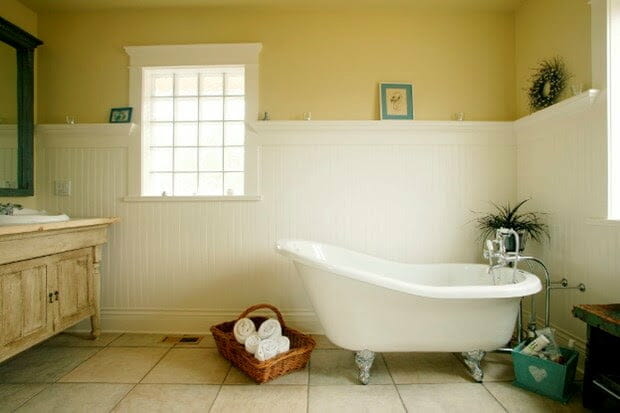 Although some homeowners may think the excellent moisture, mildew, and stain-resistant properties of exterior paint are helpful for bathroom applications, professional painters do not consider them an ideal option for indoor use. Exterior paints may be cheaper than moisture-resistant 'bathroom friendly' interior paint, but they also contain dangerous fungicides and protective chemical additives which are not approved for use indoors. Applying exterior paint on your bathroom walls will expose you and your family to these additives, which could result in severe health problems.
The reasons why homeowners may want to consider using exterior paint on their bathroom walls include:
High cost of 'special bathroom paints': the 'special bathroom' paints formulated for damp bathroom conditions are expensive. Most homeowners will resort to using cheaper exterior paint, which delivers similar performance in moist conditions.
High traffic: bathrooms are high traffic areas within the home in addition to being wet and humid. You and your family spend considerable time in the bathrooms each day, leaving soap stains and other marks on the damp walls, which become grimy and dirty with time.
High moisture: bathroom walls are always almost wet due to moisture build-up from showers and steam baths. The accumulated water can cause standard interior paint to peel and lead to mold and mildew growth.
The dangers of using exterior paint in enclosed and poorly ventilated areas such as bathrooms include.
Exposure to volatile organic compounds VOC fumes can cause severe, short or long-term health problems.
Individuals exposed to toxins and airborne chemicals dispersed into the air post-painting develop throat and eye irritation along with other respiratory issues.
Fungicides, mildewcides, and anti-fade additives create unhealthy, strong, and unpleasant odors which remain within your home.
It is always a good idea to hire a painting professional who will advise on the proper paints for bathroom use. It is also essential to obey the manufacturer's guidelines on the correct application of exterior paint products and use them for their intended purpose.
HomeGardenGuides.com is a free service that quickly matches you with top-voted local Mold Inspection Specialists.
You can get three estimates fast by real certified experts in your area in just 2 minutes.
Scroll to the top of the page and enter your Zip code.
Answer questions about your mold job
Your roof painting details are forwarded to three local experts. They will send you a price estimate for the job and some friendly advice.
IMPORTANT: There is no obligation to hire. This is a free tool and service to be used at your pleasure.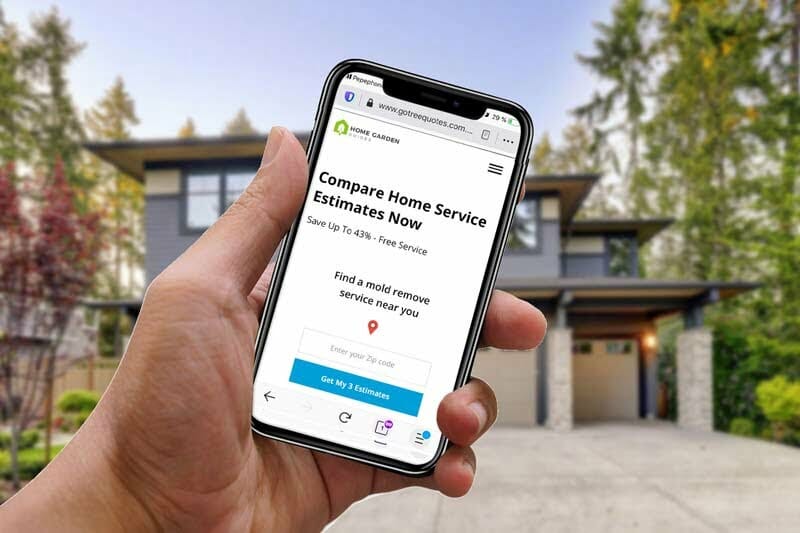 What is bathroom-friendly paint?
They are special paints designed to withstand damp environments typically found inside bathrooms. These paints generally fall within the premium paint category. They are formulated with special resins to deter mold growth and provide superior moisture resistance capabilities without adverse health effects.
Bathroom-friendly paints contain additives (mildewcides) with low VOC levels that meet EPA standards for indoor use. These additives help to protect the topcoat from moisture penetration which prevents the paint from peeling or cracking. You can also create your 'bathroom friendly' paint by adding low VOC additives to standard interior paints to make them more suitable for bathroom use.
Exterior paint and bathroom friendly paints compared
| Exterior Paint | Bathroom Friendly Paint |
| --- | --- |
| Exterior paint is affordable and reasonably priced than mold and mildew resistant 'bathroom paint.' | It costs more than regular exterior paint. Average prices of mold and mildew-resistant interior paint at Lowes range from $36-$249. |
| It is designed to withstand the damaging effects of extreme temperatures and harsh climate conditions. | It is primarily formulated to resist moisture penetration which causes paint peeling and cracking in damp indoor environments. |
| Regular high-gloss exterior paint is washable, and you can easily clean mold growth from the affected walls. | Bathroom paints come in different paint finishes and have special additives that help prevent mold and mildew growth. |
| Regular exterior paints have toxic additives, including fungicides and VOCs that protect the paint from UV and weather damage at the expense of the environment and human health. | 'Bathroom friendly' water-based paints contain lower VOC levels (50g-380g) which evaporate at room temperature with minimal health effects. |
| Additives in exterior paint protect the paint from the sun's ultraviolet rays, preventing premature paint deterioration. They also tannin from falling leaves from staining the paint surface. | The additives in 'bathroom paint' also protect the finish from scratches and reduce paint splatter during paint application. |
Things to consider when selecting bathroom paint
Selecting the most suitable paint for your bathroom can present unique problems. Homeowners can be confused by the dizzying array of moisture-resistant paint products on display at hardware stores. Although choosing moisture-resistant paint is crucial, you should consider other factors such as paint finish and VOC levels before purchase.
Here are some of the factors to consider when selecting your bathroom paint.
Mold-restricting capabilities: antimicrobial additives that help to deter mold and mildew growth in damp bathroom conditions are an essential component of any bathroom paint. Check if the paint's antimicrobial properties can provide lasting protection against mold or mildew.
Washable paint finishes: look out for paints with a washable finish that does not adhere easily to dirt and stains. Paint finishes that can withstand a good scrubbing or wipe-down are more durable than other 'bathroom friendly' paints.
Moisture resistance: only consider moisture-resistant paint when shopping for bathroom paint. Paints with moisture-resistant formulations last longer in damp bathroom conditions and do not peel or crack under consistent exposure to water.
VOC levels: It is vital to consider levels when choosing moisture-resistant paints. EPA guidelines require low VOC levels in interior paint products, and paint products with minimum to zero VOC levels are approved for safe use indoors.
Odor: the additives inside moisture-resistant paint often emit strong, nasty odors which can be toxic. In addition, these odors can cause throat and eye irritation. However, most paint producers have switched to environmentally friendly formulations which emit virtually zero odors. Check the paint label to know if your paint has minimal levels of mildewcides which indicate zero toxic emissions.
Wall coverage: you should consider wall coverage when choosing bathroom paint. Determine ahead if your wall requires a single or double coat of paint. For example, you will need at least two coats to cover a dark color with a lighter paint tone.
The best paint finishes for bathrooms
For a long time, the only reliable bathroom-friendly paint finish available was a high-gloss sheen. High gloss is not waterproof, but it washable, making the task of wiping mold and mildew easy for homeowners. Now that bathroom paints have become mold and mildew resistant, homeowners continue the quest for the best bathroom finish.
Here are our top picks.
High-gloss: high-gloss sheen offers a mostly unattractive but reliable and washable paint surface. However, its shortcomings include too much light reflection and the tendency to reveal flaws and wall defects.
Semi-gloss: shares the excellent moisture repellent properties of high-gloss, but without its light-reflective problems. Semi-gloss sheen is suitable for use in damp environments.
Satin: a cross between eggshell and gloss, it is best suited for use on low-moisture bathroom walls. Painters regard satin sheen as a compromise finish, and it is currently a top favorite among homeowners.
Applying paint to your bathroom
Bathrooms are areas within the home with high moisture levels, making the wall preparation and paint application process a deliberate affair. Careless prepping or coat application can result in premature paint failure and costly wall repairs.
Below are the steps involved.
Choose your color.
The process is the same whether you are painting a new wall or applying a fresh coat over existing paint. Play around with colors until you discover your choice. You can use paint samples to have a better idea of what works for your bathroom.
Select your finish.
Our top pick for the best bathroom sheen is a satin paint finish. This is an excellent choice for high-moisture environments, and satin is a durable and washable finish that can be applied on bathroom walls and ceilings, including trim. However, be sure to prep your bathroom walls properly and fix all faults and cracks to prevent wall imperfections from showing through the finish.
Prepare the walls.
Painting a new wall shouldn't present any significant problems. However, repainting a wall can require significant repairs before painting.
Fix all cracks and holes with spackle or joint compound.
Use a rag dipped in one part bleach and three parts water solution to remove all existing mildew.
Allow to dry and smooth all notches and dents with sandpaper.
Wash the wall surface down with water and soap to remove greasy spots and other stains to prevent paint from adhering to the surface.
Apply paint.
Most bathrooms can be challenging to paint, but preparing a checklist of tasks and following it closely can make the most challenging bathroom painting projects successful.
Cover cabinets and other bathroom fixtures to protect them from paint stains.
Carefully apply painter's tape to trim edges and other areas you don't want to paint on.
Apply initial primer paint to the walls, allow it to dry, and apply the first of two topcoat applications. Allow the first coat to dry before applying subsequent coats.
Please wait for 24 hours before using the bathroom to prevent water stains or splashes on the new coat of paint, as this could soften the paint and make it run.
Tips on the safe use of paint additives in bathrooms
Here are a few tips that can help you avoid the unpleasant effects of paint additives.
Do not apply or mix additives in poorly ventilated or enclosed areas.
Wearing protective clothing, including respiratory and safety goggles when working with paint additives (even those with low VOC levels), can help prevent unpleasant side effects.
Avoid oil-based paints which have higher VOC levels when shopping for moisture-resistant interior paint. Latex-based paint typically has minimal VOC levels and is more suitable for interior use.
Check paint labels for their VOC content and ask the staff at your local hardware store to explain if you're confused.
Always follow precise manufacturers instructions when adding additives to regular interior paint.
Latex (water-based) satin paints offer better durability and moisture, and mildew-resistant qualities than an eggshell finish. Satin paints are suited for damp bathroom conditions, and you can easily clean dirt and stains.
Yes, acrylic-based paints are excellent paints for bathroom ceilings. For superior performance against moisture and mildew, use latex-based bathroom-ready paint on bathroom walls. You can apply epoxy-based waterproof paint to bathroom tiles inside the shower area for better adherence with less porous surfaces.