Exterior trim is not a necessity for building codes, but it is essential for a home. It accentuates your home's features and creates a finished look on the exterior and interior of your home. Exterior trim also helps finish window and door seams. Painting exterior trim improves your home's curb appeal as it enhances the colors of your siding.
On average, the cost to paint exterior trim is around $1,200, ranging between $900 to $2,500. On the minimum, you can spend around $500 while the maximum cost can go up to $8,500.
Note: This cost estimate is for a 1,500 square foot house with 500 linear feet of trim. The actual cost for your project may vary widely depending on the size and design of your home, type and quality of paint and the finish option you choose.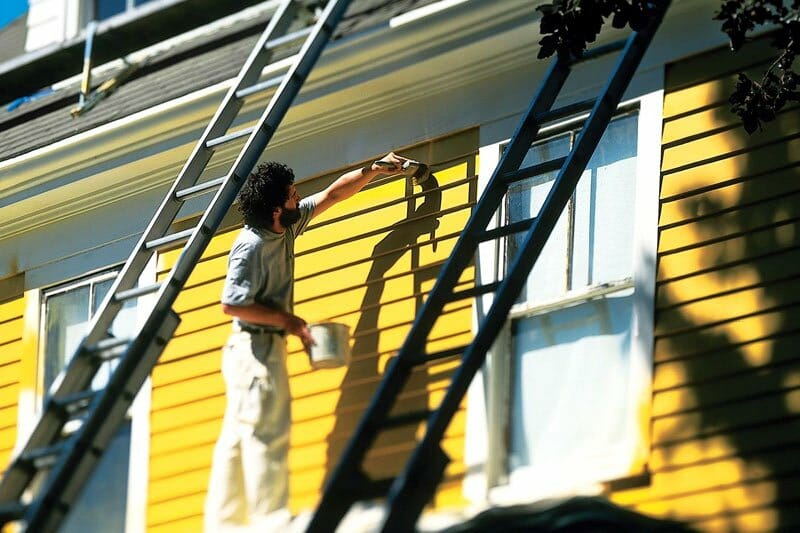 Cost To Paint Exterior Trim Per Linear Foot
The cost to paint exterior trim is usually calculated in linear feet. Painting or repainting your exterior trim gives your home a fresh look and improves its curb appeal. The overall cost to paint the trim includes materials, labor and prep work.
Painting exterior trim costs around the same price as interior trim, which is approximately $1 to $4 per linear foot. You can spend up to $6 per linear foot for the project if hard-to-reach areas such as dormers and soffits need to be painted as well.
| Length (linear foot) | Average cost (including labor) |
| --- | --- |
| 100 | $100 - $500 |
| 200 | $150 - $800 |
| 500 | $500 - $2,500 |
| 1,500 | $1,200 - $8,500 |
Labor Cost To Paint Exterior Trim
Professional painters charge between $20 to $75 per hour to paint exterior trim, but the actual cost depends on the area you live in. Typically, people living in booming metropolitan areas will pay a higher cost for the project than those living in rural areas.
The by-the-project price that most professionals charge ranges between $1 to $6 per linear foot, inclusive of materials and labor.
If your home is multi-storeyed, you may pay higher labor costs because special equipment such as scaffoldings or special ladders
Cost To Paint Exterior Trim by Type
Exterior trim painting projects may involve areas such as windows, doors, dormers, gables, etc. The cost to paint these areas may vary slightly as shown in the table below.
| Type | Average cost per linear foot (including labor) |
| --- | --- |
| Window | $1 - $3.5 |
| Door | $1 - $3.5 |
| Gables | $4 - $6 |
| Dormers | $2 - $5 |
| Eaves | $4 - $6 |
| Fascia & Soffit | $4 - $6 |
| Downspouts | $4 - $6 |
The average cost to paint exterior trim windows is about $1 to $3.5 per linear foot. The price may vary depending on the shape, size and location of the window. If the window is on the second or third floor, it will cost more to paint it. For best results, glossy finish is the best for windows.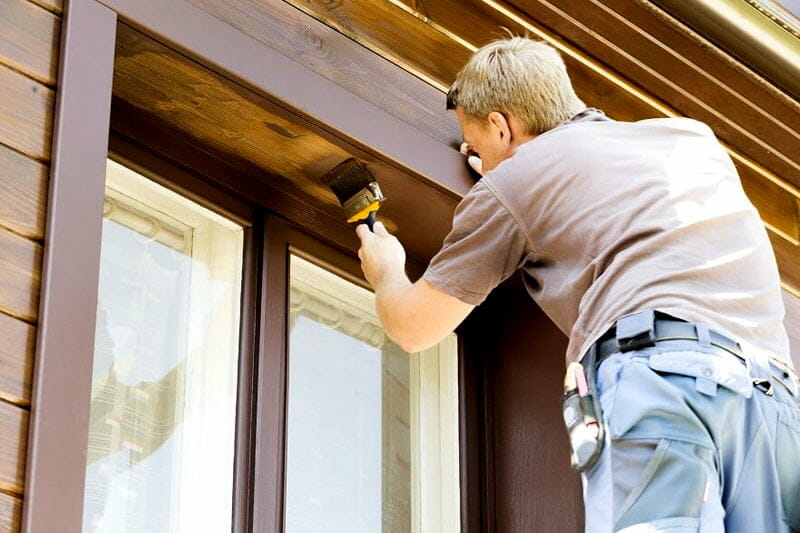 It costs around $1 to $3.5 per linear foot to paint door trim, but the cost varies widely depending on the size and design of the door. Like window trims, glossy finishes give best results for door trims.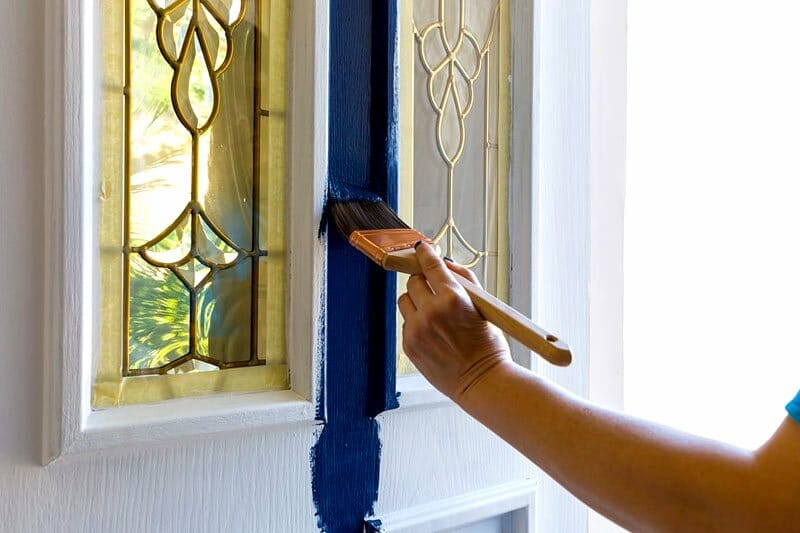 Painting your home's gables costs around $4 to $6 per linear foot. Accessing the gable end of your home is difficult, but painting it is necessary especially if you want uniformity. This kind of project requires special equipment like scaffolding so the cost may be a bit higher.
Acrylic latex paint is the best choice for gables because they are exposed to rain, sunshine, and snow,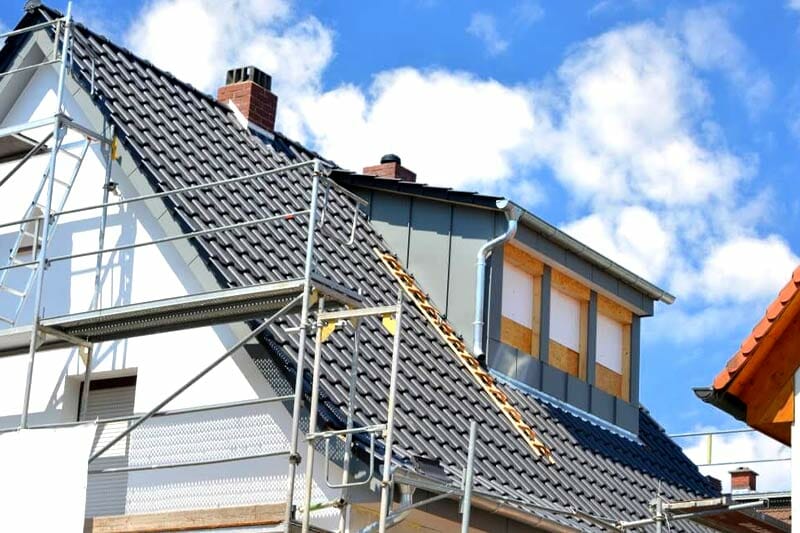 You may spend between $2 and $5 per linear foot to paint the dormers on your home. Accessing dormers is quite challenging, that is why it is more expensive to paint them. It is recommended to use acrylic latex paint for your home's dormers as the paint offers durability and protection from harsh weather conditions.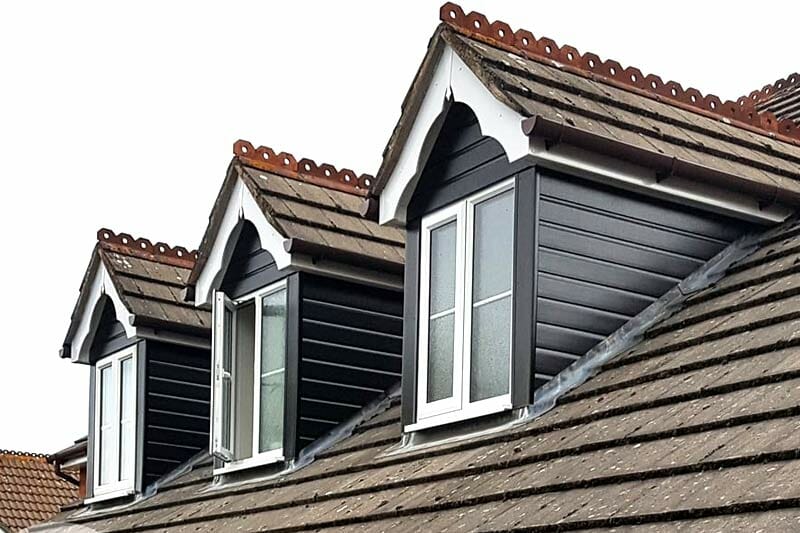 Painting Eaves on your home will cost around $4 to $6 per linear foot. Painting Eaves is almost the same as painting fascia. The painter will require a ladder to access the eaves as they are far from the ground. Acrylic or latex paint is best suited for painting eaves and keeps it durable for several years.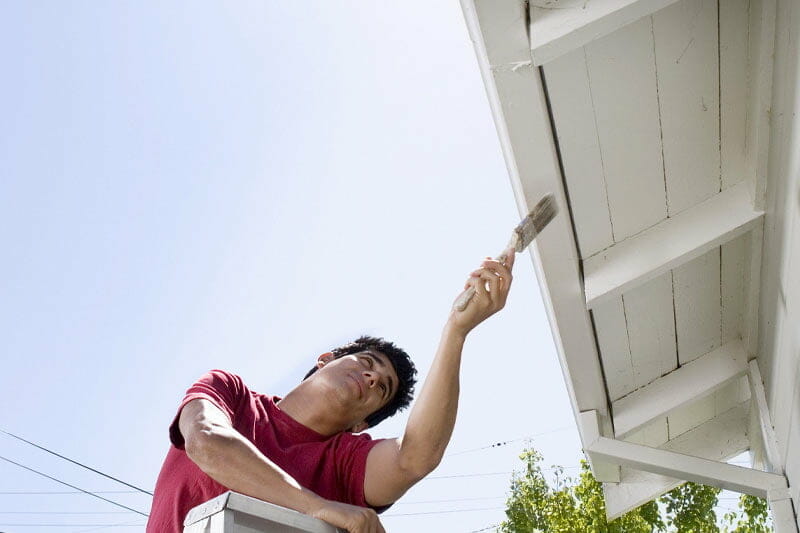 It costs an average of $4 to $6 per linear foot to paint fascia and soffit of your home. This project will also require a ladder or scaffold to reach the area. This explains the high cost. Acrylic latex paint is considered the best paint for fascia and soffit as it protects the areas from extreme weather conditions.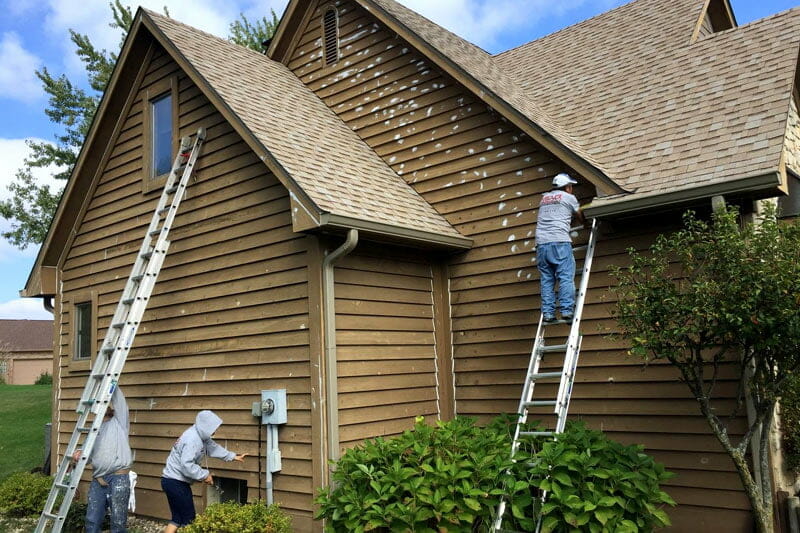 Painting downspouts cost about $4 to $6 per linear foot. Accessing this area is quite challenging, so painters will require scaffolding and special ladders. The type of paint used will depend on the type of material.
For instance, acrylic paint would be best for downspouts made using aluminum. To finish your home's downspouts, satin or semi-gloss finishes are the best options.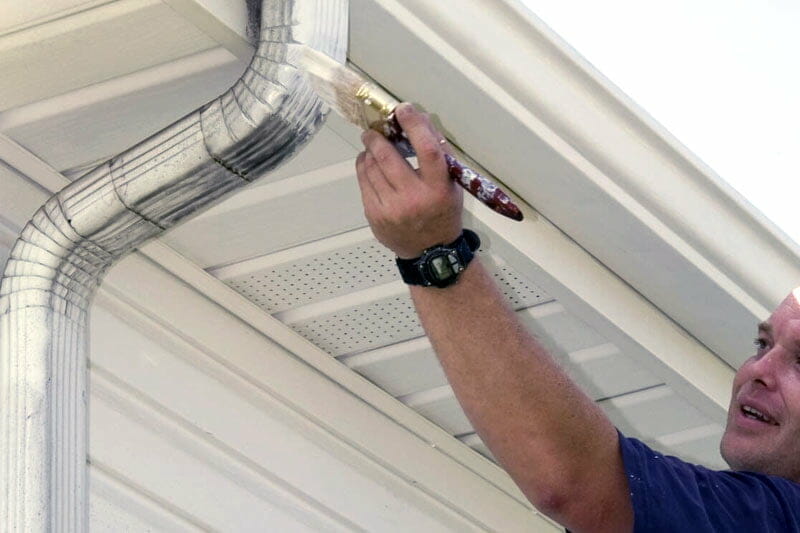 Cost To Paint Exterior Trim by Material
| Material | Cost per linear foot (including labor) |
| --- | --- |
| Aluminum | $1 - $6 |
| Wood | $1 - $6 |
| Vinyl | $3 - $6 |
| Brick | $3 - $6 |
| Fiber cement | $2 - $6 |
Painting exterior aluminum trim will set you back by approximately $1 to $6 per linear foot. Experts recommend using acrylic latex paint for this material for best results. Acrylic latex paint adheres well to metal, and it is resistant to cracking, peeling and flaking. This paint also makes the surface easy to clean and maintain.
An average homeowner can spend about $1 to $6 per linear foot to paint wood trim. Acrylic latex paint is the best for exterior trim because it dries faster and is weather-resistant.
It is also important to choose the right sheen for the wood. Semi-gloss or satin is best for wood as it makes cleaning and maintenance easier.
Painting vinyl exterior trim costs between $3 to $6 per linear foot. Since vinyl expands, it is paramount to choose paint that will not crack, peel or blister. Latex and acrylic paints are the best to use for this material.
Vinyl is also susceptible to fungus and mold growth, so experts recommend using paint mixed with a fungicide.
Additional prep work may be required when painting vinyl trim due to its fragility.
Like vinyl trim, painting exterior brick trim can also set you back by approximately $3 to $6 per linear foot. Brick trim can be used for interior or exterior trim, and painting it improves your home's curb appeal and increases the resale value of the property.
Acrylic latex paint is the best for brick trim as it protects it against the weather.
Painting brick trim tends to be more expensive because more extensive prep work is required. The trim needs cleaning and caulking to seal the cracks.
Fiber cement trim costs slightly more to paint than aluminum and wood trims. Painting exterior fiber cement trim on an average-sized home can cost around $2 to $6 per linear foot.
Fiber cement is durable, and it is mostly used for exterior trims. Experts recommend acrylic and acrylic latex paints for this trim.
Unlike most exterior trim materials, fiber cement requires latex primer which tends to cost more than other primers.
Cost Factors To Consider When Painting Exterior Trim
There are several cost factors that can affect the cost of painting exterior trim. These include:
Every state has its own rules and regulations. So before you set out to paint your home's exterior trim, it is essential to know what your state requires.
Some states require that you get a permit to paint the exterior trim of your home. The permitsmay cost between $200 to $500, but the actual cost depends on your location and scope of work.
No permit is required for painting the interior trim of a home.
Painters may charge you a travel fee of about $50 depending on your location and the distance of your home from the painter's location.
The type of paint you use will affect the overall cost to paint your exterior trim. Acrylic latex paint is recommended for most exterior trim surfaces, and it is quite costly.
Before you buy the paint, you can compare several brands to get a good price, but the costs may not vary much especially for high-quality paints.
The type of exterior trim material also determines the overall project cost. As discussed above, different materials cost differently to paint, with brick and vinyl being the most expensive ones. 
Before you begin any home improvement project, you should consider your location. Mostly, people living in urban settings tend to pay more for labor than those living in remote areas. This is because the standards of living are different, so it's only fair to charge lesser fees for people living in low-income areas.
DIY vs. Hiring a Professional
Painting exterior trim may be more involving and complicated for your DIY project than you think. The trim required cleaning and prepping before painting it.
You will also need to buy materials and tools such as ladders, paint, gloves, and paint brushes among others. If your home has multiple storeys, you may be vulnerable to accidents and injuries.
If you have hands-on skills, painting your home's exterior trim can be a DIy project. However, if the project poses a danger to you, or you do not have enough skills, it's best to hire a professional to do it for you.
Use This FREE Tool To Get A Professional Painter Near You
HomeGardenGuides.Com is a free service that quickly matches you with top voted local Painting Contractors.
You can get 3 estimates fast by real certified experts in your area in just 2 minutes.
Scroll to the top of the page and enter your Zip code.
Answer questions about your painting project.
Your exterior trim painting details are forwarded to three local experts. They will send you a price estimate for the job and some friendly advice.
IMPORTANT: There is no obligation to hire. This is a free tool and service to be used at your pleasure.