Finding the right painter near you for your house is always a daunting task. There are so many painters in the market today, but only a few of them can assure you of quality work.
This is why you can't go online and hire the first painter you see when you google 'painters near me.'
Here's a guide to help you make the right decision with your house painter.
House painting is more like art; with a good painter, you can transform your 'okay-looking' home into a masterpiece. In fact, a report by Consumer reports indicates that a good repainting job increases the homes market value by up to 5%.
By the same token, a poor painter can convert your fading house into a piece of junk in the market. It's therefore crucial that you invest in the right painter.
Here are a few things to look for in a painter to determine their expertise.
Recommendations and References
Nothing beats personal recommendations from a satisfied customer. Look around your neighborhood for homes that were recently painted. Ask them for recommendations from their painter and whether they'd want to work with them again.
In most cases, your friends and family will give you honest feedback about their painter.
Visit at least three painting contractors
Even before considering a painter, ensure you've called and checked in with at least three other painters. Get detailed quotes from each for the entire project and inquire about how they'd go about the task.
Doing this not only helps you understand the price range, but it also helps you understand more about the project.
Be sure to also ask about the timeline for the project. With these facts in hand, you'll be able to choose a painter that suits your budget and painting needs.
Note: Never make your decision solely based on your budget. In most cases, going for the cheapest painter in the market ends up in shabby results and more expensive repainting costs. It's better to pay more for high-quality work.
The experience of a painter determines how good they are at their job. More experience means that the painter understands paints and styles for different houses and is more likely to do a good job for your home.
Ask the painter for samples of their past projects and judge how good a job they did. Don't forget to also look into their recent projects to avoid getting stuck with painters who're only starting out.
The internet has made everything easier, even finding a painter for your home. You only have to look for reviews on different painters on websites like Yelp and Angie's List.
However, you can't trust every review you read online. Look for painters with good reviews – and a few negative reviews as well.
As a rule, don't trust any painter with only good reviews that appear fake or a painter with too many negative reviews. This combination is usually a recipe for disaster.
Demand a detailed contract
Gone are the days when word of mouth was more than enough guarantee for an agreement. Today, you have to ask for a detailed written contract from the painter. Make sure that even the slightest of details about the project is incorporated into the written agreement.
Having a copy of such a contract covers you in case of any accidents during the project. It also ensures that the painters can't get away after doing subpar work.
Another key factor to consider when choosing a painter is checking their credentials. Ensure that the painter is licensed and certified to work in your area.
You should also ensure that you make your painting expectations clear. If a contractor understands your demands, he's more likely to do a good job.
Lastly, never pay for the entire painting project upfront. Any painter asking for the full amount is likely to be playing you.
However, most professionals ask for a small percentage upfront as a deposit to show that you're serious. Even so, never give more than 20% upfront for the project.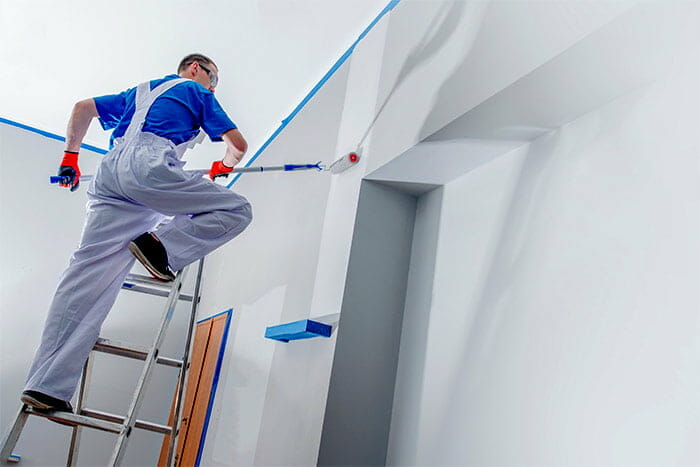 Questions to ask your local house painter
Once you have settled on a painter or have a shortlist of the best ones, asking questions is the best way to help you know if you've made the right decision.
Some of the best questions you can ask the local house painter include:
Do you offer any complimentary services, e.g., fixing mior wall issues?
Do you charge for estimates and quotes?
Which type of paints will you use? Which brands?
How many coats of paint will you use?
How do you charge per hour or per project?
Are your painters your employees or outsourced labor?
Do you have insurance?
What safety programs do you have for your employees?
Do you offer warranties? For how long?
What does your warranty cover?
Will the project manager be onsite?
Any painter or contractor worth his salt should be able to answer these questions without hesitation. By asking questions, you'll easily be able to weed out the fakes from the pros.
Do house painters need to be licensed?
Not really! In most US states, the Contractor States License board requires every contractor to have a license to run a painting business. This, however, doesn't cover the painters who work for contractors.
The rules are different in every state, with most painters needing licensing at the local level only. In other states like Iowa and Illinois, painters don't need any licensing.
Is it worth using a professional house painter?
Yes! For most homeowners, painting is an easy task which anyone with a paintbrush can do. This is why most people prefer doing their painting as a DIY.
But the truth of the matter is that painting, especially over large spaces, requires an expert's help. Unless you have experience as a painter, DIY painting is usually a short-term fix. You'll spend more on repainting in the long run.
Professional house painters know the best paints to use in your house and have the right tools for the job. This allows them to do a quality job that lasts long, within a short time.
Hiring pros also help minimize the risk of painting accidents and hazards, saving you from a lot of stress.
The prospect of a warranty for their service also makes hiring a pro more appealing.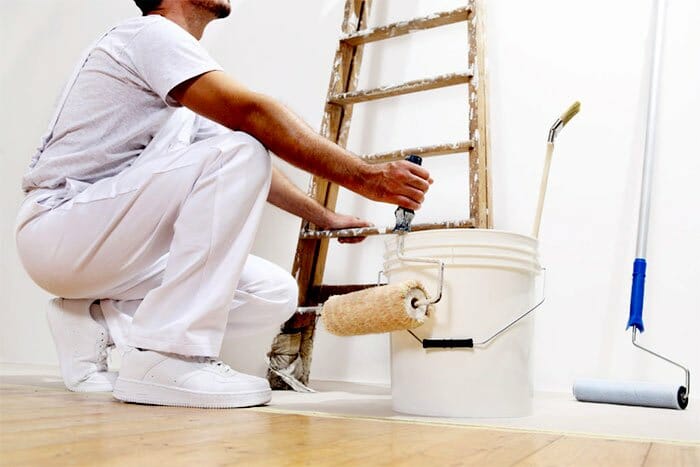 The average cost of painting a house in the United States ranges from $850 to around $4,000. This estimates to between $2 – $6 per square foot.
The exact amount depends on the size of the house, types of Paint used, areas to be painted, and the painter's labor costs. Most painters will charge $30 – $40 per hour for their painting, but it can go to around $50 – $75 in some areas.
Typically, painting the house interior is more expensive than painting the exterior. Here's a breakdown.
The cost of painting your house's interior ranges between $1 – $3.50 per square foot. When you include the ceiling and trims, the cost rises to around $4 per sq. ft.
For a 2000 sq. ft house, you might spend between $2,000 – $8,000 for the interior painting. However, there are several factors that will affect the total cost of your interior painting.
These include:
The type of paints – Different paints cost differently per gallon. Most low-end paints cost around $30, while some high-end brands cost about $100 per can. Using such paint, therefore, increases your paint costs.
Colors you use – The more colors you use when painting, the more expensive your overall costs will be – even if you only use a small amount of each Paint.
Your location – The price of paints and labor costs vary depending on your location. Expect to pay more if you reside in major cities like New York or Los Angeles.
Primer and gloss – If your painting needs a primer or glossing, the costs will also increase. Semi-gloss and High-gloss are usually quite expensive.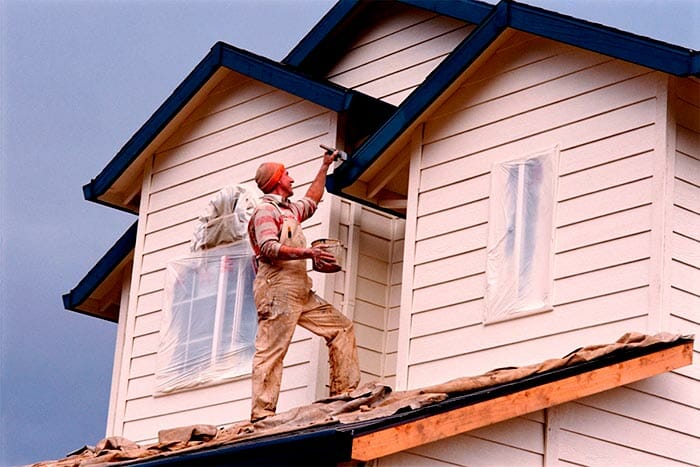 For the house exterior, the average cost of painting is about $1.50 – $4 per square foot. This converts to around $3000 – $8000 for a 2,000 sq. ft house, including some prep work.
The price increases if the house is a story building. Most painters will charge you more due to the increased risks and more work involved, i.e., going up and down the ladder.
Houses with two or more stories usually spend $5,000+ for the complete exterior painting.
One of the key reasons for the high exterior painting costs is the cost of paints. As earlier mentioned, the price of exterior paints is much higher than that of interior paints.
You'll also need more primers, oil, and sometimes latex to make the exterior paint adhesive and durable.
If you're also painting other exterior features such as the gutters, window shutters, or exterior doors, the cost also increases.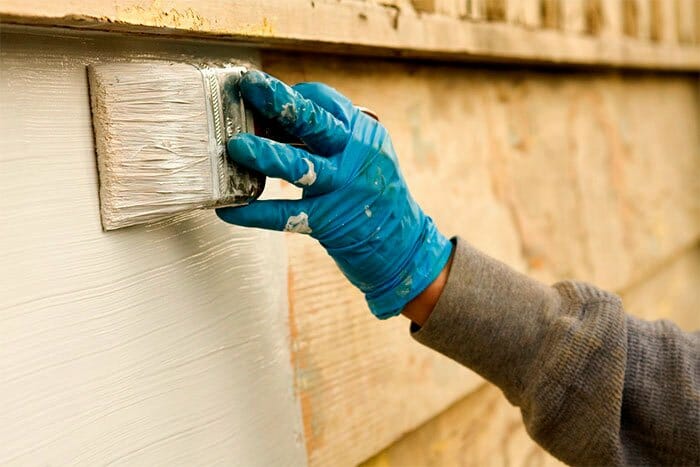 Interior vs. exterior house painters
First off, before seeking recommendations or looking for a painter online, you have to know who you're looking for. There are two types of painters; interior painters and exterior painters.
While most painters offer both services, every painter is more inclined and experienced in either aspect of house painting than the other.
You can easily tell this by looking at their previous projects. Have they done more interior or exterior painting?
Knowing this is important because you'll need different paints for painting your house's interior and exterior.
Exterior paints are usually manufactured with harsh conditions in mind. They contain harmful additives for fighting fungi and UV rays, making them unsuitable inside the house.
However, painters who are more inclined towards interior painting may not have enough knowledge about this and hence, may do more harm than good. The vice versa is also true – exterior painters won't always know the best paints for the house interior.
Other house painting costs
Around $2 – $6. The average room size measures around 330 square feet. To paint such a room, you'll spend around $400 – $1200, including the walls and ceilings. If you're using multiple colors, the cost will be slightly higher.
Some rooms like the bathroom might also demand different paints (waterproof), which is more expensive. Therefore, even though it covers a smaller area, it's more expensive to paint.
The kitchen is among the cheapest to paint because of the many cabinets, while the family room might be the most costly because it's larger.
It's important to note that some painters have a standard bottom rate of between $250 – $500 on all projects.
Windows painting costs add up to as you have to factor in the cost of both interior and exterior paints. You can spend anywhere from $100 to $1000 per window, depending on its size, condition, and design.
Windows with shutters, frames and decorative trims are usually more expensive, costing around $600 to paint, while those with basic trims cost $100.
At such prices, a house with many windows will drastically increase your overall costs.
Cost to paint an exterior wall
You'll spend around $1 – $2 per square foot to paint an exterior wall. However, the material of the siding will greatly determine how much you'll pay for the wall painting.
For instance, siding materials like Aluminum and wood are cheaper to paint than materials like Stucco, stone, and brick. Therefore, for a 1500 sq. ft exterior wall, you'll spend around $1500 – $3000.
The national average for painting both the interior and exterior of a mid-sized house (around 2300 sq. ft) stands at approximately $5,500. On the lower end, the costs can go as low as $2,300, while on the high-end, the costs go as high as $10,000.
The actual price range for painting a house ranges between $3,000 and $10,000.
Some factors that affect the painting costs include the wall texture, the surface area covered, materials used, and the number of paint coats used.
The labor costs for this painting range between $30 – $50.