The number of coast needed will depend on the quality of paint and the undercoast used if any.
In most cases, you will need one coast of primer and two coats of ceiling white for a good finish. If you use a high-quality product you may be able to get away with one coat. I suggest using a primer before using the ceiling paint as it adheres well to drywall.
But let me guide you step by step through this subject.
Tools needed for painting ceiling
Let's start with the tools needed for painting the ceiling and their prices
| Tool | Price approx |
| --- | --- |
| Brushes | $16 |
| Roller and Extendable Pole | $20 |
| Step Ladder | $160 |
| Ceiling Paint (per gallon) | $68 |
| Dust Sheets | $19 for a pack of 10 |
| Masking Tape | $7 for 40m |
| Cloth Bowl | |
| Sugar Soap Paint Cleaner | $12 |
| Safety goggles | $15 |
Preparation process for painting ceiling
Painting ceilings is trickier than painting walls because you are painting above your head and color can splash around. Follow these steps for a successful project.
Step 1: Clear the area and cover the furniture
It is best to move all furniture out of the room so you can protect it from paint drips while also providing you with a full range to paint the ceiling without obstacles at all.
But it is not always possible to move all the furniture out. Move it to the middle of the room and cover it with dust sheets. Also, protect your carpets, floorboards, or tiles to avoid painting spots.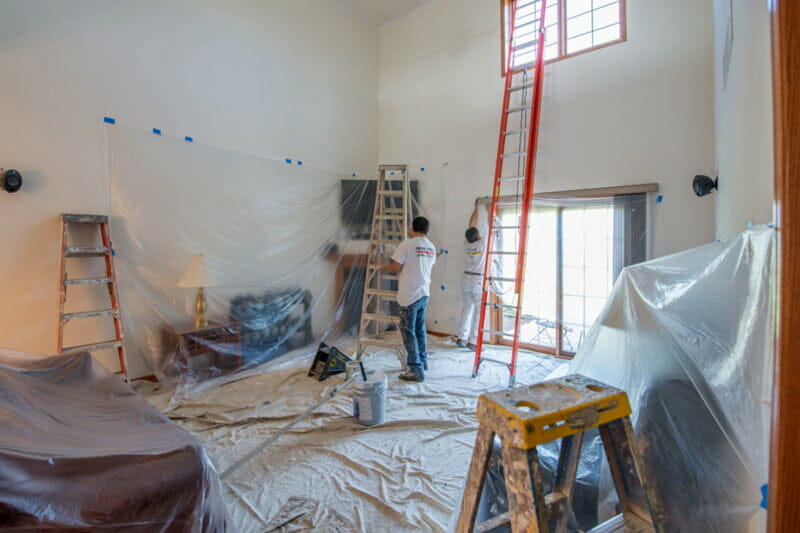 Step 2: Clean and sand the surface
If your ceiling is smooth and does not need sanding a few strokes with a brush will be enough to get rid of any debris, cobwebs, and dust.
Dirty ceiling, often in the kitchen, start with washing the ceiling with sugar soap to clean and degrease with a kitchen scrubbing pad for example.
If the paint is uneven or peeling gives it a rub down with sandpaper, use a sanding pole to speed up the process. If there are any holes or hairline cracks fill with a suitable filler product and rub down when dry. This gives a smoother finish and a more adhesive surface for the paint. Use a damp cloth or sponge to wash the ceiling to get rid of any dust from the sanding process.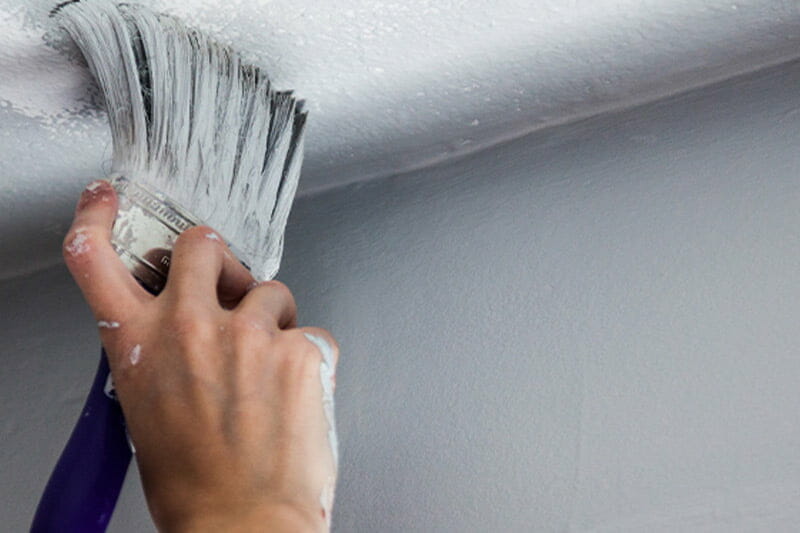 Step 3: Remove the stains
Use a special stain blocker to cover watermarks or stains because the water-based emulsion won't cover them properly. This will create a barrier to stop any stains from seeping through and spoiling your ceiling finish.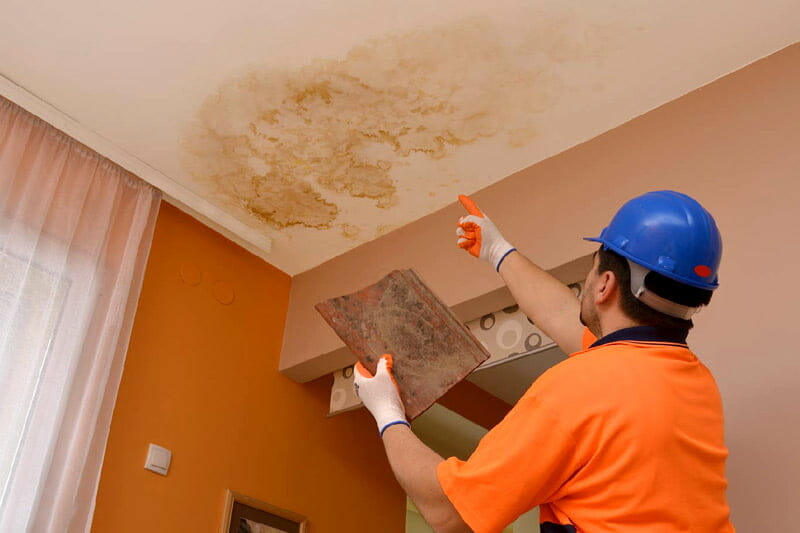 For a simple ceiling rose pendant fitting, unscrew the fitting, slide down and cover. Use painter's tape or masking tape around the edges of the light fitting nearest to the ceiling. Repeat the process to double the width of the tape and cover more of the fitting.
Switch off the electricity supply while painting if you can so you can be completely safe.
Tip for your safety: Overalls, goggles, and a baseball cap should be your basic protective gear to keep sanding dust and splashes from your paint roller away from your clothes, hair, skin, and eyes.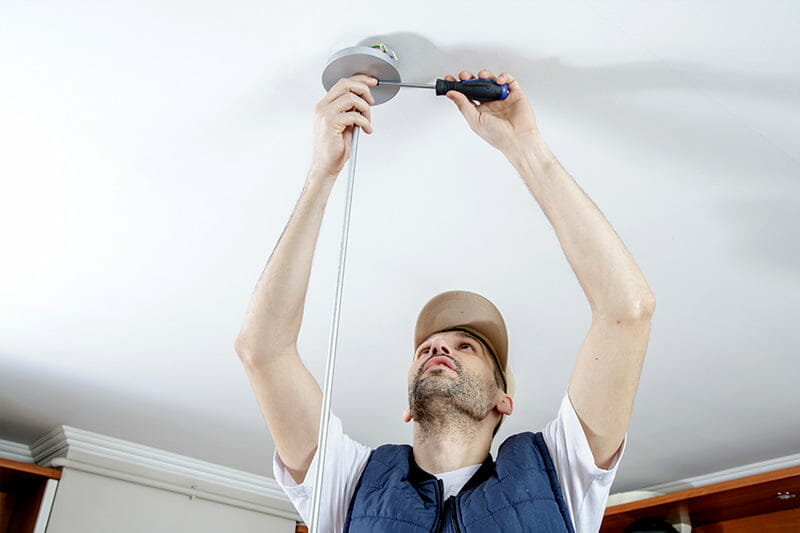 Where to start from when painting the ceiling?
There is no actual general rule for this, but most professionals will tell you that is best to start painting the ceiling from one of the corners because it is an ideal focal point.
Before you start painting the rest of the ceiling first thing you had to do is cut in the ceiling edges and around any light fittings. So, do all the edges first.
Recommended width around the ceiling edge is the width of the brush (3 – 4 inches).
The art of painting the straight line on the ceiling or wall to separate two colors with a paintbrush is called cutting in. A 4-inch paintbrush fully loaded with paint is a good choice to cut in. Start an inch or two away from the edge with the brush parallel.
Move the brush slowly up to the edge in a semi-circular motion. Your hand must be as steady as possible. Follow the line until the paint starts to break and then repeat.
In the corners, hold the brush straight up with the paint on it and gently wiggle into the corner until you get to the edge. Then pull the brush down.
Best way to paint a ceiling
The application method depends on the type of ceiling that should be painted. The following are the most common situations:
Previously painted ceiling
Smooth painted ceiling is a straightforward project. The most commonly used brush to cut in is 2-4 inches and a 9-inch roller to apply the paint.
Textured or artexed ceiling
For this type of ceiling your best choice is a segmented foam roller that will ensure full coverage because is specialized for painting textured and popcorn ceilings. Additionally, you can use a block brush or emulsion brush (4-inch) to be sure that all of the ceiling crevices are covered with paint.
With freshly plastered ceilings you must wait at least 4 weeks to allow them to completely dry before painting.
Starting with a mist coat. This is an effectively watered-down emulsion.
Go with a white emulsion because it is cheaper than a colored one and it is a great base for all colors. Mix three parts of paint with one part of water and apply it with a roller.
Painting a ceiling with a roller
Painting with a roller is the fastest and easiest way to paint your ceiling.
First, fill your roller tray with paint, dab the roller in the paint until you have plenty of paint on the roller.
You will have the best results if you work in one-meter sections from one side of the ceiling to the opposite. Be sure that you are not missing areas when rolling.
Find a good position where you will be able to see where you have painted by stepping away and finding a position where the natural light reflects on the ceiling or setting up a lamp on the floor to spot the painted sections.
How to prevent roller marks?
Lines, drips of streaks are a normal occurrence when painting with a roller. To get rid of them after you have painted the section go over it with the roller without paint but with a lighter touch.
Do this while the paint is still wet, and repeat it until all marks are gone and the finish is smooth and clean.
What makes the paint good for the ceiling? The most important thing for a good ceiling paint is the ability to block stains and fully cover with only one coat because you don't want to work above your head for a long time.
Top choice: Benjamin Moore - Waterborne Ceiling Paint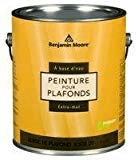 Benjamin Moore's waterborne ceiling paint is a little bit more expensive than other choices available on the market, but it is worth every dollar. This zero VOC paint will save you money and time and will give you a long-lasting one-coat paint that you don't need to repaint for at least 5 years.
This is a high-quality paint, ultra-flex latex ceiling white paint that does not yellow, and that covers the old paint in one coat. Non-white surfaces will need a primer first, or two coats of ceiling paint.
Budget-friendly: KILZ - Ceiling Paint Stainblocking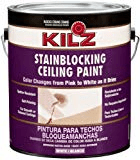 KILZ ceiling paint stain-blocking will help you cover the old yellowed paint, and hide the bump marks and the dread water leaks.
Fast-drying – about an hour;
Water cleans up
250 sq. ft. per gallon on new drywall, 400 – 450 when repainting;
When you roll it on the surface is pink, but it turns white when drying;
According to KILZ, you will need two or more coats.
When you do only one coat, you must be careful and go slow to make sure you cover the entire ceiling with a full coat. Use a very bright work light and look at the entire ceiling from different angles to be sure that you don't miss the spot.