When you paint your home, you change its appearance without the expense of costly remodeling, and though you can pretty much paint your home by yourself, we recommend hiring an experienced professional who can produce a high-quality paint job that will last for several years.
You should paint your house every 5 to 10 years. However, your wall surface type and local climate may require your home to be painted more often.
Most homeowners usually paint their homes to keep up with current color trends, while some paint to keep ahead of dirt and stains. While the latter group may paint their home more often than the former, they also benefit from living in a great-looking house that stands out within the neighborhood.
Experts recommend painting your home interior every 3 – 7 years. How often you do this depends on several factors, namely, the size of your family, your lifestyle, and the quality of the last paint job. A strategy that could keep your interior walls looking fresh and save you money is to repaint high traffic areas every 2 -3 years and leave rooms where you spend the least time for major renovation projects.
Some interior spaces need to be painted more often than others, as shown in the table below.
| Interior Space | When To Paint |
| --- | --- |
| Living & Dining Room | 4 - 5 years |
| Adult Bedroom | 5 - 7 years |
| Children Bedroom | 2 - 3 years |
| Kitchen | 2 - 3 years |
| Hallways | 2 - 3 years |
| Bathrooms | 3 - 4 years |
According to experts, your home exterior should get a fresh coat of paint every 5-10 years. However, some wall surfaces need to be painted more often than others.
Examples are shown in the table below:
| Surface Type | When To Paint |
| --- | --- |
| Wood siding | 3-7 years |
| Aluminum siding | 5 years |
| Stucco | 5-6 years |
| Cement fiberboard siding | 10-15 years |
| Brick | 15-20 years |
Stained wood surfaces should be re-stained every four years.
The following factors determine how often you need to paint your home exterior:
Location
Homeowners who reside in gated communities are bound by their HOA bye-laws which specify how frequently they should paint their home exterior. Individuals living in historic districts are often under strict guidelines on how often they can paint their home's exterior.
Local climate
Your local climate has a significant influence on the longevity of an exterior paint job.
Sunlight in hot and sunny climates can make the paint on wall surfaces bubble and fade darker colors.

Exterior paint in climates with high humidity, rainstorms, or frigid winters deteriorates rapidly.
Quality of previous paint job
Inadequate preparation and low-quality paint reduce the lifespan of your exterior paint. Ensure that you properly prepare your home exterior wall surfaces for painting.
Below are a few more tips:
Use lighter shades of high-quality paint to achieve smooth and long-lasting paint.
Acrylic paints are an excellent choice for exterior walls. A 100% acrylic paint is fade-resistant and is exceptionally tolerant of severe weather conditions.
If your last paint job was a DIY disaster, hire a pro for the next round.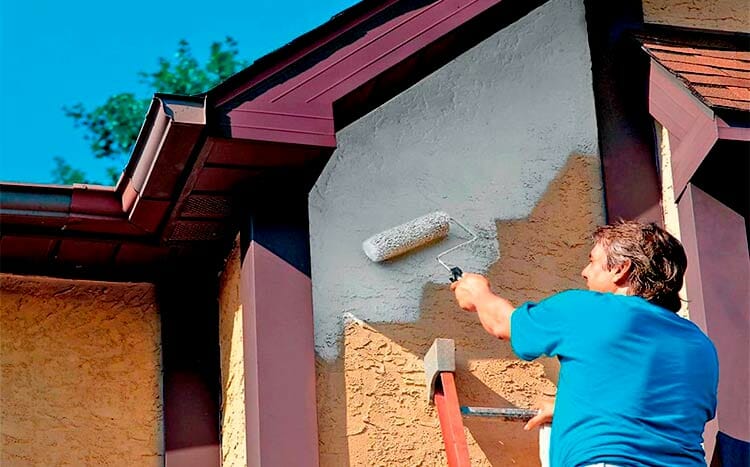 Is repainting your house worth it?
Applying a new coat of paint to a shabby and dingy-looking house with a fading or peeling surface is an inexpensive and easy way to increase its mass appeal and market value by 2 to 5 percent. It is an undertaking that delivers a massive return on investment (ROI) over time.
Painting the exterior of your home provides a 55 percent ROI, and giving the interior a fresh coat of paint yields an ROI of 107 percent. Plus, repainting the interior alone can increase your home value by 48 percent at the sale, and it is a crucial factor in promoting home sales.
How long should house paint last?
A high-quality exterior paint job typically lasts between 5 to 10 years, while the paint on interior walls can last for up to 10 years if properly applied. The longevity of your house paint depends on several factors which homeowners have minimal control over.
Examples of these are climate conditions, temperature fluctuations, and ultraviolet radiation (U.V) from sunlight. Nonetheless, skilled professional painters and DIY enthusiasts can mitigate the adverse effects of these factors and increase the life expectancy of your house paint in the following ways:
Using the correct paint type: applying exterior acrylic paint on your home exterior guarantees a longer lifespan. Using the right paint type on brick, stucco, wood, and metal surfaces will prevent early paint failure.
Purchasing high-quality paint: prevents paint failure, which is a common characteristic of inferior quality paints. It also saves you from spending money on expensive redos.
Using lighter colored paint: lighter paint shades can increase your exterior paint's lifespan by up to 5 years. Painting your home in soft beige colors saves you money because dark colors tend to absorb a lot of sunlight and fade faster. When painting in a lighter shade, allow the first coat to cure for 12-24 hours before applying the second coat to extend its lifespan.
Proper preparation: is essential if you want a long-lasting paint job. Prepping walls to receive paint is a long and tedious chore, but it pays off in the long run because it eliminates the chances of paint peeling or chipping.
It would help if you took proper care of your house paint to make them last longer. Homeowners who clean their home interior and exterior paint regularly often have fresh and attractive-looking paint lasting for a long time.
Below are a few maintenance tips that will make your house paint last longer:
Dust your interior walls regularly.
Wash off stain and grime in high-traffic spaces in your home using a soft detergent and water solution.
Repair wall damage immediately by filling holes and dents, sanding affected surfaces, and applying high-quality paint. Water damage should be repaired by a skilled professional.
Use corner guards to protect wall edges to prevent damage and chipping.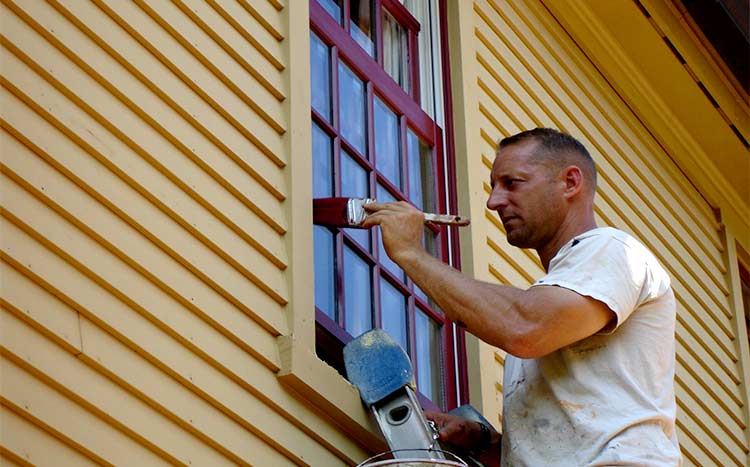 How many times can a wall be painted?
There is no limit to how many times you can paint a wall. Homeowners can paint the walls in their homes anytime they desire a change in the look of a room or their entire house. And if you're worried about the build-up of multiple paint layers on your wall, you can strip the paint off. A common rule is that by performing proper prep work on a wall, it should adhere to two or more paint coats.
However, successfully repainting a wall that has been painted several times is subject to these three conditions:
Quality of the previous paint jobs – if previous paint jobs were of low quality, subsequent paint will not adhere to the wall.
Quality of the current paint job – performing proper wall preparation and using high-quality materials is essential to repaint a wall that has been painted several times successfully.
Type of surface: you may need to strip paint from some wall surfaces to allow a fresh coat of paint to adhere correctly.
Does a freshly painted house sell better?
Giving your drab and faded home a paint makeover before putting it up for sale is an old real estate sales trick. A fresh and immaculate coat of paint on your house interior or exterior is a profitable investment and will attract a broad spectrum of buyers to the property.

Benefits of new paint
Benefits of adding a fresh coat of paint on a property before selling include:
It creates an excellent first impression on prospective buyers.
It gives the house a modern and elegant look.
It increases the value of your house, leading to a significant ROI.
It boosts your home curb appeal, which results in a higher number of inquiries, and potentially leads to a faster sale.
You often get your asking price on a newly painted house compared to an unpainted property.
A new paint job signifies a well-maintained property and convinces buyers that they are making a good purchase.

Repainting Tips
Below are a few painting tips that can help your home appeal to potential buyers:
Discuss current market trends with a local realtor to understand the hottest colors and home styles in your location before starting.
Pay special attention to your home exterior, especially the front area. Clean your window trims and ensure the doorway is free from cracks and holes.
The importance of prepping your walls cannot be overemphasized. Sand the walls and smoothen them with plaster. Apply a high-quality primer over the walls to achieve an even smoother paint finish.
Beige and neutral colors are an excellent choice for your home interior and exterior. Lighter colors seldom go out of fashion, and they make small rooms seem more prominent. Plus, buyers respond better to neutral colors than bold shades.
Although brick wasn't made to be painted like other building materials, you can give your brick house a modern look by painting it. Painting a brick house is an excellent way to boost its curb appeal, create a uniform exterior look, and prevent your home exterior from fading.
The ideal temperature to paint your home ranges from 50-90 degrees. Painting your home on reasonably mild sunny days allows your paint to cure faster, ensuring a fantastic-looking paint job.
Yes, it does. Painted brick houses are often in a better state of preservation than non-painted brick homes. Painting a brick wall adds an extra layer of protection to the surface. It also increases the house curb appeal, which creates a highly enticing visual impact.