Small homes and apartments can be very frustrating to decorate. Besides, they can make you feel confined and uncomfortable. If you are limited by space, there are many ways you can make your room appear larger. This article provides you with a few hacks to make your room look bigger with paint.
Not all types of paint can make a room look bigger. In the interior design world, it is widely known that light colors make a room look bigger. This is because bright and light colors make a wall more reflective. This makes the room feel airy and open and maximizes the effect of natural light.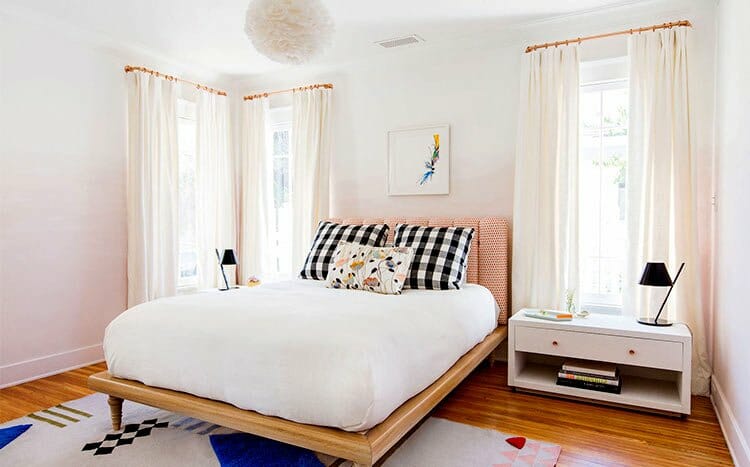 Decorating small spaces can be tricky, and making one mistake can make your room dark and unappealing. When planning the layout of your room, you should put in mind the paint color to use to make it look bigger. Below are the best paint colors that will transform your small space and make it look instantly larger.
White is the most popular color for making rooms feel bigger. Eggshell or satin finishes will reflect light and create an illusion of a larger space. No matter the room type or aesthetics, white works perfectly, and it is an excellent color palette to begin your decorating journey. This color is perfect for south-facing rooms.
A darker hue like soft black is another excellent pick that makes a room appear larger. While white is believed to make a low-light room brighter, it may not be the perfect choice for rooms with little natural light. Painting your room, ceiling, and trim with a darker hue will give your room a grandeur appearance. Soft black would be excellent for north-facing rooms.
Another paint color that will make your room feel bigger is blush pink. This color brightens a small room, making it feel light and cheery. Blush pink looks amazing at sunset hours, and it works best in rooms with more natural light. It is complemented well with light and warm neutral tones such as sand, ivory, and beige. You can paint the ceiling in the same color to create a more enveloping feel.
Light taupe is an excellent color for people that are not willing to paint their rooms in entirely white shade. Light taupe makes a room feel elegant and large, and it is still bright enough to reflect light. It also adds a feeling of warmth that may be missing in the white paint color.
Light taupe also makes a room feel expensive, and using it in rooms with little architectural detailing gives it stature. This color goes well with white furnishings to make the space feel light and airy.
A cool gray is another perfect alternative to white, and it makes the room feel bright and fresh without the monotony of pure white. Cool colors tend to make a room feel fresher and brighter than warm colors. So, a cool gray creates an illusion of more space and makes a room feel cozy and expensive.
Light gray paint color also adds crispness and brightness to the room and allows light to bounce off the walls. It also makes the room feel cool and warm, and it is ideal for an east/west-facing room.
A dark navy paint color is perfect for rooms with a moderate amount of natural light. This color creates an impression of depth. It also makes the room feel stately, dramatic, and romantic. If you love dark colors and are not willing to go entirely black, dark navy paint is the way to go.
Tips to make a room look bigger with paint
If you live in a small space and would like to make it look bigger, the following designer tricks will help you achieve your dreams.
You can start by painting your walls with the same color, then paint your doors, ceilings, and trims with a darker shade than the walls. Using one color or closely related hues will give your room a seamless look and create an impression of a larger space.
While using one color for your space makes it look bigger, an accent wall will draw the eye to one focal point, creating an illusion of a larger room. Accent walls also emphasize the room's length, making it feel bigger.
When choosing your paint, you should also consider the best finish to go with it. Choosing the right finish can be daunting, especially if you are unfamiliar with paint. Flat paint is usually matte while high-gloss paint is shiny. Satin, semi-gloss, and eggshell paint fall between flat and high-gloss paint.
Eggshell or satin paints are the best to use as they reflect light and make space look bigger. More so, glossier paint is easier to clean, and it is durable, making it ideal for high-traffic areas.
Paint color with the correct undertone will go a long way to make your room bigger and appealing. Undertones are the pigments used to design the final color you select. If you are unsure of what color to choose, ask your painting contractor for help.
Choose between light or dark color
Light colors indeed make your room appear bright and large. But these colors should not be your only option. Having bright walls may make the room feel boring and featureless. Using a light neutral with the correct undertone will warm and brighten the room.
Dark colors also work magic in small spaces. They make the room feel dramatic, intimate and create an illusion of a large room.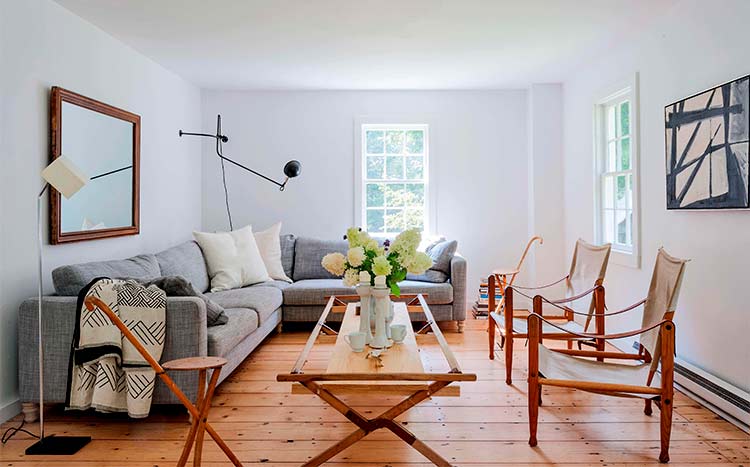 How to make a narrow room look wider with paint
Having a narrow room can be frustrating, especially when it comes to arranging your furniture. Paint color can be of great impact, and choosing the right ones can make your room appear wider. Neutral tones like white and beige are an excellent choice as they make a room look bigger and wider.
Experts also use dark colors and offset them with bright-colored furniture. This creates depth in the room and adds stark contrast between the bright and dark colors, making your room feel more dynamic.
What color should I paint a room with little natural light?
A room with little natural light appears dark and small. More so, space may feel stuffy and uncomfortable. While most people choose white for rooms with little natural light, an all-white space can feel uninspiring and bland. That being said, there are several other paint colors you can use for low-light rooms to make them appear brighter and bigger. These include:
These paint colors will transform your low-light room and make it look brighter and bigger. However, make sure the painter you hire does an excellent job because a bad paint job will make the room unsightly and cost you more to correct.
How can I mix and match colors for a room to make it look bigger?
Interior designers recommend painting the lower parts of your room, such as the baseboard trim, using darker colors. More neutral colors are best for walls and brighter colors for your ceiling. This color scheme is extremely useful for small rooms and low ceilings because having lighter paint on the upper parts of the room opens it up.
Tips for hiring a good painting contractor near me
There are numerous painting contractors that can give you an excellent paint job, but you must ensure you pick the one that meets your needs. The art of making a room look bigger with paint needs a painter with in-depth experience. The following tips will help you choose the best interior painting contractor.
Knowing what you want will help you look for a painter that will fulfill your needs. Decide what color you would like and how many rooms you need to be painted. If you are unsure of the best colors to use, your painting contractor should help you choose.
Whether you find a painter through the internet or word-of-mouth, finding out whether they are experienced and qualified for the job is essential. Ask the experts to provide you with references for their most recent work. This will tell you whether they are the right pick or not.
Each contractor should give you a written estimate that includes a breakdown of materials, labor, number of coats, tools, surface preparation, the brand of materials, etc. The estimate will give you an idea of how your money will be spent and help you plan your budget. Note that an estimate is not a substitute for a quote.
Before you hire a painter, take the time to check their credentials. Check whether the professional has an appropriate license. Also, check whether the contractor has complaints from past clients in the Better Business Bureau or the Attorney General's office.
The professional should also possess the right insurance to protect your property and themselves in case of unexpected accidents and damages.