Painting a brick house is a quick and inexpensive method to update the exterior and interior of a brick house. When you paint a brick house, you quickly transform how it looks. However, it will take you a lot of prep work to get your brick house ready to paint.
Painting a brick house is easy. You need to first repair cracks and clean the brick to get it ready for painting. You will then apply a primer then paint your brick walls with your best choice of paint. Depending on the size of your house, it will take you one to a few days to finish painting.
Painting is an easy task. You can choose to DIY or call in a pro to paint your brick house.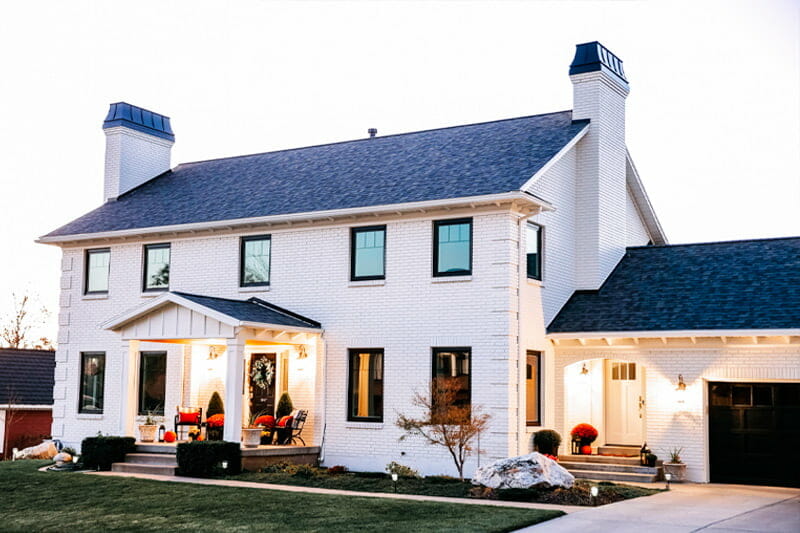 Step 1. Prepare the bricks for painting. Inspect the bricks for cracks and signs of wear and tear. If there are cracks, seal them with acrylic caulk. Even out the caulk over the crack with a putty knife. When the caulk is dry you can wash the bricks.
Wash the bricks to remove dirt, mold, and any other substances that may have stuck onto the bricks over time. If you don't wash the bricks you will be painting over all these,
To effectively remove mold and mildew on brick walls, make a 1 part bleach and 3 parts water solution. Use this solution and a wire brush to remove all the tough stains and hard to remove dirt
If there's no mold on the bricks, a pressure wash with soapy water and a hard-bristles brush is enough to get your bricks clean and ready to paint.
Wait 24 hours before painting for the bricks to dry.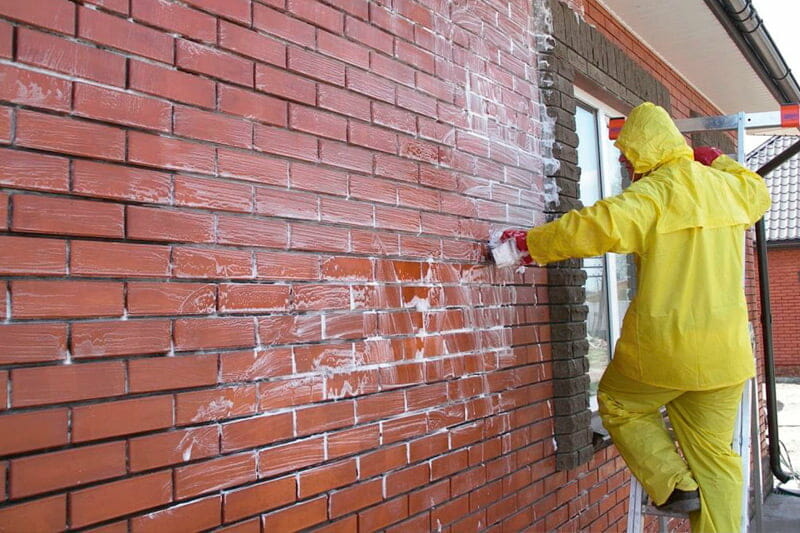 Step 2. Apply primer. When painting bricks, you must apply primer. Apply primer on interior and exterior bricks before painting them. Masonry primer is the best primer for use on bricks. It is thin enough for the bricks to absorb it. Once absorbed into the bricks, masonry primer binds all the loose material on the bricks. It also protects the paint from alkali burn as it is alkaline resistant.
Apply several coats of primer in areas that are affected by the weather or the growth of mold and mildew.
If you are using latex paints, use a latex primer. Similarly, use an oil-based primer if you will paint your bricks with an oil-based paint.
When you finish applying primer on the bricks, wait for it to dry. Check the instruction on the container for drying time.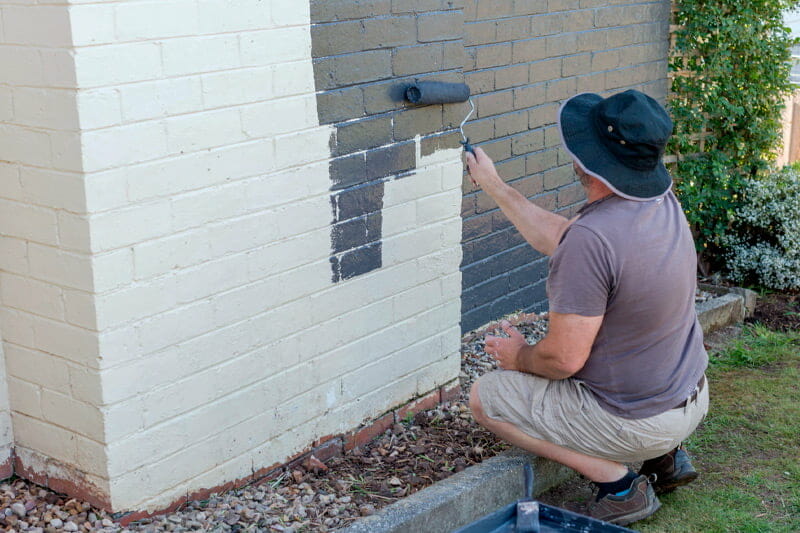 Step 3. Choose the type of paint you want to use on your bricks. There are three main types of paint you can use on bricks.
The most popular and regarded as the best brick paint is elastomeric paint. It is an all-weather paint that can withstand the effect of extreme weather changes. It is also dense enough to cover cracks in the bricks.
Latex paint is also a highly rated brick paint. As water-based paint, it is easily absorbed by the bricks. Any water it absorbs from the atmosphere is quickly evaporated to keep the bricks dry. It is cheaper than elastomeric paint and better than oil-based paints for exterior bricks.
You can also choose to use glossy paints to paint your bricks. They are suitable for bricks in hot weather. They are also easy to clean.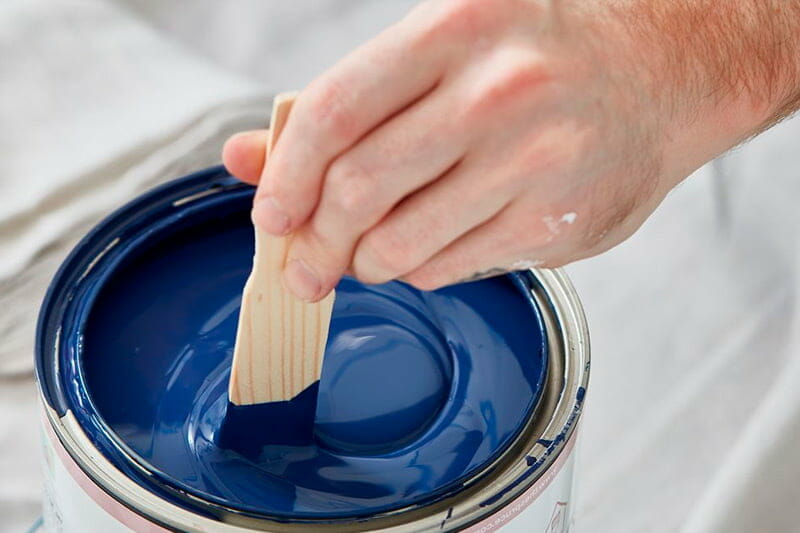 Step 4. When you have decided on the type of paint you want to use, you can now start painting your brick house.
For large parts of the brick surface, for example on the exterior, you can spray paint. Spray painting is the easiest method of painting bricks. Choose a corner from which you will start painting. Keep the sprayer about 20 to30 cm away from the bricks as you spray. Spray paint side to side and keep your paint even.
When painting small parts of brick, you can use a brush or a roller. You can also use a brush to paint areas on the brick that are hard to reach with a sprayer. Apply your brush gently to ensure you don't leave marks on the bricks.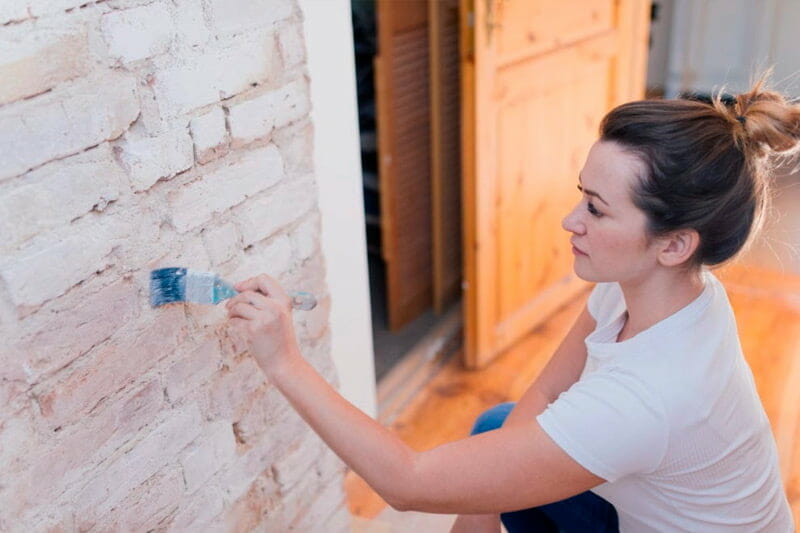 Step 5. Leave your paint to dry. Confirm the manufacturer's instructions on how long it takes for the paint you chose to dry. Oil-based paints dry in about 8 hours with a 24-hour wait before the second coat is applied. Latex-based paints dry in 1 hour and a second coat can be applied in 4 hours.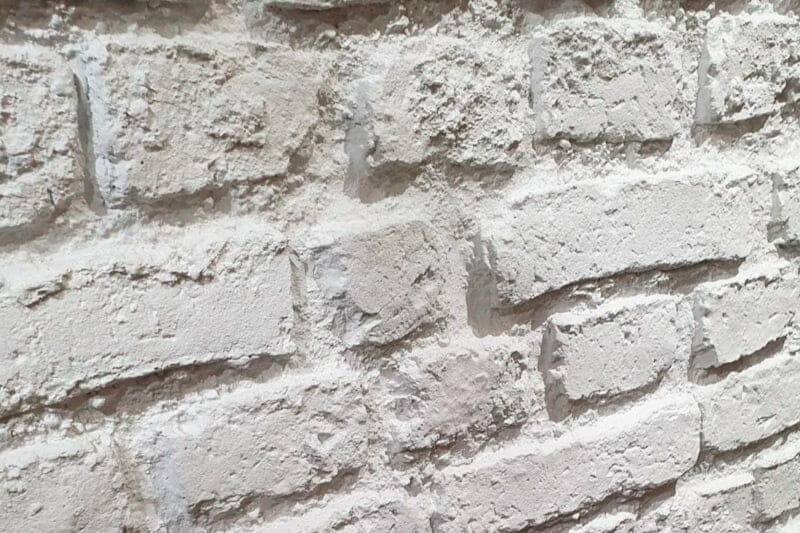 Step 6. You can add a second coat of paint if the manufacturer recommends it.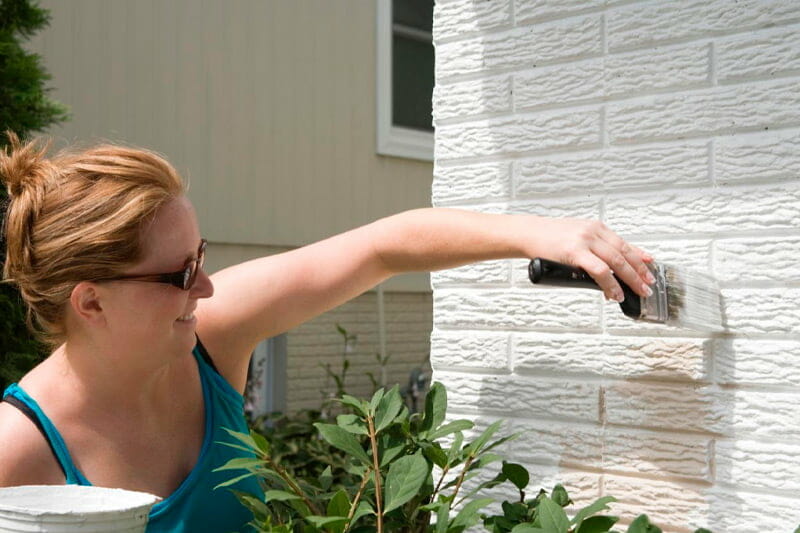 Advantages Of Painting A Brick House
Painting your bricks ensures that you protect them from the effects of extreme weather. Bricks absorb moisture from the atmosphere. When you paint bricks, the paint can prevent excess absorption of moisture. It also enhances faster evaporation of any absorbed moisture.
Paint also helps to seal any cracks that appear on the bricks
Painted bricks are easy to clean. You can see the dirt on the bricks more easily when they are painted. Similarly, you can tell when they are clean. All you need to wash your painted bricks are a bucket of water and a brush. You will clean away all the dirt as easily as it appeared.
When you paint your brick house, it transforms. It makes your house more appealing and attractive. Painting transforms an old brick house.
Painting raises the value of the house and makes it look much better and upgraded.
Painting is a cheap method of transforming your property. All you need to do is clean the walls in preparation for painting. Paint is affordable and can be easily bought. Water, soap, bleach, paintbrushes, and other painting supplies are also affordable and easy to buy.
You can paint your brick house by yourself or hire a professional to do it for you affordably.
You Can Change The Colors Of Your House
You can repaint your brick house as many times as you like. If you don't like how your home looks, you can repaint it and make it look as you want.
Disadvantages Of Painting Your Brick House
Once you paint your brick house, you can never revert to the original condition of the bricks. You can only repaint your home in a different color. Once you have finished painting your home, that will be the color of the bricks until you repaint your house.
Need For Regular Maintenance
When you paint your brick house, you need to maintain it more. You need to wash your bricks regularly, repaint fading parts and, try to maintain your home looking fresh.
If you live in a rainy location, the bricks in your house are likely to damage fast due to moisture absorption. Excess absorption of moisture causes the bricks and paint to chip. Causing degradation of your brick house.
Once the paint starts fading, it makes your brick house look ugly. Painted brick houses don't fade at the same time. Some parts of the house will fade while others remain intact as painted depending on the weather and the location of the house.
Factors To Consider To Successfully Paint A Brick House
Before you paint your brick house, you need to check the condition of the bricks. Before painting, clean your brick house. Also, check the status of your bricks.
Are they cracked? If they are, you can fill the cracks before you start painting. If the bricks are chipped you should find a way to repair the bricks before you start painting them.
Do not paint bricks that are in poor condition.
The Type Of Paint You Use On Bricks
Before you paint on bricks, you need to choose the right type of paint for the bricks. Elastomeric paints and latex paints are the best types of paint for exterior bricks painting. At the same time, oil-based paints should be used for painting interior bricks.
Always use high-quality paint when painting your bricks.
Whether To Hire A Pro Or DIY
Another factor you need to consider is whether you will hire a pro or DIY. You can buy a professional easily.
You can use the homegardenguides.com tool to hire a painting professional. Enter your zip code then fill in the application form to indicate the scope of your painting task.
You will then receive three quotes from professional painters. You can then choose either of the three contractors to handle your paint job.
You can also choose to DIY. Painting bricks is an easy task. Paint and paint supplies are affordable. You can buy the supplies and paint the bricks for yourself.
Before you start painting make sure you have the right tools for the job. Get a paintbrush and a large enough sprayer to cover the size of your bricks.
Using the right tools ensures that you can paint your bricks well. The right tools ensure that you can reach the smallest and tightest corners in your house.
Before you paint your bricks, you need to consider the weather. Do not paint bricks or anything else in extreme weather. Cold temperatures cause paint to freeze while high temperatures cause it to crack instead of dry.
The best time to paint bricks is in moderate weather conditions. The paint will stick on the bricks as it should and dry properly.
If your home is one year or less, do not paint the bricks. Let the bricks age a while and stabilize the structure of your house before you can paint them. You can paint your brick home two years after it is built. The bricks will have dried enough to absorb the paint.