The secret to a smooth, successful paint job is in the preparation. Failure to do this will result in a poorly done paint job and sometimes damage to your favorite furniture and appliances.
Whether you'll hire a painter or you're DIY-ing, this has to be your first step for the job. Here's a step-by-step guide to how you should prep your walls.
Move your furniture away from the walls to the center of the room or, if possible, out of the room. If they have to be in the room, cover them with dust covers or protective sheets.
Next, remove all wallpapers, canvas, and wall art, then tape over any electrical outlet and other appliances that can't be moved.
Paint splatter can cause lasting damage on your floors, so cover them with drop cloths or a light plastic sheet.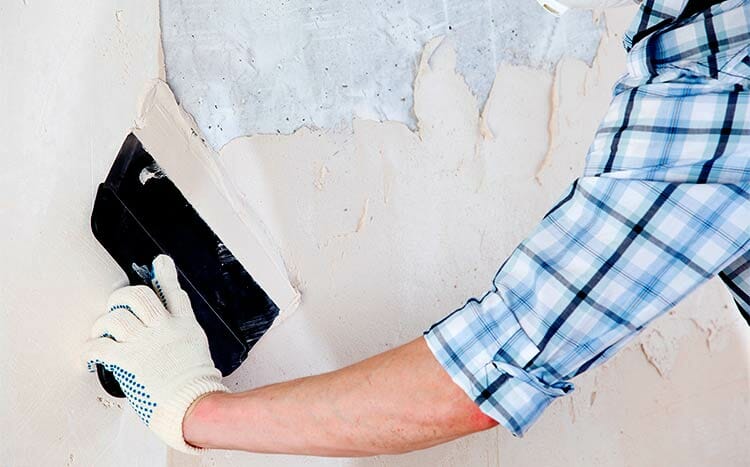 Step 2: Sand down the walls
If there are some imperfections or bumps on your walls, use fine-grit sandpaper to scrape the surface until it's even with the surface. Sanding can also flatten nail holes, joint compound patches, and rough spots.
You can try an electric sander or a pole sander to reach the high places. However, don't sand down your walls too much, as they can easily clog.
Step 3: Dust and wash the walls
Dust down your walls and clear off the dirt and the cobwebs extensively. Next, use warm water and a cleaning detergent and mix it according to the manufacturer's recommendation. Dip a sponge and wipe down your walls, especially the oily and greasy areas, until it's clean. If there's too much dirt on your walls, try commercial wall cleaners like TSP.
Step 4: Make any repairs needed
Look for any nail holes, cracks, and gaps on your wall and fill them before painting or priming. If your drywall is damaged, consider getting a drywall contractor to inspect it and recommend a repair technique.
If your walls previously had mold, seek a mold remediation expert near you and ensure the matter is handled before painting.
If you don't have the budget to hire pros for repairs, get a drywall repair kit or a patching compound for plaster, then do the repairs yourself.
Priming is a critical step to ensure that the paint adheres well with your wall. Starting with a coat of primer ensures that your paint colors pop and hides any patched imperfections of your wall.
A great tip to consider is using a tainted primer when hiding patches. Apply two or more coats of primer, especially if you're painting over dark colors.
You should also prime your walls if you're repainting dark-colored paint with light-colored paint. If you're also changing a latex paint for an oil-based paint or vice versa, priming will also help in adherence.
However, priming may not be necessary if your walls were in good condition during the painting.
Step 6: Mix and stir the paint(s)
Start by mixing your paint and stirring using a wooden paint stick to sort out any color variations. If you're using more than a gallon, pour them into a bucket and stir.
Do this for at least three minutes before painting. Using poorly mixed paint will cause some color inconsistencies once the paint is applied.
Step 7: Cut in from the edges
Take your angled brush and start painting from the wall edges and corners near the ceiling, then cut in a 2 – 3-inch band against the molding. Now take your paint roller to paint over all the large wall areas.
Roll in W's and M's to equally distribute paint over the wall or horizontally if you're spreading using a paintbrush.
Tip: When the roller starts making a peeling noise, that's a sign that you need to dip it onto a paint-filled tray.
Step 8: Add another coat and clean up
Based on the results of applying the first paint coat, add more coats until you're satisfied. Between the process, let each paint coat dry first and sand gently to smoothen out the imperfections.
Finally, paint your trims, let them dry, and clean up all the waste left from the painting.

Important: Before doing all this, take some time to plan, budget for the preparations, and gather the supplies you'll need. Keep in mind that prepping your walls could take more than a day, so don't rush the process.
Most wall cleaners have harmful effects on your skin, and some emit fumes that can be detrimental to your health. This is why you should always put on your protective equipment before dealing with any product.
Some of the essential equipment you could use include:
Hand gloves
Face mask
Eye goggles or glasses
Apron
Even after you put on your PPE, ensure that the room you're working on is well ventilated. Open the windows and doors, or use a fan if working on the basement.
Good ventilation improves the drying time of the paint and also keeps all toxic fumes away from the house. If you're working on a damp and rainy day, keep your fans running in the room.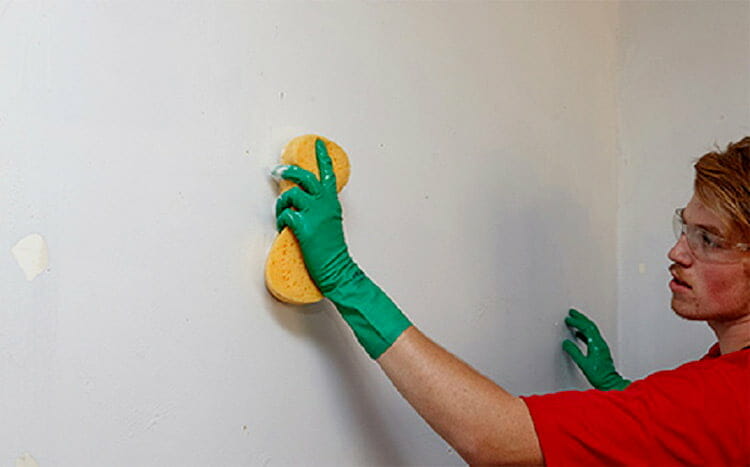 Best commercial wall cleaner
Choosing the right wall cleaner is the secret to cleaning your walls quickly and effectively.
The best cleaner should be effective, easy to apply, have no harmful ingredients, and be versatile on multiple surfaces. A good scent is also a big plus.
Our picks below feature all the wall cleaners that satisfy all factors above.
This general-purpose wall cleaner is one of the best in the market if you're looking for value and a great scent. The cleanser removes dirt, grime, and grease quickly on multiple surfaces.
It's made with biodegradable contents making it environmentally friendly and has come out on top on multiple lab tests.
Mix a gallon of water with a ¼ cup of the wall cleaner and directly pour it on the sponge. You don't need to rinse or wipe. It works well on finished wood. When disposing of, consider recycling the can or throw it in your trash.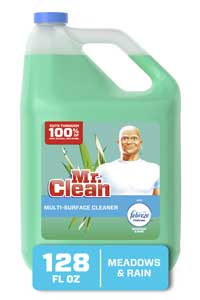 Features
Biodegradable and environmentally friendly
Eliminates odors and comes with great citrus or vanilla scents
Doesn't need rinsing
Works on multiple surfaces
Cuts through grease, grime, and dirt
This heavy-duty powder cleaner is very popular among painting professionals because of its effectiveness in cleaning walls.
Its main ingredient is TSP which can easily remove stains, smoke, grease, and oils on your walls. The cleaner is also very easy to apply and can wash away paint remover sludge.
First, put on your hand gloves and dissolve ½ a cup of this product. Soak your sponge with the solution, wring it, then apply it to your walls. You may need to wash it twice before rinsing it with warm water.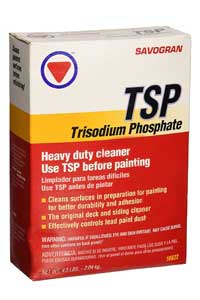 Features
The chemical doesn't have fumes
Removes dirt, grease, and smoke on your walls
Easy to apply when diluted
Can be used for painting stripping
Do you need to wash the walls before painting?
Yes! Although most homeowners and some professional painters tend to skip this step when painting, most paint manufacturers recommend washing walls before applying paint.
Washing your walls removes any dirt, dust, grease, oils, and cobwebs that might have accumulated on the surface. This is important in producing even and aesthetically-pleasing coats of paint on your wall.
The only exemptions to avoid washing is if the walls have minimal contact with hands and objects if there's no fireplace and if there are no cooking activities in the room.
What is best to wash walls with?
In most cases, warm water and a sponge or warm water with added detergent will do the trick for the walls. Avoid using detergents with harsh chemicals as they damage the wall even before you start painting.
For tough stains and grimes, you may have to use commercial cleaners like Ammonia or Trisodium phosphate (TSP) to get a spotless wall.
If the wall had mold or mildew, you'll need bleach solution or white vinegar to kill the mold and eliminate their musty smell.
You can also use a power washer to clean your exterior walls.
What's the easiest way to wash walls?
Scrubbing the wall with warm water and detergent. Using your regular non-abrasive detergent, you can easily scrub clean every dirt and dust on your internal walls. All you'll have to do is to dip the sponge in the detergent solution and then wring it and wipe down your walls.
If you're short or just lazy to reach those high corners of your walls, use a mop with a sponge or dry cloth attachment.
For the exterior walls, using a power washer is the quickest and easiest method.
Note; Don't let the dripping water from your sponge run down your walls for a long time. Too much exposure to moisture will damage the wall.
Do painters wash walls before painting?
No! Most professional painters don't wash walls before painting because it's not part of their job. Before calling them, a painter assumes that you've already cleaned your walls, and all they have to do is prime and paint.
If you want them to wash the wall first, they'll charge you something extra besides the agreed painting price.
It depends on your paint project. Professional painters will mainly sand your wall if it shows some imperfections or bumps before painting. Sandpaper smooths out the surface ensuring high-quality finishes.
They may also sand the walls if the wall surface was initially covered with a high and semi-gloss paint. If the wall needs several coats of paint, painters might also sand in between the coats.
Yes! Most painters today can fix the minor drywall issues on your walls and ceilings before applying paint. You can therefore hire just one contractor to handle both painting and drywall repair, which is cheaper.
Nonetheless, most painters can't handle large drywall issues like large holes and cracks. In such a case, you'll first have to hire a drywall expert to fix the damage and then a painter to paint.