The question of whether or not painting a basement floor is okay is one contractor encounter nearly every day, even though they've made it crystal clear; it's okay and very possible.
However, there's more to the painting process than what most homeowners know. To achieve the best results, you have to use the right paint, supplies, and correct techniques.
It, therefore, goes without saying that this job is no task for an amateur DIY. That said, here are some guidelines to follow when looking to paint your concrete basement floor.
Yes! Painting your basement floor is a quick and cheap way of renovating and improving the overall aesthetics of your basement.
It's also a good way to enhance moisture control in the basement. The will paint act as a protective sealant, preventing moisture beneath the ground from entering the basement. This in turn ensures that the conditions aren't right for the growth of mold in your basement.
Most homeowners also enjoy easier maintenance requirements after painting, as well as enhanced safety i.e., reduced risk of tripping, slipping, and falling.
All these benefits come in handy, especially when planning to sell the home. Statistics show that a renovated basement can yield a Return on Investment of up to 70%.
However, it's important to note that painting the basement floor isn't a one-time job. It's also far from a long-term solution. Over time, the floor paint will start peeling or chipping and you'll need to repaint again.
So, as long as you're okay with having to repaint once every few years, it becomes a cheap and worthwhile investment.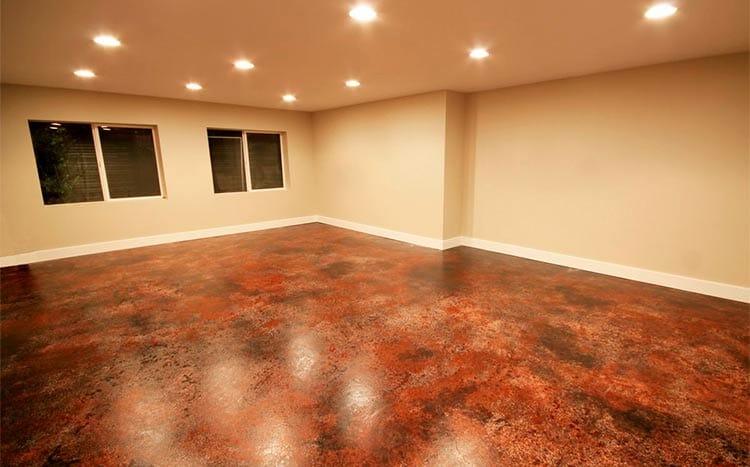 What kind of paint do you use on a basement floor?
Epoxy paints. Since most basement floors are made of concrete, epoxy paints are the best for the job. This is because they adhere well to concrete, are easier to apply, and are very durable.
Unlike other paints, epoxy paints remain intact despite the regular expansion and contraction of concrete due to temperature differences.
The paint also doubles as a sealant, blocking moisture from getting through to the basement. There are three major types of epoxy available in the market i.e.,
Water-based solvent
Solvent-based
100% solid
Each of these epoxy paints differ depending on the amount of solid (epoxy) they contain. The 100% solid is the purest of epoxy paints, but it's hard to apply and is very costly. It's best left for the pros.
The solvent-based epoxy is a mixture of 40 – 60% epoxy and chemical solvents. It comes in several different colors making it very popular. However, it emits poisonous fumes which means you need protective gear when applying it.
Water-based epoxy is also a 40 – 60% epoxy mixed with water. It's the most recommended epoxy paint for DIY since it doesn't emit any dangerous fumes.
Using other concrete paints and stains is highly discouraged by experts because they will easily crack and damage in a short time.
What is the best color to paint a basement floor?
Beige, Ivory, Green, and Grey are among the best colors you can apply on your basement floor. These colors create a warm vibe that makes the basement more homey and less creepy.
However, you're not limited to these colors. As the homeowner, you can opt for whatever pleases you, just ensure it's congruent with the walls, ceilings, and other architectural aspects of the basement.
If there's poor lighting in your basement, you want to consider lighter paint colors for the floor.
Tip: When stranded at picking a color, go for a darker shade of the paint color on your walls. It may not be the best, but it'll create some harmony with the rest of the room.
Best paints for a basement floor
Now that you know the type of paint to look for, the next hurdle will be picking the best from the myriad of options available in the market today.
Here are our top picks of concrete basement floor paints. Our choices are based on recommendations from some of the best professionals in the country.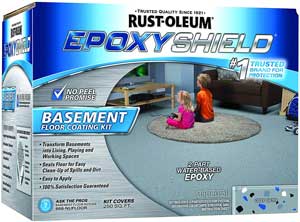 The top spot for the best paint for concrete floors goes to Rust-Oleum. If you're looking for a fresh, brand new look for your basement, you can never go wrong with this manufacturer.
Their EpoxyShield Basement floor coating kit boasts of impressive adhesion with concrete, moisture resistance, and low odor.
It has excellent coverage on previously painted floors and those that are badly damaged. Being a water-based epoxy, it also cleans well with soap and water and is very easy to apply.

Pros
Easy to apply
No harsh toxic odors
Easily cleans with soap and water
Attractive satin finish
Resistant to cracks and wear
Moisture resistant and non-flammable
Cons
Short lifespan when applied inappropriately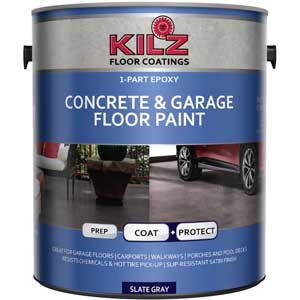 KILZ 1-part epoxy acrylic paint takes the second spot. The paint is widely preferred by many expert painters due to its flexibility in application on high traffic surfaces.
It can be successfully applied on floors indoors and outdoors and works on garages, driveways, and porches besides the basement floor.
Being a water-based epoxy paint, this paint is resistant to oils, chemicals, and gasoline. It's also very durable, dries quickly, resistant to cracks and peeling, and produces very beautiful finishes.
Additionally, KILZ promises a long lifespan for the paint with minimal need for maintenance and repainting.
It's, therefore, the perfect paint if you regularly use your basement, or store a lot of heavy things.
Pros
Dries fairly quickly
No premixing required – easy application
Very durable and long-lasting
Can be used on interior and exterior surfaces e.g., garage floor
Low odor since it's water-based
Slip-resistant stain finish once dry
Resists fading, scuffing, peeling, scratching, and blistering
Cons
Only available in grey color
Requires two coats to be effective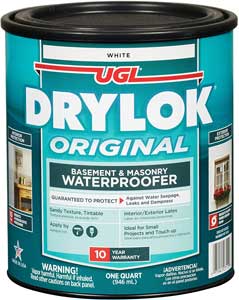 Drylok Extreme Masonry waterproofer is one of the best paints for water- proofing your basement floor.
Unlike other paints that only adhere to the floor surface, Drylok penetrates into the pores of your concrete and bonds with it. This makes any water penetration impossible and kills off any chances of mildew growth.
It can also withstand up to 15 PSI of water pressure and looks fantastic with a bright white finish once applied.
Moreover, the Drylok paint is also environmentally friendly, having been green-wise certified. It has also fulfilled all the current VOC regulations
Pros
Comes with a 15-year fully transferable warranty
Can withstand cat 4 hurricane winds
Guaranteed waterproof with a balanced thickness
Low odor paint that observes all VOC requirements
Green wise certified – safe for the environment
Tintable
Easy to clean up with warm water and soap
Durable and ages smoothly
Cons
Very thick and slow to dry, may take up to 24 hours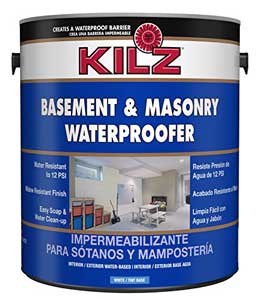 Another KILZ product we couldn't fail to mention is their Interior/Exterior Basement and Masonry Waterproofing paint. The biggest appeal to this paint compared to other paints from the manufacturer is its waterproof/sealant nature.
KILZ ensures that the paint is versatile allowing it to be used on a basement floor, masonry wall, concrete slab, and even brick.
It utilizes nanotechnology to create a protective barrier that stops any water infiltration to your basement floor up to 12 PSI. This coating is also alkaline resistant, making it more durable and less susceptible to leaking.
In terms of application, this paint allows you three options. You can use a paint roller, nylon paint brushes, or spray paint.
Pros
Excellent waterproofing mechanisms
Has a low odor formula
Alkali coating resists mold and mildew
Dries relatively quickly (Takes between 60 minutes to 4 hours)
Easy to clean with warm water and soap
Repels up to 12 PSI of hydrostatic water
Durable and long-lasting formula
The tinted base coat makes custom colorization possible
Cons
Takes time to mix the paint well
Requires two coats to be effective
Requires a lot of prep work
Doesn't offer much protection against other elements besides water
Initially not designed as a floor paint
Factors to consider when choosing a basement paint
Your choice of concrete basement paint shouldn't be solely based on our recommendations or that of any expert. You have to do know your own research to find out which paint will work best for your basement floor.
Some of the main factors that should dictate your decision include:
Type and formulation of the paint
There are two main types of paint for concrete; latex acrylic paint and epoxy paint. You'll want to pick epoxy paint for your concrete basement floor because it's more sturdy and bonds well with concrete floor materials.
Latex acrylic paints can also be used to paint your basement floor, but they may not offer you the durability and lifespan of epoxies. They're however much easier to apply.
Different paints will require you to use different application techniques to achieve the best results. This is due to the varying formulations of each paint.
You, therefore, want a paint you can apply using the techniques you know. For instance, most epoxy paints can't be sprayed since they can have devastating health and environmental implications.
Acrylic latex paints among other textured concrete paints can however be applied through paint rollers, paintbrushes, and spray cans.
So, if you're working on a DIY, go for the paint you can apply.
Safety (Health and environmental)
The paints you use should be certified as friendly to the environment. This means that it shouldn't emit any poisonous fumes or choking odors. Ideally, look for paints that comply with all the Volatile organic fumes and compounds (VOC) regulations.
Flexibility and versatility
Even though you're only thinking of your basement floor right now, tomorrow you may need to repaint your walls, ceilings, foundation, or trims. Therefore, don't go for a paint that only serves one purpose.
There are numerous paints in the market that can work perfectly on both indoor and outdoor surfaces. Moreover, an increasingly high number of paints can now waterproof concrete, rooftops, stucco, wood, among other materials.
Going for such paints will make your painting costs cheaper in the long run.
Every paint comes labeled with its expected drying time. Compare this time with how fast you want to complete your project. If your basement is a high-traffic area, you'll want paint that dries quickly.
Generally, the thicker a paint is, the more time it'll take to dry. Take into account the humidity of your area, then determine how long you can afford to stay out of the basement as it dries.
Durability and maintenance
You want to paint that's resistant to cracks, peeling, scratching, and scuffing. Mold and mildew resistance is also a big plus with your basement floor paint. These factors will determine how long that paint will last on your floor.
Check also to ensure that the paint is easy to wash down once it's cured. Are you comfortable using harsh chemicals to clean the floor surface (common with epoxies), or do you want to paint that only requires warm water and soap?
Factoring these features in your research should help you make the right choice on concrete basement floor paint.
How to paint your basement floor (Step by step)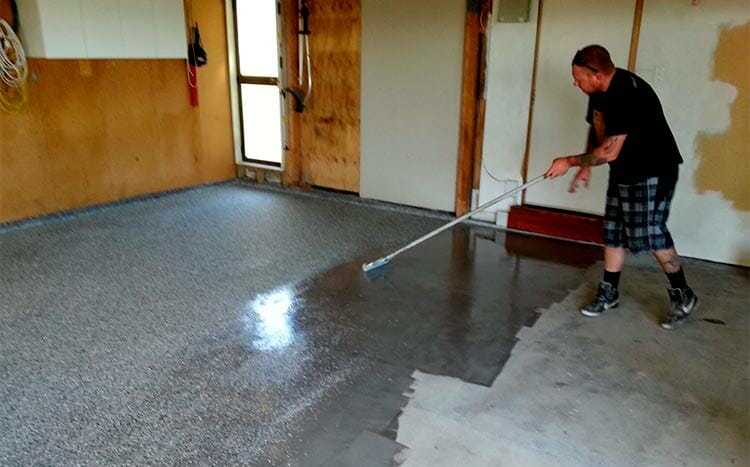 Protective gear
Foam paint roller
Paintbrush
Epoxy concrete paint or concrete floor paint
Degreaser
Dehumidifier
Epoxy primer
Vacuum cleaner
Contractor's broom /mop
Painter's tape
Bucket
Concrete patch kit
Step 1: Prepare and clean the basement floor
Before you begin painting, prepare the surface to ensure it sticks properly to your basement floor. This means removing all the furniture, laundry equipment, and any other stored objects from the basement.
Next, sweep up and vacuum the floor then use your bucket and mop or brush to scrub the floor. If there are any stains, grease, or oils, use a detergent or degreaser to remove them.
Clean the entire space and ensure no debris, dust, or dirt is left behind. Other important steps you may need to follow include:
Test for moisture
Next, check your flooring for moisture or dampness. Most basements tend to harbor puddles of water or moisture around the corners. The dampness mostly appears as conspicuous dark spots. Use your dehumidifier to get rid of this moisture.
Make the necessary repairs
Look out for any cracks or holes on your basement floor then use a concrete filler or your concrete patch kit to make the necessary repairs. If there are any rough spots on the flooring surface, use sandpaper to smoothen it out, then leave the patch to dry.
If you plan to paint over old paint, lightly sand down the surface to roughen it up a little then vacuum the extra debris.
Place the painter's tape
Finally, place the painter's tape around any area you don't want the paint to get through. Ensure that the tape is firmly placed around all the floor boundaries.
Using your epoxy primer, start at the farthest corner of your basement and apply it using the paint roller towards the exit. Use two coats, and allow the first coat time to dry before applying the second.
For the tight corners, pour the primer onto the paint tray then use your nylon brush to work the small spaces and supports.
Ensure the coat is uniform then leave it to dry for at least 24 hours.
Step 3: Apply the Epoxy paint
Once the paint is dry, prepare your epoxy paint. Since epoxy dries quickly, ensure you don't mix too much paint at a time. Moreover, don't put too much of it on the painter's tray.
Then just like the primer, take your roller then start painting from the farthest corner towards your door. Use the brush when working around edges then let the first paint coat dry as specified by the manufacturer (usually 12 – 24 hours).
Once the first coat is dry, apply the second coat the same way you did the first and let it dry. Any artistic designs you may want should come as the third and topcoat.
Tip: Some paints may require more coats. Therefore, check the paint's reviews to find out the recommended number of coats required for your selected paint.
Step 4: Apply a concrete basement floor sealer (Optional)
To increase the durability of your basement floor paint, you can opt to apply an extra sealer just before painting. Look for an interior sealer like the RUST-OLEUM Epoxy Shield Basement Floor Kit and apply it just like the paint.
Ensure the sealer is evenly spread then give it time to cure before using the basement.
Pro tips to get the best results
If your basement is very big, divide the room into sections then use caution tape to block off the different sections. This way, you'll be able to complete each section evenly without stepping on a completed section.
Before you apply the epoxy paint, ensure you have a bucket of soapy water and a damp cloth close by. You'll need them to clean any splash or splatter that may happen to the walls or other structures when painting.
If the sealant dries before you can remove the painter's tape, use a sharp blade to cut along the edge of the tape. This will make it easier to pull out.
Hire a professional to do it for you
Instead of struggling with all the hassle of painting your basement floor, why not let an expert do it for you?
Using our FREE service, HomeGardenGuides.com, you'll easily receive quotes from contractors in your area all voted best and most reliable by previous users.
To access it, simply scroll up to the top of this page and fill in your zip code plus a few details about your basement floor paint job. We'll forward those details to the experts who'll then quote your job and offer some friendly advice!
It's fast, easy, and stress-free!