To conduct painting jobs in Connecticut, you do not need a state license.
However, the Home Improvement Act in the state requires businesses and individuals contracting in residential properties to register with the Department of Consumer Protection (DCP). You must register with the department as soon as you start handling contracts worth $200 and above.
Depending on your work, you need to register as a major or minor contractor. Major contractors work on large projects and commercial developments. Minor contractors work on residential projects.
According to the Home Improvement Act, home improvement refers to any permanent change to a residential property. It includes waterproofing, painting, patio installation, fence development, insulation, flooring, and other projects.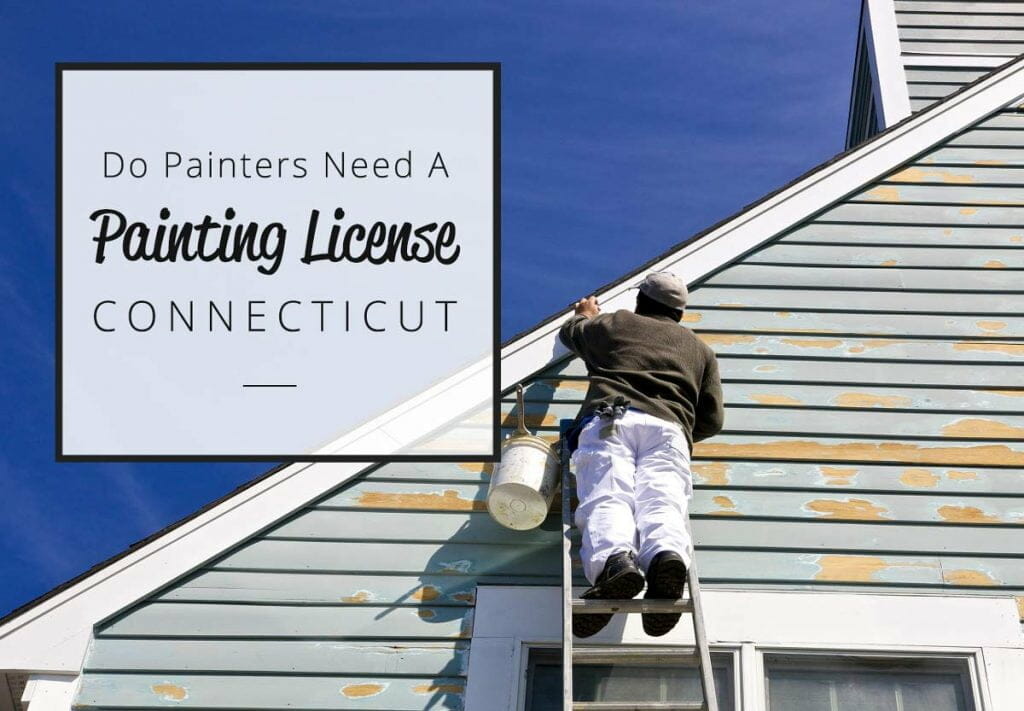 Where to get a painting license
As a painter in Connecticut that takes jobs worth over $200, you must register with the local representative of the Department of Consumer Protection in your city.
To register as a painter, you need:
To show proof of business insurance in Connecticut.
Provide reference to your knowledge and skills.
Benefits of registration include:
You can start your own painting business in Connecticut.
You can provide jobs to other painters.
The Connecticut Department of Professional Licensing licenses professional contractors. Since painters do not need licenses in Connecticut, you will register as a Home Improvement specialist.
To qualify for your license, you must:
Pay, sit and pass the professional examination.
Pay the $120 biannual registration fee.
Deposit $480 to the New Home Construction Guaranty Fund
Pass the Connecticut Business and Law exam.
A licensed contractor proves their competence in their line of work. Additionally, contractors can use their licenses to get more customers for their business.
A license may also provide leeway for the painter to charge more than other painters.
What can happen if you work without a license in Connecticut?
If you are found contracting without a proper license or registration license in Connecticut, you will land in serious trouble with the Department of Consumer protection.
For your first violation, you can expect to pay a fine of not less than $1,000. If you are caught a second time, you will pay a $1,500 fine for the violation. A third violation is more serious, and the Department of Consumer Protection can fine you up to $3,000 for failing to meet licensure/registration requirements.
Further, even if you have a painting license in Connecticut, you are not allowed to hire an unlicensed subcontractor.
Here are more ramifications of working without a license in Connecticut:
Your clients may not pay you for the services. To make matters worse, you cannot sue the clients for refusing to pay you.
If you are caught operating without a license, you may be forced to return all money earned from all projects you completed without a license.
Consequences of hiring an unlicensed painter
As a homeowner, do not hire an unlicensed contractor. Here is why:
Shoddy work. Unlicensed contractors may not have completed the proper training, so they may offer low-quality work that does not exhibit any professionalism.
Your insurance provider will not pay for any damages or injuries. If an unlicensed painter works on your property and ends up causing damages to your property or causing harm to you, you will be on your own. Hiring an unlicensed or unregistered painter voids your insurance.
You might end up paying for your contractors' medical bills if they are hurt on the job. Any unlicensed and uninsured painter working on your property becomes your liability.
Unpaid subcontractors or suppliers may put a lien on your house. Suppose the unlicensed painter you hire does not pay his subcontractors or material suppliers. In that case, the subcontractor and supplier may file a legal claim on your home to secure payment for their debts.
Can I paint my own house without a license in Connecticut?
A painter in Connecticut does not need a license to work. Therefore, you can paint your house without a license.
As a homeowner who chooses to DIY your painting project, you will not need a permit. However, if you hire a contractor, you may have to pay for the permit. 
However, even though you may paint your house without a license, there are safety guidelines you should follow for your safety, especially if your home was built way before 1978. 
To be on the safe side, it is best to hire a contractor, not only for health reasons but also for high-quality work. Also, if you rarely get free time, the best option would be to hire a professional to complete your project on time.
Lead paint disclosure Connecticut
A lead-based paint disclosure is a federal and Alaska legal requirement when selling or renting property built before 1978.
Before selling a house, sellers must inform their prospective clients' presence of lead-based paint in the. Additionally, sales contracts must include the lead paint disclosure.
Lead is harmful to humans as it can cause lead poisoning in young children and expectant mothers. Some of the effects caused by lead paint include neurological problems such as reduced IQ, impaired memory, and learning disabilities.