Mold-resistant paint helps prevent mold and mildew growth in your bathroom, kitchen, basement walls. A good quality mold resistant has anti-microbial components that actively kill any mold or mildew before it grows. Read on to learn more about mold-resistant paint and what you should look for when shopping for one.
One of the top mold-resistant paints out there is Zinsser's Perma white mold and mildew resistant interior paint. This paint has an active antimicrobial compound that kills mold and mildew before it spreads. Other good quality paint manufacturers making mold-resistant paints include Kilz, Fiberlock, and Benjamin Moore.
Zinsser's Perma White $30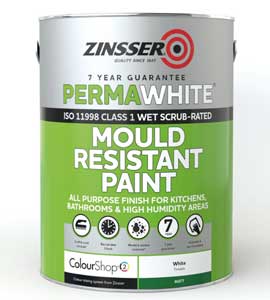 Our top choice for mold-resistant interior paint is Zinsser's Perma White mold and mildew resistant paint based on its performance and ratings from interior painters and mold experts. You can purchase this paint from any hardware store in your location or online.
Why Choose Zinsser's Perma White Mold and Mildew Resistant Paint?
Here are some of the reasons why this mold-resistant paint takes the top spot and why you should also try it:
Tried and tested mold-resistant + established brand – Zinsser has been making top-quality paints for a long time and was one of the first manufacturers to start making mold-resistant paints. They have several mold-resistant paints in their product lineup and have a proven track record for making quality affordable paints.
Contains a potent Mildewcide – The paint contains a potent EPA-approved mildewcide that prevents mildew and mold formation on the paint film for up to five years. It's also moisture resistant.
Price – Zinsser has the best prices in this category as compared to other manufacturers and has pocket-friendly quantities that are widely available across retailers in the United States. A gallon of Perma-White 1 gal. Mold & Mildew-Proof Satin Interior Paint will probably cost $30 bucks at your local store or online retailer.
Non-lead paint – This paint does not contain any lead in its formula which makes it safe and legal to use on your interior surfaces. You don't have to worry about the health risks of using lead-based paint as the manufacturer clearly states that it's a non-lead paint in the packaging.
Comes with a 5-year Warranty – The Zinsser Perma-white interior paint comes with a 5-year Mold and Mildew-Proof paint film guarantee. This means you can expect to have zero issues with mold or mildew for at least five years before you need to apply a fresh coat of mold-resistant paint.
Other features that make this paint our number one anti-mold paint include:
Washable paint – This is an oil-based paint meaning it can be washed and splashed frequently without fading or discoloring.
Self-priming – Zinsser's Perma-white interior paint does not need a primer and sanding when it's being applied.
Low-odor paint – This is a low-odor paint that makes it perfect for bathrooms, kitchens, and finished basement walls and ceilings.
Kilz Basement and Masonry Waterproof Paint $38.54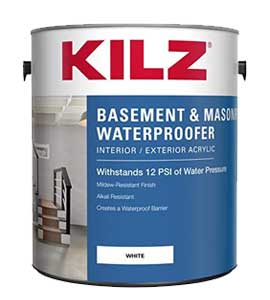 Kilz has several interior and exterior paints in their product lineup including mold-resistant paints. Their best product as far as mold resistance is concerned is the highly-rated Kilz basement and masonry waterproof paint. While this paint does not have an active mildewcide in it, its effectiveness against mold comes from its formulation. It is made with nanotechnology making it one of the best waterproof paints out there.
Why Kilz Basement And Masonry Waterproof Paint?
Interior/ Exterior Paint – This paint is designed to be used on porous concrete and masonry surfaces on the exterior and interior surfaces.
Water and Moisture Resistant – Kilz Basement and masonry waterproof paint form a permanent barrier to prevent water and moisture infiltration due to its unique nanotechnology formula. This makes it resistant to mold and mildew as it cannot grow on dry surfaces.
This paint is not sold as a mold-resistant paint but it's effective because of its waterproofing capabilities. A gallon can cover at least 125 sq feet with at least two coats required for the best results. The paint comes with a five-year warranty.
Behr Premium Plus Ultra $29.22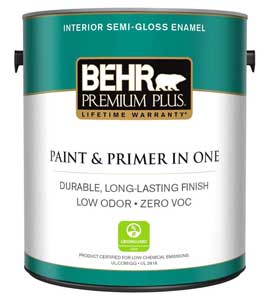 Behr makes a range of high-quality interior and exterior paints. Most of them provide excellent mold resistance and are waterproof. Behr Premium Plus Ultra has a 100% acrylic base that is great for mold and mildew resistance. It is a general-purpose interior paint meaning it is not just made to be used on bathrooms and basements where there is a lot of moisture. This paint is also reasonably priced at $29 a gallon and widely available.
Why Behr Premium Plus Ultra?
Provides Excellent Mold Resistance – Almost all Behr interior paints have antimicrobial components that actively prevent mold and mildew. At the same time, this specific paint's 100% acrylic base also prevents moisture from getting into the paint thus preventing mold and mildew that grows on damp surfaces.
Premium Paint – Behr is a premium paint manufacturer and its products are widely used in the industry. You are not only purchasing mold-resistant paint but one that is rated highly and proven to last.
Wide Array Of Colors And Sheens – You can get Behr Premium ultra in many colors and sheens such as satin, eggshell, and matte to suit your interior design needs. All these available in your nearest store online.
Affordability – A gallon of Behr Premium Ultra will set you back twenty-nine dollars which is a bargain given that is a premium product with anti-mold properties as well. The paint is also available in all quantities starting from 8 ounces for $3 in most stores.
Fiberlock Aftershock $63.41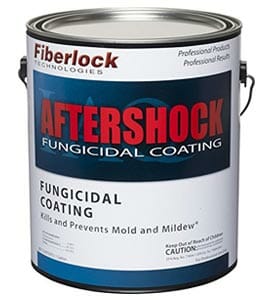 Fiberlock Aftershock is a high-quality anti-mold coating that you can apply to your bathroom walls and ceilings. Aftershock actively prevents mold and mildew in an area with high moisture levels. The paint is best used as a coating applied on top of a base paint but can still be used on its own as a self-priming paint. Fiberlock Aftershock is widely available across US stores and online.
Why choose Fiberlock Aftershock?
Tried and tested Anti-mold coating – Fiberlock Aftershock is widely used and recommended in the mold prevention and removal industry as a defense against mold and mildew. The paint has an EPA-approved fungicidal that actively kills any mold or mildew spores on your walls.
Multiple-purpose paint – You can use Fiberlock Aftershock as a primer or as a finish coat making it a multipurpose paint. The paint has a beautiful semi-gloss finish besides being a potent mold and mildew killer.
You can use it in areas prone to mold such as bathrooms and basements. It does not have a strong odor and therefore quite comfortable to have indoors.
Aftershock should be used on pre-cleaned surfaces to kill residual mold and mildew and prevent future growth. If you already have significant mold in the wall to be painted, you should first have it removed professionally before you apply this coating.
This mold coating can be used on various surfaces including drywall, masonry blocks, galvanized metal, concrete, etc.
Long-Lasting – Aftershock is a durable anti-mold painting that will keep mold and mildew away from your walls for years. A single coating can last up to five years before it needs to be re-applied.
Rust-Oleum Zinsser Mold Killing Primer $35.98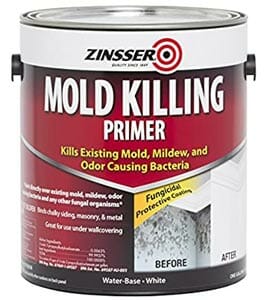 Rust-Oleum mold killing primer is yet another great product from Zinsser. This is a potent water-based fungicidal coating that can be applied on top of base paint to kill any mold and mildew in moisture and splash-prone areas of your houses such as bathrooms and garages.
Rust-Oleum isn't your normal primer. It has a potent EPA-approved antimicrobial component that actively fights against mold and mildew that may try to grow on your wall. The primer is odor-free and safe to use in living areas even for those with allergies or other conditions.
Active Mold Killer – Rust-Oleum can be applied directly on top of the existing mold and it will kill it. However, it is recommended that the primer be applied on pre-washed surfaces and use a mold and mildew prevention coating as opposed to a mold killer. Rust-Oleum has an active EPA-approved antimicrobial component in it that stops mold, mildew, and fungal stains on your walls.
Comes from a reputable paint manufacturer – There is no doubt about this paint's quality given the manufacturer's track record. This is the second anti-mold product mentioned in the list because Zinsser is among the top recommended interior paint manufacturers in the country. Their anti-mold paints and primers are quite good and used widely by professional painters. What's more, Rust-Oleum comes with a five-year warranty.
Can be used as paint or primer – Don't let the naming fool you, Rust-Oleum Zinsser mold killing primer can still be used as a normal paint in most cases although it is labeled and used as a primer. Most people just use it to paint over existing mold as a primer.
Budget-Friendly Anti-Mold Paint – This is among the best budget-friendly anti-mold paints. A gallon starts at $61 in most stores and can cover up to 40- sq feet. It's best combined with Zinsser Perma white.
Rust-Oleum mold killing primer can be used on exterior and interior non-porous surfaces. It can be used on residential and commercial buildings.
Benjamin Moore Aura Bath and Spa $32.99 – $75.99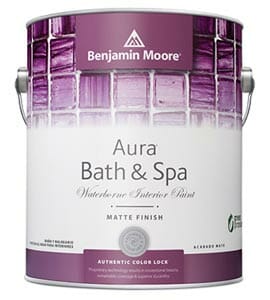 For many years, Benjamin Moore has been known for its premium paints that also have anti-mildew and mold-resistant additives. Benjamin Moore paints are some of the best out there with their flagship interior paint named Aura being the most popular.
Here is why you should try Benjamin Moore Aura
EPA Approved – It has active EPA-approved anti-mold and anti-mildew additives that will protect your interior walls for many years.
Premium quality – This is premium paint with buttery smooth application and rich colors. It also offers exceptional coverage and a rich finish
Colors – Comes in a variety of colors and sheens such as matte, semi-gloss, and egg-shell
Low oder – It's a low-odor paint perfect for interior spaces such as bathrooms and living areas.
Washable – Can be repeatedly washed without losing its color
No primer needed – The paint combines a primer and base paint so there is no need to purchase and apply primer separately thus saving you some money
Benjamin Moore paints are widely available across the United States and can also be purchased directly from the manufacturer through their US website.
Zinsser Add-2 Mildewcide Additive $7.62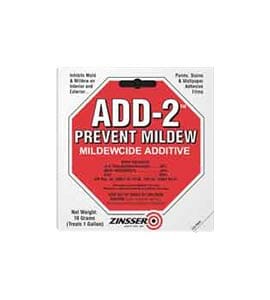 Additives are mixed with paint and purchased separately. Zinsser's ADD-2 PREVENT MILDEWCIDE additive is a great alternative to mold-resistant paint. It's available as a 10 gram and 50-gram packet in any paint shop that stocks Zinsser products.
The Zinsser's ADD-2 PREVENT MILDEWCIDE additive can be used with any paint even those from other manufacturers. It blends well with paint, wallpapers, or stains and provides long-lasting mildew and mold protection. This is an EPA-approved fungicide that is safe to use even in living areas. It does not affect the color or sheen of the base paint it's mixed with.
Alternatives to Mold-Resistant Paint
A great alternative to mold-resistant paint is to buy an additive. So you can buy regular interior paint and just added a mold resistant additive which will make the paint mold and mildew resistant.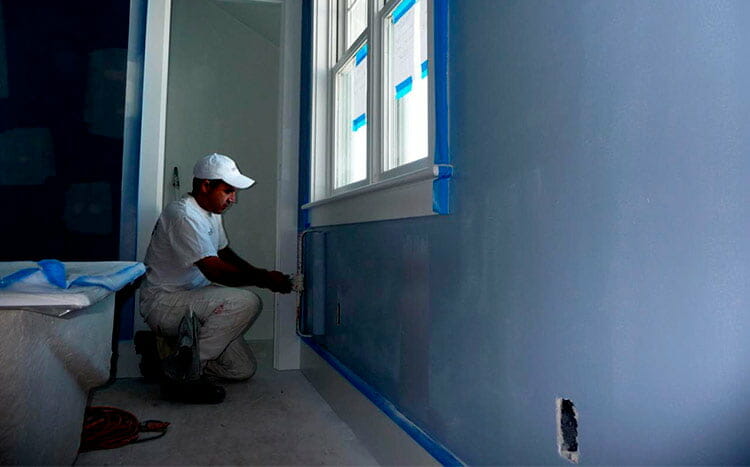 Good quality mold-resistant paint should last for at least five years and retain its mold-killing capabilities for that period. This is why most mold-resistant paint products come with a five-year warranty. Some paints will last longer if they are used in a relatively dry area. After five years, you can apply another coat of mold-resistant paint or primer to prevent mold and mildew.
You should look for a professional mold removal service to inspect and get rid of existing mold especially if it is toxic black mold. Mold experts will do an inspection to test for the type and amount of mold before they clean it using professional equipment and chemicals. It is not advisable to try and wipe off mold on your own as it could cause allergic reactions and also spread to other areas.
In some cases, you may be able to get rid of small amounts of mold by painting over it using a mold killer or primer. However, the recommended approach is to clean the wall off before painting.
Mold-resistant paint should be used in rooms and areas that are prone to splashing and have high levels of moisture. For instance, bathrooms and basements are the best candidates for mold-resistant paint.