Paint stripping is essential to getting great painting results. This is because failure to appropriately strip paint increases the chances of premature flaking, cracking, and peeling. It can also create ugly bumps and an uneven surface that isn't as smooth as it should be. As a result, choosing the right paint stripper is imperative if you want to get quality paintwork results.
The process of finding the right paint stripping service starts with gathering the names of listed services near your area. Conducting phone interviews via phone, getting quotes from them, and then ranking them will be the next step.
Thereafter, you will then have to carry out face-to-face interviews of the best services — according to your rankings — before finally zeroing down on which service to go with. And in order to do this, you may have to rely on the recommendations of friends and family, search engines, review websites, and even specialized online tools.
Here is all you need to know about finding paint stripping services near you.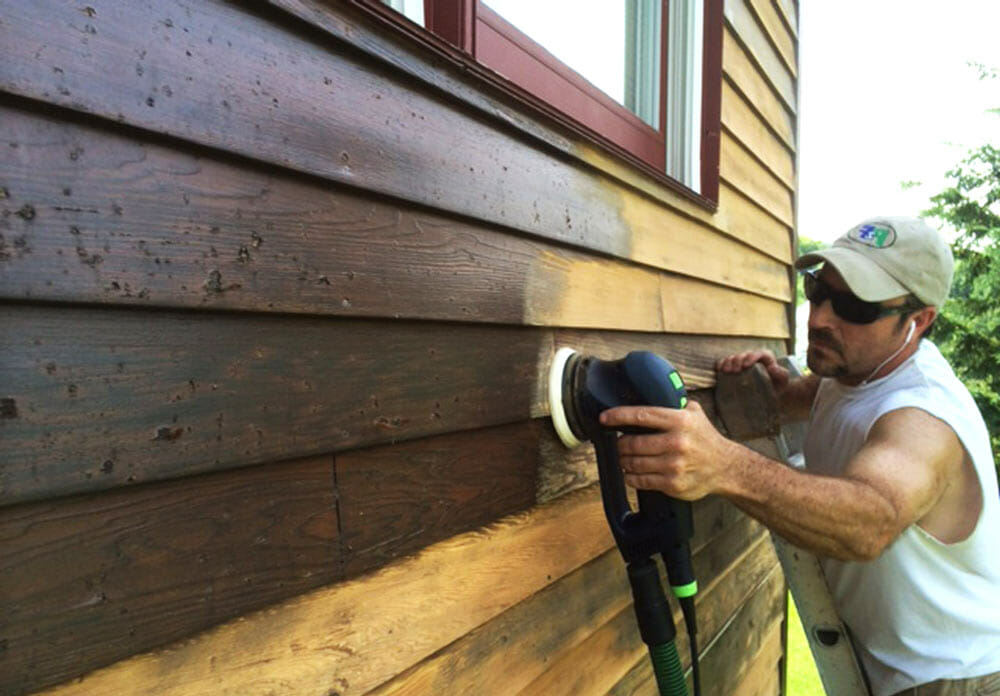 Before starting the journey of finding a paint stripping service provider, it is good to know what to expect in terms of what you are likely to spend. This knowledge will come in handy in helping you to evaluate the quotes in order to determine whether they are within a reasonable range.
| Cost per square foot | $3.6 - $7.53 |
| --- | --- |
| Furniture paint stripping | $45 - $240 |
| Stripping paint from wood | $161 - $295 |
| 1,500 sq ft house | $5,400 - $11,295 |
| National average cost | $8,565 -$17,966 |
| Average labor cost | $11,040 (for a 2500 square foot home) |
Choosing a good paint stripping service
There are a few things that you can do in order to improve your odds of finding the best paint stripping service near you. Here are the best tips.
The people you know are a perfect source of information as to which paint stripper to use. Friends, family, and neighbors give more reliable recommendations because they are people you know. You also have a better chance of examining the finished products that the recommended service provider worked on hence giving you a better opportunity for hands-on evaluation.
Don't just jump to the first service provider that is listed in your area. Collect a list from other people's recommendations, search engine searches, and even review websites like yelp.
Create a list of about 7 service providers near you and actually contact them for quotes. This should provide you with a good basis for ranking them initially. You can also lookup customer reviews for the specific services and then factor your findings– in addition to the cost of their paint-related services — into their ranking of the services.
While online reviews are useful, they are not perfect. They can be faked and not all people who receive services from a paint stripping contractor will go the extra mile of leaving an online review.
The references that the paint stripping contractor will provide you will be a reliable source of information. Make sure that you not only ask for them but also call them and interrogate them about their experiences. Doing so will also be an opportunity to weed out non-professional contractors who provide fake references.
Ask for and check for license
When a contractor's employees get injured when working on your property, you can be held liable for their medical expenses. And if the contractor ends up accidentally destroying property in your home in the course of their work, you may have a hard time getting compensated because they may not be wealthy enough to cover the cost of the damage.
Therefore, it is always a great idea to ensure that the paint stripping service provider that you intend to hire has the relevant insurance. This includes workers' compensation insurance and liability insurance. And in states that require permits, making sure that the contractor has the appropriate permit will save you from a lot of headaches down the line.
Conduct phone interviews and arm yourself with a list of questions to ask
It is imperative that you speak to potential service providers in order to get a feel for their professionalism and their reliability. These interviews will also be a great opportunity for gathering useful information. And to ensure that you get the most out of these interviews, it is advisable that you arm yourself with an exhaustive list of relevant questions.
Negotiate an appropriate payment schedule
It is never a good idea to pay all the paint stripping costs upfront. Even in cases where you have access to the funds, structuring the payment is advisable as it minimizes the risks of disappointment. It ensures that the contractor is motivated to not only finish the product on time but also do a good job.
Putting everything in writing, including the payment schedule and every other detail agreed on, will go a long way towards reducing misunderstandings. It will also help to crystalize the deal and give the terms more clarity. This will come in handy in helping you to ask more questions and get familiar with the terms under which your potential hire operates.
Questions to ask paint stripping service
When interviewing paint stripping service providers, it is always advisable to arm yourself with a list of questions. The following are important questions that you must include in your list.
What is the size of your crew?
What is the largest project you have ever worked on?
Are you working on any projects currently?
Do you accept payment schedules and if so, what type of schedules do they prefer?
Do you have all the relevant liability and workers' compensation insurance?
Do you have a list of past projects, and if so, do you mind sharing your references.
What paint stripping techniques do you use?
Are they equipped to handle a lead paint stripping project?
How do you structure your costs? Do you charge on an hourly basis or do you typically prefer to charge on a per-project basis?
Hiring paint stripping service in my area
The best way to hire paint stripping service providers in your area is to use HomeGardenGuides.com. It offers a free service that quickly matches you with the top-voted local expert cabinet painter.
Using the website, you can get 3 estimates fast by real certified experts in your area in just 2 minutes. Here is how it works.
You scroll to the top of the page and enter your Zip code.
Answer questions about your painting project
Your details will be forwarded to three local experts.
You will then receive a price estimate for the job and some friendly advice.
IMPORTANT: There is no obligation to hire. This is a free tool and service to be used at your pleasure.