Painting or staining your deck provides the ultimate protection against weathering and moisture damage. Read our comparison guide to discover the best method for your budget, deck type, and location.
Deck painting creates a thick protective topcoat layer that conceals cracks and holes and provides your deck with a uniform appearance. In comparison, deck staining is a less expensive alternative, primarily used to highlight the wood grain and preserve the natural appearance of wooden decks.
You can get a contractor to explain and offer guidance on the most appropriate technique for your project and prevent you from making costly mistakes.
Understanding the differences between painting a deck versus staining a deck is vital to attaining your desired finish for your home deck.
The main benefit of deck painting is that the thick layer of paint offers a near-permanent shield that you can use to repair superficial deck damage such as holes and surface cracks. Oil-based paints can provide excellent moisture protection. Using higher quality exterior paint products guarantees durability and helps minimize most paint-related problems.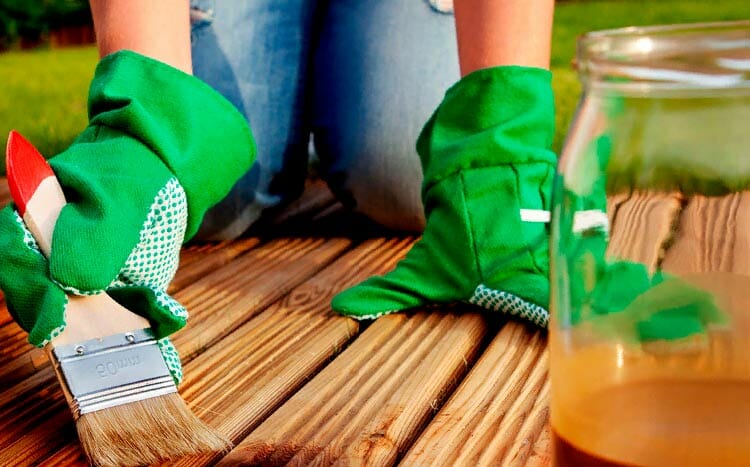 Staining your deck allows you to protect your wooden deck surface without experiencing the problems associated with deck painting. The main benefit of deck staining is that it infiltrates the wood to establish a thin transparent seal highlighting the natural wood grain and preserving the deck's overall aesthetics.
| Deck painting | Deck staining |
| --- | --- |
| It covers your entire deck surface, concealing cracks, and wood defects to provide a uniform, refined look. | It forms a thin, transparent coat over the deck surface, allowing cracks and grain patterns in the wood to be visible. |
| Deck painting offers you more color choices to match. | Minimal color choices. Typical color options include clear tones or brown hues. |
| Difficult to apply. A typical deck painting process involves several steps that make the processing time-consuming and requiring a certain degree of experience. | Much easier to apply compared with deck painting. A deck staining job usually involves applying a single coat of stain directly over the deck surface using a roller or brush. |
| Deck painting results in a long-term finish that lasts an average of 10 years. | Deck stains are usually short-lived, with an average lifespan of 4-5 years. |
| Latex-based deck paints have fade-resistant properties that protect wooden decks against UV rays. | Translucent deck stains have no protection against UV-related fading. |
| Deck paint is easy to maintain and clean. | Deck stain is more difficult to maintain and clean. |
| It is easy to cover a painted deck with another layer of paint. But switching from deck painting to staining is difficult. | The process of painting over a stained deck is straightforward. |
HomeGardenGuides.com is a free service that quickly matches you with top-voted local Mold Inspection Specialists.
You can get three estimates fast by real certified experts in your area in just 2 minutes.
Scroll to the top of the page and enter your Zip code.
Answer questions about your mold job
Your roof painting details are forwarded to three local experts. They will send you a price estimate for the job and some friendly advice.
IMPORTANT: There is no obligation to hire. This is a free tool and service to be used at your pleasure.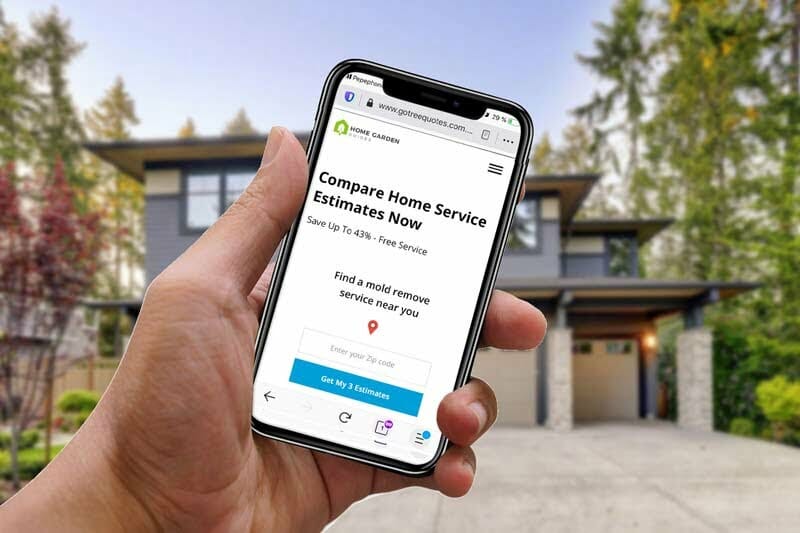 The average cost to paint or stain a deck
Currently, average painting or staining prices to paint are on the increase. Expect to pay between $4.5-$10 per square foot to paint a 300 square feet unfinished wood deck, including railings and posts. Deck staining costs range between $3 and $7 for labor and materials. Labor costs to paint a deck range from $2.7-$8, and labor costs for deck staining range from $1.3-$6. Prices depend on the job size, complexity, quality of materials, e.t.c.
| Service | Quantity | Low | High |
| --- | --- | --- | --- |
| Deck painting cost | per square foot | $4.5 | $10 |
| Deck staining cost | per square foot | $3 | $7 |
| Labor for deck painting | per square foot | $2.7-$4 | $4-$8 |
| Labour for deck staining | per square foot | $1.3-$2.5 | $2.5-$6 |
Is it better to paint or stain an old deck?
Older decks are often worse for wear due to years of use and exposure to the elements. However, using the proper methods to repaint or restain your deck can restore its appearance, protecting it from moisture and fading. What are your options? Here are some factors that can help you decide whether to stain or paint your old deck.
Wood condition: repainting is an immediate solution to old and worn decks. Applying a thick layer of paint is an excellent way to hide defects and damage, delaying wear and tear, and buying you a few extra years before a complete renovation is necessary.
Future Renovations: old and worn decks will eventually need replacing. You can choose deck staining as a temporary inexpensive fix to keep your old decks in good shape until it's time to renovate.
Climate: wooden decks in wet, humid climates are exposed to high moisture levels, which cause wood to tot if trapped inside. Staining your deck is an excellent way to avoid rot because stain pigments penetrate wooden decks preventing moisture absorption.
Peeling: shifts in outdoor temperatures could cause the paint on painted decks to peel. Staining your deck can minimize this occurrence because exterior stain products are formulated to withstand changes in temperature with minimal peeling.
Type of deck: you can not paint or stain plastic or vinyl decks because these materials do not bind easily to paint or stain. However, most wooden deck planks can be easily stained or painted. Cedar, pine, redwood, and white wood are excellent examples of wood painted successfully. While wood with large pores like oak, ash, and chestnut stain well.
Painting vs. staining deck railing and posts.
Applying a finish on your deck railings and posts is a better alternative than leaving the wood unfinished because unprotected wood is susceptible to early deterioration due to exposure to the elements. The decision to paint or stain your deck railings and posts should be based on directly related factors to your project and environment.
The table below highlights the difference between painting your deck railings and posts or staining them.
| Painting deck railings & posts | Staining deck railings & posts |
| --- | --- |
| Provides an opportunity to create intricate paintwork or detailed artistic renderings on deck railings and posts. | The opportunity to create detailed artwork on deck railings and posts is minimal. |
| Allows homeowners to match or create attractive color contrasts with the deck base and their home exterior. | Limited opportunity to mix, match or create color contrasts. |
| Better quality and long-lasting protection against weathering and moisture damage. | Good, but short-term protection against moisture damage and weathering. |
| Offers corrosion protection for metal studs and fasteners. | Offers little corrosion protection for metal studs and fasteners. |
| Long-lasting protection against wear and tear in high traffic spots. | Short-term protection against wear and tear in high traffic spots. |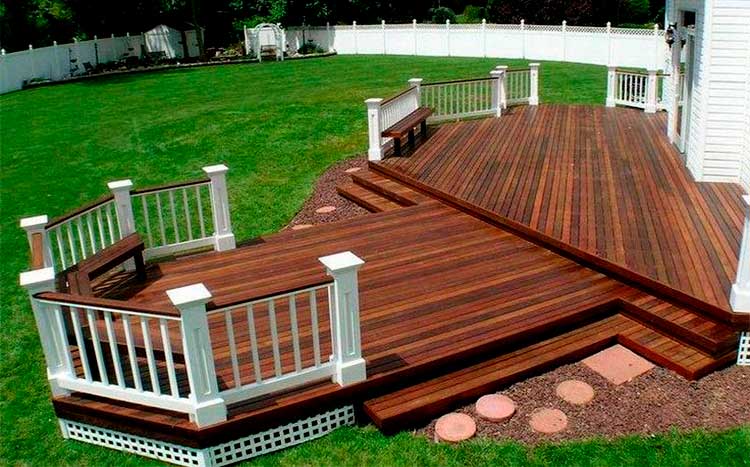 Painting vs. staining a deck pros and cons
Although both techniques are aimed at protecting your deck surface and prolonging its lifespan, deck painting and staining also have their advantages and disadvantages. We will examine a few of them below.
Painting your deck is an excellent choice if you desire a uniform-looking deck. It offers particular benefits but also does have some drawbacks when compared to deck staining.
Pros
Lots of color options allow the creation of a uniform exterior look for your home.
Easy to maintain. Specific paint has sealers that create a hard veneer that is easy to clean.
Oil-based paints offer excellent long-lasting, water-resistance qualities compared to other products.
Deck paint has a longer average lifespan compared to any deck stain.
Cons
By painting your deck, you will most likely continue painting it because it is difficult to switch from painting to staining your deck.
Deck painting conceals natural wood beauty, and it is not an ideal option for those who prefer the natural wood look.
Deck painting traps moisture on areas prone to water pooling, leading to paint chipping or peeling.
Although, there are lots of color options to help create a uniform look. Matching the appropriate-looking deck and exterior home paint can be confusing for non-professionals.
If you prefer the look of a translucent stain or sealer on your deck, then you should be aware of their general pros and cons. Here are a few.
Pros
Deck staining is a budget-friendly alternative to deck painting.
The deck staining process is faster and less complex than deck painting.
Staining accentuates the natural beauty of your wooden deck and showcases the wood grains that add to the overall biological effect.
You can switch easily from staining your deck to painting your deck without undergoing a complicated stain removal process.
Cons
Deck stain has a shorter lifespan than deck paint.
Stain is thinner than paint, and you can't use it to repair or fill deck cracks.
Deck staining won't deliver a uniform look. Also, the rustic appearance of the stain isn't to everyone's taste.
Deck stain has a shorter lifespan and will require refinishing after a few years.
Paint lasts longer with an average lifespan of 10 years than stain, with a typical Lifespan of 4-5 years.
Yes, but the aftermath of weathering on an untreated deck isn't pretty. Untreated wooden decks start to fade after around six months, and a combination of moisture and extreme temperature can damage the planks.
Yes, giving your deck a thorough power wash before staining can remove ingrained stains, dirt, and debris from nooks and crannies within the wood.