Refreshing the look of your bathroom doesn't have to be expensive. This is because retiling is no longer the only viable option available to homeowners.
Painting bathroom tiles gives you absolute freedom as far as customization is concerned. It is an incredibly affordable way of changing the look of your bathroom. And it is a time-saving and less labor-intensive method of giving a bathroom a fresh look. However, the paintwork may not last as long as if a complete retiling was done. And it can sometimes take too long before you can be able to use your bathroom.
Here is what you should know about the advantages and disadvantages of painting bathroom tiles.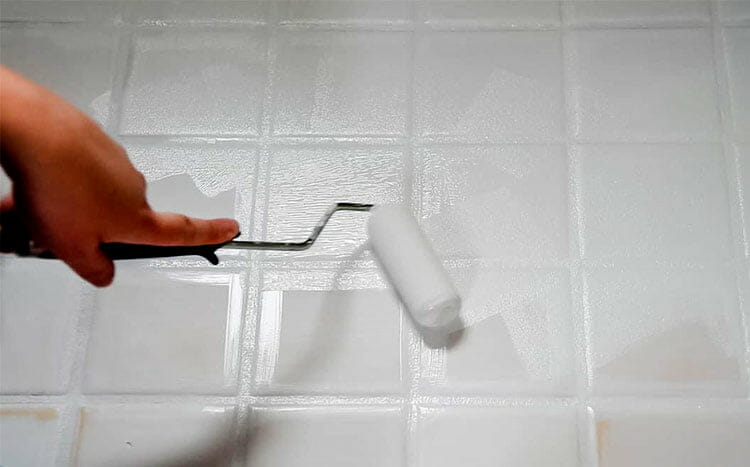 Bathroom tiles painting has a number of advantages and disadvantages. Here are the ones that stand out.
| Pros | Cons |
| --- | --- |
| It is an affordable alternative to retiling | Not as long-lasting as retiling |
| Offers a wider array of styling options | Long out-of-commission time |
| Little to no maintenance is required to keep the painted areas looking great | May need regular touch-ups especially sections that are exposed to an excessive amount of moisture |
| It is a less labor-intensive method of updating the look and feel of bathroom tiles | |
DIY vs Hire a professional
When hiring a professional is ideal
Hiring a painter to paint your tiles is ideal in cases where you don't have the time to do the painting. It is also ideal if you want to guarantee higher quality work. Or if you need the job to be done faster. You should also opt for a professional if you intend to use complex paint patterns.
When doing it yourself is ideal
However, if you don't mind getting dirty and if you have the time to paint the tiles on your own, the process is easy enough for you to do. It is in fact a great idea to DIY the project if you have a limited budget or if you plan on retiling soon and are simply looking for a temporary fix for an outdated look.
Can a regular painter do it, or there is a specialist for painting tiles?
Yes, a regular painter near you can do it. You don't need to hire a specialist to paint your tiles since it is not complicated. In fact, it is something that you can even do on your own as a DIY project.
Steps for painting bathroom tiles
The following are the steps that you should follow when painting your bathroom tiles.
1. Surface preparation
Clean the bathroom tiles with a tile cleaner in order to get rid of any trace of dirt or debris. And if you are using soap and water to clean it, dry it off with a cloth and then give it enough time to air dry.
2. Priming the tile
The next step is to make the surface paint-friendly by coating with a high-adhesion primer. Priming the surface will make it easier for the paint to stick. Some primers even cover stains and blemishes and can therefore help to improve the overall quality of the paintwork.
3. Painting the tiles
After the primer dries, it is now time to apply the first coat of paint. Use smooth long strokes to apply the first coat of paint that covers the entirety of the floor. Give the paint enough time to dry, before applying another coat of paint.
4. Applying pattern
After the second coat of paint dries, you can now stencil your preferred pattern on the painted surface.
5. Sealing painted bathroom tile
The last step is to then protect the painted tiles by sealing them. Applying about 3 coats of a good sealant is usually enough to do the trick.
Do you need a special type of paint?
Yes, you need a special type of paint for painting bathroom tiles. The paint needs to be specifically designed to stick to tiles. It also needs to be water-resistant. And if it has antimicrobial properties, the better suited it will be.
Generally, epoxy paints that are both water-resistant and anti-microbial are perfect for bathroom tile painting.
Can you paint the bathtub and shower tiles?
It is inadvisable to paint the bathtub and shower tiles. These areas are usually under constant exposure to excessive moisture. Therefore, if you paint these surfaces, the paint will peel, flake, blister, or crack prematurely.
It is impractical to do so.
Is painting the tiles cheaper than retiling?
Painting tiles is cheaper than retiling. This is because paint typically costs less than tiles. The labor costs of retiling also tend to be higher than for painting.
The following is a breakdown of the typical price range of painting and retiling a bathroom.
| Service | QTY | Price Range |
| --- | --- | --- |
| Painting DIY | 50 - 100 square ft. | $57 - $171 |
| Painting hire a PRO | 50 - 100 square ft. | $248 - $1048 |
| Retiling DIY | 50 - 100 square ft. | $240 - $435 |
| Retiling hire a PRO | 50 - 100 square ft. | $809 - $2905 |
Is it practical to paint on all bathroom surfaces?
No, it is not practical to paint on all bathroom surfaces.
You should only apply paint on surfaces that aren't in constant contact with water. Surfaces like bathroom walls, backsplashes, and floor areas that experience occasional mild or moderate water exposure are ideal for painting.
However, painting areas that are constantly exposed to water like shower surfaces and tub surrounds is a bad idea. This is because even if the paint is designed to withstand moisture exposure, the constant exposure will eventually cause it to crumble.
It will peel, fade or even blister prematurely. As a result, painting these surfaces may call for frequent repainting, something that may prove to be both cumbersome and expensive. It is thus not practical.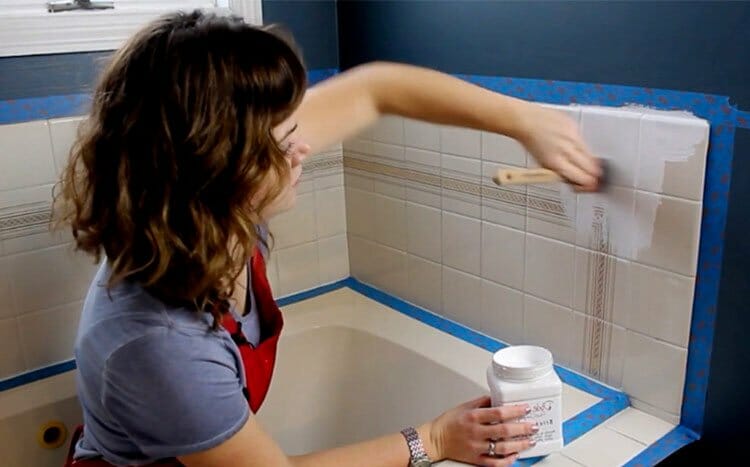 How to choose the best material for painting?
When searching for the paint to use on your bathroom tiles, you should make sure that what you end up with:
is water-resistant
can easily stick on the smooth surface of bathroom tiles
can withstand a lot of traffic
can withstand abrasion or exposure to harsh detergents
is specifically designed for painting tiles
Generally, epoxy paints, acrylic tile paints, and alkyd urethane paints are good choices for good bathroom tile paints.
How long will the bathroom be out of commission?
It can take between 2 days and a week for the bathroom to be ready for use. How long the bathroom will be out of commission is largely dependent on how fast the paints and primers dry. The complexity of the patterns that you intend to apply will also determine how long the entire tile painting process will take.
Keep in mind that paints and primers take a while to dry. And since you can't apply another coat before the preceding coat of paint dries, the number of coats and the average drying time of the primers and paints that you are using, matters.
Painted tile surfaces are easy to maintain. Simply vacuuming, sweeping, and mopping is usually enough to keep them looking great. And by covering the painted tile surfaces with floor pads and mats, you can protect the paintwork from getting scratched.