Even though it is not recommended, painting over latex paint with oil-based paint is possible with a little bit of prep work first.
Heavy handing and a primer will be needed so the paint sticks and lasts.
Since this project requires a lot of labor and preparation of the surface, having the right tools is crucial for a successful job. Down below is the list of tools that you will need:
P80 and P150 grit sandpaper and sanding block
Damp and soft cloth
Masking tape
Paintbrushes
Water or acrylic-based primer
Stirring stick
Oil-based paint
Dust mask
To successfully apply an oil-based paint over latex, follow the steps below: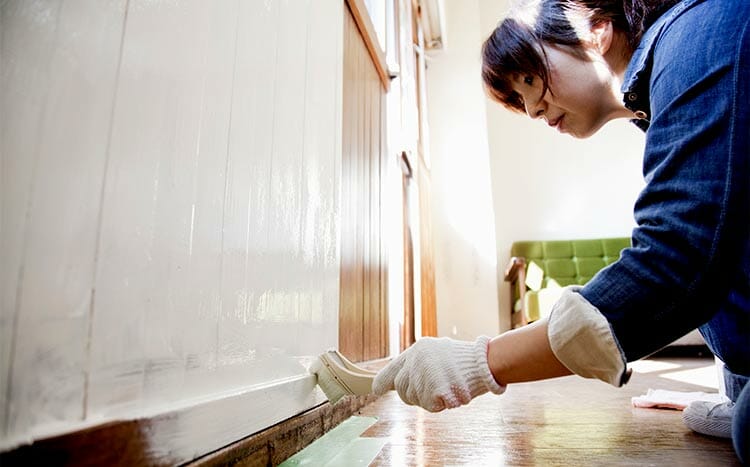 Step 1: Start with serious sanding
As mentioned above latex is very stretchy and oil paint will not adhere to it if it is applied directly. Remove as much of the latex as possible.
Start with P80 grit sandpaper. This type of sandpaper is good to start with because it is fairly coarse so it is ideal for cutting through the existing finish on latex painted surfaces. Wrap the paper around the sanding block and sand the entire area until you get the surface looking completely mate. Any shiny areas will cause problems later on.
After that, continue with P150 grit sandpaper to achieve a completely smooth surface. When the whole area is completely sanded sweep away all the dust. At the end wipe the area with a damp soft cloth and let it dry completely. If it is not completely dried you will have a problem masking the surface because masking tape will not stick as sufficiently as it needs to and it will peel off and cause problems.
Both water-based and acrylic primers work well with latex and oil-based paint to make a great separation and isolation between old and new paint. After applying the first coat let it dry completely before applying a second coat. The second coat will help you cover all of the old latex paint so you will not have problems later.
Step 3: Apply oil-based paint
Start with a thin coat of oil-based paint. When this coat is completely dry, scan the whole situation, and if needed apply more layers to ensure complete coverage and maximum protection of the surface. Remove the masking tape while the paint is still wet to avoid tearing, breaking, or chipping the paint.
Few extra tips when putting oil-based paint over latex
Remove unwanted paint splatter with cloth dipped in brush cleaner;
Be sure that the area you are working in is well-ventilated to allow the paint to dry correctly;
Make sure to use a mask when working to protect yourself from the chemicals that coming from the paint and from the paint particles when dusting;
Clean oil paint from brushes with a brush cleaner. If there is latex on them, you can easily clean them with water.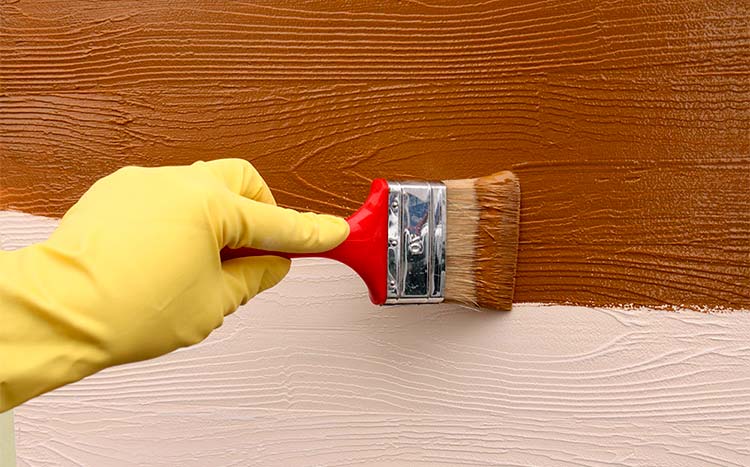 Can you do this in the opposite manner?
Once you know the process of painting oil-based over latex, let me tell you that you can also do the opposite way, latex over oil-based paint. The process and the tools are almost the same. They are few differences. For sanding, you need only P150 grit sandpaper and you will have to sand until the surface is extremely smooth.
In this case, you have to use a latex conversion primer. This is a specific form of primer that helps you put latex over other paint. After applying the primer let it dry completely before painting. When painting uses 100% acrylic latex paint.
HomeGardenGuides.com is a free service that quickly matches you with top-voted local Painting Specialists.
You can get 3 estimates fast by real certified experts in your area in just 2 minutes.
Scroll to the top of the page and enter your Zip code.
Answer questions about your paint job
Your painting job details are forwarded to three local experts. They will send you a price estimate for the job and some friendly advice.
IMPORTANT: There is no obligation to hire. This is a free tool and service to be used at your pleasure.
In the end, we realize that it is not a problem to paint oil-based paint over latex, but there are several steps you need to take to ensure a smooth transition. You will need a good sanded area before applying your oil-based paint, and then also using masking tape to ensure clean-cut edges. Follow this guide and you will get a job done in the right way. Good luck!