If most of the homes in your neighborhood are brick, maybe you want your house to stand up a little bit and go beyond that red-orange color pallet, or you just want to refresh your brick facade a little bit.
Painting the bricks is the best way to do it. It gives a fresh look to your home, but it has some drawbacks along with the positive sides. Also removing the paint from the brick house will cost you some money from your budget and is a messy job.
But let's take a step-by-step tour through this subject.
This is the question that most of the homeowners of brick house ask their self. Painting an exterior brick can be a simple and sometimes the only way to give your home a fresh and trendy look because the most significant impact comes from the color itself. For most homeowners painting a brick house is a practical solution but there are some pros and cons that you should consider before starting this project.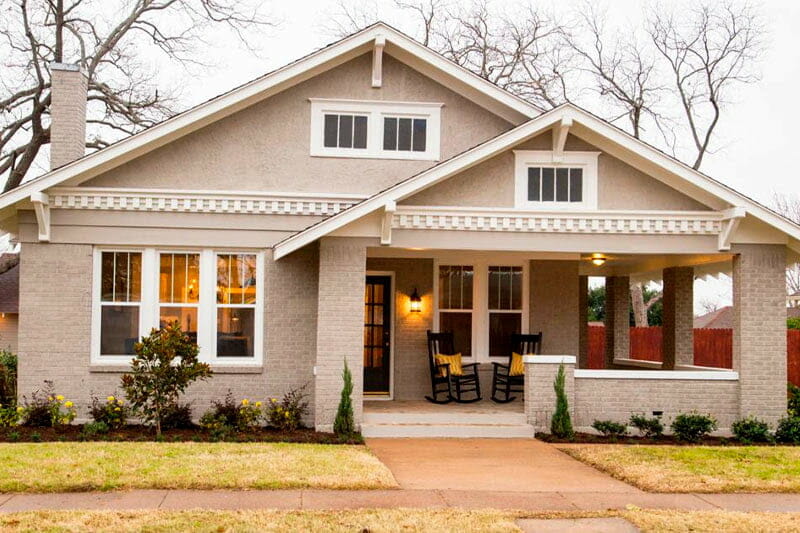 Pros of Painting a Brick House
It is always better to start with the good side or with the pros of painting the brick and what benefits you will get by doing this task.
Contrast is a key element of good home design, exterior, and interior. A mix of light and dark elements, including landscaping, is pleasing to the eye. Just by refreshing your facade you will boost the curb appeal of your home and add value to your property.
Before you start to paint your house, make a good plan of what color you will choose. Take into consideration siding color, door color, the landscaping, fence color, window frames color, so when you finish the whole project everything is in the right place. It requires hard work to make dors, windows, and landscaping pop against the mid-range brick exterior but with a painted brick house, design for curb appeal becomes much easier.
When you finish painting, consider adding some things that will add some additional curb appeal to your homes, such as a new mailbox, new light fixtures, new house letters or numbers, etc.
Protection From the Elements
Properly applied paint acts as a sealant and protects your house. A fresh coat of paint will protect your home from precipitation, and other seasonal water changes. Paint can also minimize fading and deterioration of the exterior of your home.
One of the characteristics of the brick is porosity so when is unpainted it is very hard to clean and dirt and debris can become trapped and difficult to clear away. Painted brick surface provides easy cleaning because of its smooth surface and occasional or annual power washing will not be an issue.
Those were some of the pros of painting a brick house, and now I will give you some information in which situations is ok to paint a brick house without considerations or doubts:
One of the situations is when the brick exterior is already painted. Once painted, a brick will require occasional repainting because painting is not for good, it must be repeated from time to time. Compared to removing the paint is far back easier, just be sure to use the right paint. Use a mineral-based paint or silicate paint that is designed to be breathable, and is recommended for brick.
If the brick is severely damaged, go with painting it is the only way. I'm saying that is the only way because replacing the brick is quite an expensive thing to do, it will cost you around $25 per square foot. Before painting, fix the damages as much as possible, caulking is recommended, and then start with painting.
If your home has old types of bricks, then painting is necessary to protect them. There are a few rules that can help you realize if this is the case with your house:
Your house was build before 1870;
Handmade bricks instead of machine-made;
It has traces of old paint;
The home lacks ornamental brick decoration.
In this case, don't use typical latex paint. The paint must be natural like a lime-based whitewash. Moder paint can cause structural damage and destroy the brick.
If you see features like dog-thoothing that means that you have more durable hand-made brick which should never be painted.
Cons of Painting a Brick House
We pass the positive sides of painting a brick now let me guide you through the drawbacks of this project.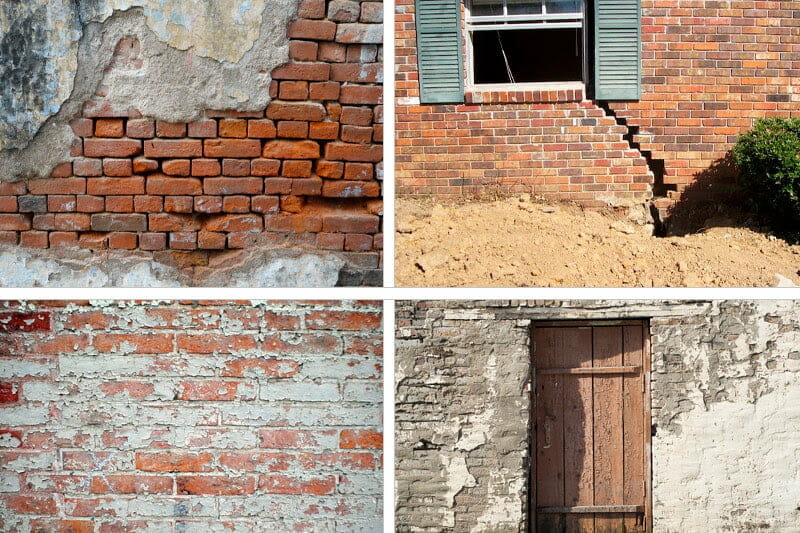 Brick can suffer damage over time if it is not painted properly. Any moisture that seeps inside can be trapped and can cause the paint to chip. If your home is not properly prepared for painting the bricks, water can get under your paint through any cracks or gaps such as beside windows and doors. You don't have to worry about moisture when you paint brick indoors, such as a fireplace.
By painting, you will suffocate the brick so it can't breathe. This could also lead to damaging the brick because it can't throw out the moisture trapped inside.
It is a Permanent Decision
It is not so scary as it sounds. Removing the paint from brick is possible but it takes time and money. There are few methods of removing paint from brick, and they are effective, but the brick will never be the same again and there is a possibility of damaging the bricks.
Again trapped moisture. If there is trapped moisture in the brick, during the winter it freezes and the freeze-and-taw cycle may lead to erosion of the brick and the mortar between them that can seriously put your home's structural integrity at risk.
When bricks begin to degrade, the paint will start to peel and flake away, making your house neglected and nasty. That means that the problems we've been talking about above are well underway, and they will show up on your home's face.
Maybe You Will Destroy a Piece of History
If you have an older home with decorative features, like dog-toothing, you might have a brick that should be preserved in its natural state. These hand-made bricks have a harder surface and are worth preserving. If you paint them you will just ruin their historic value and there is a possibility to disrupt the structure of your home.
If your home is historically significant you might need to leave the brick alone and try to improve the curb appeal of your home by painting the shutters, pediment, and front door. By adding some contrast you will manage to alleviate the natural dark red and muddy brown color of your bricks.
HomeGardenGuides.com is a free service that quickly matches you with top-voted local painting Specialists.
You can get 3 estimates fast by real certified experts in your area in just 2 minutes.
Scroll to the top of the page and enter your Zip code.
Answer questions about your brick painting job
Your brick painting details are forwarded to three local experts. They will send you a price estimate for the job and some friendly advice.
IMPORTANT: There is no obligation to hire. This is a free tool and service to be used at your pleasure.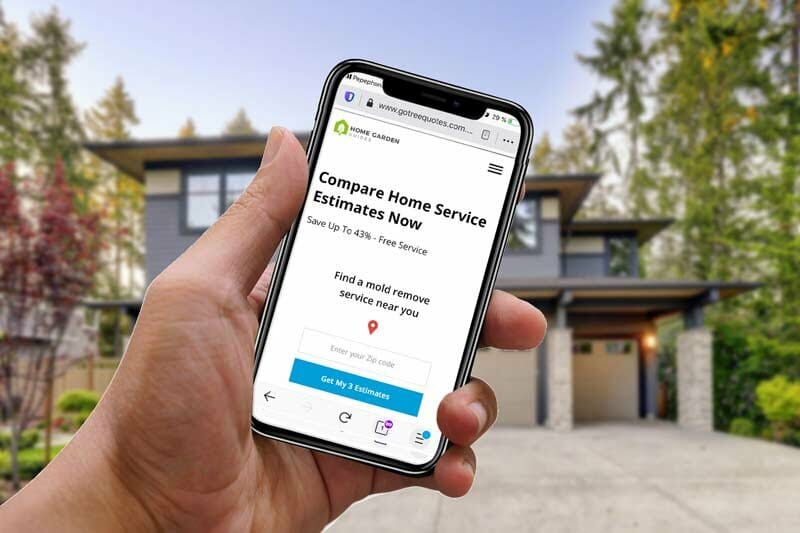 Cost to Remove Paint From a Brick House
If you plan to repaint your house you will have to remove the existing coat of paint first. Old paint may have cracks or flakes that will sabotage and ruin the new paint and the final result will be ugly. Usually, chemicals such as trisodium phosphate along with repeated scrubbing are the best combination for removing the paint from the porous brick surface. For this job, the best option is to hire a professional to remove the paint for you.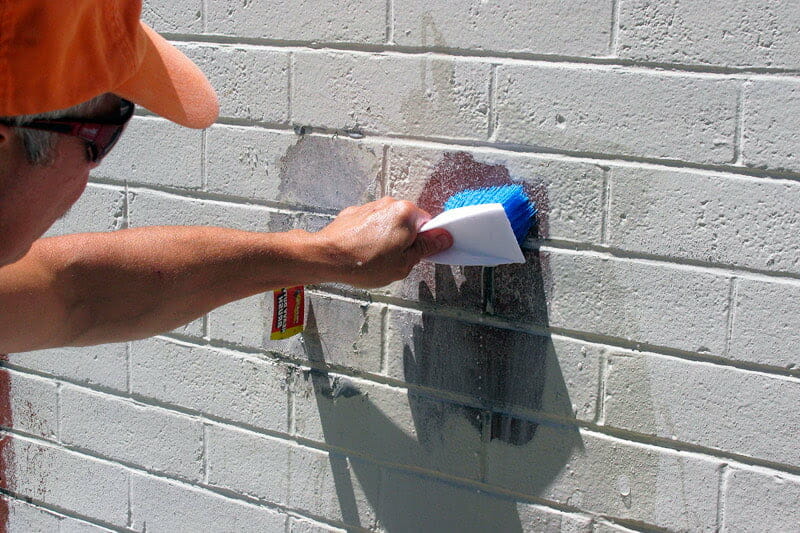 Contractors usually charge $20 to $25 per square foot to strip paint from the brick house. About half of this price going toward the scaffolding and plastic, with the possibility of cost raises if the building is taller than four stories.
For repointing the typical charge is around $15 per square foot plus $10 for scaffolding if it's not already up. The best option is to do both processes, removing the paint and repointing at the same, because that way you will pay for mounting the scaffold once and you will avoid the possibility of water infiltration in the crumbling mortar joints and causing interior damage.
Tips For Painting a Brick House
Here are some tips for you before you start to paint your brick house:
Never Paint Damaged Bricks
Moded, deteriorating or chipped bricks are forbidden apples for painting. A new coat of paint will not hide molding or deteriorating brick instead, the problem you are already facing will just exaggerate.
The porous surface of the brick exteriors is looking for a high-quality masonry paint and possibly primer to ensure successful and lasting results.
Although you can DIY this job however consider hiring a professional painter. This is recommended for a few reasons, for example, if you are dealing with a damaged brick professional painter will know exactly how to prepare the brick, which tools, paints, and materials to use so that your brick is adequately repaired, cleaned, dried, and painted on the highest level.
Consider less permanent exterior changes
If you are still on the edge whether to paint the exterior brick or not think about making smaller and less permanent changes. You can always choose to freshen up your home exterior in other ways such as painting the exterior wood trim, garage door, shutters, and windows. All of this will add some contrast and maybe you will be satisfied with the final result.
Most of the homeowners realize this too late, don't be one of them. Too cold or too hot weather is not the best condition for painting. Windy and rainy weather will not work either. Check your local forecast for a few good days with pleasant temperatures to ensure good working conditions for the painter and the paint.