Have you been to the grocery store or hospital and come across a warning saying, "Slippery When Wet"? If you don't already know, this is an indicator of a floor or surface that's not been cured with non-skid paint.
Non-skid paint is a type of paint designed to enhance grip in high-traffic areas by creating a durable and slip-resistant surface. When applied to surfaces, it creates a rough and textured finish that reduces the chances of people or vehicles sliding.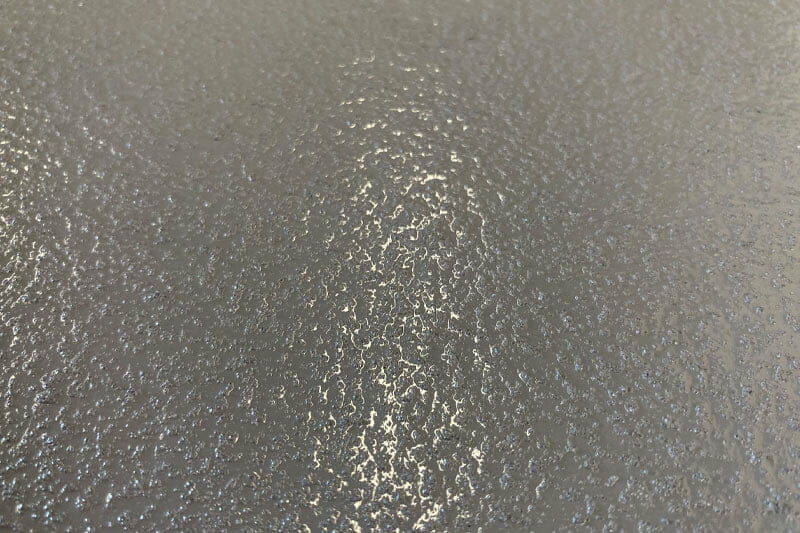 While losing your footing on a slippery floor can be embarrassing, it is mostly dangerous. That's because the chances of breaking a bone or getting a blue, black, or purple knee are very high.
These reasons bring about the need for non-skid paint, especially in high-traffic areas. Non-skid paint is what you need to enhance grip and slip resistance on slippery surfaces.
Contrary to popular belief, slippery surfaces don't have to be wet; they can be dry surfaces that aren't slip-proof.
There are various types of non-skid paints that can provide you with a rough and deeply textured non-slip surface.
Where Is It Ideal To Use Non-skid Paint?
Non-skid paint is generally suitable for any surface with vehicular or foot traffic, not only for slippery surfaces such as tiles. It can be used on any surface, be it:
Concrete
Tiles
Metal
Wooden
Glass or fiberglass
Vinyl
In non-commercial environments, homeowners mostly apply non-skid paint on surfaces where water spills, such as showers, bathtubs, and basement floors. Applying anti-skid paint on sidewalks or stairs inside your home is also a safety precaution that helps to prevent slip and fall accidents.
There is no limitation or restriction on where to apply the non-skid paint. However, there are plenty of non-skid paint brands that have developed non-skid paints suitable for specific surfaces.
For instance, there's non-skid paint specifically made for concrete floors, another for glass floors, and one for stone floors. It's essential to choose one that fits your requirements and surface perfectly.
The Pros and Cons of Non-Skid Paint
There is a lot to gain when you invest in non-skid paint. However, there are a few things that discredit non-skid paint as the best option to make your floors slip-resistant.
Let's compare these pros and cons in the table below.
Pros
Fewer slip and fall accidents
Easy to install
Improves safety
Relatively inexpensive
Cons
Limited options
Effects may not be permanent or 100% effective
Time-consuming
Weather dependent
The two major issues of contention with non-skid paint are discussed below.
1- It's Very Time-Consuming
non-skid paint takes three to four days to completely cure. If a surface is used before it is fully cured, footprints become visible on the coating, making the finish appear messy. This requires the job to be redone, which is a waste of money and time.
2- It's Weather Dependent
Non-slip paint depends on the natural sun to dry down. This means that low temperatures and rain are unsuitable for the non-skid paint, especially immediately after application.
If the temperatures are low, the substrate will need to be heated to hasten the drying process. While if it is raining, the substrate will need nylon paper to cover the whole surface and prevent damage.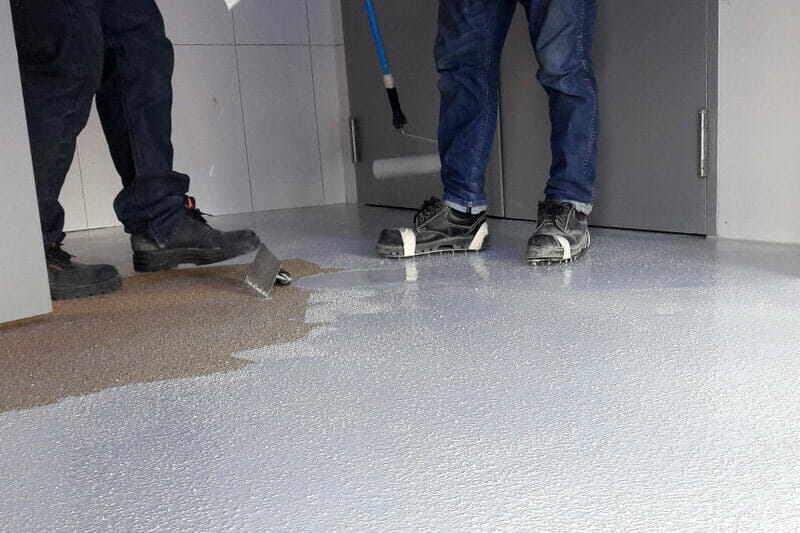 As aforementioned, there are several types of non-skid paints suitable for varied surfaces and uses. Below we explore these different types, telling you which is ideal where, and exploring some of the pros and cons of each type of paint.
There are several DIY options for making non-skid paint. These include:
Making non-skid paint at home is as easy as ABC. That's because paint stores stock a variety of inexpensive additives that you can mix with any type of paint or solid color stain to improve traction on your surfaces.
However, these don't give you completely slip-resistant surfaces and neither do they change the color of your stain or paint.
When using store-bought additives, one sachet per gallon of paint should be enough.
Sand is a popular alternative that produces similar results. The best sand for this project is not the one from your backyard, instead, get the type of sand used for kid's sandboxes. This type has the desired coarseness and provides you with perfect traction.
So how do you make the DIY non-skid paint? Simply add the sand or additive to a gallon of paint and stir until it's evenly distributed in the paint.
When using sand, aim for a 4:1 paint to sand ratio so as to get the best consistency. However, the quantity that you use is dependent and subjective to the finish that you are going for.
Expert tip: If you're applying more than one coat of paint, then only add the additive to the final coat.
2- Industrially Manufactured Non-skid Paint
There are finer alternatives to the DIY options and these are industrially manufactured. These are available in two formulas:
These are the easiest type of non-skid paints to use because the synthetic grit and paint are pre-mixed. Once it is sprayed on a surface, it leaves a coating similar to that of a diving board.
Pre-mixed non-skid paint has the paint color and synthetic grit coming pre-mixed in the gallons. All you need is to use a paintbrush or a roller to apply the paint to the desired surface.
3- More Variations of Non-Skid Paints
There is a myriad of non-skid paints present in the market that serve different purposes and are designed to meet a customer's unique requirements.
The main difference between most types of paints is usually in the traction:
Some paints increase the traction by introducing small particles that create a bumpy effect in the coating
Others increase traction by creating a thin, clear, and smooth finish
Before settling on any type of non-skid paint, ensure you evaluate the surface that you want to apply the paint. If you are not well conversant with non-slip paint, it would be wise to incorporate the services of an expert who is knowledgeable on non-skid paints to advise you.
The most common types include:
This type of non-skid paint is oil-based and is designed to provide a barefoot-friendly, tough, and long-lasting finish. It is mostly suitable for fiberglass, aluminum, natural stone, wood, and concrete.
Due to its anti-skid protection and maximum durability, the non-skid epoxy paint is ideal for regular pedestrian traffic and heavy rolling areas. Top advantages of non-skid epoxy paint include:
Inexpensive
Chemical resistant
Applies easily
Suitable for a variety of surfaces
Most concrete floor paints contain epoxy for non-skid properties and a gritty texture.
Unlike epoxy non-skid paint, Urethane non-skid paint gives a deeply textured finish. It is suitable for warehouses, machine operating areas, sidewalks, and factories. Urethane non-skid paint offers a handful of advantages:
Very aggressive
Long-lasting
Can withstand any type of weather
Works perfect for industrial areas
More resistant to chemicals and solvents
Film and Tape-Style Coatings
These are stuck directly on surfaces ranging from concrete to tiles. They keep people steady on their feet, provide a level of moisture resistance, and adhere perfectly to irregular surfaces. The best part is that these are easy to apply and can handle standard cleaning procedures.
How to Prepare a Surface to Apply Non-skid Paint
Just like ordinary paint, before applying non-skid paint to any surface, the surface needs to be ready. Here is how to prepare the surface:
Strip off any pre-existing paint
Collect any objects that could obstruct smooth paint application, like stones.
Clean off any wax or oil that is present on the surface.
Use clean water and a rag to clean and dry the surface.
The process of preparing a surface that already has a coating of non-skid paint is slightly different from one that does not. You will need to do extra after completing the preparation process outlined above. That will involve pressure washing the surface using a mixture of half bleach and half clean water.
This is an integral procedure because it ensures that there is no debris between the layers of paint which makes the second layer adhere to the first layer completely.
How To Apply Non-skid Paint
To apply non-skid paint correctly, the following steps will be helpful:
Start with a clean and completely dry surface.
Test the paint first to avoid any mistakes before it is too late. You can do this by choosing a small section of the surface applying the paint.
If the paint is DIY, check whether the consistency is accurate and if you are using store-bought non-skid paint, use this test to check that the color is the correct one.
Once you are done testing and everything is set, you can proceed to apply the non-skid paint.
Non-skid paint application varies depending on the type of paint you're using, but it's pretty easy so you can do it yourself. However, if you hate DIY projects don't be shy to hit up a professional who'll obviously deliver a perfectly coated floor and save lots of time.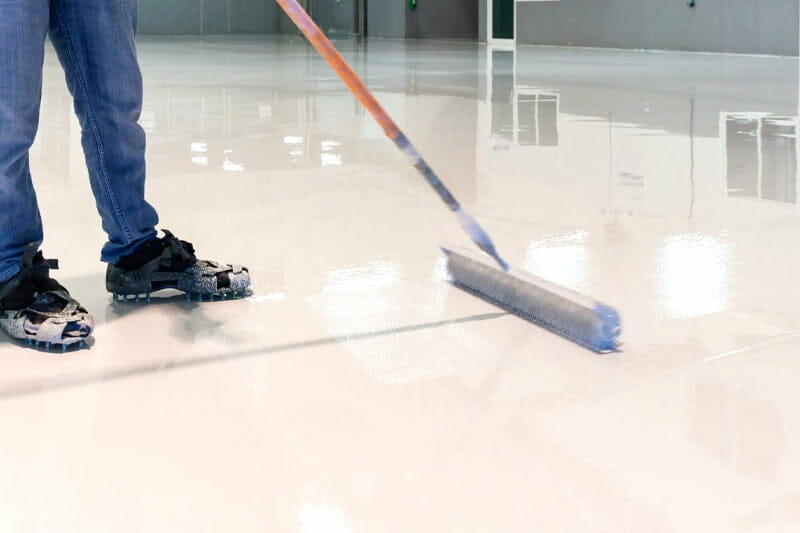 Here's how you apply different kinds of non-skid paint.
Spray the first coat on a clean and dry surface and allow it to dry completely.
Once it is completely dry, spray a second coat to ensure the paint color is vibrant.
The process is more or less the same as spraying aerosol sprays. Except in this case you will be using a paintbrush or a roller.
Consistently stir the paint and the sand mixture to ensure that the coarse non-skid particles are distributed evenly.
For the second coat, use sand-free paint. This will make the sand particles less visible but with time, due to wear and tear, the sand particles may show.
It is advisable to go over the surface with non-skid paint at least every 3-6 months depending on how worn out it gets. This makes the surface look as good as new.
Expert tip: The sand should not alter the drying time of the paint at all. If you notice the paint taking an unusually long time to dry, this could be a result of temperature or humidity. Give the paint at least 24 hours to completely cure and if by then the paint is not completely dry, this could be a sign of impurities present in the mixture.
Are There Other Options To Non-skid Paint?
Yes. If non-skid paint is not an option you would want to explore, you can always look in the direction of non-skid floor panels.
Non-skid floor panels are a high-quality alternative that's available in various finishes, designs, and colors.
A non-skid floor panel is a more expensive alternative, but the price is worth it because once it's mechanically fixed or bonded to the substrate, the panel can serve you for over 30 years. In addition, it does not require a lot of maintenance apart from cleaning.
Like non-skid paint, non-skid floor panels are versatile and can be used on any material and environment.
An additional pro of the non-skid floor panel is it is not dependent on the weather and can be installed whether the sun is scorching hot or there is a heavy downpour. The installation is also very easy.
Get in Touch With the Best Flooring Contractors
Whether it is a workplace or at home, the safety of the occupants of the area is paramount. Having slippery floors or surfaces is detrimental to the safety of people; hence, the need to apply non-skid paint.
If you settle on getting a flooring contractor to apply the non-skid paint for you, clearly articulate what you want. You can use images and examples if need be but ensure you are as clear as possible.
Getting an experienced and professional flooring contractor is easy using our free tool:
Scroll to the top of the page and enter your Zip code.
Answer questions about your garden fence needs
Your details will be forwarded to three local experts.
You will then receive three price estimates and some friendly advice.
IMPORTANT: There is no obligation to hire. This is a free tool and service to be used at your pleasure.