When it comes to home décor, so few people get it right. Creating the perfect home theme is not easy, especially when matching colors. Most homeowners end up stuck or frustrated because they can't seem to get the right colors for the home. The 60-30-10 rule is the perfect solution if you are having trouble matching colors.
The 60-30-10 rule is a classic decorating rule that helps you create a color scheme for your home. The concept is that the dominant color should take 60% of the room to serve as a backdrop for the other colors. 30% is the secondary color, while 10% is an accent color.
Using this color scheme creates balance to the colors, making the room pop out. More so, it makes it easy to achieve the balance you want in your house.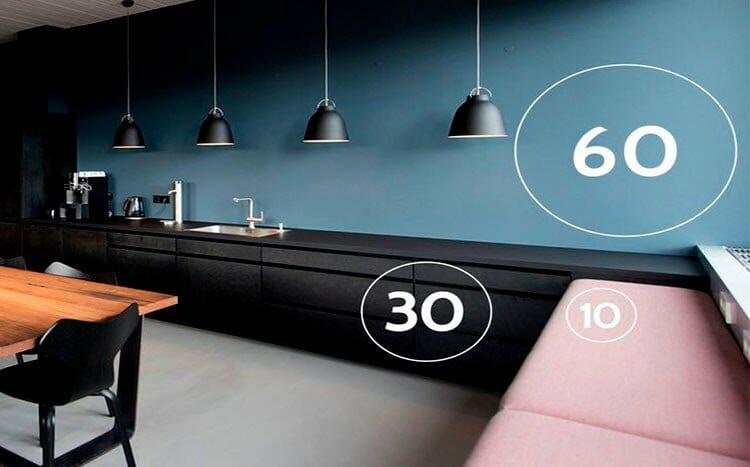 Using this scheme is quite simple. Your 60% will be the primary color. This color anchors the room and usually serves as a background for all the other colors.
Your 30% becomes the secondary color which supports the dominant color. It should, however, be different enough to add interest to the room. This color should be half as much as the main color.
The 10% color creates the most fun for home décor. This is usually the accent color that can be subtle or bold depending on the look you are aiming for. Your 10% can add more character to your room or keep it neutral. The choice you make highly depends on your interest and preference.
Examples for the 60-30-10 rule?
Now that you know how to use the 60-30-10 decorating rule, knowing the specific way to apply it is essential. Below are a few examples of this rule.
60 %: walls, large accent items such as your sofa or area rugs, and large anchor pieces
30 %: painted furniture, accent chairs, draperies, curtains, accent wall, and smaller foundation pieces
0 %: artwork, patterned fabric, throw pillows, and small decorative accessories
Following this rule will help you achieve the perfect color balance for your home. Once you choose the three colors, it will be easier to pull off the decorating process.
How to choose your color scheme?
The easiest way to choose your color scheme is by using a monochromatic wheel. You can also use a fabric print created by fabric designers to get your three colors. Below are 4 options you can use to choose your color scheme.
Monochromatic
This scheme is for one color only. You can design a stylish, professional-looking color scheme by using lighter and darker shades of the color. This scheme works best with neutral colors like white, gray, or cream.
Complimentary
You can choose two colors opposite each other on the wheel to create a combination of warm and cool colors. This color scheme can become vibrant with high contrast, especially if the same saturation is used for the colors.
Analogous
This scheme involves selecting three colors adjacent to each other on the color wheel. This scheme creates harmony in the room and makes the atmosphere relaxing. For instance, using blue-green, green, and green-yellow will perfectly bring out an analogous color scheme.
Triad
To create this scheme, you will choose three evenly placed colors around the wheel. Colors such as green, orange, and violet can be used for this scheme. You should, however, create proper saturation for the colors to create cohesiveness.
Can you, and how to break the 60-30-10 rule?
While using a ready-made color scheme makes it easy to decorate your home, you may wish to try your own combinations to create an eccentric space. You can break the 60-30-10 rule, but make sure whatever scheme you come up with is worth it.
Once you have an in-depth understanding of the color rule, you can customize your space and make it more appealing. Here is how you can break the rule:
Give 110%
It is okay to score 110% rather than the recommended 100% when creating your color scheme. For example, you can add a second accent color to create a 60-30-10-10 combination. This allows you to include your favorite colors.
Use monochromatic scheme
You can choose one color and include several varying shades of the color. The shades can be lighter or darker and can create a relaxing and soothing environment. So, your room will have one color but with varying tones.
Design your own scheme
Interior design and home décor is all about your personality and the feelings the room ignites in you. Therefore, if you still want to follow a color scheme, why not create your own? As long as the scheme makes you happy, follow it, even if it is a 40-30-30-20 or something like that. However, ensure you gauge the visual weights of your color proportions and find the right balance.
Does this rule work for all rooms?
Yes, this scheme can work for all rooms. Think of all your rooms as single entities but ensure they connect in some way. If the rooms fail to connect, your home may look disjointed and choppy. Also, if you use the same color scheme throughout the house, the results may be different or even disappointing because of differences in the amount of light in the room and its size.
The best way is to paint the whole house with one primary color and use different secondary and accent colors for each room. If you do not want the primary color to appear in every room, ensure it makes some appearances to create harmony in your home.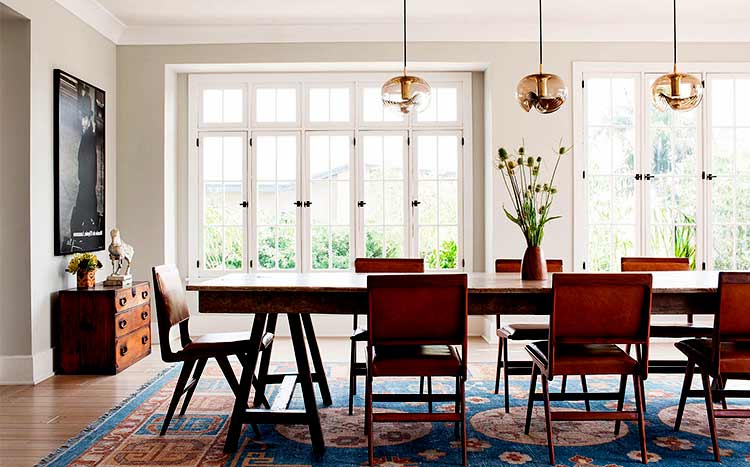 The most popular color combinations include:
Mint and pale gray
Aqua and raspberry
Orange cream and deep teal
Cherry and brass
Yellow and white
Teal and copper
Royal blue and orchid
There are several other color combinations you can use to decorate your room. Always ensure the colors you choose will make you happy and relaxed.
Can you use wall art or paintings as an addition?
Yes, you can use paintings or wall arts to decorate your home. Artwork creates a new whole look when juxtaposed next to other items or placed on a wall. Feel confident of adding layers and mix styles as long as they feel right. Art is an additional layer in your house, so if it makes you happy, use it.
Can you DIY this rule, or you should hire a designer?
If you feel confident and you have basic painting skills, you can DIY the 60-30-10 decorating rule. Most people DIY home improvement projects to save money or keep their hands busy during the holidays. If you choose to DIY your project, ensure you get all the right materials and work gear. Also, make sure the colors match for a harmonious space.
However, for professional results, hiring an experienced contractor is the right call. Having someone handle all the work while you relax on your patio could be a great feeling. Pros know their way around colors and home décor and will create the perfect space for you. Nevertheless, you will spend a little more on the project.