It is hard to tell which stucco siding is best. Both acrylic and traditional have positive and negative sides.
Traditional stucco is a mix of water, sand, lime, and Portland cement. It can be applied in an unlimited range of textures and colors, it is cheap but is prone to cracking and regular maintenance is a must.
Acrylic stucco, on the other hand, is made of acrylic resins and polymers that are glue-like. You have a large variety to choose from because it comes in different textures and colors, but is on the pricey side and sometimes it is hard to find.
Keep on reading and you will get a bigger picture and for sure it will be easier for you to decide which is the best stucco for you.
A simple definition of stucco is a fine plaster used in decoration and ornamentation for exterior and interior walls. But stucco is a lot more than that.
One of the most important things to know is that there are acrylic and traditional stucco types. Once you know their differences and their ups and downs, it will be easier for you to choose your home's best option.
Pros
Acrylic stucco is an energy-efficient application and is easy to apply. This product is easy to mix because it comes wet and you need only a simple drill to mix it. Acrylic stucco is very flexible because of its elasticity so it is resistant to hairline cracks.
Acrylic stucco does not fade so it doesn't need to be repainted, but it comes in a variety of colors and can be painted. This type of stucco doesn't just give your home a good look but also keeps your home from fire and is sound resistant.
Cons
Acrylic stucco is more expensive than traditional stucco because it is made with polymers. It is not common exterior stucco so it is not sold everywhere and sometimes it can be hard to find.
Because of its fast-drying, acrylic stucco needs to be handled by highly experienced workers.
Pros
A traditional stucco is a budget-friendly option because is cheaper than acrylic. This type is very versatile and has an unlimited number of textures and colors. Like acrylic stucco, traditional stucco is also resistant to water, sound, and fire. It is sold almost everywhere so it is easy to find, it can come in the color of your choice or be painted.
Cons
Traditional stucco is harder to mix because it is sold as a dry powder-like mix. You have to mix enough to cover the entire wall otherwise you will face the color variations. This also means that you will need additional mud stands and boards to hold the mixture.
Regular maintenance is very important because traditional stucco is prone to cracking. This type of exterior stucco is also prone to fading so you have to repaint it.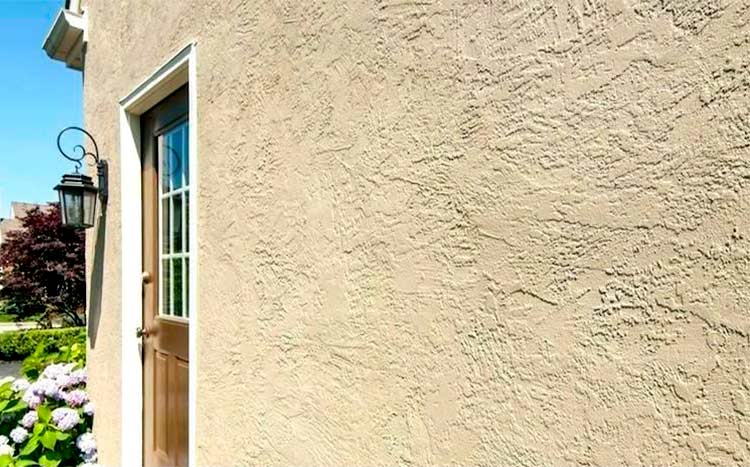 Acrylic stucco is made from acrylic resins and polymers that are glue-like mixes. Maybe it will remind you of the paint but some quality one. Also, acrylic stucco had sand in it to give the finish a little more definition.
Acrylic stucco comes as a white wet mix when unmixed, but it can be mixed by the manufacturer if requested.
You can achieve many textures with acrylic stucco, but not as many as with the traditional. Colors are one of the strongest sides of this type of stucco, they are liquid and usually comes in a small bottle. They are vibrant and very consistent. This material is also water-resistant and suitable for one coat, three coats, and EIFS stucco applications.
Acrylic stucco is resistant to cracks because of its ability to stretch, and if cracks appear they are easy to repair, even if you DIY.
This type of stucco is a mix of water, sand (usually white), lime, and Portland cement. Only sand is the common ingredient with acrylic stucco. Unlike acrylic stucco, traditional stucco comes as a dry, powder-like form.
There is no limit to textures with the traditional stucco. With traditional stucco, you have the range from the smoothest one to the roughest one and everything in between.
While textures are the strong side of the traditional stucco, colors are not. Because it is a cement-based product, colors are not so bright and consistent. If you don't want to face colors variations you have to mix enough amount for the entire wall at once, because every batch will be slightly different than the previous. Anyway, lighter colors are recommended with this type of stucco. Color comes as a powder in a small bag or carton.
Traditional stucco does not repel water. It absorbs the water and then eventually works its way out and dry it. This stucco is suitable for one coat and three coat applications.
The application process with this type of stucco starts with a primer coat. Paint is applied to the walls to seal the wall and prolong the material's working time. After that, the material is either sprayed on or troweled on and then troweled down in an even manner. 
With this type first, you need to give walls good water soaking to increase the working time and to be sure that the finish adheres to the substrate adequately. Like acrylic, you can apply with a trowel or be sprayed on and then trowel down tight for a uniform coat.
With both types, you can use additional techniques to achieve specific textures.
Maybe with this article, we help you a little bit to decide which stucco is better for you and your home. There is no best right answer to this question. In the end, is up to you to chose what to use for your next project. Many factors can affect your choice, budget, texture, color, etc.
HomeGardenGuides.com is a free service that quickly matches you with top-voted local Siding Specialists.
You can get 3 estimates fast by real certified experts in your area in just 2 minutes.
Scroll to the top of the page and enter your Zip code.
Answer questions about your siding job
Your siding project details are forwarded to three local experts. They will send you a price estimate for the job and some friendly advice.
IMPORTANT: There is no obligation to hire. This is a free tool and service to be used at your pleasure.