Aluminum siding is a great option for your new home improvement project. It gives a fresh look to your home, as well as long-lasting protection from extreme temperatures and elements.
Aluminum siding costs from $2.00 to $5.00 per square foot. The average prices vary from $10,000 to $19,000 and for a single-story home of around 1,500 square foot expect to pay around $14,500 in total installation costs at $9.70 per square foot.
Aluminum siding requires low maintenance and with proper care, its lifespan is up to 40 years.
Aluminum siding prices will vary depending on the size and the home's architecture. Few other cost factors are local pros labor costs, additional material costs, and the possibility of removing the old siding. Compared to the vinyl siding replacement, aluminum siding is a little bit more expensive depending on the quality chosen, but metal siding has some definite advantages.
National Averages Cost to Install Aluminum Siding
As a result of increased demand for siding over the past year, manufacturers have increased materials prices by about 5% to 10%, so logically the average prices have gone up.
| Low cost | $10,000 |
| --- | --- |
| High Cost | $19,000 |
| Average Cost | $14,500 |
Aluminum Siding Costs for 2021
Service
Quantity
Price range
Longboard Siding
Per square foot
$14.00 - $18.00
Corrugated Aluminum Siding
Per square foot
$3.00 - $7.00
Installation plus disposal of the waste and old siding removal
Per square foot
$6.70 - $13.60
The average cost for a house
1,500 square feet
$10,000 - $19,000
Aluminum barn siding
30 x 40-foot
min. $10,000
Aluminum RV or Trailer
Per square foot

Per Hour
$8.50 - $11.00

$65.00 - $190.00
Cost to Replace Aluminum Siding
1,500 square feet house
$2,500 - $5,300
Cost to Remove Aluminum Siding
Per square foot
$1.70 - $3.60
Cost to Paint Aluminum Siding
Per square foot
$2.30
Longboard Siding Cost Per Square Foot
Longboard siding is manufactured from alloy and soffit and it mimics the look of wood siding and requires low maintenance. Longboard siding material prices vary from $14 to $18 per square foot.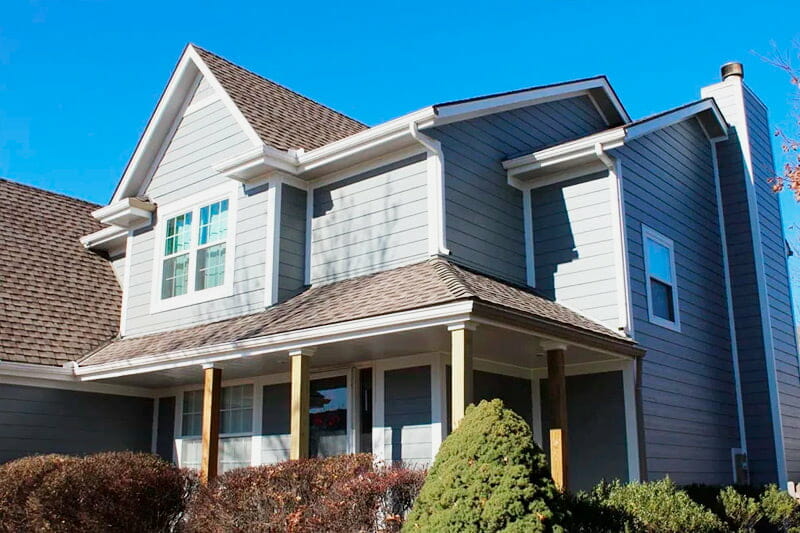 Aluminum Siding Costs Calculation
The price for installing aluminum siding is $5 to $10 per square foot including materials and labor costs. For removing the existing siding and disposal of the waste you will have to pay more money, $1.7 to $3.6 extra per square foot.
Average for a 1,500 square feet house
This project cost around $10,000 to $19,000 for 1,500 square feet of exterior walls including labor, material, removal of the old siding, and cleaning the site.
Aluminum RV or Trailer Siding Prices
Depending on thickness prices for trailers and RV vary from $8.50 to $11.00 per square foot. Usually, it is sold on 48 inch wide rolls and comes flat or with a pattern. Workshops charge $65 to $190 per hour and usually, it requires 1 to 2 days depending on its size.
Cost to Replace Aluminum Siding
Removal of the old siding from an average 1,500 square feet house in total cost is from $2,500 to 5,300 which includes labor and waste disposal. Additional $8,000 to $14,000 you will have to pay for installing aluminium siding again.
Cost to Remove Aluminum Siding
Removing aluminium siding costs $1.70 to $3.60, this includes taking off the panels, fasteners, trimmings, and disposing of the waste.
Cost to Paint Aluminum Siding
For the paint job, you will have to spend around $2.30 per square. In this price are included painter and time for cleaning up.
HomeGardenGuides.com is a free service that quickly matches you with top-voted local Mold Inspection Specialists.
You can get 3 estimates fast by real certified experts in your area in just 2 minutes.
Scroll to the top of the page and enter your Zip code.
Answer questions about your siding project
Your siding project details are forwarded to three local experts. They will send you a price estimate for the job and some friendly advice.
IMPORTANT: There is no obligation to hire. This is a free tool and service to be used at your pleasure.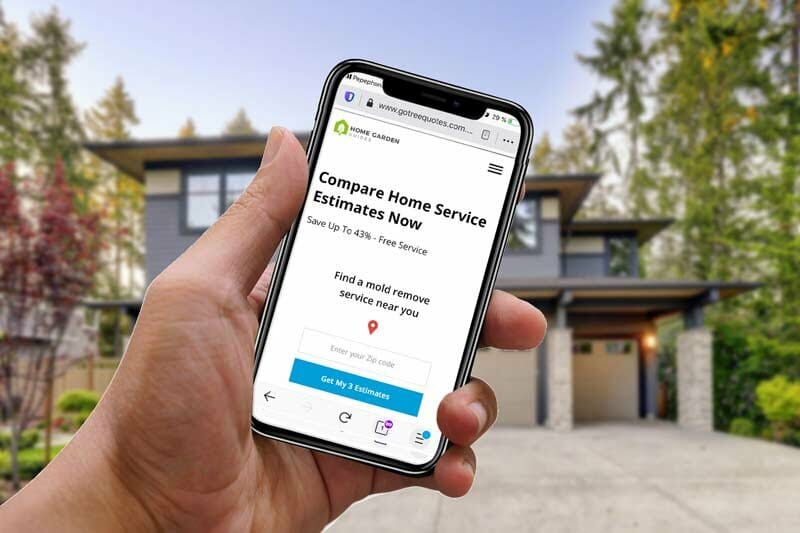 Factors that Affect the Cost of Aluminum Siding
The cost of aluminum siding is influenced by several cost factors. The square footage of your home, the architectural features, the home's location, etc.
Aluminum is a commodity just as steel and wood, which means that is a raw material that is made into something else. Aluminum is the second most commonly used metal in construction, and the prices of this metal differ from time to time. The current market prices do not necessarily affect the immediate price you pay, but still, affects the whole project cost, but still has its share.
The thickness of the panels naturally affects the cost. Normally thicker panels are more durable and stronger, but more expensive. Consult your contractor did you really need thicker panels for your home and if you don't be wise and save money on the total cost.
If you are good with your hands and if you have enough time maybe you can consider DIY aluminum siding installation and be more cost-effective. However, you must know that unprofessional installation may result in a poor job which will have a huge impact on the curb appeal of your home eventually. So maybe it is best to hire a pro.
The complexity of the house exterior
A rectangular house is easier and cheaper to side than a multi-story house with complex angels. Every corner requires extra measurement, time, and fitting. Eaves and turrets contribute to the complexity of the job, and normally all of these affect the siding project cost.
Maintenance and cleaning of the aluminum siding
Aluminum siding is known as low-maintenance siding that will protect your home and improve the curb appeal of the property. It is fireproof, termites and carpenters resistant, and if it is installed and maintained properly it can last up to 40 years. Aluminum siding should be hosed off once a year, and if the surface is sealed, you can use a mild detergent or non-abrasive cleaner and pressure washer.
Color will fade over time and it will fade faster if the siding is in an arid region with the bright unrelenting sun. Once the color has become shabby-looking, you will need to start painting the siding. If manufacturer-recommended paint specifically for aluminum siding is used, and prep the surface properly, you won't have to paint more often than 12 to 15 years.
Cost to Clean Aluminum Siding
If the cleaning is not delayed for a longer time, you can clean the siding yourself and save money. If you hire a professional to finish the job for you expect to pay between $0.35 – $0.80. Here are some of the factors that will affect the price:
Two-story homes require more equipment and that is about 35% more expensive than single-story homes.
Design complexity can add 10% to the average cost of cleaning.
Environmental friendly cleaning materials add about 10% to the average cost
Cleaning will be also affected by who does the work, starting from the least expensive: unlicensed handyman; licensed insured and bonded handyman adds 10%; cleaning franchise adds 20% more, property management sub-contractor add 25% more.
Pros and Cons of Aluminum Siding
Aluminum siding is a durable, long-lasting, and affordable alternative to wood siding. Since we passed the cost consideration above, let's get familiar with the pros and cons of the aluminum siding:
This siding is 80% cheaper than other siding materials because the siding is often made from recycled materials which reduce the overall cost of the project. Even if you are hiring a professional, labor costs will be lower than other siding options because is lightweight and easy to install, and can be install over existing siding.
Aluminum siding is 100% recyclable and for sure will never end up in a landfill. This siding is also a great insulator and according to that is very energy efficient. By installing aluminum siding you can reduce your energy costs throughout the year.
Aluminum siding is usually made from aluminum coil stock and other siding materials, making it extremely durable. This siding is also coated with a protective top layer to prevent erosion and then finished with color and texture. If installed and maintained properly, the siding lifespan is to 50 years or almost a decade longer than vinyl.
Aluminum siding is low maintenance material and is not prone to rotting, mildew, and rust. It also doesn't shrink and swells because of changes in temperatures. Rinse it a few times over the year and do regular inspections every few years and you will have a long-lasting casing to your home.
Maybe you will never notice, but aluminium siding can be noisier than other siding options. That is because high winds, rain, and hail can be a little noisier on aluminium siding.
Aluminum is a soft metal and it's prone to dents and scratches especially if you live in an area where hail is common or if there is heavy traffic, there is always a risk of minor damage. But they are easy to repair.
Can become worn and out of style
Finished with a colored-top coat leads to color fade and becomes worn, especially during exposure to rain, wind, and other natural elements. To minimize this issue be sure that you are applying high-quality exterior paint that can withstand bad weather. Also, some consider that aluminum is out of style, and depending on the area where you live this type of siding can reduce the value of your property.
When comparing different materials factors to consider are lifespan, durability, and strength, insulation, color, cost.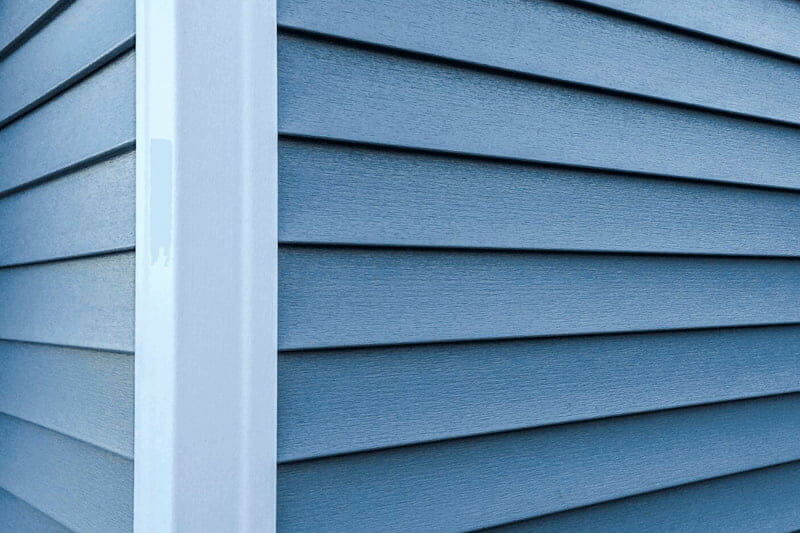 Aluminium lasts up to 40 years compared to 30 years of vinyl. Just for comparison, fiber cement, brick, and stucco can last up to 100 years.
Vinyl is prone to cracking from extended exposure to sunlight and extreme temperatures. On the other hand, all types of metal siding are tougher and dents are easily repaired.
Compared to plastic, fiber cement, and plaster, metal siding is a poor insulator. This can contribute to your home being less energy efficient.
Paint adheres to the metal better than to the vinyl siding. Metal fades over time if unpainted, while vinyl maintains its color for life.
Low to middle-grade options of both types has minimal differences in prices, but when it comes to a high-quality option, vinyl siding costs about 30% more than the most expensive aluminium siding options.
Consider replacing your siding if it is heavily damaged and the costs of the repair are higher than replacement. If it is unpainted the color of the new panel is hard to match with the old siding. Repair if it is an easy project and if you don't mind so much about the appearance.
Corrugated aluminum is a better choice than a regular flat panel sheet because its shape assists with contraction and expansion when the temperature changes. If you use a flat sheet it can be prone to warping or bulging.
Unlike wood, aluminum siding doesn't rot and it is dent-resistant and sturdy. So it seems like it is a better option when it comes to maintenance and resistance.