You want to build your dream home but you need to figure out what suits you, a brick house or a timber frame home with siding?
The total cost to build a brick house depends on home size, materials, and labor. However, the average cost to build a brick house is $282,000 plus the cost of brick siding which typically ranges between $10,000 to $75,000 for a 2,500-square-foot house.
On the other hand, for building a timber frame home you will have to pay from $150 to $400 per square foot. Attaching the siding on your timber frame house will cost you $2.5 to $12.85 per square foot depending on the type of siding you use.
In this article, you will find all the necessary information that will help you solve your dilemma.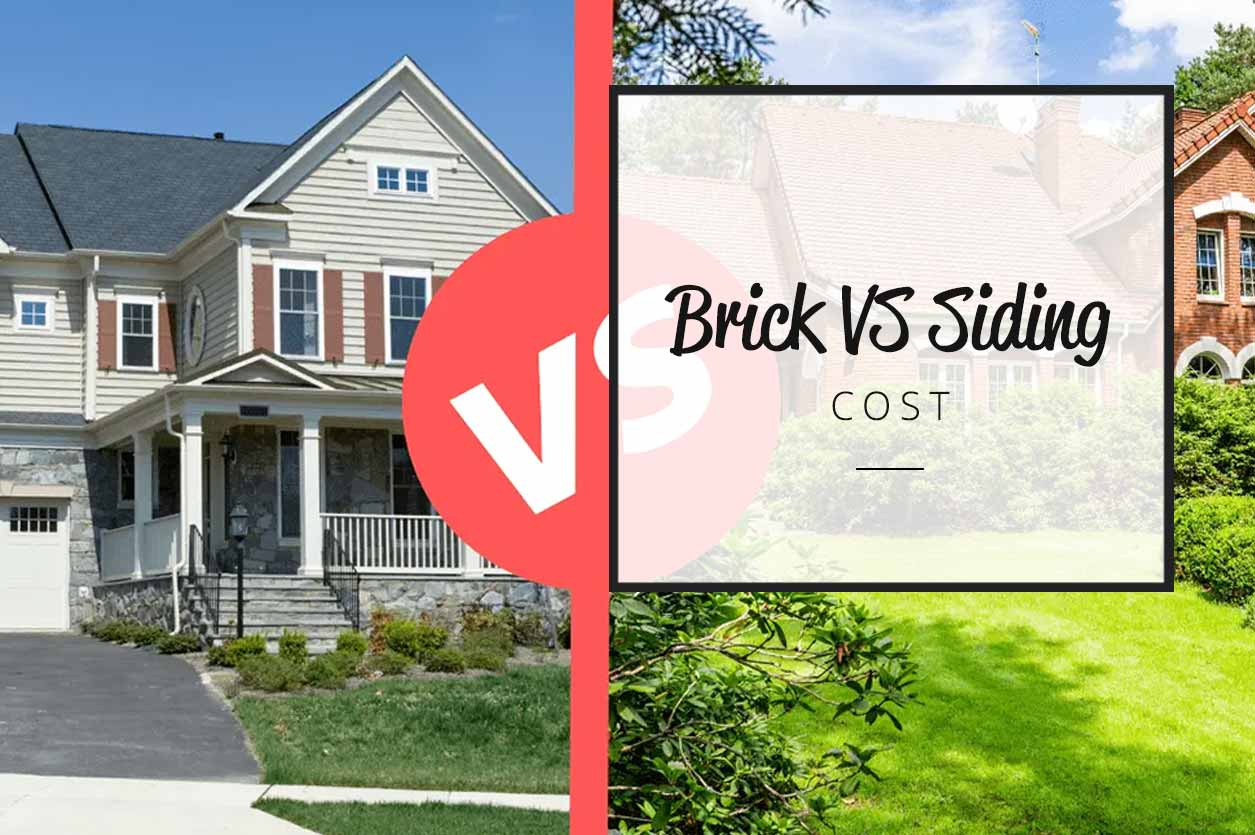 The total cost of building a brick house is divided into three groups:
Materials
Professional labor and installation
Permits
About 50% of the total cost when building a new brick house is for the materials that include land and site work, foundation, framing, exterior work, major systems, and interior finishes. As always, the quality of the materials makes a big difference and will significantly affect the total cost.
Factor the cost of the brick siding which is usually 15% to 20%. The table below shows the average cost of the brick exterior:
| Material | Quantity | Avg. cost |
| --- | --- | --- |
| Face brick siding | Square foot | $4 - $8 |
| Real brick | Square foot | $3 - $10 |
| Faux brick veneer | Square foot | $4 - $10 |
| Faux brick panel siding | Square foot | $6 - $10 |
| Mortar and supplies | Square foot | $0.4 - $0.5 |
Professional labor and installation cost
Another significant impact on the total cost of the project is the cost of the professionals. Labor costs include
Builders and carpenters – $35 to $90 per hour
Electricians – $50 to $100 per hour
Plumbers – $30 to $200 per hour (depending on the complexity of the job)
HVAC professionals – $75 to $150 per hour
Drywall and flooring installers – $50 to $100 per hour
Exterior siding and roofing – $18 to $22
Professional bricklayers – $50 to $100 per hour
The prices presented are not exact. Of course, they vary depending on the area you live in, and the complexity of the project, for example, multiple stories, odd angles, etc. will raise the labor cost.
Building permits are required by the local building department. Building permits have an average cost of $1,600. However, the cost of the permit depends on the total estimated project cost.
The custom-built brick house cost
A very expensive option with a price that can reach up to $500 per square foot. Custom-built houses come with unique design considerations, high-quality materials, and very often with greater square footage compared to a standard build.
How to save money when building a brick house?
DIY is one of the solutions but you must have experience and skills in building, otherwise, you will have problems. Also, try to find the material via online marketplaces and social media, or cut the subcontractor and purchase the materials directly from the supplier, and save money.
If you can take care of the finishing touches, inform your contractor upfront and save money. Finishing touches include anything from landscaping to interior painting.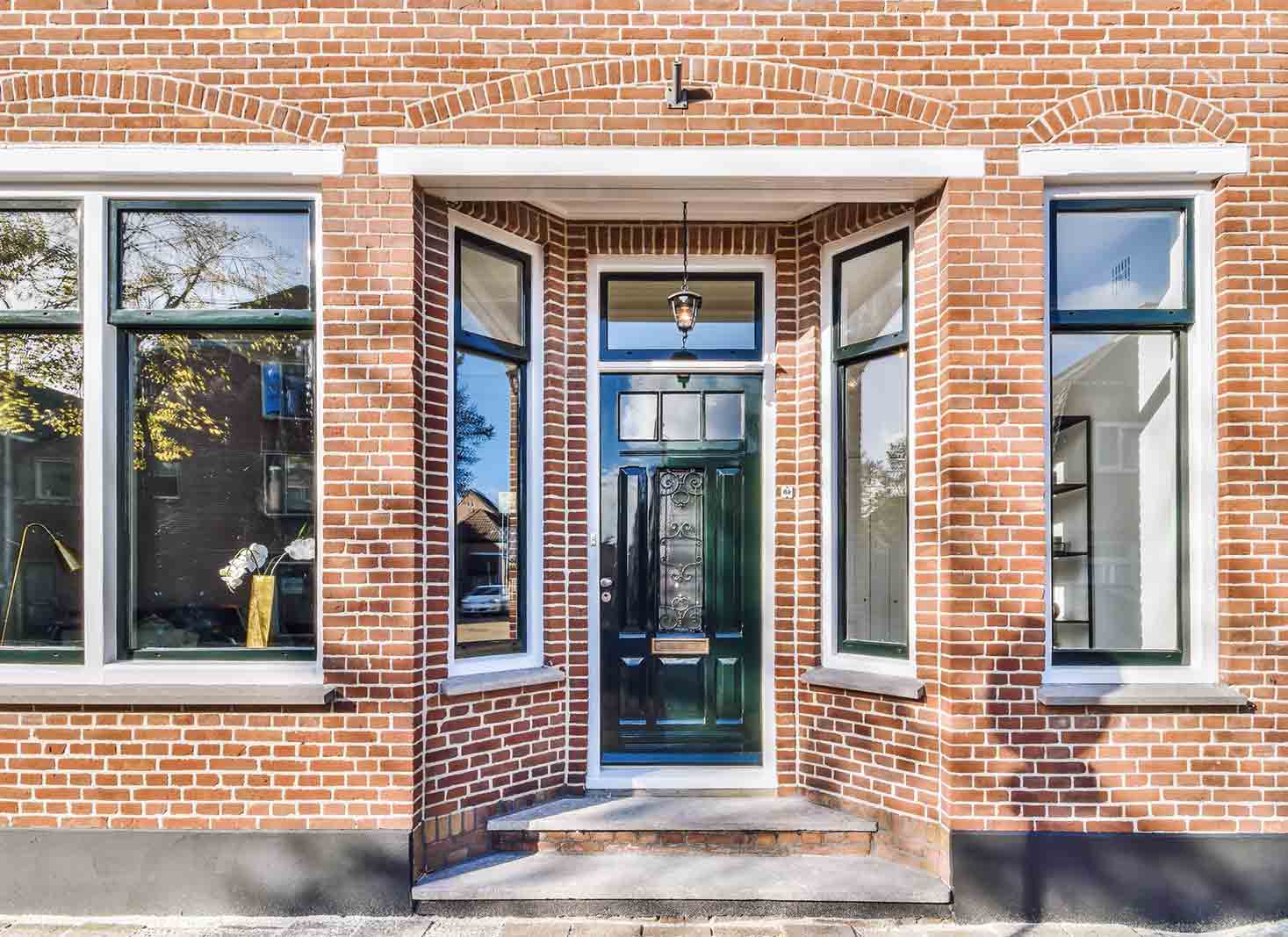 Brick house pros and cons
Brick houses offer great insulation because brick has a great ability to retain heat, and also can help you keep your house's interior cool during the hot summer months.
Brick is a great humidity absorber and can help you keep your home dry. The brick house can cost you more upfront but it is a great investment eventually because they often sell for more than other types of homes.
With brick houses, you have a limitation in terms of styles compared to wooden houses for example.
Maintenance is another drawback of the brick house. The maintenance is more expensive than the maintenance needed for the wooden house with siding. Also, be careful with the vegetation near your home because some of the vegetation could easily destroy the brick exterior eventually.
Want a home builder near you? - Use our FREE service!
HomeGardenGuides.com is a free service that quickly matches you with top-rated home builders near you.
You can get 3 estimates fast by real certified building professionals in your area in just 2 minutes.
Scroll to the top of the page and enter your Zip code.
Answer questions about your building project
Your details will be forwarded to three local professionals. They will send you a price estimate for the job and some friendly advice.
IMPORTANT: There is no obligation to hire. This is a free tool and service to be used at your pleasure.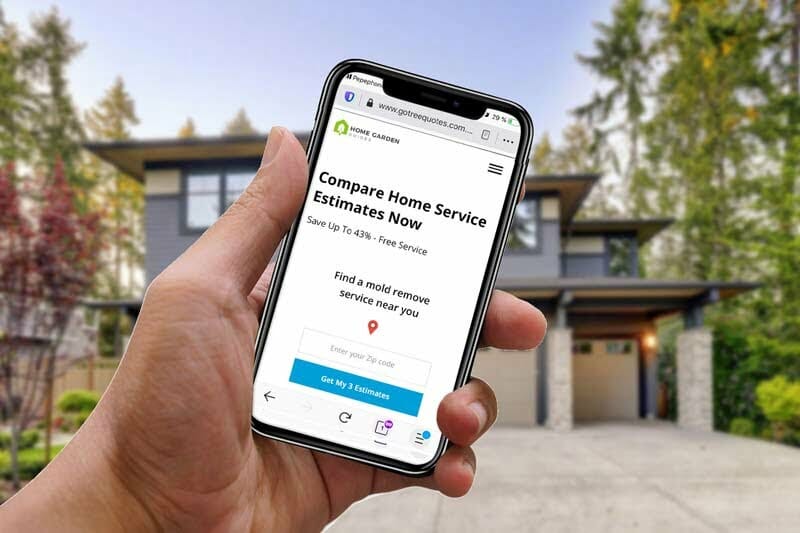 Timber frame house building cost
For building a timber frame house you will have to pay between $150 and $400 per square foot depending on the design of the house and the type of wood used.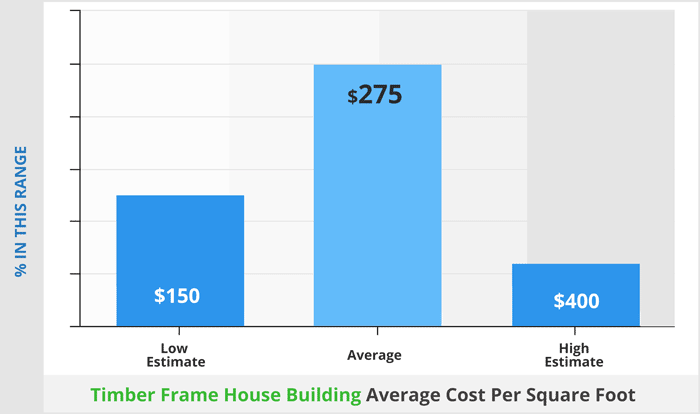 A wide range of costs is because almost all timber frame houses are custom-built. This is because their building requires great precision in the construction and different lot types. Also, the price per square foot for timber frame homes is less reliable compared to conventionally built homes.
Another thing that influences the total cost per square foot is the degree to which you'll be outsourcing the work. For example, if your package is a full, turnkey package that includes everything from design to construction, you will have to pay between $200 and $250 per square foot.
On the other hand, if you use the existing plan and DIY some of the construction work you will have to pay $150 and $175 per square foot. These prices refer to mid-range materials, if you use high-quality materials the price will go up.
Regardless of the complexity of the design and the material used, the price of the timber frame home usually costs 20% more than a similar stick-built home.
Besides the square footage of the house and the package type, there are several other factors that significantly affect the total cost. These factors include:
The area you live in;
Complexity;
Roof lines;
Finishes;
Timber framing and density;
Square corners.
Hawaii state is considered the most expensive state when it comes to building a timber frame home. Along with Hawaii, New York, California, Texas, and Alaska have a higher cost of up to 23% than the national average.
Also, the terrain is a great consideration. If you build on a slope you will have to pay more since you will need a deeper foundation, grading, or retaining walls to secure the frame. That cost more.
A simple and straight staircase is a cheaper option compared to a curved one. The number and the design of windows also affect the total cost. Fewer simple design windows will cost less compared to a large floor-to-ceiling option.
If the roof lines involve more than one main ridge the price will go up.
Everything from the flooring to the appliances to external home materials refers to finishes. No matter if you choose basic finishes or luxury options the total cost will differ.
Timber framing and density
The density of the project, the amount of timber framing used in the design, will greatly impact the price.
For example, same-sized homes with a different number of square corners will not cost the same. A basic rectangular design is the most affordable way to build a timber home.
Once you have your timber frame construction you need to attach a siding. The following are the most popular types of siding and their costs in 2023.
| Type of siding | Quantity | Average cost |
| --- | --- | --- |
| Brick siding | per sq. ft. | $12.5 |
| Vinyl siding | per sq. ft. | $3.7 |
| Wood siding | per sq. ft. | $9.2 |
| Stucco siding | per sq. ft. | $5.2 |
| Fiber cement siding | per sq. ft. | $7.65 |
DIY timber frame home building cost
If you choose to take this route you may save from $10 to $15 per square foot which is a good saving on the whole project. However, the DIY way has some concerns which must be seriously considered and for which you must be aware and prepared.
Timber frame houses building requires great precision and the timber must be custom-crafted according to plan. When you order the frame it will be assembled in the factory to be sure that the structure is firm enough, and after that, it will be sent to you disassembled.
One of the first challenges that you will face when constructing a timber frame house DIY will occur very early: timber frame homes must be fitted together on the spot and raised which requires a big crane or a large group of strong people.
Timber frame house pros and cons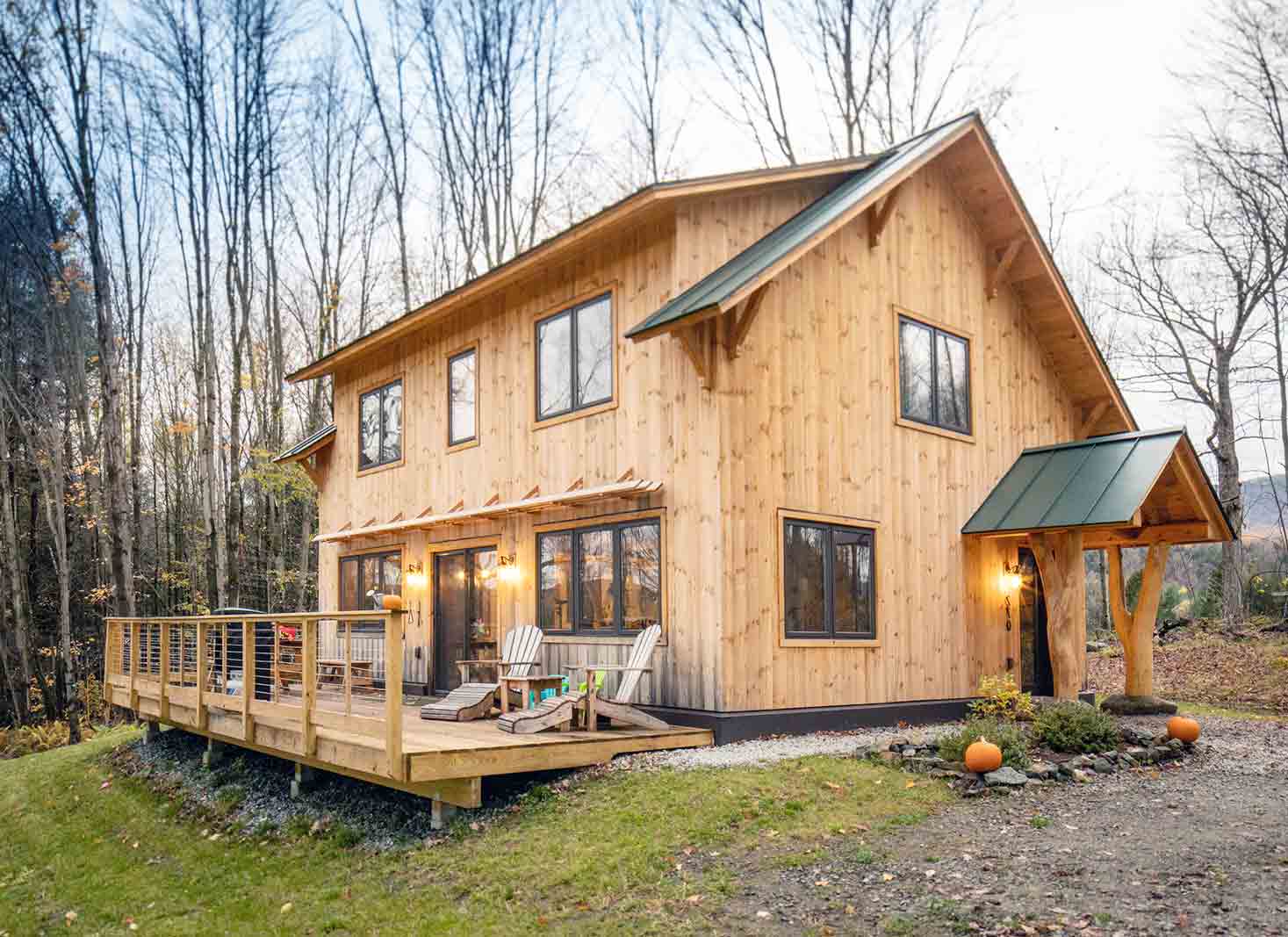 A timber frame house is built very quickly since wood is lighter and easier to work with compared to brick. The ability of the wood to dry quickly is also considered an advantage and with that, electricians and other craftsmen can finish their work quickly.
Another advantage of wood is that it is an excellent insulator, sound, and thermal, especially in colder climates. Also, wood provides decent levels of humidity absorption and noise dampening.
Compared to brick wood does not hold up as well against natural disasters such as fire, flooding, strong winds, and storms. Timber frame houses are more vulnerable to rot and mold problems than other types of homes. If pests such as termites, and carpenter ants aren't detected quickly, they can easily destroy the house. Also, pest control can be very challenging with wooden houses.
Brick house VS Timber frame
This dilemma can be solved using the following parameters:
This is a matter of personal taste. Brick houses are known for their rich, historic appearance. On the other hand, timber frame homes provide more style options plus a variety of sidings provide a wide range of possibilities.
Winner: Draw due to personal taste.
Here is almost a tie, but brick houses do offer better protection against rot and mold that frame timber homes are prone to. On the other hand, hidden and underlying problems are easier to fix with wood houses than with brick houses.
Winner: Brick house because they are great in withholding heavy storms and elements.
Despite the higher price of the brick house compared to a timber frame home, they have a higher resale price.
Winner: Woodhouse
Repointing or tuckpointing will be needed eventually with brick houses. This task requires professional expertise. Wood homes need to reside every 30 years but that is a fairly simple process.

Winner: Woodhouse
With a lifespan of over 250+ years brick homes are an absolute winner in this battle. However, wooden houses also have an enviable lifespan of between 100 and 150 years.
Modern building methods are relatively green so both brick and wood homes are pretty sustainable. However, wooden houses are more eco-friendly due to sustainable timber practices. Also, transporting bricks and producing them requires more energy that way increases greenhouse gas emission.

Winner: Woodhouse