Shiplap is an inexpensive siding material with rabbeted edges which gives it a tight seal against moisture and cold when installed. Shiplap boards have excellent insulating capabilities, which makes them suitable for use in colder climates.
Shiplap is a common exterior siding material. Homeowners have been using shiplap boards as exterior siding for their homes, sheds, and barns for centuries.
Many individuals often confuse shiplap with tongue and groove siding. Read on to learn more about the differences between the two siding materials and the cost of installing shiplap on your home exterior.
You can use shiplap boards as exterior siding for your home, barn, or garden shed. Shiplap paneling design provides excellent insulation when installed on your home exterior, making it a practical exterior siding option for homes in colder climates.
Shiplap as an exterior siding alternative is experiencing a revival as homeowners rediscover its utilitarian appeal and rustic aesthetics. You can install shiplap to match your current home decor, and it works with different architectural styles and home designs.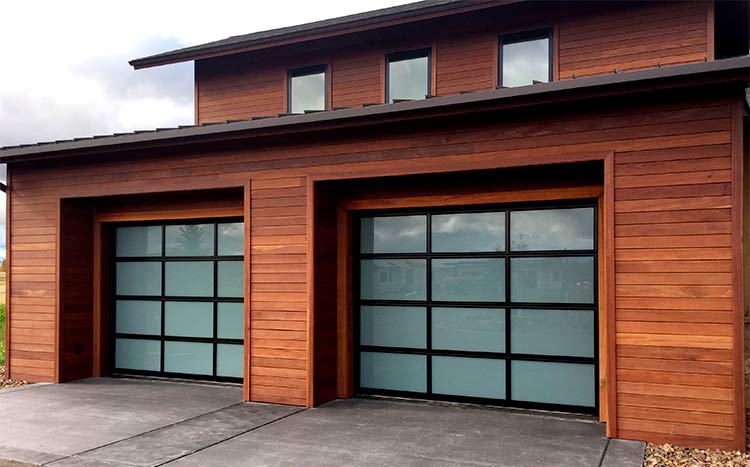 HomeGardenGuides.com is a free service that quickly matches you with top-voted local contractors.
You can get three estimates fast by real certified experts in your area in just 2 minutes.
Scroll to the top of the page and enter your Zip code.
Answer questions about your exterior siding job.
Your project details are forwarded to three local experts. They will send you a price estimate for the job and some friendly advice.
IMPORTANT: There is no obligation to hire. This is a free tool and service to be used at your pleasure.
Average cost of a shiplap exterior installation
The average cost of installing shiplap panels on your home exterior ranges from $2,920-$7,900 for a 2,700 square foot home. The average material costs are between $1,000-$3,000. Shiplap board prices range from $2.90-$25 per board, depending on the wood type, quality, e.t.c. The average retail price of shiplap boards at Lowes is between $7.20 to $12.50. In contrast, average wholesale prices range from $2.80 – $7.99.
The table below shows the average cost for a 2,700 square foot home.
| Service | Quantity | Low | High |
| --- | --- | --- | --- |
| Shiplap cost | Per board | $2.80 | $7.99 |
| Shiplap exterior installation cost | Per square foot | $2,920 | $7,900 |
| Shiplap installation labor cost | Per hour | $25 | $40 |
| Shiplap material cost | Per square foot | $1,000 | $3,000 |
Labor cost to install shiplap on a home exterior
Installing shiplap on your exterior home or walls is a straightforward process, and labor costs are relatively inexpensive compared to other types of exterior siding. Average professional labor costs range from $3,250-$5,500 or $25-$40 per hour, depending on the job complexity and location. Additionally, sanding, painting/staining, and sealing the shiplap boards for protection against weather damage can increase your overall labor costs.
Cost of installing shiplap by material type
Your choice of shiplap board material determines your overall installation costs. Higher quality Cedar or Redwood shiplap boards are more expensive, and they cost more to install than pine or hardwood shiplap boards.
Types of shiplap
Pine: is a traditional wood siding material due to its classic looks. Standard pine shiplap boards cost between $3.10-$5 per square foot.
Cedar: is another popular shiplap board type among homeowners due to its weatherproof, bug repellent, and water-resistant characteristics. Untreated and standard Cedar shiplap boards cost between $2.75 to $6.50 per square foot, while treated, high-quality Cedar shiplap prices range from $4.50-$8.
Hardwood: homeowners love hardwood shiplap because it is cheap and readily available. Hardwood shiplap is diverse boards produced from timber harvested from different types of broadleaf trees, and their average prices range between $0.99-$4.5 per square foot, depending on the hardwood type and quality.
| Material | Low | High |
| --- | --- | --- |
| Pine | $3.10 | $8 |
| Cedar | $2.75 | $8 |
| Hardwood | $0.99 | $4.5 |
How to install shiplap exterior siding
You can install shiplap exterior siding on your home exterior in a few easy steps. Shiplap boards are designed to fit together easily without any issues. And you need minimal technical skills to understand the installation process sequence. Below is a breakdown of the steps involved.
Step 1: Determine the project scope
Your first step when installing exterior shiplap siding is to calculate the wall surface you will enclose with siding. An easy and fast method is multiplying each wall height by its width and subtracting windows and doors. This method allows you to determine the number of materials you will need to complete the project.
Step 2: Repair and prep your home exterior wall
Prepare the wall by removing all existing wall paint or stain, existing siding, and window/door trims.
Check the underlying wall and the existing insulation for signs of water damage. Replace damaged insulation and fix any issues.
Use a stud finder and chalk to create visible marks to guide you when nailing shiplap boards into wall studs.
Outline the outer wall edges of your wall with caulk before assembling the shiplap.
Step 3: Installing the shiplap
Cut the boards to the appropriate sizes before installing them on your home exterior wall.
Pre-drill your shiplap panels before nailing them to your home exterior wall to prevent the boards from cracking.
Starting from the ground level, use nails to attach each board to the wall studs. Carefully ensure the first board is perfectly straight to prevent your entire siding from appearing sloped when completed.
Create uniform gaps (⅛ inch) between each shiplap board with spacers.
Leave a (½ – 1 inch) around doors and window edges. Seal and cover the space with window trim.
Step 4: Painting and finishing
Cover all nail holes with sparkle, allow them to dry. Using a 400-grit wallpaper, lightly sand the shiplap board surface.
Apply a coat of paint primer before painting.
Apply at least two coats of exterior wood paint over the shiplap boards. You may apply the first coat of paint and allow it to dry before installing the shiplap boards, and then apply the second coat after installation.
Use a narrow paintbrush to touch up gaps between each shiplap board.
Materials used in installing shiplap exterior siding
The materials you need to install shiplap exterior siding are the same stuff you use for drywall repair and other home repair projects. Materials used for installing exterior shiplap are available in different price categories to suit your budget and taste, and you can buy them at your local hardware store.
They include:
Nails.
Exterior caulk.
Sparkle.
Wood filler.
Underlayment.
Primer.
400-grit sandpaper.
Exterior paint/stain.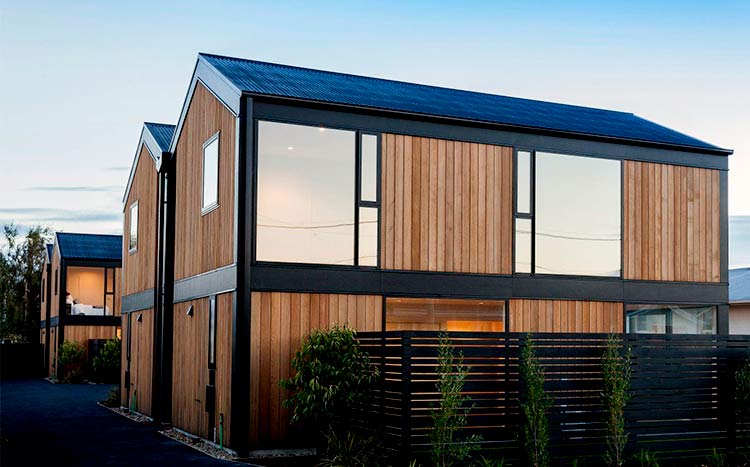 Exterior shiplap siding vs. vinyl siding
Shiplap offers superior performance when compared with other exterior siding types, such as vinyl siding. You can view a comparative analysis of shiplap exterior siding and vinyl siding in the table below.
| Shiplap Exterior Siding | Vinyl siding |
| --- | --- |
| It is more durable and less prone to cracks or breaking in extreme temperatures and weather. | It is less durable and susceptible to cracking or breaking in extreme temperatures and weather. |
| It is easier to install shiplap on our home exterior. | The installation process is more complicated. |
| Shiplap adds character to your home exterior walls. | Vinyl siding offers your home a uniform manufactured look. |
| It is effortless to repair, and you can easily remove and replace damaged shiplap boards. | It isn't straightforward to repair. Replacing damaged vinyl panels is a complex affair. |
| It is prone to insect and water damage. | It is water and insect-proof and does not rot. |
| Your color choices are limited to your paint options. | It has an unlimited range of available color choices. |
| It needs painting which adds to your overall costs. | It does not require painting, which reduces your overall costs. |
Exterior shiplap vs. tongue and groove
Both exterior shiplap and tongue and groove siding share similar characteristics, putting their performance at par when installed on your home exterior walls. You can view a comparative analysis of shiplap exterior siding and tongue and groove siding in the table below.
| Shiplap Exterior Siding | Tongue And Groove Siding |
| --- | --- |
| Shiplap coats are typically cheaper due to their simple design and fabrication. | It costs more due to its more complex design and fabrication process. |
| Shiplap exterior siding connects using the boards' rabbeted edges. | Each individual cut edges to interlock with one another, which is a more innovative design. |
| It does a poorer job at keeping out moisture. | It offers better protection against moisture. |
DIY vs. professional installation
Shiplap exterior siding installation fits the requirements of an ideal DIY job. It is a quick, low-tech project that you can complete over the weekend. But hiring a professional offers a lot more advantages.
You can view a comparative analysis of DIY installation and hiring a professional to install your exterior shiplap siding below
| DIY | Professional |
| --- | --- |
| Lack of experience may fail to identify underlying wall damage. | Experienced professionals perform checks on the underlying wall to identify and repair structural damage. |
| Inability to correctly measure and cut shiplap boards into uniform sizes. | Professionals can measure and cut shiplap boards into even sizes. |
| You have to buy your equipment. | Brings their equipment and have more specialized tools. |
| Shiplap board alignment issues may occur due to a lack of experience. | Have considerable expertise to align shiplap boards properly |
No, it is not. Shiplap use as exterior siding among homeowners is increasing in popularity. And since 2013, it has become a fashionable external siding option.
Cedar offers superior performance and anti-weathering capabilities as an exterior shiplap siding option. Cedar is naturally water and pest-resistant.