For most people, finding the most affordable siding is a priority when building or renovating a shed. Most people don't want to spend too much on an expensive siding when they can make do with cheaper shed siding materials in the market. This guide explores some of the cheapest options for shed siding today.
The cheapest recommended shed siding option is vinyl. You would spend between 1.44 to $2.93 per square foot to side a shed with simple vinyl siding. The total cost to side a standard shed with vinyl panels is roughly between $600 to $1000 assuming you get someone to install it for you.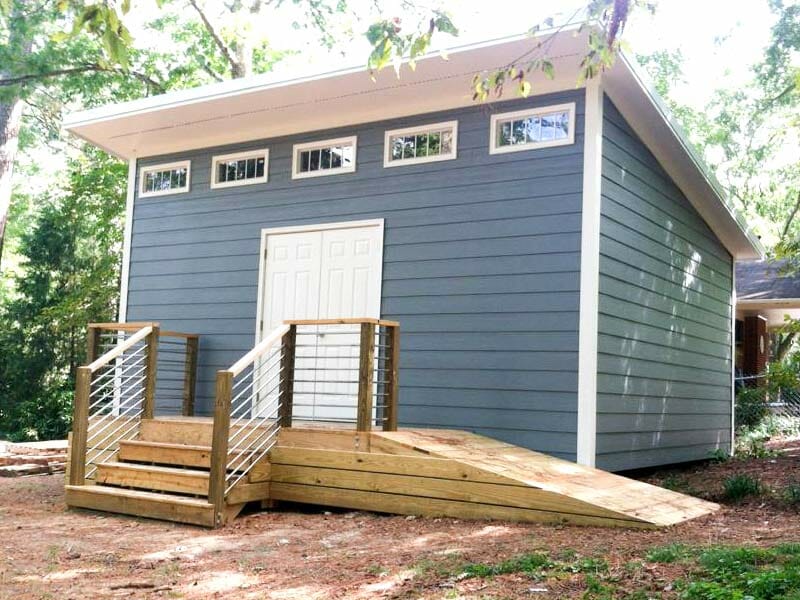 Comparison- Five Least Expensive Shed Siding Options
Comparison- Five Least Expensive Shed Siding Options
Vinyl siding is not the cheapest if you compare it to every option on this list but we recommend it as an affordable and value-for-money option. In terms of cost, you should expect to spend between $1.44 to $2.93 per square foot for vinyl siding with material and installation costs factored in.
It is one of the most popular modern siding options today because of its versatility, durability, and affordability. We recommend vinyl as the first choice if you are looking for the cheapest siding to install on your shed because of these reasons.
As a material, vinyl performs very well in all climates and it can be bought in a variety of colors, sizes, designs, and qualities. There are even premium options if you are looking for something more expensive and whose quality is up there with more premium shed siding.
Vinyl siding panels are bought pre-cut and ready to install which can save you time and money when you are installing them on your shed. You'll have an easy time installing the siding panels either on your own or with the help of a professional installer if you want to complete the job quickly.
As a shed siding material, vinyl has many advantages. Here are some of them:
Affordable, value for money option – No material comes close to vinyl siding in terms of cost and value for money. Vinyl has become one of the most reliable, low-budget options for all kinds of projects in recent years.
Vinyl siding is durable- Despite it being a manufactured and mass-produced material, vinyl can give you over three decades of service and is maintenance-free. This makes it a perfect shed siding option since most people like their sheds to stay intact for years or decades without much repair work needed in that time.
Vinyl siding is widely available- Walk into any hardware store in your neighborhood today and the first siding product you'll be offered is vinyl. You don't have to shop around or look for a supplier as vinyl panels are available everywhere.
Construction grade Plywood Shed Siding
We recommend plywood as the second option for shed siding although it is the cheapest option in most places. In terms of costs, expect to spend between $1 to $4 per square foot for plywood siding with material and installation costs considered which is less expensive than traditional wood siding.
Plywood comes in different qualities and some options might end up being on the expensive side so shop wisely when looking for plywood backyard shed siding. You'll most likely use T-11 plywood if it's shed siding you are after although there might be other options in your local hardware store.
Plywood Shed Siding Advantages
Here are some of the reasons you should look at plywood for your shed's exterior:
Plywood is easy to install and maintain- Plywood sheathing is probably the most used for backyard shed exteriors mainly because it's relatively easy to install and maintain. Just like other types of wood siding, you only need a saw, hammer, and a few other tools to install plywood sheathing.
Installation for T-11 shed siding is mostly a one-man job unless you have an extra-large or tall shed that needs more work.
Affordable-Plywood or T-11 as it is commonly referred to in the industry is the cheapest and most available siding material in most places. Low-quality softwood siding might be slightly cheaper but you are better off spending the few extra dollars to get T-11 siding.
Plywood is Versatile- Unlike other wood products, T-11 does offer a lot of room when it comes to customization. You certainly won't have to stick to one single boring design or color as you can cut the sheets to any shape. For instance, you can easily achieve the batten look by cutting largeT-11 panels to desired boards and battens then painting the siding.
Plywood is easy to maintain- You may not need a handyman or expert to repair minor damages on plywood siding. All you need is some extra boards, nails and a hammer to fix and keep your siding in good condition throughout its lifespan.
Plywood Shed Siding Disadvantages
Durability- susceptible to moisture damage, pests, and heat-T-11 might be the cheapest or most affordable among the siding options for your shed but it will not offer the durability of more robust options like metal or even vinyl. T-11 can get damaged easily over time especially if it's not properly coated, painted, and treated due to the elements.
Plywood is Flammable-As expected, T-11 is up there, even above some synthetic materials like vinyl when it comes to flammability. This is certainly something you should consider especially if you will be working with equipment that produces fire or sparks like welding rods or grinders or if you live in a bushfire-prone area.
Less Security- As compared to more robust options like metal, T-11 is certainly not the most secure option as it can be breached easily using simple tools and minimal force. This is certainly something you should consider depending on the things you will be keeping in your shed when you are away.
Engineered Wood Shed Siding
Our third recommendation for siding options is engineered wood because it is easily available in all hardware stores across the country and prices have come down due to competition. Engineered wood as the name suggests is siding made of manufactured wood.
Most engineered wood siding products are environmentally friendly because they are made from recycled wood residue or reclaimed wood products. Despite this, they are usually more durable because of the additives added during manufacturing and the pest and water resistance they have.
In terms of cost, engineered wood siding ranges between $4 to $10 installed depending on the quality of the wood and other factors like design and supplier. You can purchase ready-to-install engineered wood siding products in any design or quantity depending on your preferences
Engineered Wood Advantages - Shed Siding
Engineered wood is reading available across the country- more than other wood siding or other materials that are usually dependent on local industries.
Engineered wood is more environmentally friendly as compared to wood siding, metals, and other siding options.
Engineered wood is versatile as it can be used in different ways or designs and customized to suit your preferences.
Engineered wood is usually treated and has additives that make it more durable than normal wood siding. It is normally more resistant to pests and less prone to water damage.
It's relatively affordable as compared to closely matched siding options.
Engineered wood is easy to install and repair. You don't need a lot of tools or additional materials when framing or attaching the panels to the studs. It's a simple job that you can do as a DIY job if you have the time and know what you are doing.
Engineered wood Disadvantages- Shed Siding
Engineered wood does not have many cons but there are a few you should consider. Here are some of them:
Engineered wood is not the most durable option out there- Price aside, you may not get the longevity or durability you could get from, say, vinyl or metallic siding from engineered wood. It does get damaged over time and may need more frequent maintenance.
Engineered wood is not waterproof, moisture-proof, or scratch-proof. Just like any other wood, you may need to repaint and apply protective coating on your engineered wood siding after every few years especially before winter or rainy season to extend its lifespan.
Low quality engineered wood- being a manufactured wood product there is a big chance that you might come across some low-quality products in your local hardware store. Low quality engineered can have terrible performance in the elements and should be avoided.
Engineered wood is not fireproof- Just like any other wood siding product out there, you should not expect your shed to be fireproof if you install engineered wood. Go for any of the other siding options out there if there is a high risk of fire in your environment.
All, in all, engineered wood is one of the recommended wood shed siding options out there and you should give it a hard look when trying to decide what to go for. With a bit of luck and know-how, you can save a lot of cash should you go for this option.
Metal siding is one of the most popular siding options out there and for a good reason. You are most likely going to lean towards aluminum siding if you are on a budget but can also find a good deal on more robust metal siding products.
Metallic siding can be bought as pre-primed or pre-cut metal panels that you can install on front and back walls depending on the design of your shed. Generally, metal siding is more preferred among other siding options because of its strength and longevity.
Metallic Siding Advantages for Shed Walls
Metallic siding is Durable- Metallic siding can last for decades with minimal repairs especially if it is galvanized metal or if it's properly painted and repainted over its lifespan.
Metallic siding if coated and painted is moisture-proof and waterproof. However, you do need to keep an eye out for rust and do necessary repairs regularly.
Metallic shed siding is fireproof
Metals offer more security – Generally, metal panels offer more security because they are more robust and therefore harder to breach. This is something to keep in mind if you will be storing valuable equipment or belongings in your shed.
One of the low-budget siding options out there is fiber cement. Fiber cement is a manufactured siding product consisting of cement and cellulose fibers. It is one of the popular siding options out there and can be purchased from any hardware store in the country.
There are different qualities of fiber cement siding depending on the manufacturer and intended market. However, you can never go wrong even with the less expensive options based on our experience. The manufacturing process that goes into making fiber cement makes it a robust budget siding.
Most fiber cement shed cladding boards come pre-stained and in various shapes and designs. You can also opt for large boards (usually 5.5 inches or more) and prepare custom shapes and designs.
Also, do note that fiber cement comes in different thicknesses with the lowest thickness usually being 4 mm. The thicker the fiber cement boards, the higher the price. Generally, you would want to go for a medium thickness for shed siding although your budget will be a factor.
Fiber cement Shed Siding Advantages
Low maintenance- This material is loved because it does not require much maintenance over its lifespan. It's pest resistant, water-resistant, fireproof, and impact resistant.
Readily available- You can purchase panels of hardy or any other manufacturer's product anywhere in the country.
Durable- Fiber cement siding can last for many years or decades because it is weather resistant.
It provides better security- Compared to alternatives in the same price range, it's harder to breach this type of siding without the use of power tools.
Cheapest Shed Siding by Style
Sometimes, the style of siding you choose also determines how much you spend. For instance, board and batten siding can be less expensive than alternatives like cedar shingles or bevel siding.
Here is a look at the stylistic options you have when it comes to shed siding and how they compare when it comes to cost.,
Shiplap siding is the cheapest and most common siding style for sheds because the boards are large and have a simple design. Most people just install LP Smartside siding if they are using this siding style. Shiplap is a style of siding where horizontal boards with opposing joints are installed next to each other.
LP siding is the most popular option for shiplap although you can use any siding. You can make the job neater to look at by using construction adhesive below and between the horizontal boards. Shiplap siding can last for many years although how much maintenance you require depends on conditions in your environment.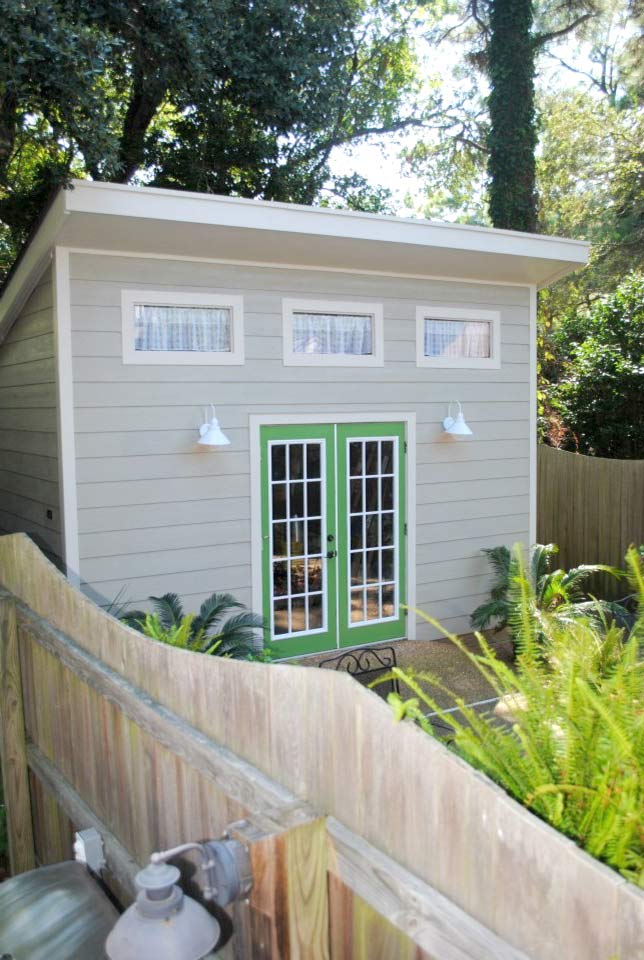 Board and batten is another great and low-budget option for shed siding. It's a style of siding where strips also called batten are mixed with larger boards to create a nice-looking exterior. You can also use LP Smartside siding for board and batten.
Board and batten can be used on the front wall for curb appeal and a different less appealing design be used on end walls to reduce costs. Board and batten looks especially good installed on a gable end for houses and sheds.
Shakes or shingles are a great budget option for shed siding. They consist of small pieces of siding otherwise referred to shakes or shingles. Shakes are usually thicker than shingles and appear more uniform. In most installations, you'll find shingles on one edge and shakes on the other, both used at the same time to achieve a rustic or more interesting exterior.
You can prepare shakes or shingles by cutting large pieces using a circular saw or purchase pre-cut shakes and shingles that are ready to be nailed directly to your wall. Pre-made shakes are available in different forms and usually don't require painting.
Tip: A circular saw is a must-have when preparing siding because it is used to trim pieces into shapes before they are nailed directly into the walls.
Cedar shingles are the most popular for sheds but feel free to use any material that fits your needs and budget. LP Smartside siding is also available in this format and is a great option for sheds. One thing you should, however, consider is installation when it comes to this style of siding. Installing individual shingles or shales can be time-consuming.
Bevel siding is also a low-budget style of siding for sheds. Bevel siding is also referred to as clapboard siding and is very common in old houses and sheds. In bevel siding, overlapping boards are installed next to each other in horizontal orientation. You start with the bottom plate or top board and install the next board with a small overlap (about 2 inches) to form the shape.
Cost Factors for Shed Siding You Need to Know
Type of Siding
Don't break the bank by choosing expensive cladding for a shed when you can make do with more affordable alternatives like plywood or vinyl. If you are like most people, then you probably have your shed in the backyard meaning it does not affect your curb appeal.
Installation cost
Choose siding that is easy to install and won't require the use of expensive equipment. Choosing shed siding is the biggest cost factor when it comes to installation costs so take some time to research and prepare.
Maintenance
How much time and cash will you spend maintaining your shed's siding over its lifespan. Some require paint while others are maintenance-free. We recommend that you factor in maintenance costs at the beginning when choosing shed siding.
Size of Your Shed
The size and shape of our shed determine how much you will end up spending. You need to buy enough siding material to cover all the walls. Other materials like paint, nails, and studs will also determine the final cost.
Can I DIY- Install Shed Siding?
Yes, you can DIY install any siding provided you know what you are doing and have the right tools. However, we recommend that you hire a professional or skilled handyman to help with technical tasks like framing, installing studs, and helping to trim the siding panels. Please use our free expert locator at the top of this page to find competent siding installers near you today.