While many homeowners prefer steel, wood, vinyl, and aluminum siding materials, copper is another excellent metal siding choice for your home. Copper siding is highly durable and can withstand harsh weather. More so, its shiny look and color make a home stand out.
On average, homeowners spend about $10,500 to $25,000 to install copper siding. The minimum cost averages at $4,500, while the maximum cost can go up to $52,000.
The actual costs vary depending on the size of your home, job complexity, finish options, and location.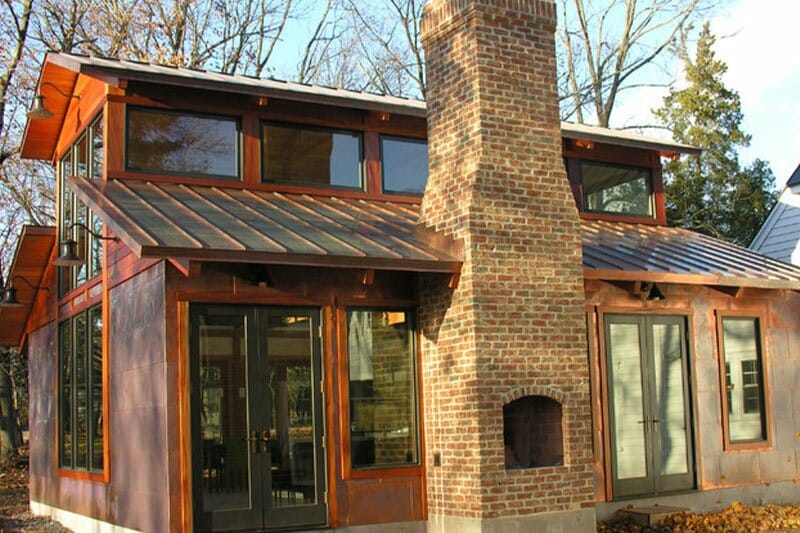 Copper siding is typically sheets of seamed, tiled, or flat copper used as wall cladding. This soft metal gradually turns green due to chemical reactions with the weather elements. That is why old copper roofs have a distinctive green color.
Copper is one of the most expensive metal siding materials, but its durability makes it one of the best options.
Cost to install copper siding per square foot
The cost per square foot to install copper siding ranges between $20 to $35 per square foot. Materials alone cost around $9 to $11 per square footage.
Before you install your new copper siding, you may want to inspect your existing siding first. Work with experienced service professionals who will assess the condition of your siding. If the siding is in good condition, it can be used as a substrate for the new siding.
If you install your new metal siding on old, damaged siding, it may break prematurely. Therefore, you should remove your old siding at a cost of $1 to $3 per square foot before installing new siding.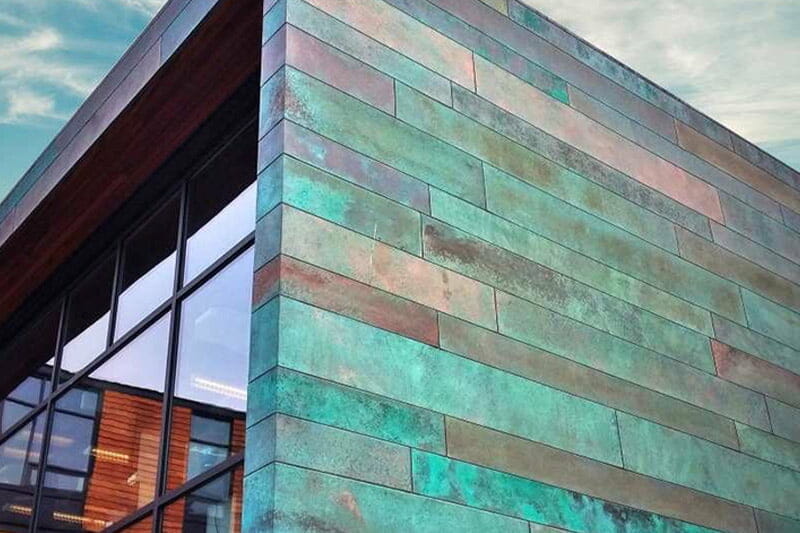 Labor costs to install copper siding
The labor cost to install this siding is around $11 to $24 per square foot or $40 to $80 per hour. Typically labor costs for any home improvement project take about 70% of the overall project cost.
Since material costs are more affordable, most people opt to DIY their projects to save on the costs. It is, however, recommended to hire qualified professionals to avoid costly mistakes, damages and accidents.
Copper siding pros and cons
Like any metal siding material, copper also has its advantages and disadvantages.
It is highly durable and strong
Its lightweight nature makes it easy to install compared to other metal siding options
Copper is rust and corrosion-resistant, making it perfect for places with harsh weather. This siding material is also fire-resistant.
The shiny look, coupled with the copper color, makes a home unique and attractive
This siding requires low maintenance over time
Copper is very costly. It costs more than almost every siding material due to its high quality.
The beautiful copper color fades over time due to oxidation.
Cost factors to consider when installing copper siding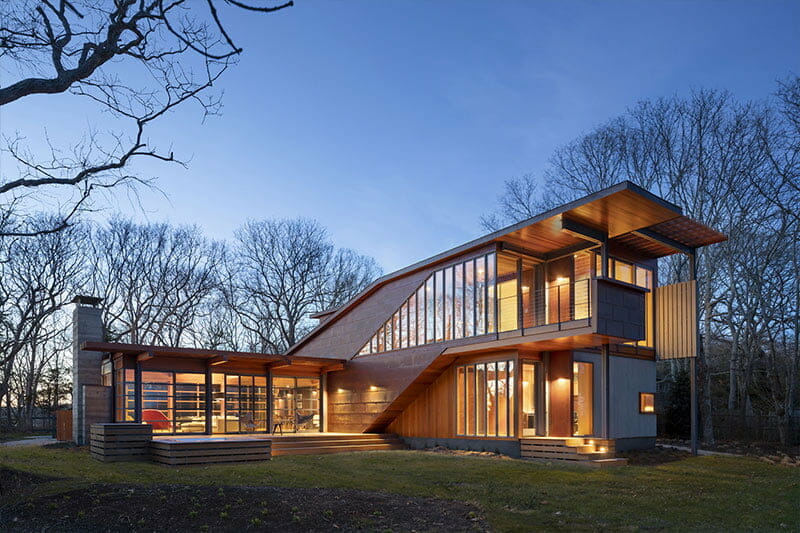 Several factors affect the overall cost of your siding project. These include:
The bigger the home, the more expensive it will be. Ideally, you will need more materials and labor for the project. More so, you will need more equipment, and the job will take longer, leading to additional costs.
The architectural design or shape of your home can increase the siding project cost. A home with complex configurations complicates the job, adding to the cost.
The cost of copper siding varies greatly depending on where you live. If copper has to be shipped to your location, transportation costs may increase the overall price..
Regional differences may also affect the cost of your house siding project. Areas with a low income tend to get cheaper rates than booming metropolitan areas where the income is higher.
Copper is a lightweight material that is fast and easy to install. In most cases, the cladding can be installed on old house siding that is still in good shape. This will reduce the hours and amount of labor needed for the job. However, if your old siding has to be removed, the additional hours of labor required will increase the project cost.
Copper siding maintenance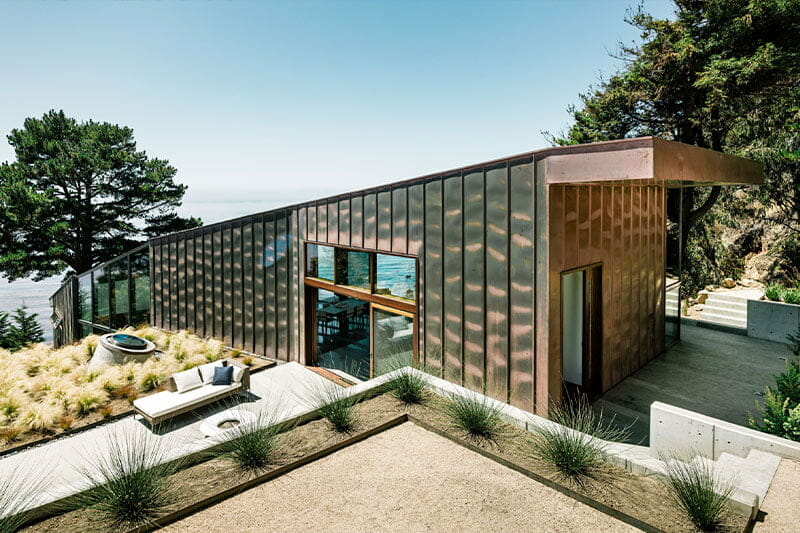 Although copper siding requires little maintenance, cleaning and maintaining it regularly can increase its lifetime. Below are a few tips to help you maintain your metal siding.
Dirt, vegetation, weed whips, and drainage can make your wall panels look unappealing and lead to premature deterioration. It is essential to clear your walls of all debris and trim back any vegetation near the house.
Check the state of exposed fasteners
If your metal siding has exposed fasteners, make sure that all the self-sealing gaskets are in good condition. Tighten any loose or backed-out rivets and fasteners, or replace them if need be.
Clean the siding regularly
Make sure you clean your siding at least once a year. If the siding is not too dirty, washing it with plain water can remove the dirt. You can use a hose or pressure spray. Use a solution of water and a recommended detergent like Tide to clean areas where dirt and debris have accumulated.
After some time, copper siding starts to turn greenish due to oxidation. While some people find this new color interesting, others find it unsightly. You can paint your siding once you install it or when it starts turning green. Before you repaint your siding, make sure you thoroughly clean to remove the oxidized pigment.
For more low maintenance siding options, click here.
How much does metal siding cost?
Copper is a type of high-end metal siding. It is extremely durable, and its superior resistance to corrosion and rust makes it one of the best metal siding materials. Other types of metal siding include:
On average, metal siding cost ranges between $1 to $25 per square foot. The actual cost varies widely depending on the type of material, complexity, style, and finish option you choose. Common choices such as aluminum siding, steel siding , and tin siding cost around $3 to $8 per square foot.
Zinc and copper cost between $15 to $25 per square foot. These materials come at a higher cost than other metal siding materials because of their superior durability, corrosion, rust and fire resistance.
How much does a copper roof cost?
It is not uncommon to see beautiful homes with beautiful designs being outfitted with unattractive and low-quality roofs. This trend is slowly changing, and many homeowners are now choosing better and more durable materials for their roofs.
More often than not, materials such as zinc, copper, and stainless steel are being used for roofing. However, different metals have different characteristics, so some metals may not be the best choice for your roof.
Copper roofing has been there for centuries, adorning famous architectural masterpieces in the United States and Europe. And yet, these roofs still stand amid the multiple renovations done to old homes.
If you want a beautiful and durable roof that will serve you for decades, copper roofing is the way to go. Although the initial installation cost is quite high, the long-term maintenance cost is relatively low.
Installing a new copper roof costs around $25,051 to $37,577 for a 1,800 square foot home. The cost per square foot ranges from $11 to $25 per square foot installed. Make sure you hire a qualified roofing contractor for your roofing project to avoid costly mistakes, damages, and accidents.
DIY Vs. Hiring a Pro cost
Copper is a lightweight material that makes it much easier to install. If you have hands-on skills you can DIY your home improvement project. However, you will still need to buy materials and accessories for the installation. Also, the project may take too long.
For best and long-lasting results, it is recommended that you hire a professional metal siding contractor in your area to do the installation for you.
If you choose to install the siding yourself, you will spend about $9 to $11 per square foot for materials. However, if you lack enough skills, consider hiring a professional to handle the job for you.
A professional metal siding contractor charges around $40 to $80 per hour or $11 to $24 per square foot. This price is for labor only. The overall cost for the installation, labor, and materials included ranges from $20 to $35 per square foot.
The good thing with hiring a professional is that they will come with all the necessary materials for the job, including copper sheets. Besides, they may know several suppliers and manufacturers that may supply them with high-quality materials at affordable prices.
Get estimates from a qualified copper siding contractor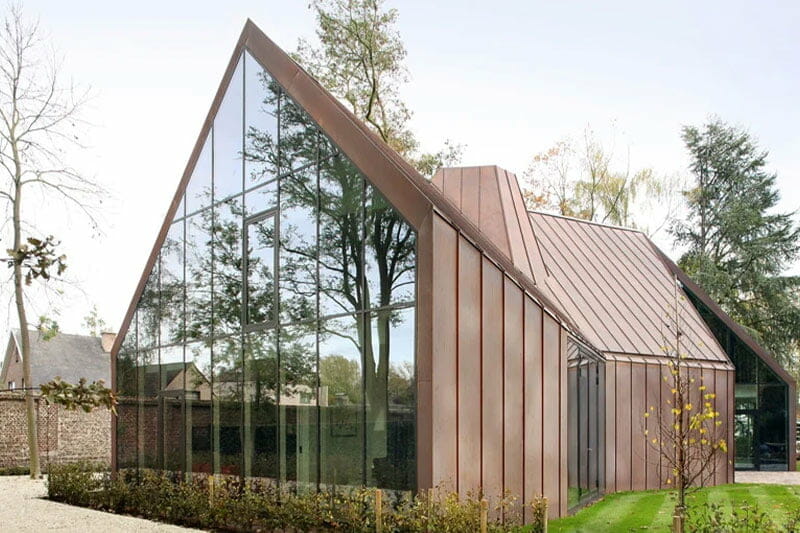 Are you looking for a certified siding contractor? Use this FREE service.
HomeGardenGuides.com is a free service that quickly matches you with the top-voted local siding specialists. You can get 3 estimates fast by real certified experts in your area in just 2 minutes.
Scroll to the top of the page and enter your Zip code.
Answer questions about your siding job
Your siding details are forwarded to three local experts. They will send you a price estimate for the job and some friendly advice.
IMPORTANT: There is no obligation to hire. This is a free tool and service to be
used at your pleasure.