Replacing your vinyl siding with wood is a great way to create a natural, rustic appearance on your home's exterior. Such a replacement will increase your house's aesthetic value and curb appeal.
The average cost to professionally remove your old vinyl siding is $0.75 per square foot. You will also pay an additional $150 on average for labor and disposal. The total average cost of removing vinyl siding is $1,900. Buying and installing new wood siding will cost you an average of $6.5 per square foot. The type of material and the installation style will affect this cost.
Individual wood shingles cost more money and time to install than longer slats of wood. These higher costs are because they require more labor and expertise in their installation than long siding planks.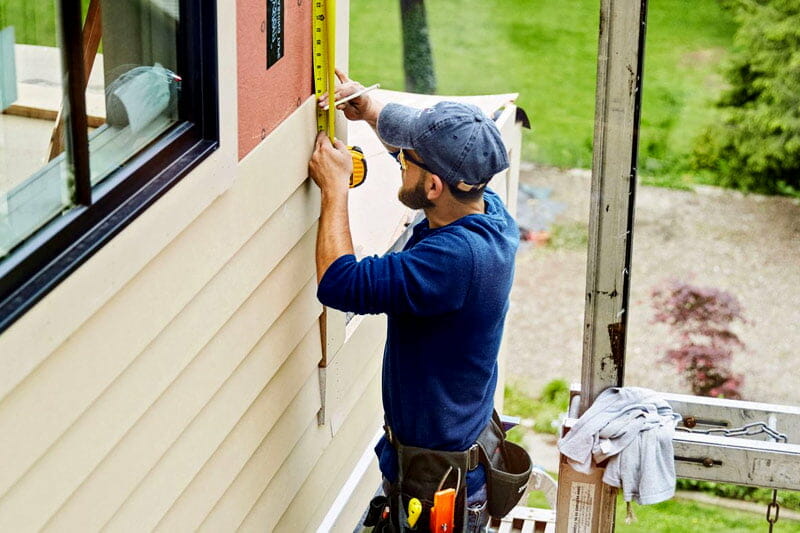 Average Wood Siding Installation Cost
| Service | Quantity | Low | High |
| --- | --- | --- | --- |
| Wood Siding Material Cost | Per Square Foot | $1 | $5 |
| Wood Siding Labor Cost | Per Square Foot | $2 | $5 |
| Wood Siding Cost (installed) | Per Square Foot | $3 | $10 |
| Wood Siding Cost | 1500 Square Feet | $4,500 | $1,5000 |
Labor Cost to Install Wood Siding
To install wood siding, you will pay a labor cost of $2 to $5 per square foot. Softwoods are easier and cheaper to install than hardwoods. Simpler styles like lap wood siding are also cheaper to install than more detailed designs like shakes and shingles. You should consider a siding professional's experience with different materials and styles before hiring them.
A standard 1500 square foot house will cost you $3000 to $7500 in wood siding labor. These prices translate to an average of $5,250 out of a total of $15000 for mid-grade cedar wood siding.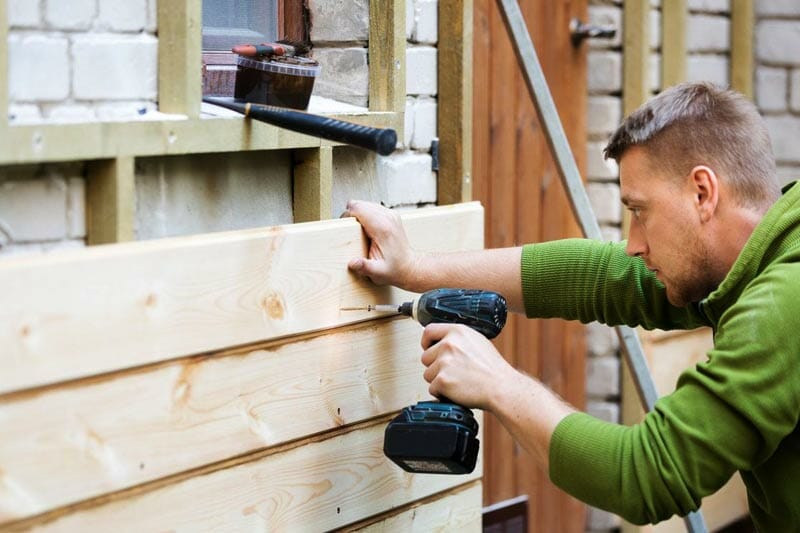 Wood Siding Installation Cost by Species
Wood siding is available in many species that differ in appearance, color, durability, grain, and cost. The most common wood siding alternatives include:
| Softwood | Material + Labor Cost Per Square Foot |
| --- | --- |
| Cedar | $3-$10 |
| Cypress | $1-$5 |
| Douglas Fir | $3-$5 |
| Pine | $1-$5 |
| Redwood | $4-$14 |
Cedar's natural resistance to insects, moisture, and rot makes it one of the most sought-after wood siding materials. You will pay an average of $6.5per square foot to purchase and install cedar siding. Staining your cedar siding instead of painting it will reveal its attractive red tone.
It will also keep it from the bleeding that happens when painted. Cedar siding is easy to handle and can withstand weathering better than other wood siding species. Although cedar is more expensive in the short term, it will save you from frequent repairs and replacements in the future.
Cypress is a perfect alternative if you are looking for a beautiful, durable, and low-maintenance siding option. It is resistant to splitting and warping and can tolerate extreme climatic conditions. You will pay an average of $3 per square foot to purchase and install cypress siding. Cypress siding installation costs are significantly higher because it is difficult to handle.
You can install douglas fir siding if you want a paintable, cost-effective, and eco-friendly siding option. Your installation costs for douglas fir siding will be relatively low because it is a simple material to handle. It can also be easily stained.
You can pay as low as $2 per square foot in some areas to install douglas fir siding. However, you need to offer extra upkeep to this siding material to minimize water damage.
Pine is another simple-to-handle and cheap wood siding option that you can install. However, you must frequently paint or stain your pine siding for it to last longer.
Pressure-treating your pine is also necessary to make it less vulnerable to moisture and termite damage. Properly maintained pine can last for up to 30 years. You will pay an average of $3 per square foot to install pine siding on your home.
Redwood is known for its beautiful red color and resistance to rot, insect activity, and wetness. It can be stained and will keep its finish for a long time. Stain your redwood siding at least once in 4 years. Expect to pay more for redwood siding because it is a high-end product. You will pay an average of $9 per square foot to purchase and install redwood siding on your home.
| Engineered Wood | Material + Labor Cost Per Square Foot |
| --- | --- |
| Plywood | $1-$2 |
| Composite | $3-$7 |
| Hardboard/Masonite | $1.5-$3.5 |
Plywood is the cheapest wood siding alternative available. If you prefer it, buying and installing it will cost you an average of $1.5 per square foot. Plywood siding comes in T-111 sheets with grooves that fit vertically into each other. These grooves give them a cottage look.
Composite is an engineered wood variety formed using pressure-heated sawdust, glues, and resin. It will cost you an average of $5 per square foot to purchase and install composite siding on your home.
Hardboard or Masonite siding consists of pressure-heated wood fibers, resin, and wax. It has the appearance of wood yet requires no upkeep and does not swell, shrink, or warp. Expect to pay $2.5 per square foot on average to purchase and install hardboard siding on your home.
| Hardwood | Material + Labor Cost Per Square Foot |
| --- | --- |
| Accoya | $4-$9 |
| Cumaru | $6-$8 |
| Garapa | $7.5-$9.5 |
| Ipe | $8-$15 |
| Massaranduba | $4-$9 |
| Teak | $5-$8 |
Purchasing and installing Accoya siding will cost you an average of $6.5 per square foot. Accoya siding is modified pine wood that is processed using non-toxic treatment chemicals. This treatment improves the strength and endurance of your Accoya wood, allowing it to last for decades.
The Cumaru or Brazilian Teak is a wood siding material that resembles the color and hardness of the Ipe. You will pay an average of $7 per square foot to purchase and install Cumaru siding on your home. This price is lower than that of Ipe siding. The Cumaru is three times harder than ordinary Teak and has twice its longevity and durability.
Garapa is a hardwood siding alternative that costs about $8.5 per square foot on average to purchase and install. It is relatively thick and has a naturally occurring light blond tint. Adding a UV-protective sealer is recommended to keep your Garapa siding from weathering.
At $11.5 per square foot, Ipe is a very costly hardwood siding alternative. Installing Ipe siding on the exterior of your home will add a unique, elegant, and durable look that is perfect for modern applications. This look is because of its conspicuous color and distinct grain pattern.
You can purchase and install Massaranduba siding if you want a lighter, reddish Ipe substitute for your home. Expect to pay an average of $6.5 per square foot for this type of siding. Massaranduba is almost just as tough and long-lasting as Ipe siding.
Teak is a robust tropical hardwood siding option that will cost you $6.5 per square foot on average to purchase and install. Its natural oil and silica content make it resistant to other wood species' problems like decay, moisture, warping, UV-sunlight rays, splitting, and cracking.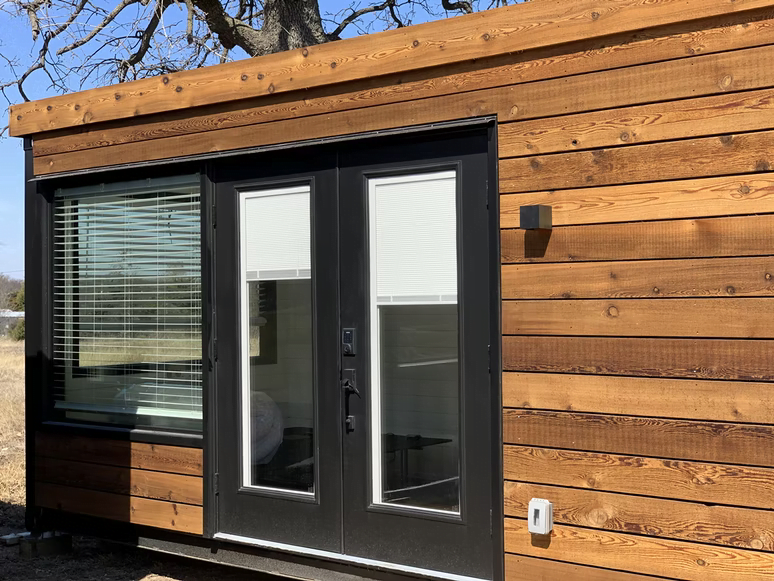 Is Replacing Vinyl Siding with Wood worth it?
| Factors to consider | Vinyl Siding | Wood Siding |
| --- | --- | --- |
| Cost | Less expensive | More expensive |
| Maintenance | Easier to maintain | Harder to maintain |
| Durability | It lasts for 40 years and beyond | It lasts for up to 40 years |
| Aesthetic value | Offers good aesthetic value | Offers better aesthetic value |
| Climate | Suitable in moderate temperatures | Suitable in less humid areas |
| Curb Appeal | Can recoup 63 to 78% of your project cost | Can recoup 63 to 78% of your project cost |
Vinyl is easier and cheaper to install than wood siding. You will pay an average of $4000 to install mid-grade vinyl siding on a 2500-square foot house. Installing wood siding on the same home will cost you $16,250 on average.
High-quality vinyl siding costs just as much as wood siding in materials. You will, however, pay less in labor to install high-quality vinyl siding. Wood siding is also more expensive to install because it requires a greater amount of trim and paint to finish.
Vinyl siding requires less upkeep than wood. You must frequently scrape and repaint your wood siding to keep it from problems like decay. Vinyl is easier to maintain because it is non-biodegradable and does not demand regular scraping or repainting.
The only downside to vinyl siding is that its boards can easily loosen and fall off the home, necessitating regular reinstallation. You may also need to replace any broken or cracked boards.
Well-maintained wood siding can last for up to 40 years. Vinyl siding can last beyond 40 years, making it a more durable alternative
Wood and vinyl siding both come in various styles allowing you to personalize your home's exterior look. These styles include lap siding, shingles, and ornamental siding. Wood is, however, more adaptable than vinyl. Wood is available in various plank widths that can be applied in shiplap or board and batten patterns.
You can install your wood shingles in both regular and irregular designs. Vinyl siding is more limited in style, board width and installation technique variety. Wood has a slightly more distinct and natural grain than vinyl. Wood planks also do not overlap like vinyl siding panels.
If you live in relatively humid areas, wood is not a good option for your siding. When temperatures change in humid areas, wood expands and contracts. This movement results in cracking, warping, and distortion of wood siding.
Vinyl is mostly affected by temperature rather than humidity. Your vinyl panels are likely to split in extremely cold conditions. When exposed to very high temperatures, your vinyl panels will soften and melt. Vinyl is therefore not a good siding alternative for areas with extreme temperature variations throughout the year.
Wood and vinyl siding can recoup between 63 and 78% of your project cost during your home's resale. The amount of money recouped largely depends on the suitability of the siding material in the area of resale.
DIY vs. Professional Wood Siding Installation
Unless you are a very experienced DIY contractor, leave wood siding installation to professionals. Professionals can effectively work around the corners, soffits, fascia, eaves, and trimmings that most DIY contractors cannot.
Homegardenguides.com is a great tool that quickly matches you with the best siding specialists in your locality. You can get three estimates from local siding professionals in a matter of two minutes. Kindly follow the steps below to enjoy this excellent service:
Scroll to the top of the page and enter your zip code
Answer questions about your siding job
Your siding details are forwarded to three local experts who will send you a price estimate for your job with some friendly advice.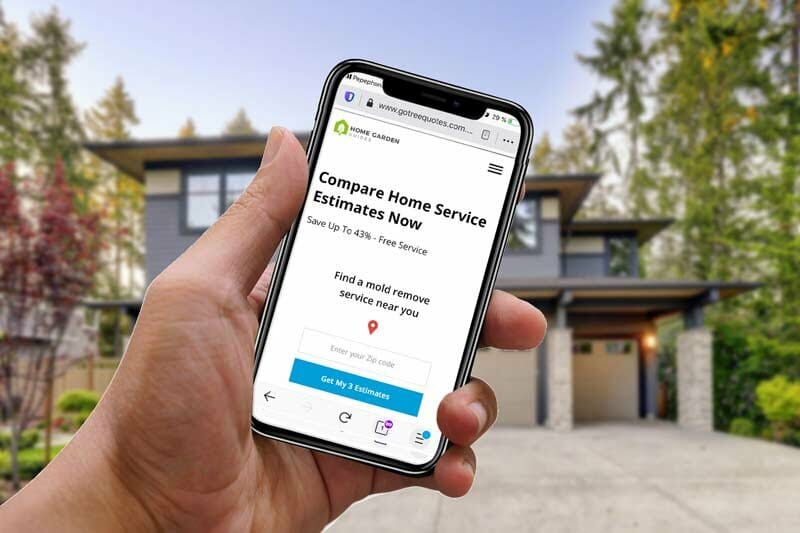 Other Factors that Influence the Cost to Replace Vinyl Siding with Wood
| Home Size in Square Footage | Average Vinyl Removal Cost | Average Wood Siding |
| --- | --- | --- |
| 500 | $375 | $3250 |
| 1000 | $750 | $6500 |
| 1500 | $1,125 | $9750 |
| 2000 | $1,500 | $13000 |
| 2500 | $1875 | $22750 |
If you own a large home, you will need more materials and time for vinyl siding removal and wood siding installation. It is advisable to inquire from your siding contractor about installation costs and timelines for the off-season. The off-season can help you save on the time and money needed to do such a project during peak seasons.
Vinyl siding removal and wood cladding installation costs will reduce if your house has a simple box design instead of a custom-built tower on the side. Homes with multiple stories also need more time, resources, and effort to remove and install siding on them.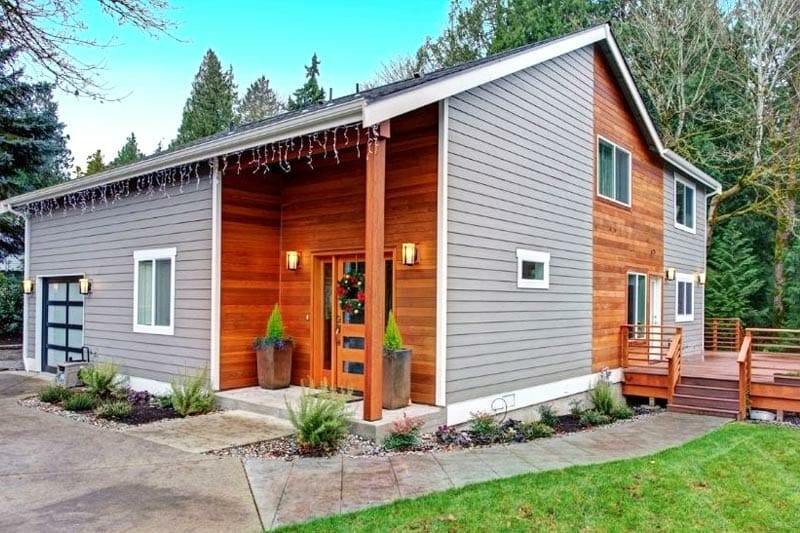 You can install wood gutters to enhance the look of your new wood cladding. The best wood varieties for gutter channels are Pine, Fir, Cypress, Redwood, and Cedar. These woods are moisture-resistant and can keep rainfall away from your new siding. Expect to pay an average of $4,600 to install new wood gutters.
Installing new wood soffits beneath the gutters also enhances the durability of your new siding. The type of wood used to construct soffits must be resistant to moisture and wood-boring insects. You will pay an average of $6.25 per linear foot to purchase and install new wood soffits.
Installing wood fascia boards is a cost-effective way to protect your new siding from moisture and mildew damage by diverting water away. You will pay an average of $5.5 per linear foot to install Cedar and Redwood fascia boards.
The best wood species for exterior trims is Redwood since it is both weather-resistant and long-lasting. You can also go for Fir if you want a cheaper and cleaner alternative. The cost of wood trim is $4.5 per linear foot on average.
You can install vinyl siding that looks like wood if you want to save on costs without compromising on your desired appearance. This installation can be done on both shingles and planks. With this kind of siding, you do not have to worry about constant maintenance and a short lifespan.
Yes, it can. There are composite products that mimic the appearance of real wood without being vulnerable to rotting. You can therefore install composite planks which have a cedar-like texture and are available in wood-like measurements.