Cypress is perhaps one of the most sought after tree species as far as siding is concerned. Its unique grain pattern and structural credibility mean that it not only provides a rustic appearance but also is able to withstand natural weather elements.
Maintaining cypress siding generally involves cleaning, repairing, sealing, staining, painting and UV-resistant product treatment. Cleaning through soaking, water rinsing and drying is done at the onset to enable the surface in question to effectively absorb the intended finish.
Let's go through the best practices for maintaining cypress siding.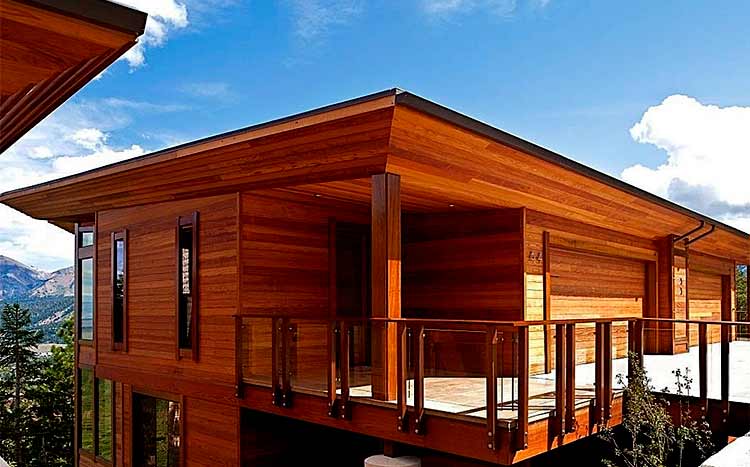 No, it is not. Cypress has some great qualities which include water, rot and insect resistance. This however does not mean that it does not need periodic maintenance in order to stay in top shape.
Its naturally produced oil coupled with maintenance techniques such as painting, sealing, staining, cleaning, and repairing ensure that it is preserved from adverse environmental elements, unlike other tree species which require chemical-based pressure treatment.
Does Cypress need to be sealed?
Yes, below are the best ways…
Cypress is made up of a natural oil otherwise referred to as Cypressene. This oil naturally preserves it from rot and insect damage. It however takes a long time to accumulate meaning that older trees are more rot resistant than their newer counterparts.
There is therefore an artificial oil finish which is applied on cypress siding in order to complement the Cypressene. It is generally applied in liberal portions after the finalization of the cleaning and drying process.
It should be left to thoroughly soak into the siding for the recommended amount of time with any excess being wiped off. In order for it to be successful in preserving the color and shade of the cypress siding in question, it should be applied at least once a year.
Urethane is an example of an external varnish that can be applied on cypress siding when looking to keep its amber brown appearance from fading into a silvery gray shade. Varnish just like oil finish should also be applied after the completion of the cleaning and drying process.
It should also only be applied after the sanding off of any previous stain or sealant which is in bad condition. Brushing is usually the recommended method of varnish application.
Numerous coats of varnish are normally applied in order to ensure effective protection and finishing. It is however important to note that each layer should be allowed to dry before applying the next.
Painting cypress siding effectively generally involves selecting and applying the best primer and paint available. The primer must be compatible with the chosen paint in order to achieve a great finish.
High-quality acrylic paints with oil-based alkyd primers are thus recommended. It is also important to engage painting experts so as to avoid choosing paints that facilitate moisture absorption and thus the subsequent biodegradation of the siding.
This is a great FREE tool that quickly matches you with the best painting specialists in your locality. You can get three estimates from local painting professionals in a matter of two minutes. Kindly follow the steps below to enjoy this great service:
Scroll to the top of the page and enter your zip code
Answer questions about your drywall job
Your painting details are forwarded to three local experts who will send you a price estimate for your job with some friendly advice.
One may also apply light shades of finishing when looking to facilitate the necessary heat reflection that prevents the siding from shrinking and warping. It is generally advisable to apply two coats of paint on top of the dried primer by using a brush for uniformity.
Other conditions such as weather and quality of paint should be handled at the discretion of professional painters and manufacturers of the said paint.
Common cypress siding maintenance solutions
Water stains
Application of either detergent or bleach solutions is generally the recommended way of removing water stains from cypress siding. The solution should be left to soak on the surface for about 15 minutes after which it should be rinsed off using a power washer.


Warped
Water-resistant sealers are the most recommended remedy as far as keeping cypress siding from warping is concerned. This is because they are able to keep moisture from getting into the wood thus causing it to dry and shrink unevenly thereby causing warping.
Mildew
A mild bleach solution can also be applied on cypress siding when looking to rid it of any mildew that may have grown on it. The solution should be left to soak for around 15 minutes before rinsing it off via pressure washing. The siding should then be allowed to dry for around 7 days.
Cracked boards
It is usually advisable to fill up any cracked cypress siding boards using wood putty when looking to restore them back to shape. Wood putty is basically a wood dust and binder compound that is used to fill any flaws or imperfections on wood.
Replacement is however recommended in cases where the cracking is beyond repair.
Rough lifting varnish
The best way to smoothen any rough lifting vanish is normally through brushing and sanding. The sanding is usually done to smoothen out the surface in preparation for varnishing. One should make sure to clear out all the dust either using a vacuum cleaner or a rag.
The varnish should be applied using a smooth bristle brush so as to achieve an even and uniform finish.
How to maintain the natural look of the cypress siding?
Applying a high-quality, water-repellent and UV-resistant sealer uniformly on all faces, vertices and edges is a great way to preserve the natural rustic color of cypress siding from fading through either excessive sunlight or moisture.
How do you keep Cypress from turning grey?
Varnish treatment is the most recommended way of keeping the natural amber brown shade of cypress from turning grey. The external vanish used mostly in outdoor cases is usually referred to as urethane.
How long will cypress wood last?
Cypress is known to last for periods ranging from 1 to 20 years depending on the type of treatment applied on it. Untreated ones usually last up to 3 years with stained ones lasting up to 10 years depending on the type of stain.
Painted cypress lasts for about 20 years since the paint is known to completely hide the wood grain from any adverse environmental and weather consequences.
Should you stain cypress wood?
Although cypress can be stained, many people prefer sealing it using a transparent sealer. This is normally done in order to keep its aesthetically appealing hue visible while still ensuring that it is well protected.
Is Cypress good for outdoor use?
Yes, it is. It is especially applicable when one is looking to achieve a combination of durability and aesthetic appeal. It is however not recommended for use in tasks that require ground contact.